About Us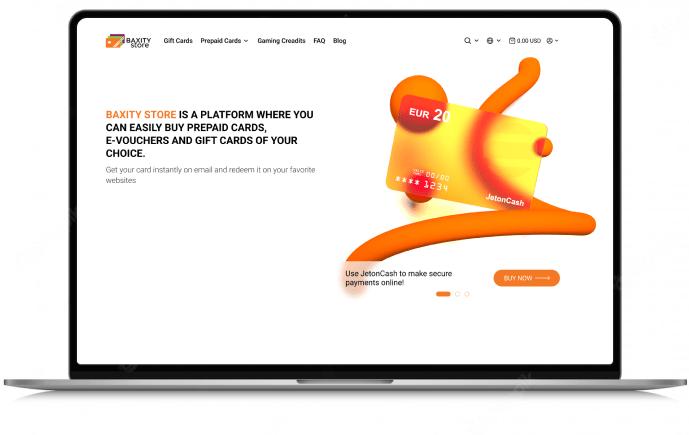 The Baxity Store lets you pay for purchases and services online securely and quickly using prepaid cards and vouchers. Vouchers of various manufacturers, denominations and purposes are available for purchase, so our store can be very useful to you in your search for the required voucher. Vouchers are available in many countries around the world and are sent to the client via email.
BAXITY OÜ address – Harju maakond, Tallinn, Kesklinna linnaosa, Narva mnt 7-634, 10117.
VAT number – the legal person is not liable to VAT.
Registration number – 16540425.
Our
advantages

Quick & easy
Get vouchers and cards instantly without delay

Anonymous
Send money anonymously and keep your assets private
Secure & reliable
Make safe online payments using trusted ways
No hidden fees
Buy vouchers and cards with no surprise charges

Our mission
To become your guide in the world of prepaid cards&vouchers and offer the utmost convenience for making purchases online
Our goal
To give you an opportunity to make payments on the websites instantly and securely as well as to create a better your everyday life
You`ve added AstroPay cards with different values to the shopping cart.
To continue shopping please, make sure that you have AstroPay cards with the same value in your shopping cart (e. g. AstroPay 10€ x 2 —OK. AstroPay 10€ and 50€ — incorrect)
Ok
Authorization
Registration for BAXITY STORE
For security reasons, we send the codes only to the email from which the payment is made
Please note that the code will not be sent if the emails don't match!
My account email on Baxity Store matches my Paypal account email
Successfully added to cart
The message has been sent
Your shopping cart is empty
Login details sent to email
Follow the instructions
Your card is empty
Preferences