Not available in your country

Mastercard $10

9.48

€

In stock

Not available in your country

Mastercard $25

23.68

€

In stock

Not available in your country

Mastercard $200

189.43

€

Out of stock

Not available in your country

Mastercard $50

47.36

€

In stock

Not available in your country

Mastercard $100

94.71

€

In stock
BENEFITS
◼ Link your Mastercard to Google Pay or Apple Pay Wallet via special app in just two steps.
◼ Get a secure alternative for online shopping and save your private and financial details.
◼ Buy Mastercard with crypto without bank account.
◼ Redeem to buy goods and services at participating merchants.
NOTE!
◼ Do not purchase the card using a VPN.
◼ You must not use the card for gambling and any illegal purposes, and in the *countries listed below.
◼ Upon receiving your Mastercard activation code via email, it is crucial to be aware that the code is uniquely tied to your account and cannot be utilized by any other user. This activation code confirms the card's activation process and secures it exclusively for your use. This means that in the event of a refund request, the traditional refund process involving the activation code becomes impossible due to the card's tied status.
◼ Certain merchants may not accept payments made through the card and we accept no liability for this: it is your responsibility to check the restrictions of each merchant before purchasing the item from our store.
◼ You will not be able to use your card following its expiry date.
◼ If you use your card in a currency other than the currency in which your card is denominated, you will be charged currency conversion fee from 2% of the transaction amount. On weekends and holidays, the conversion fee may significantly differ from the usual rates.
◼ When shopping internationally, note there is International/Foreign Transaction Fee of up to 2% of the purchase amount. Be sure the card balance will cover this fee, or the card will decline.
◼ In some offline shops, merchants may require a physical card, which means you won't be able to use this virtual card for payment.
BUY MASTERCARD PREPAID CARD ONLINE
Mastercard gift or prepaid cards are preloaded with a fixed amount of money by the purchaser. This means that the cardholder cannot spend more than the available balance on the card.
Buy Mastercard prepaid cards and make purchases without using cash or a credit card tied to a bank account!
In this review, we answer the questions: can you buy a Mastercard online, and where to buy Mastercard.
WHAT IS A MASTERCARD PREPAID CARD?
A Mastercard card is a prepaid card that can be used for making purchases at various online shops, and wherever Mastercard is accepted. It is a type of prepaid debit card that comes with a specific amount of money preloaded onto it. The recipient of the card can use it to make purchases up to the card's available balance until it is depleted.
How Does It Work?
Mastercard prepaid cards work similarly to prepaid debit cards and are designed to be used for purchases up to the card's available balance. Unlike credit cards, virtual Mastercard is not linked to a bank account. The card can only be used for purchases up to the amount that was loaded onto it at the time of purchase.
Mastercard gift cards typically have a 16-digit card number essential for making online purchases at any merchant that accepts Mastercard payments.
Who Is It For?
The Mastercard Digital Card is beneficial for various groups of people:
Tech-Savvy Consumers: Individuals who are comfortable using technology and prefer the convenience of making digital payments find the Mastercard Prepaid Card to be a convenient option.
E-commerce Shoppers: The virtual nature of the Mastercard Digital Card makes it an ideal option for online shoppers. It allows them to make secure online purchases without having to enter their physical card details on different websites.
Security-Conscious Users: Since the Mastercard Digital Card is not a physical card, it minimizes the risk of card theft or fraud associated with physical cards. Users often value the added security of using virtual cards for online transactions.
Travelers: Digital cards can be useful for travelers who want to minimize the risk of losing or misplacing their physical cards while abroad. With the Mastercard Digital Card stored in their mobile wallet, they can make purchases without relying solely on physical cards.
Individuals Without Traditional Bank Accounts: The digital card can be a viable option for people who do not have access to traditional banking services but have smartphones or access to digital payment platforms.
What Countries Is It Available In?
You can check the availability of the card in your region on the Baxity Store website by selecting your country in the card category.
*Use of your card in the following countries for any transaction whatsoever is prohibited:
Afghanistan, Albania, Algeria, Angola, Bangladesh, Belarus, Bolivia, Bosnia and Herzegovina, Burkina Faso, Burma, Burundi, Cameroon, Central African Republic, Chad, Chile, Colombia, Comoros, Cuba, Democratic Republic Of The Congo, Djibouti, Ecuador, Equatorial Guinea, Eritrea, Eswatini, Ethiopia, Gabon, Gibraltar, Guinea, Guinea Bissau, Haiti, Honduras, Iran, Iraq, Kenya, Kyrgyzstan, Laos, Lebanon, Liberia, Libyan Arab Jamahiriya, Macau, Madagascar, Malawi, Mali, Mauritania, Mongolia, Montenegro, Mozambique, Nepal, Nicaragua, Niger, North Korea aka Democratic People's Republic of Korea, Pakistan, Papua New Guinea, Paraguay, Russian Federation, Senegal, Sierra Leone, Somalia, South Sudan, Sudan, Syrian Arab Republic, Tajikistan, Tanzania, Togo,  Tunisia, Turkey, Uganda, Ukraine, Uzbekistan, Vanuatu, Venezuela, Yemen, Zambia, Zimbabwe, Australia, Brazil, China, India, Japan, Singapore, South Africa, Vietnam.
HOW TО BUY MASTERCARD PREPAID CARDS?
Perhaps you need to know, "where can I buy Mastercard Prepaid Card." Let's see how to get Mastercard Prepaid Cards.
To buy Mastercard Prepaid or Gift Cards online:
Open a new account or log into your existing account at the Baxity Store.
Select the Mastercard Cards with the value and quantity you need.
Add the items to your shopping cart and proceed to the payment methods.
Pay for the card with a convenient payment option and complete the purchase.
The card code will be delivered to your email address (registered in the Baxity Store) after placing and paying for the order in the store. It can also be copied from your personal account on the website under the "Orders" option. Now you know where to get Mastercard Prepaid Cards.
Available Denominations
Mastercard Prepaid Cards come in various denominations: $10, $25, $50, $100, $200.
HOW TO USE IT?
If you have purchased Mastercard on Baxity Store, you may be wondering how to redeem it. Redeeming your Mastercard is a simple process that can be done in just a few steps:
1. Go to myprepaidcenter.com/redeem in the invoice received on your email after purchasing the card from Baxity Store.
2. Either create a new account or log in to an existing one.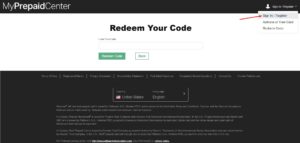 3. Click on "Redeem code" option above.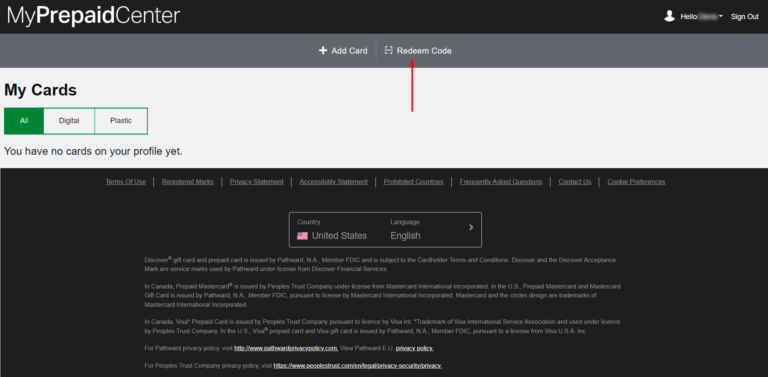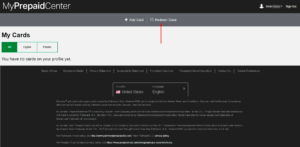 4. Enter your code from Baxity Store email to redeem your Mastercard.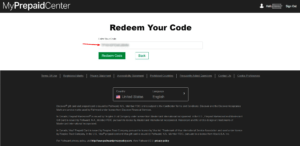 5. On the redemption page, you will be prompted to provide certain information to validate and redeem your card. This information typically includes:
Your current billing address
Your name/surname
Email address
Your phone number
Double-check the accuracy of the information you've entered, accept Cardholder Agreement and e-sign agreement.
6. Once you've successfully submitted your information, you will likely be taken to a new page where you will be able to view your 16-digit card number, expiration date, security information, where your card can be used, available balance, transactions, Fees &Cardholder Agreement, FAQs and Set/Reset PIN option.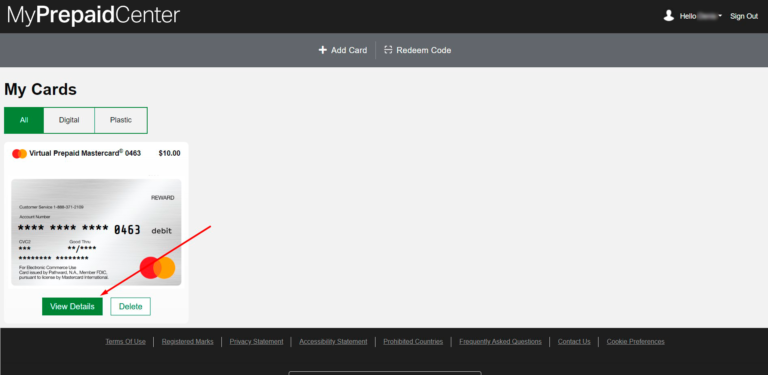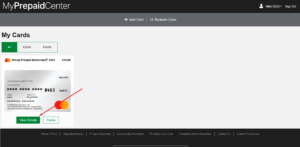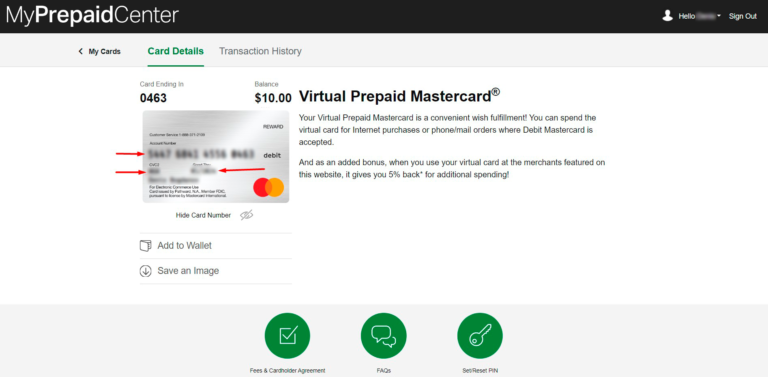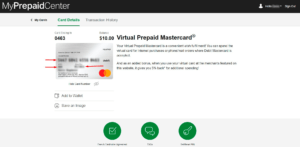 Are There Any Fees Or Restrictions?
It's crucial to review the terms and conditions provided by the issuer before using a Mastercard virtual card. This will help you understand any potential fees or restrictions associated with the card and ensure a smooth and hassle-free experience when using it for online or mobile transactions.
We recommend that you carefully review the Terms and Conditions provided for each card or voucher, as they contain important information about usage, limitations, and any specific requirements. Additionally, you can find valuable insights and answers to frequently asked questions in the FAQ section on the official website.
Is It Possible To Recharge It?
Unfortunately, it is not possible to top up a Mastercard Prepaid Card, but you can purchase a new Mastercard on Baxity Store.
WHAT CAN I BUY WITH A MASTERCARD?
Mastercard Prepaid Cards offer a versatile and flexible way to make purchases. You can use them to buy a wide range of goods and services wherever Mastercard is accepted.
WHICH WEBSITES ACCEPT IT?
This card can be used everywhere Mastercard Prepaid Cards are accepted.
Can You Buy a Mastercard Prepaid Card Online?
Yes, Mastercard Prepaid Cards of various denominations are sold online on our website. In this review, you can find the guide on how to buy Mastercard Prepaid Cards. The code delivery will be issued to your email or personal account once you have paid for the card.
Important to know! The use of VPN during the activation of the Mastercard prepaid card is prohibited.
Where Can I Get a Mastercard Prepaid Card?
Looking for Mastercard Prepaid Card? Look no further than gift or prepaid cards on Baxity Store! We offer a wide range of gift, gaming, and prepaid cards.
How To Get a Mastercard Prepaid Card?
To buy Mastercard Prepaid Cards online, you need to select the card with the desired value from the appropriate category on the Baxity Store website, choose your preferred payment method, and complete the purchase. The card code will be sent to you via email, or you can access it in your Baxity Store account.
Not your region?
Please, note that these gift cards can only be redeemed in the country they are purchased for. Make sure to select the correct country.
Russia
Andorra
United Arab Emirates
Afghanistan
Antigua and Barbuda
Anguilla
Albania
Armenia
Angola
Antarctica
Argentina
American Samoa
Austria
Australia
Aruba
Aland Islands
Azerbaijan
Bosnia and Herzegovina
Barbados
Bangladesh
Belgium
Burkina Faso
Bulgaria
Bahrain
Burundi
Benin
Saint Barthelemy
Bermuda
Brunei
Bolivia
Bonaire, Saint Eustatius and Saba
Brazil
Bahamas
Bhutan
Bouvet Island
Botswana
Belarus
Belize
Canada
Cocos Islands
Democratic Republic of the Congo
Central African Republic
Republic of the Congo
Switzerland
Ivory Coast
Cook Islands
Chile
Cameroon
China
Colombia
Costa Rica
Cuba
Cape Verde
Curacao
Christmas Island
Cyprus
Czech Republic
Germany
Djibouti
Denmark
Dominica
Dominican Republic
Algeria
Ecuador
Estonia
Egypt
Western Sahara
Eritrea
Spain
Ethiopia
Finland
Fiji
Falkland Islands
Micronesia
Faroe Islands
France
Gabon
United Kingdom
Grenada
Georgia
French Guiana
Guernsey
Ghana
Gibraltar
Greenland
Gambia
Guinea
Guadeloupe
Equatorial Guinea
Greece
South Georgia and the South Sandwich Islands
Guatemala
Guam
Guinea-Bissau
Guyana
Hong Kong
Heard Island and McDonald Islands
Honduras
Croatia
Haiti
Hungary
Indonesia
Ireland
Israel
Isle of Man
India
British Indian Ocean Territory
Iraq
Iran
Iceland
Italy
Jersey
Jamaica
Jordan
Japan
Kenya
Kyrgyzstan
Cambodia
Kiribati
Comoros
Saint Kitts and Nevis
North Korea
South Korea
Kuwait
Cayman Islands
Kazakhstan
Laos
Lebanon
Saint Lucia
Liechtenstein
Sri Lanka
Liberia
Lesotho
Lithuania
Luxembourg
Latvia
Libya
Morocco
Monaco
Moldova
Montenegro
Saint Martin
Madagascar
Marshall Islands
Macedonia
Mali
Myanmar
Mongolia
Macao
Northern Mariana Islands
Martinique
Mauritania
Montserrat
Malta
Mauritius
Maldives
Malawi
Mexico
Malaysia
Mozambique
Namibia
New Caledonia
Niger
Norfolk Island
Nigeria
Nicaragua
Netherlands
Norway
Nepal
Nauru
Niue
New Zealand
Oman
Panama
Peru
French Polynesia
Papua New Guinea
Philippines
Pakistan
Poland
Saint Pierre and Miquelon
Pitcairn
Puerto Rico
Palestinian Territory
Portugal
Palau
Paraguay
Qatar
Reunion
Romania
Serbia
Russia
Rwanda
Saudi Arabia
Solomon Islands
Seychelles
Sudan
Sweden
Singapore
Saint Helena
Slovenia
Svalbard and Jan Mayen
Slovakia
Sierra Leone
San Marino
Senegal
Somalia
Suriname
South Sudan
Sao Tome and Principe
El Salvador
Sint Maarten
Syria
Swaziland
Turks and Caicos Islands
Chad
French Southern Territories
Togo
Thailand
Tajikistan
Tokelau
East Timor
Turkmenistan
Tunisia
Tonga
Turkey
Trinidad and Tobago
Tuvalu
Taiwan
Tanzania
Ukraine
Uganda
United States Minor Outlying Islands
United States
Uruguay
Uzbekistan
Vatican
Saint Vincent and the Grenadines
Venezuela
British Virgin Islands
U.S. Virgin Islands
Vietnam
Vanuatu
Wallis and Futuna
Samoa
Kosovo
Yemen
Mayotte
South Africa
Zambia
Zimbabwe
Flexible
Exchange unused cards and vouchers or cash them out, turning your unused funds into usable currency. The requests will be considered individually for each client.
Codes instant delivery
Confirm the purchase and get the code right away to your email or in your personal account dashboard!
100+ Secure Payment Methods
Shop hundreds of brands and complete your order through 100+ secure payment methods with a reliable reseller! With Baxity Store it is safe, fast and easy!
High quality support
We provide technical assistance with products and answer customers' questions. Contact us directly, we're at your disposal!