What is ecoPayz MasterCard?
If you are hoping to make the most out of every one of your transactions through your ecoPayz account or ecoAccount, then the ecoPayz MasterCard, also known as ecoCard, is undoubtedly the perfect addition to your finance handlings. From online or offline purchases of up to € 4,000 a day to worldwide daily ATM cash withdrawals of as much as € 1,500, your MasterCard will facilitate every one of your financial endeavours. Your ecoCard is directly linked to your ecoAccount such that its balance is readily available for you to access anywhere that accepts MasterCards.
The ecoPayz MasterCard is a contactless deposit or prepaid MasterCard plastic card. For purchases up to € 50, you may make full use of its contactless feature without having to enter your PIN code. As with all prepaid cards, your spending will be restricted to the funds already available in your ecoPayz account. This means that you will not have the option to take credit with an ecoCard as it strictly operates on a prepaid basis.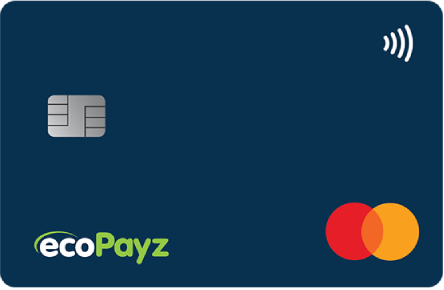 You will have the option to order up to three ecoCards in different currencies. These may be set up in either EUR, USD or GBP and will allow you to avoid having to pay for exchange rate fees whenever you are withdrawing cash from an ATM.
The only restrictions on eco Card that you should be aware of are as follows:
Cardholder's area of residence where ecoCards are only issued to the 31 member countries of the European Economic Area (EEA).
Daily limits on cash withdrawals and shopping.
The eco Card is valid for 4 years, after which it will need to be reissued.
Luckily, commissions and further limits may be unlocked by creating an ecoPayz account via Baxity. One just needs to send their account details, including their ID and email, to Baxity to initiate their linked account.
For those who enjoy some additional security or require some extra anonymity, the ecoVirtualCard offers the perfect refuge for both cases. As a virtual disposable card, it may be created whenever it is needed and can be used as a single-use payment intermediate for any one of your more delicate transactions.
ecoPayz MasterCard fees
Once ordered, your ecoPayz MasterCard will be delivered within just a handful of days and completely free of charge. As long as you have gone through the required verification process for your account, the only fee you will have to pay to obtain your card is for its re-issue.
ecoCards operate on a unique principle which sets its tariffs regardless of your account status. Unlike the conventional limits set on most of your transactions, your ecoCard taxes are set to the same rate for all status.
Tariffs for all statuses (Silver, Gold, Platinum, VIP):
| | |
| --- | --- |
| Paying for shopping in stores | free |
| Bringing money to the merchants.* | 4% (min 0,8 EUR) |
| Cash withdrawal at an ATM | 2% (min 1,5 EUR) |
| Currency Conversion | 2,99 % |
| PIN code reminder | 0,5 EUR for each reminder |
| Change card | 12,5 EUR |
| Card issuance and activation | free |
| Card Update | free |
| Card blocking and closing | free |
| Requests for balances, invoices, statements of account | free |
| Changing user data | free |
* money transfers to banks, forex brokers and stock dealers, transfers to merchants in gambling and lotteries.
On should take particular note of the currency of the transaction and that of the card since their respective values may engender additional ecoPayz fees. If they differ, the conversion rate will be credited as 2.99 % of the total transaction amount. This can incur substantial costs whenever one withdraws cash from an ATM. It is therefore recommended that you exploit the offer for three different cards to possess one in each of the relevant currencies necessary to your regular transactions.
ecoPayz MasterCard limits
Although ecoCard limits remain somewhat contained, they differ between verified Silver accounts and the other Gold, Platinum or VIP statuses.
The quickest and most efficient way for you to boost your ecoCard limits to a maximum is to create your ecoPayz account directly through Baxity. This will let you obtain a Gold status within just two hours of submission and maximise your limits up to € 2,500 in one go.
Limits
Silver
Gold / Platinum / VIP
ATM withdrawals:
in one go / in a day Number of conclusions:
250 EUR in one go /
750 EUR per day3 per day
500 EUR in one go /
1500 EUR per day3 per day
Payment of purchases through the terminal:
1000 EUR in one go
5 per day
2500 EUR in one go
8 per day
Maximums (ATM + terminal purchases)
– per day
– per week
– per month
2 000 EUR per day
5 000 EUR per week
15 000 EUR per month
4 000 EUR per day
10 000 EUR per week
30 000 EUR per month
Although the ecoCard is a fully functioning contactless card, one should note that after every 5 contactless payments of up to 50 EUR each, you will have to carry out one complete contact card payment with PIN.
How to order ecoPayz MasterCard?
To order an ecoCard, you simply need to be in possession of an active and verified ecoPayz account. If you do not yet have an account, you can create a new ecoPayz account via Baxity to reduce the tedious 24 hour verification period to just 2. You will also be able to benefit from an immediate Gold status upon ecoPayz registration to maximise on your eco Card limits immediately.
Ordering ecoCard is straightforward and easy:
Log in to your account.
Go to the main menu "ecoPayz prepaid cards" and click on the "ecoCard" tab
Click "Get a card."
Check and confirm the data, paying special attention to the postal address, where the card will be delivered to by regular mail. Click "Order card".
Get an email confirmation within 1-2 days to approve the successful issue of the card.
The status of the request can be viewed in the "ecoPayz prepaid cards" section, under the heading "ecoCard".
You will receive the card within 21 days of your confirmed application by means of a regular letter to your mailbox.
Activate the card to receive your PIN code online.
To activate the card, go to "ecoPayz prepaid cards" to the heading "ecoCard" and click "Activate". You will be asked to enter the last 4 digits of your 16-digit card number, as well as your date of birth and your mother's maiden name. All that is left for you to do is to click "Activate your card", and you will receive a notification to confirm its successful activation alongside your PIN code.
You have three attempts to activate your card, after three unsuccessful attempts to activate the card you will need to contact ecoPayz support. After your card has been fully activated, you will be able to view your PIN code online anytime you need to.
Problems and solutions
How do I change the PIN code?
You can change your PIN code at any ATM you happen to pass by. Simply go to the "PIN code entry services" section and follow the instructions displayed on the screen.
I have still not received my card by mail 21 days after ordering my card, what should I do?
Check if the address in your account profile is up to date: go to "Settings" → tab "Account". If it is not up to date, you will have to contact ecoPayz support to help you fix the mistake. Otherwise, if your address is correct, you may follow to the next point.
Go to "ecoPayz prepaid cards" to the tab "ecoCard". If your request is still being processed, your "Status" tab will display the warning "Waiting Approval".
If all of your data is correct, you should contact the 24-hour support team to help you out with your trouble.
What if the card is lost or stolen?
You should access your account in the menu "ecoPayz prepaid cards" under the tab "ecoCard". There, you will have the option to "Cancel the card" where you may select the field "Lost" or "Stolen" in the appeared hint and "Continue" to complete your request. The card will be cancelled, and you will be forced to get rid of it even if you happen to find it again.
Otherwise, you should contact the ecoPayz support team immediately by phone at +44(0)371 898 1012 or via Live Chat.
Why has my payment/withdrawal been rejected?
There may be a range of reasons why your transaction has been rejected, here are a few of the most common occurrences:
You do not have enough money in your account to process the transaction fee
You have exceeded one or more limit
You have used the wrong PIN code. After 3 unsuccessful attempts, you will need to contact ecoPayz support to unlock your card.
The seller you are purchasing from does not accept MasterCard payment cards. In this case, you should personally check with the seller whether this is indeed the case or not.
What is ecoVirtualcard?
For just € 1,80 you can create a virtual card directly linked to your ecoPayz account known as the ecoVirtualcard. This is a single-use card which will automatically be cancelled one your desired transaction has been completed. This essentially ensures that your funds will not be stolen or lost.
The ecoVirtualcard is available for any member country of the EU or EEA in possession of Silver status. May be opened in three currencies of choice: EUR, GBP and USD. It will remain valid for as long as a year and will automatically be cancelled after 12 months of inactivity.
ecoVirtualcard fees
The ecoVirtualcard tariffs are status-independent and hence only charge general fees:
card issuance – 1,8 EUR
currency conversion – 2.99%
deposit of money to merchants (banks, brokers, funds, gambling merchants) – 4% (minimum 0.8 EUR)
All other services are completely free of charge:
card payment in online stores,
balance requests, invoices, statements of account,
changing the information in your profile,
card cancellation and closing.
ecoVirtualcard limits
The ecoVirtualcard has daily limits, which increase just as the status increases.
Limits
Silver
Gold
Platinum / VIP
Maximum at a time
700 EUR
700 EUR
1000 EUR
Number of cards:
per day
per month
3
30
4
40
5
40
How to order an ecoVirtualcard?
Ordering an ecoVirtualcard could not be any easier or quicker. Just a minute of your time is required to have your card ready for use.
Once you are logged into your ecoPayz account, you can access your "ecoPayz prepaid cards" from the general menu. Under the "ecoVirtualcard" tab you should click on "Get your card" and select your account of choice which you would like to credit to your card. After selecting your desired currency, you have to confirm the terms of use, associated commissions and limits and you are ready to "Order your card". After just a few clicks your ecoVirtualcard will appear in your account available for instant usage.
Availability of ecoPayz MasterCard and Virtual Card
The ecoPayz MasterCard (ecoCard) and the virtual card (ecoVirtualcard) are only available to residents in 31 EU/EEA countries:
Austria
Belgium
Bulgaria
Croatia
Republic of Cyprus
Czech Republic
Denmark
Estonia
Finland
France
Germany
Greece
Hungary
Iceland
Ireland
Italy
Latvia
Liechtenstein
Lithuania
Luxembourg
Malta
Netherlands
Norway
Poland
Portugal
Romania
Slovakia
Slovenia
Spain
Sweden
United Kingdom
Residents of other countries may still use ecoPayz and create an account but will be unable to obtain an ecoCard or ecoVirtualcard.
Summary
For any resident of the 31 EEA countries, obtaining an ecoCard or ecoVirtualcard is both a remarkably convenient and highly profitable endeavour to ensure that every one of your payments is fully secure and anonymous.
Wherever you go, you can access your ecoPayz wallet through your ecoPayz MasterCard. Whether you are hoping to carry out payments of up to € 2,500 or withdraw up to € 1,500 in cash for Gold status, your eco Card ensures the efficiency and security of every one of your transactions. You may also transfer funds in other currencies alongside a 2.99 % conversion fee or order an ecoVirtual card for just € 1.80 to carry out a completely anonymous one-time purchase for as much as € 700.
You can easily double your ecoCard limits by creating your ecoPayz account via Baxity to benefit from instantaneous Gold status. Unlock higher caps for your shopping or ATM withdrawals to maximise on your transactions whenever you are using your ecoPayz MasterCard.