Skrill is one of the leading payment services for online casinos and gambling sites worldwide. The ease and security of its service have made it into a go-to online wallet for any avid gambler or bettor wishing to send money online and deposit in poker rooms, bookmaker offices, casinos and many more.

36 million accounts and thousands of merchants advocate for the convenience, reliability and anonymity provided by Skrill, boosting the site's popularity to all four corners of the globe.

Although Skrill is best known amidst poker fans, casino players and sports bettors, the service is just as beloved of traders in forex or cryptocurrency, as well as freelancers in various different sectors, be it photography or illustrations. Whilst it may be the simplicity of the principle the company runs on which has attracted its wide following, it is the variety of options on offer which turns its clients into loyal users.
Skrill lets you deposit money and accumulate reserves, transfer money to other users via P2P transfers and even trade-in cryptocurrencies all from your personal account. You may even have the option of using the unique Skrill Mastercard, a prepaid plastic card that lets you withdraw from your account and pay for purchases at any nearby ATM or store. The site also operates a popular loyalty system, known as Knect, which allows one to earn bonus points on their transactions and claim financial rewards.
Skrill lets you forget all about those consuming monthly maintenance fees charged by your traditional local bank by seeking its revenue on its commissions on transfers, currency exchanges and withdrawals of money via ATMs. The payment service is dedicated to offering only the most secure experience to each of its users with its identity verification upon registration to reduce the risk of fraudulent activities or money laundering schemes. Although every one of your transactions is carried out safely, you will still be subject to fees and limits depending on your account status. These status levels range from the most basic verified status all the way up to Diamond.
Skrill has achieved an impressive 4.5 stars out of 5.0 on trustpilot.com, with 71% of its reviews rating the payment service as "excellent". Such encouraging online feedback is just another proof of Skrill's position as one of the best-rated payment services online. With the site's speed, simplicity, reliability and overall efficient customer support, scarcely anything can revoke its growing popularity and elite ratings.
Any gambler or trader is sure to find his joy amidst Skrill's well-thought-out balance of efficiency, usability, versatility, low charges and general ease of use.
History and facts about Skrill
Skrill took its first step into the online payment service arena in 2001 in London under the name "Moneybookers". The company kept the appellation until 2011 where its main clientele were gaming enthusiasts in poker, sports betting and casinos.
Since 2009, Skrill has collaborated with a great number of other businesses, including legal entities, and individuals outside of the gaming scene in an attempt to expand its reach to other parts of online commerce. It stood as an independent company until 2015 when Optimal Payments Plc, the competing payment service NETELLER, bought Skrill for 1.1 billion euros.
Skrill made a series of marking changes to its service in 2016 to restructure its user account functioning. Starting in November 2016, Skrill ceased its operation with bank accounts in US dollars for I/O transactions, whilst keeping its US dollars to VISA card transfers unchanged. Two weeks later, it withheld the operation of its Skrill Prepaid MasterCard plastic cards outside of the European Economic Area (EEA).
On the last day of January 2018, Skrill once again reviews its MasterCard terms, for all users this time, by stopping all account credits via the card. Withdrawals with the MasterCard are however still permitted to this day. In the same year, the site started adding a cryptocurrency tab to its payment service, promoting the buying and selling of cryptographic money straight from your account.
This stream of continuous upgrades and long-standing dedication to its customers earned Skrill a nomination for "Best Digital Wallet 2019" at the Future Digital Awards ceremony in 2019. For many years already, Skrill has had the reliability of its payment system backed up by the Bank of Ireland license and monitored under the UK jurisdiction. This has ensured that every user's money is available for instant return at all times and all transactions are checked for money laundering.
Benefits of Skrill
A number of payment services may roam the web, but Skrill certainly establishes itself at the top of internet searches with its most notable benefits:
Skrill is omnipresent in almost every gambling or trading service around the world
All transactions to merchants are high-speed and instantaneous without additional fees
Features a VIP-program which reduces commissions for money withdrawals, increases limits and the number of additional accounts to open in any one of the 39 currencies on offer
A practical mobile app lets you take your Skrill wallet anywhere you go with an internet connection
Fast customer support for VIP status users
Skrill MasterCard (for countries part of the European Economic Area only)
Virtual Skrill cards for secure payments
You may reap even more benefits when registering onto Skrill via Baxity:
Obtain a higher status with fewer deposits – VIP Silver for 5,000 € deposits (30 days) instead of 15,000 € deposits per quarter.
Speedy verification in just 24 hours on any given business day and without the usually required deposit of $5 for normal registration.
Customer support in English and Russian all 365 days of the year, 24/7.
Don't register onto Skrill without passing by Baxity first to make the most out of your new payment service.
Skrill Registration
Just three simple steps will get you registered onto Skrill with all the best advantages offered by Baxity:
Visit the official Skrill website through the link provided by Baxity
Enter the required personal details on the registration form, including your name, email, place of residence and secure them by creating a password.
Head on back over to baxity.com and send in both your account ID and email to access a range of benefits.
Upon successful completion of the regular registration process, you will be issued with a standard non-verified status, along with its limited opportunities. In order to gain full access to additional privileges, you will be required to verify your identity.
You may consult the Skrill Registration article for further details and information about the registration process.
Skrill verification
Skrill's verification process simply accepts you to confirm your personal identity and your current place of residence by submitting the relevant supporting documents onto the site for consultation.
Baxity lets you complete this process within 24 hours of completion on any business day. This is a significant cut back on the usual 3 to 5 days required for your verification to be processed with a normal registration with Skrill. Not only will you save time, but you will also be saving yourself money with Baxity by bypassing the expected $5 deposit.
Whether you prefer to complete your verification through your personal desktop or mobile application, you may do so in whichever way works best for you. In both cases you should have the following documents on reach:
An ID. This may be an ID card, a passport or a driver license
A document to prove your address of residence. A utility bill or certified bank statement may suffice for this.
As you go through the process, you will be requested to provide clear and legible scans or copies of the required documents, along with a selfie picture of yourself. Please ensure to have your webcam set up or otherwise have the mobile app available to use your smartphone camera.
If you wish to know about the Skrill Verification process in greater detail, see the Skrill Verification article.
Skrill fees
Skrill charges a fee for every transfer or withdrawal of money to and from your account, be they internal or external. This, therefore, applied on any currency conversions, Skrill Mastercard orders, cryptocurrency trades and any additional administrative fees incurred by unwanted actions.
These tariffs are highly dependent on an account's respective status, substantially decreasing as the status level increases from your standard up through Silver, Gold and ultimately Diamond. You should also keep an eye out on the terms related to your specific country of residence as these charges may also vary accordingly.
Here is a brief overview of the most prevalent charges you may encounter when using the payment service:
Funding your account

Via a bank transfer: commissions apply from 0.0% (in the UK) to 2.5% (in Canada, Brazil and Russia) for all status levels
Using VISA or Mastercard: commissions apply from 0.0% (in the UK) to 2.5% (in Canada, Brazil, Russia and Norway)

Withdrawing funds

To a local bank account or international transfer (SWIFT): starting at 5.5 EUR down to nil from Silver status and above
to a VISA card: general 7.5% rate

P2P money transfer (from one person to another person) carried out from within Skrill:

For accounts registered after the 8th of April 2020:

First and subsequent transactions are charged at a 4.49% rate

For accounts registered between the 18th of March and the 8th of April 2020:

First transaction is charged at 10% with a minimum sum of EUR 100
Second transaction down to 2,99%

For accounts registered before March 18:

First transaction is charged at 20% with a minimum sum of EUR 30
Second transaction down to 1.45% with a minimum sum of EUR 0.50

For all accounts depositing with from a card or bank account:

Converting between currencies
| | | | | |
| --- | --- | --- | --- | --- |
| Status | Non-VIP | Silver | Gold | Diamond |
| Fee for currency conversion | 3.99% | 2.89% | 2.59% | 1.99% |
From this brief overview, one can quickly identify and attribute the greatest charges to both P2P transfers between accounts and currency conversions, with rates of 4.99% and 3.99% respectively.
If you are hoping to bypass those imposing charges, you may tackle P2P transfers by aiming for single deposits via bank or card to drop your rate down to 1.45% and henceforth attempt to upgrade your account to Silver VIP status to enjoy a more generous 2.89% commission rate.
How can you obtain a VIP Silver status with just a third of the deposit? As a matter of fact, it could not be any simpler: two steps is all you need.
Register with Skrill via the link offered by Baxity and complete your verification
Accumulate just 5000 EUR worth of deposits within the first 30 days of your sign up instead of the hefty 15 000 EUR asked for by standard registration
For additional information on the rates charged by Skrill on transactions and other actions, see the Skrill Fees article.
Skrill limits
Like most payment services, Skrill applies a set maximum limit on the amount of money that may be involved in a transaction by any given user. As users wish to transfer greater sums within a single payment, they will be required to level up their status to benefit from more lenient terms.
Below is a summary of the limits applied to ATM withdrawals and Skrill Mastercard payments, the latter being limited to member countries of the European Economic Area (EEA).
| | | | | |
| --- | --- | --- | --- | --- |
| Feature | Non VIP | Silver | Gold | Diamond |
| Daily ATM withdrawal limits | €900 | €1,500 | €3,000 | €5,000 |
| Daily POS limits | €2 700 | €3 000 | €5 000 | €10 000 |
In the same ways that the rate charged for various transactions varied with a user's current status and country of residence, the site's limits are based on the same criteria. You may consult your personal account's limits at any time, right from your profile.
For more details about these limits, have a look at the Skrill Limits article.
Skrill security
Whether you are choosing which bank to choose to mortgage your house or which online payment service to join to fuel your gambling hobby, security is key to selecting and trusting the institution that will be handling your hard-earned money.
Skrill has a number of policies in place to make sure that its site is always worth your trust:
Maintains 100% of its users' funds in secure accounts as prescribed by the Bank of Ireland. Being licensed by such an organisation forces Skrill to comply with these requirements without fault.
Holds a global business license (European e-Money license), which subjects Skrill to the laws of every country it operates in.
Skrill has a 4.5-star rating on trustpilot.com, with 71% of reviews rating the service as "excellent".
Skrill may already have shiny licences and a stellar reputation, but how can you keep your money secure in your Skrill account?
Here are a few guidelines you should aim to meet to ensure your account's optimal security:
Check your transaction history on a regular basis to identify any potentially fraudulent transactions
Write down your password somewhere safe
Use a more complex password
Keep your computer protected by carrying out regular updates and installing relevant antivirus software
Do not stay logged into your account if you are browsing elsewhere, always click the "Log out" before leaving the page
Do not use computers in public places to sign in to your account
Use two of the most secure and reliable ways to login to your account instead of two-step authentication:

Use a strong password with a text message code that changes every time you log in with a new password.
Come up with a complex password, a permanent PIN as well as a one-time PIN to receive via email and is valid for 15 minutes.
If you happen to come across any suspicious activity on your account, you should immediately change your password and context the Skrill Support service to inform them about your concern. Skrill will then be able to take the necessary precautions to keep your account safe.
More information on the site's security measures is detailed in our Skrill Security article.
Skrill VIP statuses
Skrill operates on a VIP status scheme which aims to reward loyal users with lower commissions, higher caps, additional multi-currency accounts, premium customer service and a range of advantageous offers.
Anyone with a fully verified Skrill account is eligible for its VIP scheme and will simply be required to meet the set deposit amount to qualify for a certain status level. As you carry out deposits left and right, buying from merchants or selling cryptocurrencies, the amounts transferred are accumulated over a quarter and counted toward your status level. The higher level you reach, the more advantageous your rates and limits will become.
Once you successfully acquire a VIP status, your account will retain it for the full calendar quarter before being reset at the start of the next one. You will, therefore, be expected to keep up with your merchant deposits or cryptocurrency transactions for every quarter if you wish to retain your prime status.
| | | | | |
| --- | --- | --- | --- | --- |
| Fees & Limits | Non-VIP | Silver | Gold | Diamond |
| Minimum Transaction | n/a | €15 000 | €45 000 | €90 000 |
| after registering with Baxity | n/a | €5 000* | n/a | n/a |
| ATM Withdrawal Fee | 1.75% | Free | Free | Free |
| ATM Limit (per day) | €900 | €1 500 | €3 000 | €5 000 |
| Foreign Exchange Fee | 3.99% | 2.89% | 2.59% | 1.99% |
| POS Limit (per day) | €2 700 | €3 000 | €5 000 | €10 000 |
* within 30 days after joining loyalty program
Save up time and money by upgrading your status level more quickly by registering via Baxity's link and benefiting from lower requirements.
VIP Silver for €5,000 (30 days) instead of €15,000
If you want to find out more about VIP statuses, please consult our Skrill VIP article.
Skrill MasterCard
If you are hoping to take your Skrill account offline, the Skrill Prepaid Mastercard is the ideal way for you to withdraw funds at any ATM you may encounter which accepts Mastercard or pays for your purchases wherever you may find yourself in the world. Skrill offers this prepaid plastic card as a direct link to the account credit of any user living in the European Economic Area (EEA).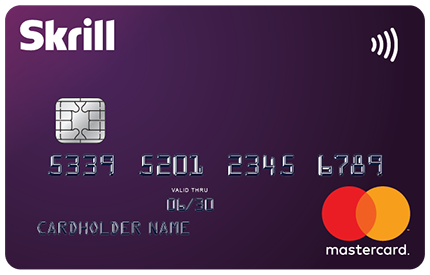 It may be ordered only in EUR currency for €10 for regular account holders or otherwise free of charge for VIP Silver and above. The delivery period is then estimated within 2-10 working days from the order completion to its arrival in your mailbox.
Fees are incurred on the card based on three different actions:
The annual card service charged upon the issue (10 euro or free with Silver status and above)
Currency conversion charges (from 3.99 to 1.99% depending on status)
ATM cash withdrawal standard rates of 1.75%, or otherwise free for VIP Silver and above
Skrill Mastercard limits:
| | | |
| --- | --- | --- |
| Feature | Daily ATM withdrawal limits | Daily POS limits |
| Non-VIP | €900 | €2700 |
| Silver | €1500 | €3000 |
| Gold | €3000 | €5000 |
| Diamond | €5000 | €10000 |
Users with a place of residence in the European Economic Area (EEA) may even enjoy an additional prized Skrill feature: the Skrill Virtual Prepaid Mastercard. This online card lets its user keep their full anonymity and ensure maximum security on a one-time transaction from their account. Upon successful completion of the payment, the card will automatically be cancelled, without leaving a trace of ever being seen again.
Find out more about the site's cards on offer in our Skrill MasterCard article.
Skrill app
Having been founded in the early beginnings of the 21st century, right as smartphones began their rapid expansion into the widespread dominion they hold today, it comes as no surprise that Skrill was quick to release its own mobile application. Ever since 2013, users of the service can have full access to their account handlings and all main functionalities straight from their phone as a portable online wallet.
Downloading the Skrill app will let you:
perform all transactions with your account funds and cryptocurrency reserves right from your personal profile, including an overview of your balance, transaction history, upload and withdrawal or transfers
trade in the cryptocurrencies (European Economic Area residents only).
manage your Skrill MasterCard, checking your credit and ATM withdrawal limits, choosing your currency and PIN code or cancelling your card if lost or stolen
contact the support team and consult the FAQ for any pressing enquiries
verify your account
manage your account
There is scarcely anything you cannot do straight from the Skrill mobile app which you can download for free from the App Store for any iOS device, or similarly for Android straight from Google Play.
Have a look at the Skrill App article for more information.
Skrill Knect
Where its VIP status scheme seeks to reward its users with reduced charges and loosened caps via an incentive to make more deposits, Skrill Knect is a loyalty program which offers benefits for all users of the platform, regardless of account status. Any transaction through the site tallies up a corresponding number of bonus points which may then be exchanged for prizes or gifts.
These precious bonus points are counted on the following rates:
1 point

Receive credit for every 1 EUR spent via deposits, withdrawals, Skrill Prepaid Mastercard® transactions, or crypto trading

0,25 points

For transfers to the store site (merchant) *.
* only for users who deposited into their verified account by any means other than NETELLER, Paysafecard and Bitpay.
Point limits apply for any one transaction and time period:
1000 points for one transaction
500,000 points per month
These are also subject to a deadline where the tally is reset from the current year plus the following year.
No matter how many points you have accumulated, you may exchange them for money, get a gift card or a merchant voucher.
Exchange rate for bonus points:
1,000 points = 1 EUR = 1.1 USD
For every 1000 points accumulated, you may earn 1 euro or 1.1 USD in exchange.
This may be resumed more concisely as a base rate of 0.1% conversion of your spending into Knect points. You may hence earn a maximum of 1 EUR on each transaction, equivalent to 1000 points, and a maximum of 500 EUR per month for 500,000 bonus points which require you to carry out a total of 500 transactions within a 30 days period.
Please consult the Skrill Knect article for more details.
Skrill Crypto
It was only recently, back in 2018, that Skrill first launched its cryptocurrency trading service, and yet, it has already amassed ample users exchanging in as many as 9 different cryptocurrencies: Ether, Bitcoin, Bitcoin Cash, Litecoin, XLM, Ethereum Classic, 0x, EOS and XRP. These can be purchased from accounts in any of the 40 standard currencies accepted by Skrill.
Not only can you access all cryptocurrency buying and selling features from your personal profile to handle manually, but you may also have the option to set up automatic trading. This automated service will trade the cryptocurrency of your choice whenever it reaches a predetermined rate, placing an automatic order to buy or sell a set amount. Skrill lets your nerves take a break from the market's ever-changing rates by taking care of your trading based on your preferences.
The fees associated with the buying and selling of cryptocurrencies are as follows:
for amounts over €100 – 1.5% rate
20 – 99.99 EUR – fixed €1.99
up to 19.99 EUR – fixed €0.99
P2P transfer fees also apply to any such transactions placed within Skrill and are set at a rate of 0.5%. It is also important to note that the site also has a minimum set at €10 on the purchase and sale of cryptocurrencies.
For additional details, take a look at our Skrill Crypto article.
Deposit options and withdrawal options
What would a payment service be without its deposits and withdrawals? Just like many aspects of its operations, Skrill has laid out its transaction options according to a user's country of residence, as noted upon registration.
The platform features 4 primary deposit options and additional methods, each with a 2.5% commission rate:
from your bank account
MasterCard or VISA
Bitcoin
Neteller
various others to consult directly from your account
Alongside multiple funds withdrawal opportunities:
to a bank account
with a VISA card
from an ATM using a Skrill MasterCard (applicable to accounts from the European Economic Area only)
other transaction options which you may consult directly from your account
Serviced and restricted countries
Skrill's platform and endearing reputation have indeed extended all over the world. It has, nevertheless, incorporated certain features which are only available to a restricted number of countries. This includes both the Skrill Prepaid plastic and virtual Mastercard which to this day is reserved for members of the European Economic Area (EEA).
The availability and functionality of the platform may be resumed by three distinctive categories:
serviced countries with and without access to the Skrill MasterCard.
countries serviced with the distribution of the Skrill MasterCard (restricted to EEA countries)
countries which remain unattended
Check out the status of your own country on the following map:
The countries which fall under the "serviced" category may profit from the following functionalities:
create an account
complete transfers or make transactions to merchants
add credit to your account and withdraw money from it
issue an order for the delivery of a Skrill MasterCard (EEA zone only)
Countries where Skrill Mastercard is available
The European Economic Area (EEA) is made up of an array of countries with the aim of facilitating and combining payments from individuals and businesses across the European Union. The member countries are listed below:
Austria
Belgium
Bulgaria
Croatia
Republic of Cyprus
Czech Republic
Denmark
Estonia
Finland
France
Germany
Greece
Hungary
Iceland
Ireland
Italy
Latvia
Liechtenstein
Lithuania
Luxembourg
Malta
Netherlands
Norway
Poland
Portugal
Romania
Slovakia
Slovenia
Spain
Sweden
United Kingdom
These countries may order and receive the Skrill MasterCard.
Non-serviced countries
Afghanistan
Angola
Barbados
Benin
Burkina Faso
Cape Verde
Comoros
Crimea
Cuba
Djibouti
Eritrea
Faroe Islands
French Polynesia
Gambia
Greenland
Grenada
Guadeloupe
Guyana
Iran
Iraq
Japan
Kyrgyzstan
Lao People's Democratic Republic
Libya
Macao
Martinique
Namibia
New Caledonia
Niger
North Korea
Palau
Reunion
Samoa
Sudan (North and South)
Suriname
Syria
Tajikistan
Togo
Turkmenistan
10 of Skrill's most important features (for those who don't have time to read everything):
Some may diligently read the entire article but forget half of it, others may not bother reading more than a page's worth of content; either way, here are the most important takeaways about Skrill once you have registered via Baxity and obtained a Silver VIP status on favorable terms:
Skrill is a favourite of gamblers and traders for its speed, simplicity, functionality and reliability.
Skrill was rated 4.5 stars out of 5.0 by trustpilot.com with 71% of reviews rated the service as "excellent".
Skrill is very popular amongst merchants, be they poker room handlers, bookmakers, Forex traders or online casinos. Wherever you choose to place your bets, you will likely find Skrill already in place.
You can trade in cryptocurrencies right from within your Skrill account without the need of any additional external transactions. Exchange any of the 40 recognised currencies for Ether, Bitcoin, Bitcoin Cash, Litecoin, XLM, Ethereum Classic, 0x, EOS and XRP.
Use the Skrill mobile application for quick verification and easy account handling
Order and receive by mail a Skrill Prepaid Mastercard plastic card to make cash withdrawals and pay for your purchases – as long as you are a resident of the European Economic Area (EEA) only.
Use your Skrill Virtual Card for anonymous card payments – EEA residents only
You can easily fund your Skrill account straight from your bank account, VISA, MasterCard or various other ways at a 2.5% commission rate
You can withdraw money from Skrill to your bank account for €5.5 or entirely free of charge starting with a Silver VIP status
Currency conversion rates range from 3.99% down to 1.99%
Collect Skrill points on your external transactions, to be exchanged for money at a rate of 1000 points to 1 EUR (0.1% of transaction volume).
Achieve higher VIP statuses with fewer deposits by registering through our link and benefit from these preferential terms: VIP Silver for €5,000 (within a 30-day period) versus the usual €15,000
How do I get the most out of Skrill for free?
This is certainly the question on most people's mind and the answer is surprisingly brief. In just 3 quick steps, you will be making the most out of your account – without paying an additional cent:
Join Skrill using the link provided by Baxity
Unlock all benefits by sending in your account ID and email submitted through the form
Complete your account verification in just 24 hours, with no prior deposit, to obtain a VIP status on much generous terms and fewer spendings
Review: comparing verifications through regular registration and via Baxity:
| | | |
| --- | --- | --- |
| Feature | Regular Registration | Registration via Baxity |
| Deposit for verification | Required, $ 5 | Not required |
| Verification duration | 2 – 5 days | 24-hour priority |
| | | |
| --- | --- | --- |
| Status | Non-VIP | VIP Silver |
| Standard conditions for obtaining | — | transact over €15000 in a quarter |
| Conditions for receiving via Baxity | — | transact over €5000 in a month |
| Conversion fee amount | 3.99% | 2.89% |
| Additional accounts in other currency | multicurrency | multicurrency |
| Limit on cash withdrawals from ATMs | €900/per day | €1500/per day |
| Commission for cash withdrawals at ATMs | 1,75% | free |
| The limit on the payment card in shops (terminal) | €1000/per day | €3000/per day |