After registering onto NETELLER, you will need to verify your identity as much for security purposes as for loosening the restrictions on your account. Going through every step of the verification procedure is essential if you are hoping to optimise your new account and enjoy more varied transaction methods, including the opportunity of ordering a Net+Prepaid Mastercard.
Such thorough completion will grant you relaxed caps on your transfers as well as maximum limits on transactions, withdrawals to a bank account or via ATM using Net+. Luckily, verifying your personal data (for Baxity clients) will take less than 24 hours without the need for a prior deposit.
By the way, after verifying your NETELLER account, you can easily and quickly pay for vouchers, gift cards, or prepaid cards on the Baxity Store with this payment system. Let's try the link below!
Ways which you can verify your personal data
There are two ways to pass verification in NETELLER:
Via neteller.com
Via NETELLER mobile application, which should be pre-installed on your smartphone.
Before you go on about how to verify your account, you should also keep in mind that there are also two different ways to go through the registration process, each affecting commissions and limits in their own particular way. These are crucial in determining the opportunities you will be offered and conversely, the costs you might face later on.
Method 1: Carry out a regular registration and verification directly with NETELLER, either through the site or application, and pay a $5 deposit charge
Method 2: Registration and verification to NETELLER through Baxity.com to unlock the following benefits:
Verification in 24 hours, not 2-5 days;
No $5 deposit required for verification;
VIP Bronze Pro status, with reduced currency conversion rates (up to 3.79%),
Increased limit for ATM withdrawals (up to $3,300 per day) and card payments (up to $7,000 per day),
Increased Bitcoin purchase/sale limits 2.5 times to $40,000 per month.
In addition to the above, connection to Baxity allows you to unblock VIP Silver status for just a small $7,500 in deposits within 30 after the registration.
Step-by-step process of verification for regular customers
Verification for 1 business day without deposit (when registering an account via Baxity)
24-hour verification
By creating your NETELLER account via Baxity, your account will be fully verified within just 24-hours of your completion of these steps instead of the usual 2 to 5 business days, and you will even bypass the preliminary $5 deposit.
Such accelerated verification without the long wait and prior deposit is fully attainable as long as you have registered with NETELLER via the link provided by baxity.com and then verified as usual.
Apply for a Bronze PRO status upgrade
Once NETELLER has processed your expedited verification, you will be granted an instantaneous VIP Bronze PRO account status with no prior deposit asked for. Use the link provided on Baxity.com by entering your account ID and email to benefit from reduced fees on your transactions and even higher limits.
Bronze Pro VIP status will slash the commission set on currency conversion down to 3,79% instead of the regular 3,99% rate. You will also be granted a more generous pass on your daily ATM withdrawals, hereby raised to $3 300.
You will be able to profit from these advantages without a single digression from your standard verification process, except for the $5 saved on the now unrequired prior deposit.
Standard verification with preliminary deposit $5
To go through the standard verification, it will suffice to log into your account as usual to complete the process. You can go ahead with the following steps on how to verify if your laptop or monitor possesses a webcam, the second method will be appropriate for those who don't.
The verification process as a whole will proceed in just two simple stages: identity verification and residence verification. Before getting started, it is wise to make sure that you have the following documents ready on hand for submission:
ID document (passport, driver's license or ID card)
Address document (bank statement, utility bill, etc.)
PC or laptop with a functioning webcam
$5 to complete the deposit and validate your verification application
 1. Refill your NETELLER account
Have a minimum of $5 stocked up in your account which you can upload via the Deposit section of your profile or receive via a transfer from another user or merchant.
2. Sign onto NETELLER
As you log into the desktop site you may access the verification page by clicking on the "Settings" tab at the account details drop-down menu.
You will be taken to the full "Settings" page, where you need to choose "Verification" tab and click "Verify now". Clicking on the button will immediately redirect you to the verification form.
By registering through Baxity, you will immediately be able to skip to the ID verification step by bypassing the required fund's deposit.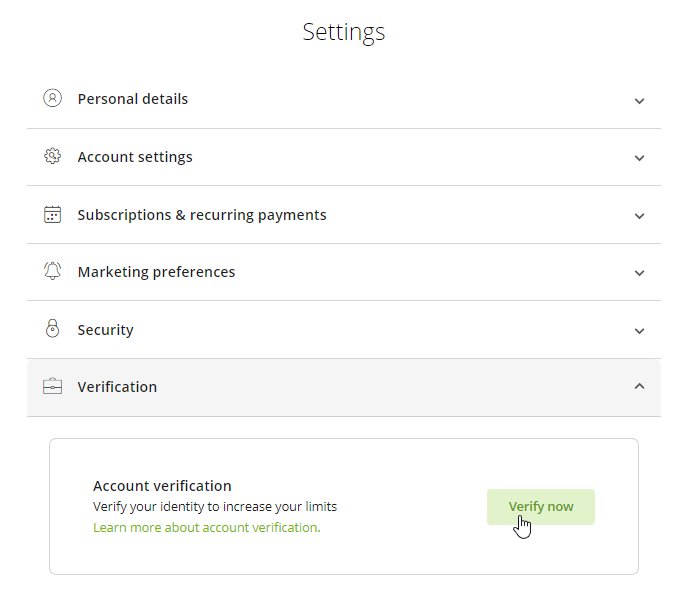 3. Step 1 verification – Identity verification
3.1 Connect your Facebook profile (optional)
Although this step is completely optional, linking your Facebook profile with your account will simplify the verification of certain parts of your personal information. If you do not have a Facebook profile or do not wish to share your data, you may skip this step.
When completing this step, it is crucial that every detail of your profile, including your name, date of birth, address and email, are all perfectly concurrent with those of your NETELLER account.
3.2 Choose your ID verification option
You will be allowed to choose between a mobile verification or a direct photo upload. Click on "Upload Photos".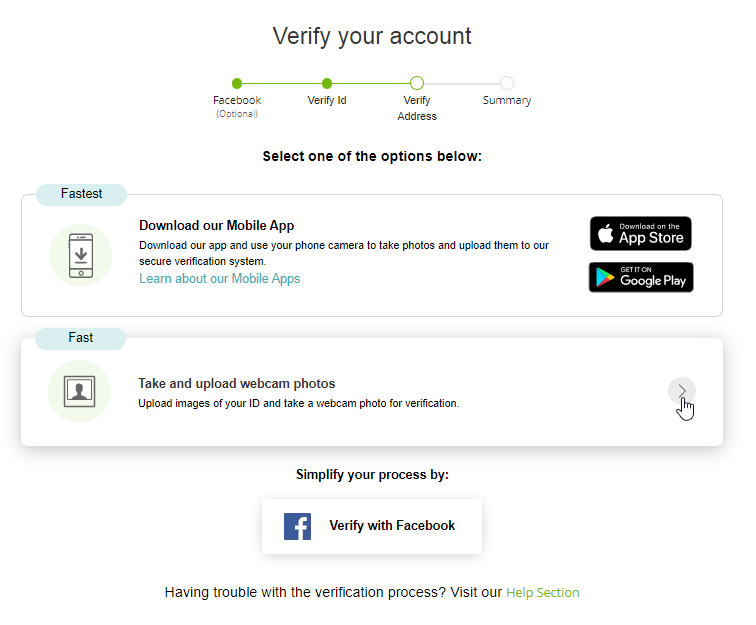 4. Upload the relevant photos
Select the country from the drop-down menu which has issued the ID you will be submitting. This may be different from your present country of residence, so care should be taken not to confuse the two as this could inadvertently slow down your verification process.
Click on either "Passport", "Identity card" or "Driver's licence", as your choice of upload, and you will be redirected to a submission page. You should make sure that your webcam is connected and fully working to click on the first link, "Take photo", or the second, "Upload file" to upload a picture of your ID to complete the first step of  ID verification. Make sure that your webcam is authorised on your browser, you will need it on the second step of ID verification – online selfie. To pass it, just follow the prompts on the screen.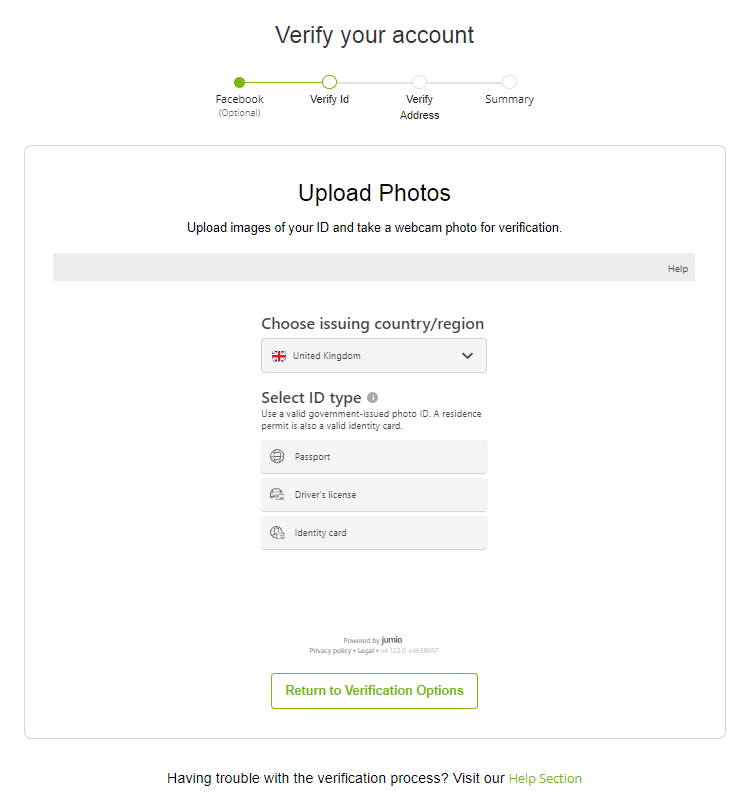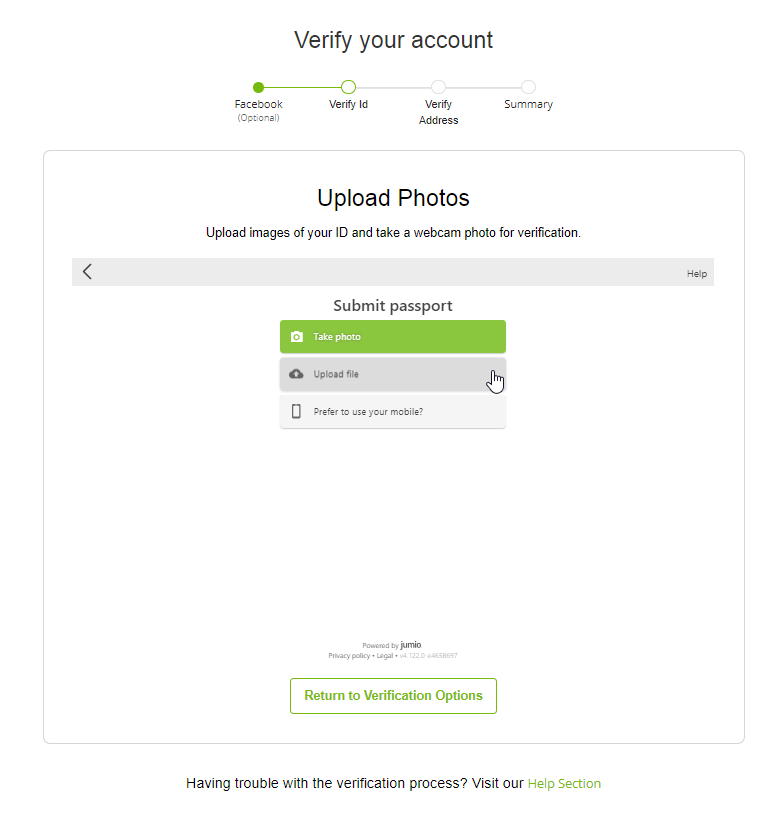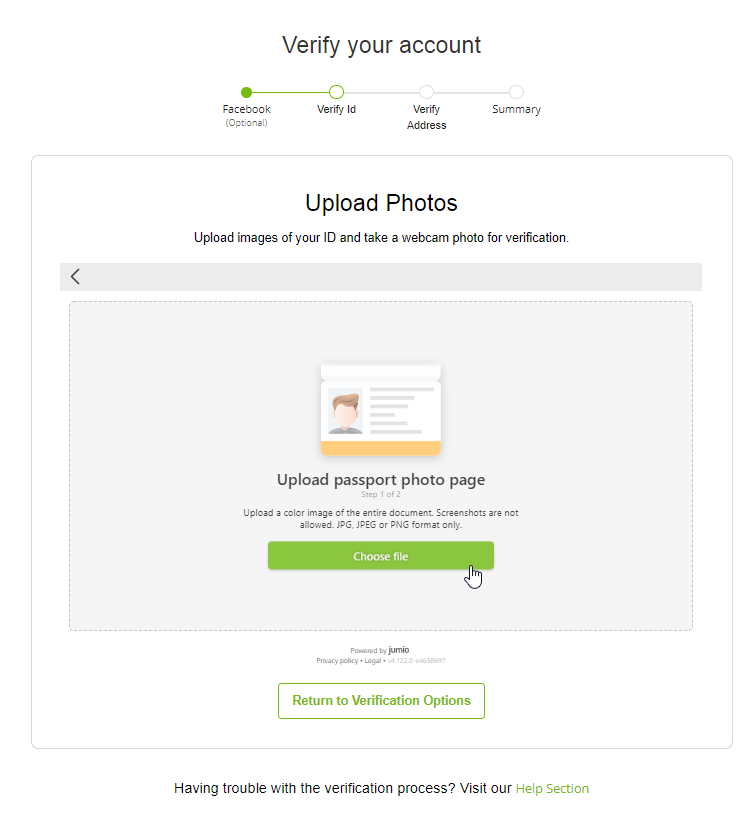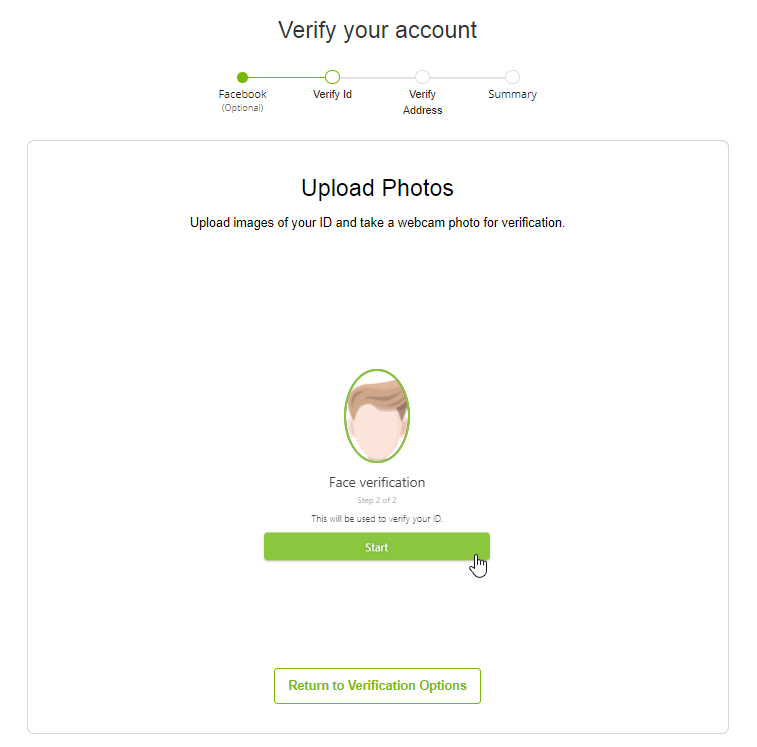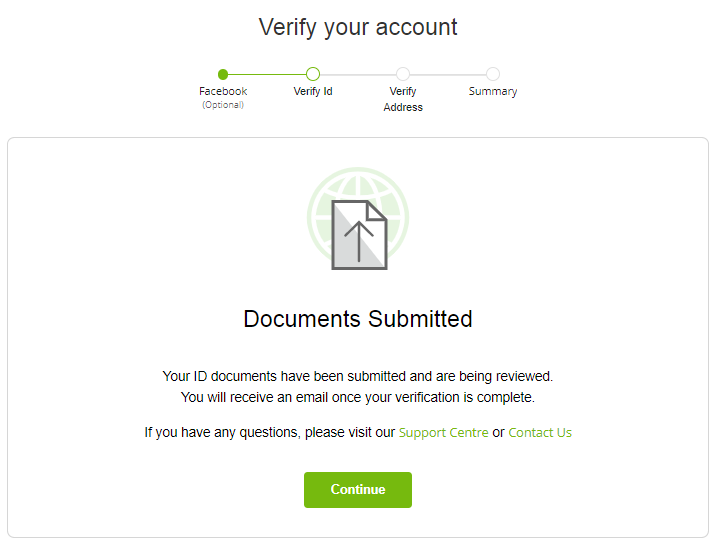 Upon successful completion of the upload, your ID verification status will be set placed "In Review". You will be asked to wait a few seconds for the quality of your submission to be checked to confirm your ID verification.
5. Verify the address on your account
To complete this step, you can either allow your browser to share your current location for you or conversely upload a document containing a proof of your residence which matches up to your account address. In the first instance, you can click on "Geolocation" for your browser to open up a pop up for you to "Allow" it to know your location.
There is a chance that this step will already be completed if your browser location has already been shared before or you have chosen to link your Facebook profile in the previous step. These options will be dependent on your country of residence and their respective policies.
Otherwise, you may follow the "Upload Address Document" link on how to manually submit a proof of residence that is not more than three months old. You should select the type of document from the drop-down menu, click "Upload files" and "Continue" to finish the process.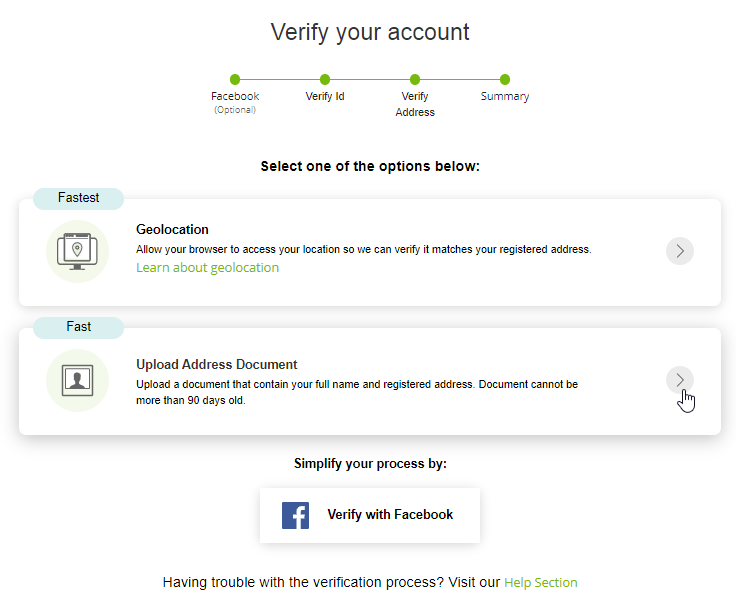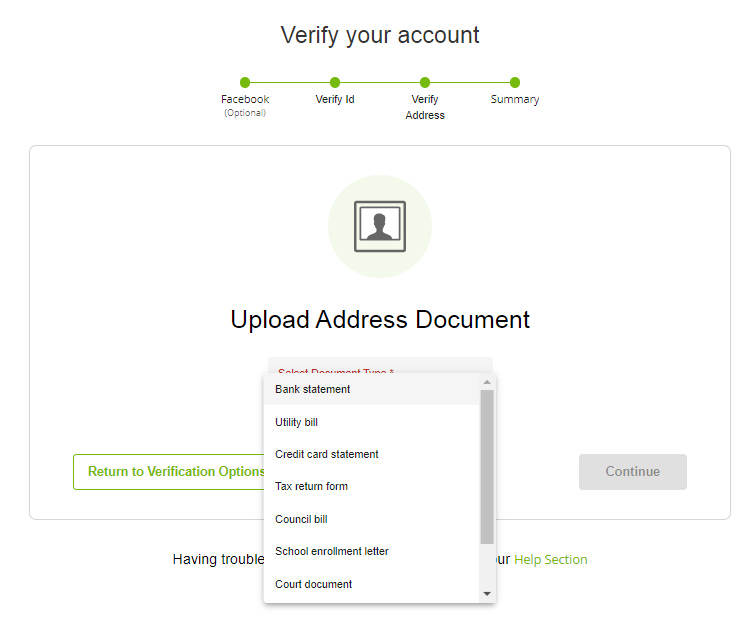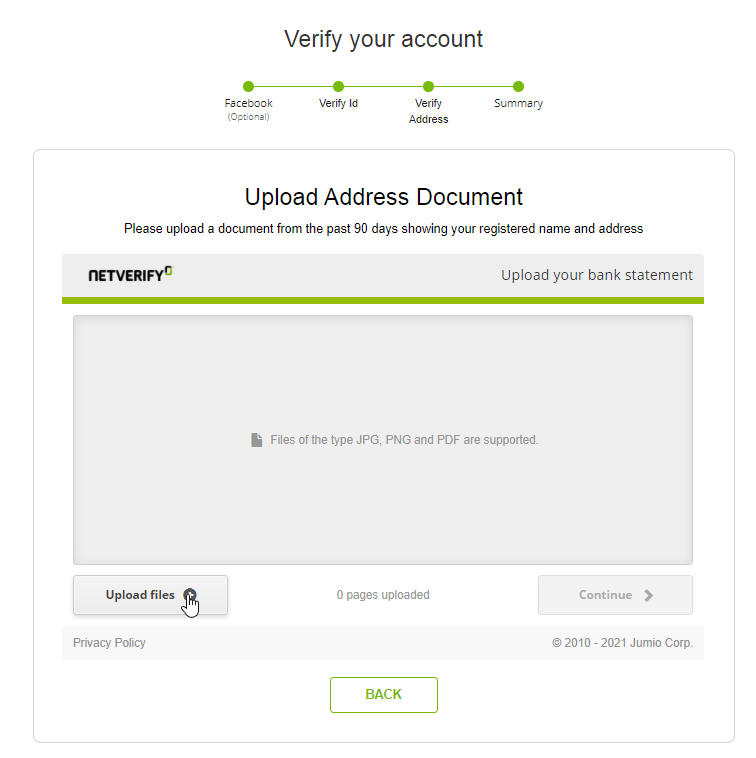 6. Finalise your verification
A summary page will display your successful verification form completion, and you may exit the page by clicking on "Go to dashboard".
Mobile verification with preliminary deposit 5$
Get the NETELLER app on your phone
In order to successfully verify your account using your smartphone, you will need to download the app from the IOS App Store or Google Play Store if you haven't done so already.
Log into your account
After signing in, on your profile, go under "Verify your identity". This will guide you through a slideshow detailing information on how to follow through the process and the documents needed. Once you are satisfied with these requirements, you may click on "Verify Now" to start up your verification process.
Select your country and document
Choose your ID's country of an issue from the drop-down menu and choose between "Passport", "Driver License" or "Identity Card" as your piece of identification of choice.
Photograph your ID
The relevant icon will open up your camera for you to scan both sides of your ID, making sure that all the fine print shows up in high contrast.
Upload your selfie
You should ensure that your face is correctly aligned close enough to the screen for three seconds until the app validates your picture. You should ensure that your eyes are visible at all times and that you take off any hats or glasses prior to your photo taking. In just a few instants, the app will validate your ID verification.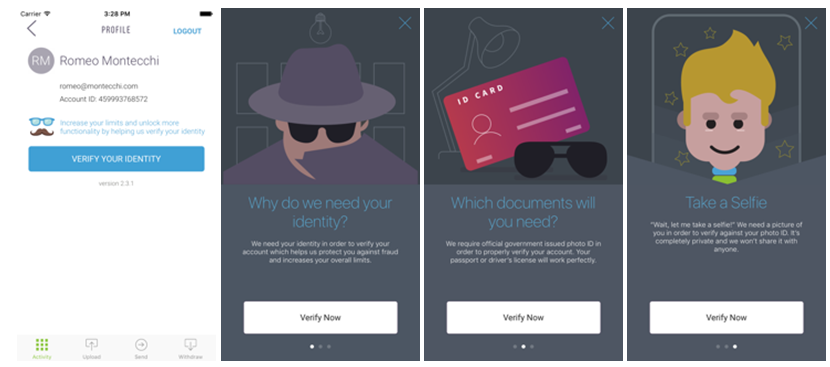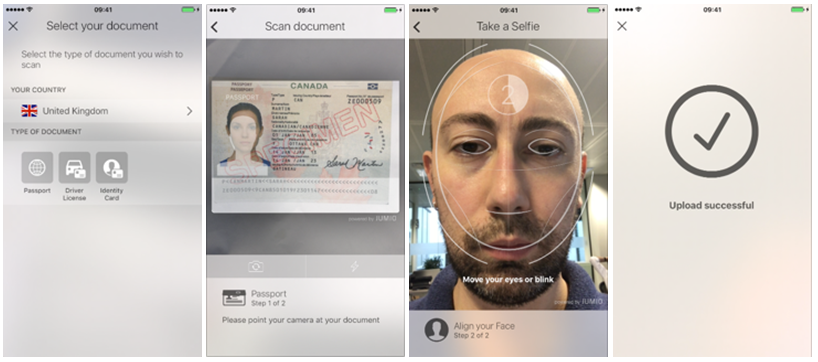 If everything is in order, you will be notified of your successful upload with the following message, "Documents uploaded and pending". Once thoroughly reviewed, you will receive the confirmation of your verification via the email associated with your account.
Documents needed for verification and their requirements
To complete all steps of NETELLER's verification process, you will need to prove both your identity and place of residence by uploading the relevant documents.
ID verification documents:
Passport or
ID card or
Driver's License
You should make sure that your ID photo complies with the following criteria:
PDF, jpeg, jpg, GIF or BMP format
a file size below 5 MB
full corners visible
ID is not expired
Address verification documents if you do not choose to activate your geolocation:
Utility bills for your home or
Relevant bank statements or
Signed confirmation from your bank or
Tax documents or other relevant official documents issued by the government
Manual address verification requirements:
Full name and address matching that of your registered account
Date of issue not more than 3 months old
Printed document (no online version)
Ultimately, there only two ways to go through the verification process:
Standard verification
This can take anywhere from 3 days to as long as a week, only after you have paid the mandatory $5 deposit. After this wait, you will be in possession of a regular verified NETELLER account.
Accelerated verification via Baxity
Not only can you skip the long wait and get through the entire process in 24 hours, but you also will not have to spend a single dollar in deposits.  Once complete, you will be able to enjoy a VIP Bronze Pro status with more lenient fees for currency conversion and more reasonable caps on your ATM cash withdrawals using the Net+ Mastercard.