ecoVoucher is one of the most convenient ways to send funds to a service like ecoPayz. You probably are familiar with how vouchers work in general. But in this article, we'll be covering the specifics — here is how to deposit money in ecoPayz.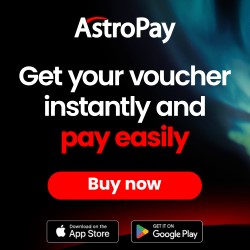 How Does ecoVoucher Work?
ecoVoucher is a popular digital payment method. It is based on the principle of a prepaid card — you buy a voucher pre-loaded with a certain amount of money and then use it to pay for a service.

This method is convenient for those who don't want to link their banking information and similar financial data to a service. You simply purchase it from a distributor and "cash it in" on any website that accepts ecoVoucher. In a way, it's not that different from real cash — only digital.
Pros and Cons
Should you give your preference to ecoVoucher over other deposit methods? It depends on your personal preferences. But we can objectively pinpoint the main advantages and disadvantages of the service.
Pros:

2-step payments
Quick ecoPayz local deposits

Flexible, fair fees
Doesn't require credit cards or bank accounts
Cons:

Small number of currencies (EUR/USD/GBP)
Not very well-known or widely accepted
Where Can I Get an ecoVoucher?
ecoVouchers are available for purchase online. However, you can't buy them directly from their official website. Instead, you can buy it from a third party. Depending on your area of residence, you will be redirected to a specific distributor.
Here are several online outlets offering ecoVouchers:

For a full list of shops and countries where they distribute, follow this link.
How to Deposit Money in ecoPayz via ecoVoucher
Before you top up ecoPayz via ecoVoucher, you need to learn what an ecoVoucher PIN is. It is an 18-digit unique number that is only associated with your received voucher. This code is vital for completing a secure payment — and in our case, for adding funds to an ecoPayz account.
Here is an example of what the voucher looks like: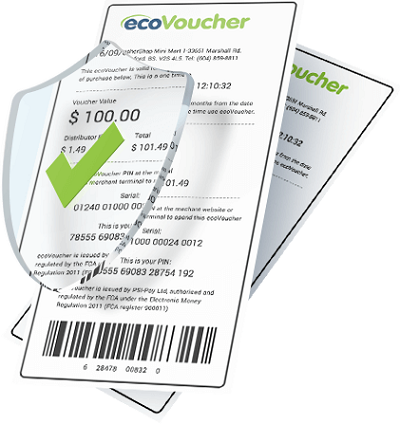 Now, let's go over the depositing process. There are two ecoPayz deposit methods with an ecoVoucher: mobile app and website.
Here is how you do it with a mobile device:
Open the ecoPayz app.
Go to Deposit.
Tap on ecoVoucher.
Send the 18-digit PIN code that you received earlier.
Specify the amount of your pre-paid voucher (you can't use it partially though) and your chosen currency.
Tap Continue, and you're done! The transaction should be immediate.
If you're using a desktop device, complete the following steps:
Go to ecoPayz website.
Sign in to your personal account.
Click on Deposit Funds.
Select ecoVoucher from the list offered.
Enter the PIN, the amount, and the currency. Enter "Continue".
You can check the details you entered and see the applied fee and the total deposit amount. Click "Confirm", if everything is correct.
That's it — "Go to my account" to verify whether the funds are there!
You can check your transactions in the "Statements" section on ecoPayz account main page.
Just like with any financial transactions made online, you have to be cautious to a certain degree. Here are a few recommendations to make your deposits as safe as possible:
Buy ecoVouchers from authorized sellers (check the official website beforehand).
Don't send your PIN to anyone (e-mail, telephone).
Use secure Wi-Fi networks when opening the website or the app.
Fees
The ecoVoucher virtual cards come in the form of 10, 15, 25, 50, 75, 100, 125, 150 cards in EUR/USD/GBP. Operational fees for purchase depend on the distributor. For example, here is the total cost of a voucher from dundle.com:
The fee structure for deposits is the same for all account types — 2.9%. By the way, there will be no fee for deposits in ecoPayz via ecoVoucher if you are Canada resident. Learn more about ecoPayz fee for Canadians following this link.
However, other fees depend on your account tier, which is where Baxity comes in handy. You get instantly upgraded to ecoGold and VIP treatment. Register on ecoPayz through our service to get access to generous perks.
Is It Safe to Use ecoVoucher?
As specified in the security policies, ecoVoucher validates and verifies the data given by users. Thus, they weed out potential fraudsters right at the moment of registration. Another layer of security checks is identity checks.
The service is known as reliable and scam-free. If you notice any suspicious activity, immediately contact the customer support agent. They will quickly resolve all urgent issues.
You can find more information on which security measures are implemented in this article.
Availability by Countries
There is an extensive list of countries where you can make an ecoPayz deposit via ecoVoucher. Below we'll list the regions and mention several countries (but bear in mind that we can't mention all of them):
Europe (the UK, Germany, France, Netherlands, Switzerland)
Asia (India, Japan, UAE)
South America (Mexico, Brazil, Chile, Columbia, Ecuador)
Africa (Egypt, Nigeria, South Africa, Oman, Kenya)
Validity of ecoVouchers
eco Vouchers are valid for 24 months after being issued. If you aren't sure about the issue date of your voucher, you can contact customer service. They will be able to consult you on the balance and the validity of your voucher at any time.
We'd also like to include some information about refunds:
You are eligible for a free refund of unused ecoVouchers for 14 days after the purchase.
After the 14-day period, you can get a refund for a fixed fee.
The time limit when you can refund an unused ecoVoucher is 7 years.
Alternative Deposit Methods in ecoPayz
ecoPayz isn't limited only to ecoVouchers. Below are three other ways for topping up your account:
Credit/debit card (Find instructions for an ecoPayz MasterCard deposit here).
Local deposit options (Step-by-step explanation about ecoPayz Bitcoin deposit is given here).
International bank transfers.
Feel free to explore any option you like. Overall, you should find that ecoVouchers are a quick and easy way to make online purchases without subjecting yourself to unnecessary risks. But remember that you can do it on the best terms — with the Baxity loyalty program.