What is Skrill Knect?
Skrill Knect is a loyalty program released by the payment service Skrill to reward all of its regular users. It operates on a point-based system that tallies up every transaction carried out between businesses, sites and even friends.
Whether depositing, withdrawing or transferring money, every financial exchange completed through your payment account will translate itself into Knect points which can then be traded for a range of fantastic rewards. From discounts to cash prizes, these valuable gifts are all at the reach of most loyal clients from the Skrill Knect Loyalty Store.
Benefits of Skrill Knect
There is no reason why one should miss out on this all-inclusive loyalty program. Skrill Knect is the best way to make every transaction count in earning users the chance to redeem a range of highly valued gifts and rewards. With no additional effort required, any verified account holder can join and access an assortment of benefits – simply log in and agree to enrol into this great scheme.
Once joined, Skrill Knect points will automatically be counted and collected for any transaction undertaken thereafter. This includes any withdrawals or deposits to and from a Skrill account, as well as direct transfers between fellow Skrill users.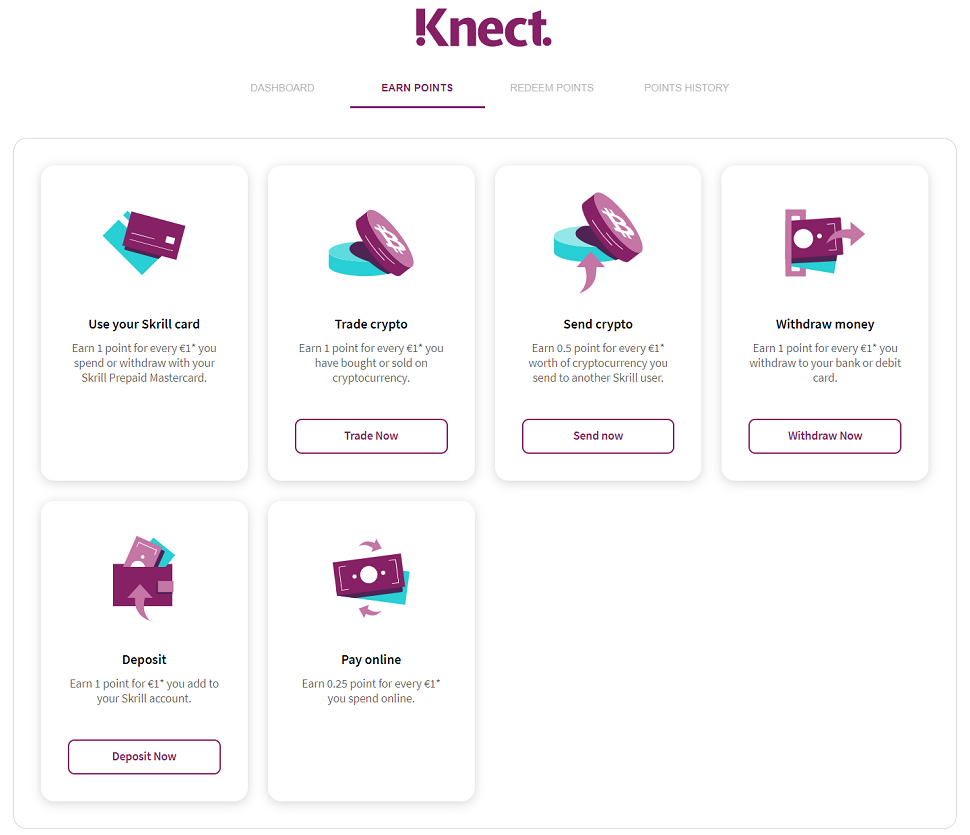 Furthermore, Skrill MasterCard owners may also profit from this reward scheme by earning points at every payment made with their card. Always striving for innovation and adapting to the latest technologies, Skrill Knect also applies to transactions made with Crypto Currencies. Virtually every type of user can unlock a variety of rewards for their everyday payments. These include various discounts, cash vouchers, free bets and even more. Click Knect ->Spend point. For example, now you could get 10 euro just for 10000 points.
Earning Skrill Knect Points
 With a Skrill account all set up, earning Knect points could not be any more straightforward. Assuming the loyalty program is available in your country of residence, the following rates will apply.
Account replenishment 1 EUR = 1 point
Funds withdrawal 1 EUR = 1 point
Skrill Prepaid Mastercard® transactions 1 EUR = 1 point
Merchant deposit 1 EUR = 0.25 points
Crypto purchase 1 EUR = 1 point
Crypto sale 1 EUR = 1 point
Crypto p2p transaction* 1 EUR = 0.5 points
*Transactions between your own accounts (including NETELLER) do not qualify.
Each one of a user's eligible transactions may earn them up to one thousand Knect points with a monthly limit as high as 500 000. One cannot start to list the number of fantastic rewards one may unlock with as many as half-a-million points.

One should be careful to note that the conversion rates round down to the nearest point. For instance, if you transfer 0.5, you will get zero points, and by transacting 1.1-1.9, your reward will be one loyalty point.
You will have even more opportunities to boost your loyalty points by participating in special promotions held by Skrill.
Spending Skrill Knect Points
Spending your Knect points is just as straightforward as earning them. You may access them from the Rewards tab in your Skrill account. This will give you a series of options on what you may choose to exchange them for.
electronic money;
gift cards;
merchant vouchers;
specific promos offered by Skrill;
purchase of one of the supported cryptocurrencies;
various goods and coupons (if available) in the rewards catalogue.
FYI: all loyalty points earned in any calendar year must be redeemed by the end of the next calendar year, and all points earned within the current year will expire at the end of the following calendar year. The points expire on Jan 1st at 00:00. Points are awarded after calculating the transaction, which usually takes no more than a few hours after authorization.
As you keep depositing and withdrawing money, you can track your point-earning directly from the Skrill Knect page. Signing in to register onto Skrill, the Knect tab is just a button away from the left sidebar where you can access your Points History. This will display all your recent collections, going back in chronological order to be easily reviewed if necessary.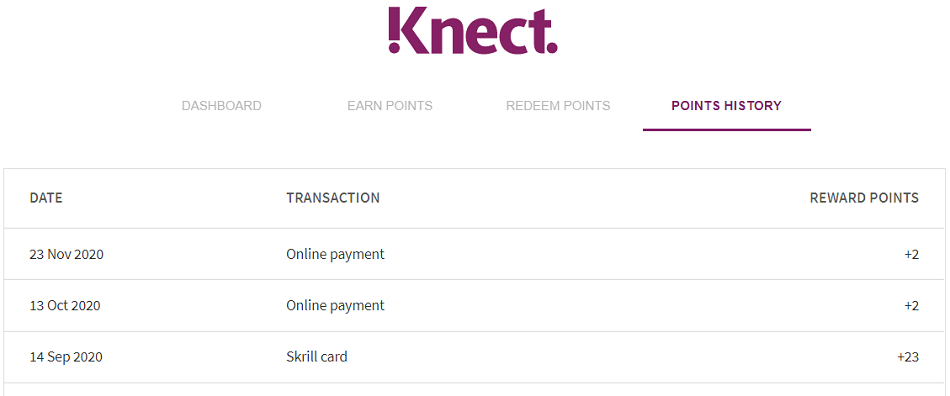 Why you Should Register to Skrill Knect through Baxity
Skrill Knect offers you the opportunity to make every euro spent and exchanged count towards earning you a range of attractive rewards. Nevertheless, one should note that participation in this profitable program is restricted to accounts which have been fully verified. This process may take up to an entire week to be completed. Using Baxity to register onto Skrill Knect will not only let you complete your verification within just 24 hours of submission but will also help you unlock the site's prized VIP statuses on significantly more lenient terms.
Baxity can spare you some thousands in down payments as the smallest VIP Silver status is made available from just €5,000 in deposits to your favourite merchants. VIP Gold following up closely at €15,000 respectively.
The higher the status, the greater the benefits, so why not connect through Baxity to make the most out of your account and cash out on some great rewards through Skrill Knect.