When it comes to commissions, NETELLER has a few simple rules. As you go one to carry out and accumulate a greater number of deposits, the lower your will find your transaction fees have become and the closer you will get to unlocking the higher limits offered by NETELLER's prized VIP statuses, unavailable with other payment services like Paysera or PayPal.

Baxity offers you a simple and straightforward way to bypass these mass deposits by granting you higher VIP statuses entirely free of hassle and charge. All that is required of you is to register onto NETELLER using our link. Briefly enter your account details, including your ID and e-mail, and you will be promptly initiated with privileged access to NETELLER's VIP scheme and a number of other benefits.
The instant you have linked your account through Baxity, you will obtain privileged 24-hour account verification with no prior payment required. You may profit from an instant VIP Bronze PRO upgrade and preferential access to the subsequent Silver status after just $7,500 in deposits. Alongside the many advantages granted to you by such a direct upgrade, you will be charged zero commissions on your transfers starting with a Silver VIP status.
Whether you are signing up directly with NETELLER or through Baxity, the registration process is identical in both cases. Just a click through the portal provided on Baxity.com will send you through to the official NETELLER enrolment page where you may enter all of your details as required. Once you have completed the forms, you should make sure to pass by Baxity again to validate your application to its loyalty program. Simply send a message with your NETELLER account ID and email to be sent back the brief instructions that will allow you to access your priority verification and status upgrade.
Comparison of fees for regular Neteller clients and Baxity Neteller Clients
Whether your account has just been verified or you have already made enough deposits to merchants to gain access to superior VIP status, your transaction fees will vary accordingly.
If you happen to register directly through NETELLER, your verified profile will be subjected to the maximum fee on every transaction you may carry out. The only way for you to crunch down on those fees and boost up your caps would be to complete a sufficient number of deposits to meet the target of the following VIP level.
When you register via Baxity, you can avoid having to make those numerous deposits by gaining instant access to VIP Bronze PRO upon verification. The benefits extend even further to the VIP Silver status, which Baxity makes available to its users on preferential terms. Your required deposit is substantially two times reduced to a mere $ 7,500, compared to the original $ 15,000 deposit condition.
The following table exemplifies the most relevant and advantageous features offered by your registration via Baxity.
| | | |
| --- | --- | --- |
| Feature | Regular Registration | Registration via Baxity |
| Deposit for verification | $ 5 | Not required |
| Verification duration | 2 days | 24-hour priority |
| VIP Bronze  | n/a | VIP Bronze PRO for free after verification |
| VIP Silver | $ 15,000 deposits | $ 7,500 deposits (within 30 days) |
Rates and fees of NETELLER account
One should note that all accounts, regardless of status, will have access to the following conditions:
free account opening
free transfers (deposits) when sending money to merchants
A $5 monthly charge for account maintenance if inactivity has been recorded for over one year
Regular
account
VIP Bronze PRO
VIP Silver
VIP Gold
VIP Diamond
Exclusive
Amount of deposits (transactions) to merchants for a calendar year to obtain VIP status:
– during regular registration
—
—
$ 15 000
$ 45 000
$ 150 000
$ 600 000
– via Baxity
—
free
$ 7 500
–
–
–
Additional account in other currency
multicurrency account
multicurrency account
multicurrency account
multicurrency account
multicurrency account
multicurrency account
Account replenishment (by bank transfer, VISA card, Skrill)
2,5%
2,5%
2,5%
2,5%
2,5%
2,5%
Withdrawal of money to a bank account
$ 10
$ 10
$ 10
free
free
free
Transfer of money to another NETELLER account
from 4.49% to 1.45% * (free starting from VIP Silver)
from 4.49% to 1.45% * (free starting from VIP Silver)
free
free
free
free
Currency Conversion
3,99%
3,79%
3,19%
2,79%
2,39%
1,29%
Compensation of commissions for deposit and withdrawal of money
no
no
no
up to 10 commissions per month
up to 10 commissions per month
up to 10 commissions per month
Maximum limits on transfers and deposits
no
no
yes
yes
yes
yes
Cashback from NETELLER
no
no
no
no
no
0,50%
* when adding funds to your account via P2P transfer, the transfer fee will depend on the date of account registration:
until 17.03.2020: 20% (but not less than $30) – first transfer;
from 18.03.2020 to 07.04.2020: 10% (but not less than $100); 2.99% — all subsequent transfers;
with 08.04.2020: of 4.49% (the first and all subsequent transfers).
In order to reduce the commission on P2P transfers to 1.45%, you need to first top up your account by Bank transfer or VISA/MasterCard.
A VIP Bronze PRO status allows you to reduce currency conversion rates down by 0.2% from regular accounts to 3.79 % and increase ATM withdrawal from $1,000 up to $3,300 daily. In addition, this status allows you to get VIP Silver for just $ 7,500 deposits.
Rates for Net+ Plastic Prepaid Mastercard
The Net+ Mastercard® is a prepaid plastic card with a direct association to your NETELLER account. Equipped with such a card, you can send money to any merchant and withdraw cash from ATMs at banks across the world wherever Mastercard® payments are available. To find out more about the possibilities of using the card, read our article on the Neteller Mastercard here.
Please note that not all clients have the opportunity to order the Net+ Plastic Prepaid Mastercard. For now, it is serviced only to the 31 member countries of the European Economic Area.
It should be noted that as of today the Net+ Plastic Prepaid Mastercards are currently serviced only to the 31 member countries of the European Economic Area and are therefore unavailable for orders outside of these:
Austria, Belgium, Bulgaria, Croatia, Cyprus, Czech Republic, Denmark, Estonia, Finland, France, Germany, Greece, Hungary, Iceland, Ireland, Italy, Latvia, Liechtenstein, Lithuania, Luxembourg, Malta, Netherlands, Norway, Poland, Portugal, Romania, Slovakia, Slovenia, Spain, Sweden, United Kingdom.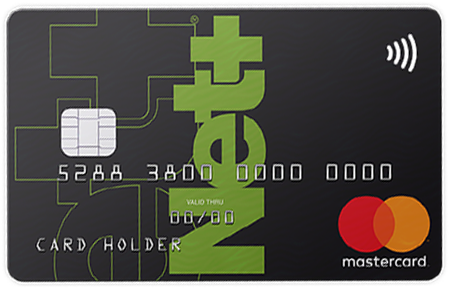 Every tariff applied to your Net+ Plastic card is solely dependent on your account level as follows.
Regular
account
VIP Bronze PRO
VIP Silver
VIP Gold
VIP Diamond
Exclusive
Card issuance and delivery commission
$ 13
$ 13
free
free
free
free
Limit on cash withdrawals from ATMs
$ 1 000
$ 3 300
$ 3 300
$ 3 300
$ 3 300
$ 3 300
Commission for cash withdrawal at an ATM
1,75%
1,75%
1,75%
$6 (4€)
$6 (4€)
$6 (4€)
Currency Conversion
3,99%
3,79%
3,19%
2,79%
2,39%
1,29%
Don't miss out on the chance to boost your daily card limits up to $ 3,300 by registering onto the payment service via Baxity. Alongside your instant status upgrade, you will be given the option to associate your existing account with a Net+ Mastercard. A $ 13 fee will be deducted from your reserve to cover the issue of your card and its associated delivery, although you may skip it by achieving a VIP Silver status on the generous terms provided by Baxity upon registration.
Rates for the Net + Virtual Prepaid Mastercard
If you are keen on preserving your privacy and security, then this Virtual card is the ideal addition to your NETELLER portfolio. This Mastercard operates entirely independently from your financial or personal details and will be automatically cancelled once you reach the limit for the amount you set earlier. This will help keep your private data and money one step ahead of any scammer attempting to engage in any fraudulent activity.
All the while you remain a resident of the European Economic Area, you will only have to verify your account to apply for a Net+ Virtual Mastercard®. It may be simultaneously issued in EUR currency.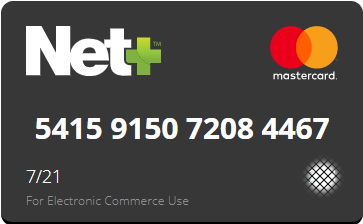 One should also take note of the progressive fees associated with the creation of the Net+ Virtual Mastercard®:
Creating the first virtual card: free
Creation of the second and subsequent cards: $ 3
Commission for currency conversion: average between 3.99% – 1.29% depending on the account status
With a virtual card you are allowed to make ten POS purchases every twenty-four hours, with an overall value cap of $7,000
Fees and limits for Bitcoin exchange
NETELLER offers an extensive range of services, yet one of the most unique and functional opportunities provided to its users is the selling and buying of cryptocurrencies directly from within one's account. 
The site has an entire portal designed to allow its users to buy and sell a range of cryptocurrencies directly through its website. The associated fees are detailed in the table below.
| | |
| --- | --- |
| Currency of account | Buying / Selling Cryptocurrencies |
| EUR, USD | 1,5% |
| Other | 3,0% |
Bitcoin transaction limits:
Normal
account
All VIP statuses
Limits on transactions with Bitcoin
in one go
per week
per month
$ 4 000
$ 8 000
$ 16 000
$ 10 000
$ 20 000
$ 40 000
Administrative Fees
Administrative fees represent all the costs engendered by additional actions taken by your account. These may charge account inactivity or payment cancellations. They may essentially be resumed by fines imposed by NETELLER to ensure that their users act under the general terms of use of their accounts and comply with the requirements of the Central Bank of Ireland.
| | |
| --- | --- |
| Administrative action | Commission amount |
| Account inactivity for 1 year | $ 5 per month of inactivity |
| NETELLER account closure due to provision of inaccurate or untruthful information  | up to $ 150 |
| Cancellation of transaction | up to $ 25 per return attempt |
| Return of payment | 25 GBP |
| Performing a prohibited transaction | up to $ 150 per transaction |
From discounted tariffs and elevated ATM or bank withdrawals to preferential deposit terms, it is undeniable that registering onto NETELLER via Baxity will shower you with plenty of benefits. Whether you are carrying out your daily transactions or completing a specific purchase with a merchant, unlocking a VIP Bronze PRO status will be an asset to every one of your financial endeavours. Having considered everything, including commissions and caps, transfers, withdrawals and even Mastercard transactions, one may resume the advantages of the VIP Bronze PRO as follows.
VIP Bronze Pro status:
reduced currency conversion commissions of up to 3.79%
an increased limit for daily ATM withdrawals of as much as $ 3,300, along with card payments of up to $ 7,000 per day
a 250% boost in Bitcoin purchase and sale limits of $ 40,000 per month
an opportunity to get VIP Silver on the preferential way
If these weren't already advantageous enough, connecting your account via Baxity awards you a Silver VIP status after just $7,500 in deposits, versus the $15,000 demanded by a regular registration. Unlocking such a higher status level comes with a new array of benefits accumulating over those mentioned above. These include:
the ability to receive or send money back and forth from other NETELLER users entirely free of charge
an increase in maximum limits on transfers and deposits
free issue and sending of Net+ Plastic Prepaid Mastercards for all EEA residents
Head over to Baxity.com to profit from these advantageous terms and make the most out of your NETELLER account.