Skrill Prepaid Mastercard ® is a contactless card, which means that before any write-off, the account balance is requested.

Skrill issues and transfers the user's Skrill Prepaid Mastercard ®:
for deposits to your favourite merchants: poker rooms, forex brokers, sports betting, casinos, Skrill crypto-exchangers etc.
for payment in offline stores,
for cash withdrawals at ATMs
for instant access to money for payment or withdrawal all over the world.
the ability to make purchases in online stores;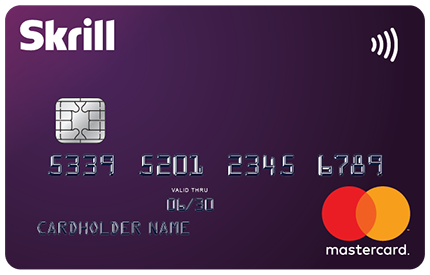 Use Skrill Mastercard ® worldwide in any points of sale, where Master Card is accepted.
Each card user has the ability to select the following currency pairs: EUR, USD, GBP, or PLN, which allows you to avoid the fee for currency conversion when withdrawing cash from an ATM if the currencies or the card and ATM differ.
The terms of the issue are narrow. It takes from 2 to 10 business days for the card to be issued and delivered. In addition, for owners with Skrill VIP status, starting from Bronze and higher, each of the services is entirely free. However, for regular accounts, it costs 10 euros.
Unfortunately, at the moment it can be issued only for the residents of the European Economic Area (EEA), so search for other options, if your country is not on the list.
What are the benefits of a prepaid Skrill Mastercard ®?
With a reasonable choice of services and card characteristics, Skrill Prepaid Mastercard ® can turn from a regular payment instrument into a very profitable banking product.
So, what are the benefits?
Direct correspondence of the card and Skrill account. Instant and convenient access to Skrill personal account funds without bank transfers, inspections, and high commissions. Skrill Account Status corresponds to the balance on your Skrill Mastercard ®.
Free payment in the shops (up to €10000 for Diamond status). Payment in any points of sale without commission.
Cash withdrawals at ATMs all over the world are from €900 to €5000 in a day (depends on your status).
Anonymous online payment. Your name, which is indicated in your account, will be written on Skrill Mastercard ®. However, only the card number is used for making a transaction, which is an anonymous online payment method on the Internet.
Low fees for using a card:

annual card maintenance (free for Bronze status and higher; €10 for regular),
currency conversion (from 1.99% to 3.99% depending on the status),
zero fees for issuing cash at an ATM for VIP Silver or higher, €1.8 — for VIP Bronze and 1,75% for customers without status.

Increased reliability and protection against fraudsters due to the two-step Skrill card account identification on the PCI-DSS standard of the first level.
Knect points. When using Skrill Master Card, you get Knect points on a loyalty program, which provides cash certificates and vouchers, additional discounts, and bonus rates. In order to get more detailed information, it is recommended to carefully read and familiarize yourself with the article "Skrill Knect Review".
The card must be changed only in three years. During this period, the card will be active. Also, for security reasons, the card can be linked to your phone number, which will receive notifications about each completed operation, which will further increase security.
What are the steps required to get a Skrill Mastercard ®?
Rules for issuing a Skrill Prepaid Mastercard ®
Skrill Prepaid MasterCard is conveyed by conventional mail. You will find an envelope with a card in your mailbox. Here is the exact procedure of how to get Skrill Prepaid Mastercard ®.
Login required to your Skrill account -> Skrill Card -> My account -> indicate the address to which delivery should be carried out, as well as the card currency → "Apply now".
An annual card service fee is €10. However, you will get it for free if you have an active VIP status. To order a card strongly, you must verify your Skrill account and your surplus has to exceed €10.
The card will be delivered by the mail service usually within 2-10 working days.
Card activation. Skrill sends inactive cards to observe safety. To initiate a card, now you need to log in to your account, enter the section "Skrill Card", and check the data to complete the process.
The PIN will be created in automatic mode when the card is activated.
Fees and Limits for Skrill Card
Skrill Card has limits on cash withdrawal at an ATM and payment for purchases, which are summarized during the day, and then reset. The more deposits — the higher the status, and the greater the status — the wider the limits.
| | | | | |
| --- | --- | --- | --- | --- |
| Feature | Non VIP | Silver | Gold | Diamond |
| Daily ATM withdrawal limits | €900 | €1,500 | €3,000 | €5,000 |
| Daily POS limits | €2 700 | €3 000 | €5 000 | €10 000 |
What about Skrill Master Card fees? They are absolutely free online payments, as well as purchases in stores around the world (up to €10 000) in case the card currency matches the payment; if they differ, the conversion with commission happens automatically.Other benefits of the card usage for the customers are cash withdrawal at over 2.1 million ATMs worldwide, as well as free balance requests, transaction statements, and change of PIN code. However, do not blindly follow the advertising of bonus and discount programs — first determine which ones you will use and what benefits it can bring. Also, you should evaluate not only loyalty programs but also the basic tariffs on the card.The fees don't depend on your country. They are the same everywhere.1. ATM cash withdrawal fee:
Free of charge if you are a VIP Silver owner.
1,75% for the regular status,
€1,8 — for VIP Bronze.
Each specific ATM can have an additional fee for cash withdrawal, so you should be careful.2. Commission for currency conversion:
3,99% — standard status;
3,79% — Bronze;
2,89% — Silver;
2,59% — Gold;
1,99% — Diamond.
When paying to a merchant or withdrawing cash at an ATM, the conversion happens automatically, if the currency of the account and payment differ.3. Annual card service: Free — starting with the Bronze status and €10 for non VIP customers. How to get the possibility to save money? Get VIP status. To reduce the number of deposits by 2-3 times for reaching VIP status, register in Skrill via Baxity. VIP status will enable you to expand the card limits and reduce commissions for cash withdrawal and currency conversion. For example, to get Silver status, which provides free cash withdrawal at an ATM, free annual card service, and reduced commission for a currency conversion (2.89%), you have to deposit €5000 instead of €15 000. The registration through Baxity is almost no different from the standard one. All you need is to create a Skrill account by clicking on our link and connect to Baxity (i.e., leave an ID and email of your Skrill account). Possible problems with Skrill CardSometimes the troubles with the use of Skrill Mastercard® can occur. So, here are them and their solutions.
1. Payment fails (is declined)Payment via Skrill Prepaid Mastercard ® can be rejected for the afterwards reasons:
the daily limit is reached (check the Skrill limits for the card in the section Skrill Card)
not enough money in the account for payment including commissions,
restriction on the card or account,
purchase of goods with limited access.
try it again after some time or at another ATM
log in to your Skrill account to make sure that scammers didn't hack it.
If nothing helps, communicate the support service by clicking Contact Us in your account. If are an owner of VIP status ask The Skrill Help Group at the address is located at vip@skrill.com.
2. You forgot your PINIn this case, you can order a free PIN reminder: log in to your Skrill account -> Skrill Card -> Retrieve PIN. Remember or record the PIN you've created, and store it in a safe place.
3. Loss (or theft) of the card
You can cancel the card in the personal account: log in to your Skrill account -> Skrill Card -> Cancel Card
Click the button Report Lost/stolen or call the number +44 (0) 203 308 2530 (available 24/7) (English) and ask to cancel your card.
The card is blocked immediately, and you can order a new one.
4. An ordered card doesn't arrive in the post-Email support@skrill.com and indicate your mail address in the subsequent format:
Skrill account ID
Country
City
ZIP/Postcode
State
Address
Wait for a response from customer support.
5. How to recharge a card. Just log in to your account (wallet) Skrill -> Deposit -> Choose the comfortable replenishment methods. The thing is that Skrill and the card account of Skrill Mastercard® are directly correlated.
6. How to get transaction and payment history. Then enter the Skrill card details of your account -> Transactions.
Skrill Mastercard ® Availability
Skrill cards may only be ordered and delivered to residents of the European Economic Area (EEA).
Austria
Belgium
Bulgaria
Croatia
Republic of Cyprus
Czech Republic
Denmark
Estonia
Finland
France
Germany
Greece
Hungary
Iceland
Ireland
Italy
Latvia
Liechtenstein
Lithuania
Luxembourg
Malta
Netherlands
Norway
Poland
Portugal
Romania
Slovakia
Slovenia
Spain
Sweden
United Kingdom