Skrill requires users to verify their accounts for security and financial reasons. After successful Skrill registration and confirmed use of your account, you would receive a notification from Skrill to verify your account. This process is pretty easy, and it attracts a lot of benefits. It removes the transaction limit on your account, and it increases the amount you can transact. Another fact, it guarantees account security, and you would face no interruption from Skrill. So, it's a great idea to verify your account once and for all.
By verifying your Skrill account, you can conveniently and securely make payments on Baxity Store, which is a reliable supplier of vouchers, prepaid, and gift cards.
The first requirement for verification is funding. You are required to deposit some funds before your verification is successful. This funds will remain in your account after verification, so, verification does not cost you a penny. It is only mandatory to have some funds in the account. You can upload your funds directly by clicking the Deposit section of your account and following the steps outlined. It is quite easy; you can't miss it. But we will be here to provide support if you ever need some. If you have received some funds from another Skrill customer and you still have it in your account, your account is considered financed too. So, you don't have to upload funds anymore.
Alternatively, you don't have to worry about funding if you register your account via Baxity. With that, you can skip the mandatory pre-funding and start verification right away.
How to upgrade your Skrill account to VIP?
We offer different benefits in our loyalty program, which is available for anyone who registers through our link, then fund the account and make deposits for Skrill VIP status after verification. You will have:
A Silver account for 5,000 Euros deposit instead of standart 15,000 Euros;
A Gold account for 15,000 Euros deposit instead of standart 45,000 Euros.
Would like to get this sweet offer? Then you have to make the volumes within 30 days after the registration.
With easy navigation and technical support, we guarantee a smooth and faster verification process. All you have to do to start your verification with us is send us a request here. You have a few blanks to fill, and we will guide you through the verification process immediately. What is the process involved?
The Step-by-Step Process of Skrill Account Verification
Verifying your account is pretty straightforward. You are only required to provide additional information about yourself. Just before we begin, you can get the following documents available to fast track your verification process:
ID document (ID card, passport or driver's license)
Address document (any stamped bank document, court statement, state clearance, or utility bill that has your name and address clearly stated).
Sometimes, if you figured the geographical location on your computer and allowed to define it, it would be enough to confirm your address. But in many cases, Skrill will ask to confirm your address with your documents. Remember, your address document must not be older than 90 days.
1. ID verification 
This is the phase where you upload additional details of your identity. The step by step ID verification process using a webcam is detailed below:
Step 1: Sign in
As you log into the desktop site you may access the verification page by clicking on the "Settings" tab at the account details drop-down menu.
You will be taken to the  "Settings" page, where you need to choose "Verification" tab and click "Verify now". Clicking on the button will immediately redirect you to the verification form.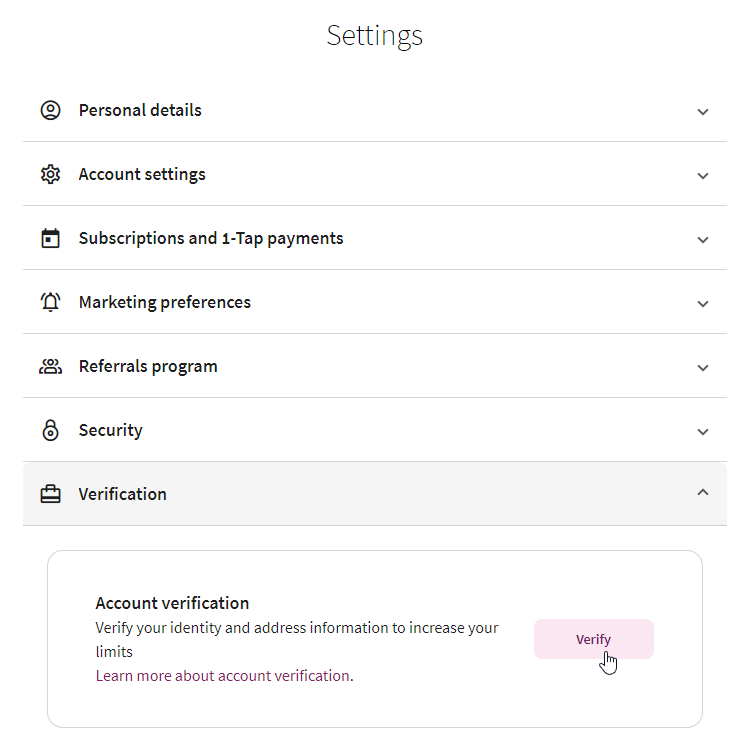 Step 2: Deposit
After clicking on verification, you are prompted to deposit some money into your account if you have not funded your account yet. This stage will be skipped if you register through our link.
IMPORTANT: This step is skipped for our customers as they use a fast-track verification flow.
Step 3: Facebook
Here, you are prompted to verify with your Facebook account. This step is completely optional. Click on the "No Thanks" button, which is found right under the big Facebook icon you see on the page.
Step 4: Uploading ID photos
Having selected "No Thanks', you are taken to another page where you have a couple of options to pick from. The first option is to download a Skrill App and verify through this app. The other option is more comfortable and faster is. This section requires you to upload a few photos of ID document, some of which can be snapped with the webcam.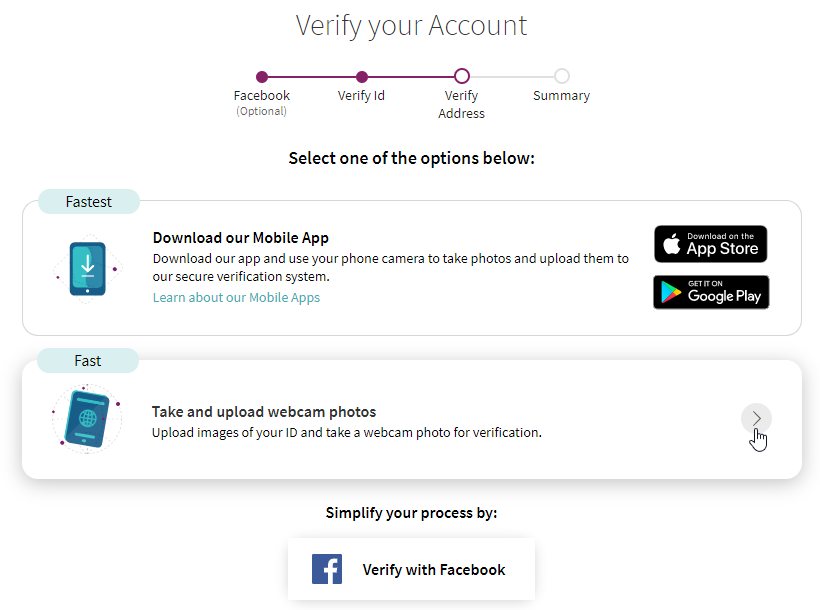 Having clicked on the second option, you are required to select your country and type of identification document.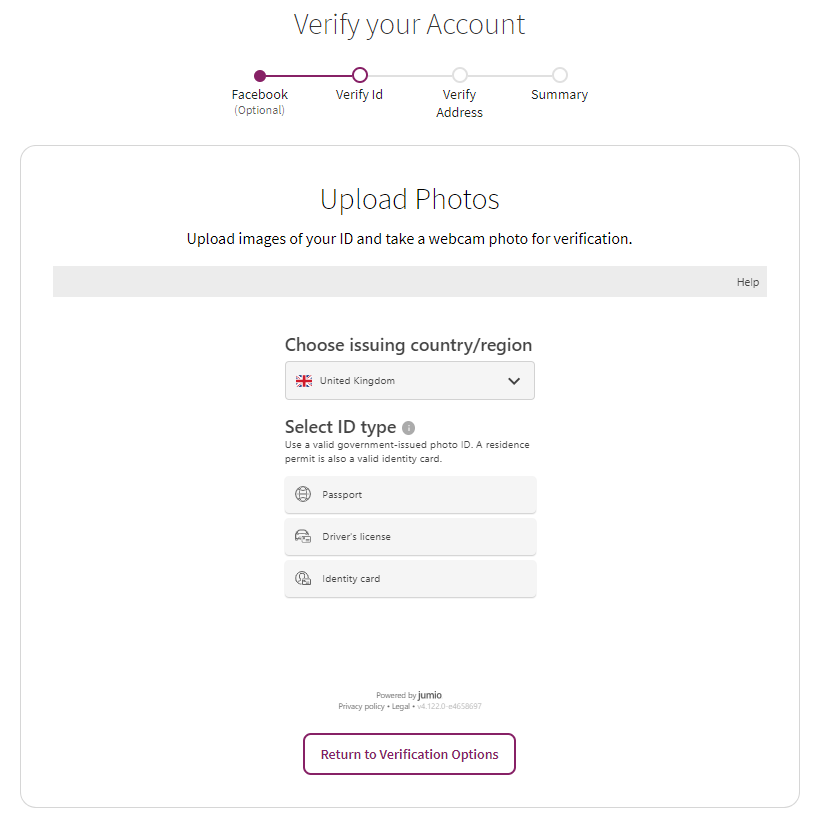 After you have successfully selected it, you are taken to the next phase of verification where you are required to choose how you would like to capture your ID. You will find two options on this webpage: take a picture directly with your webcam or upload an image from your files. Choose the second one and download your photo of ID to the system in order to complete the first step of  ID verification.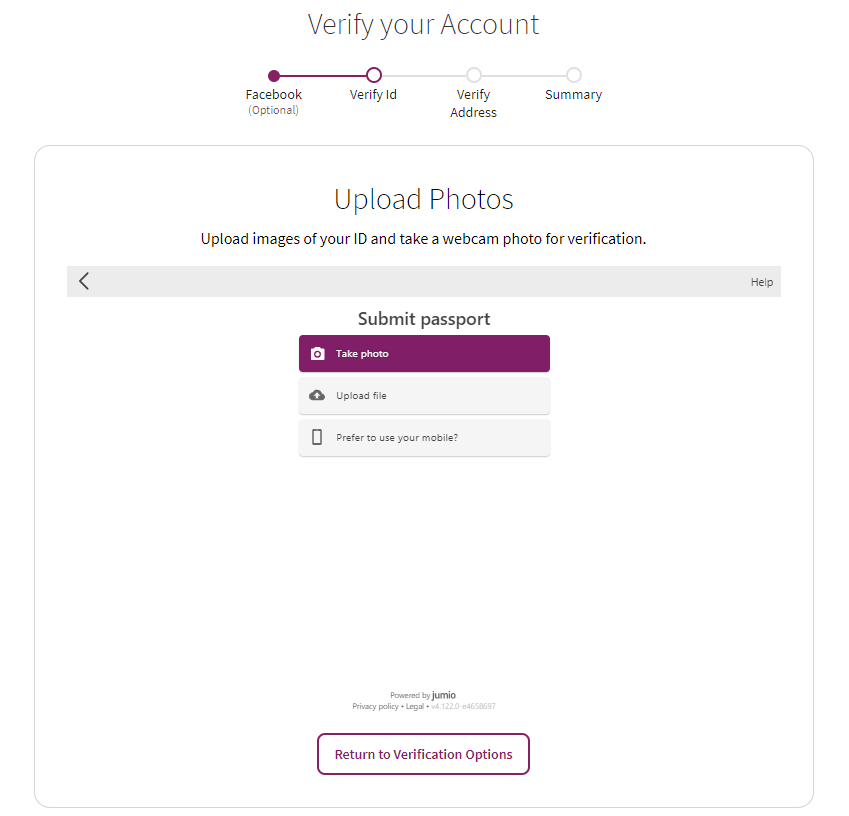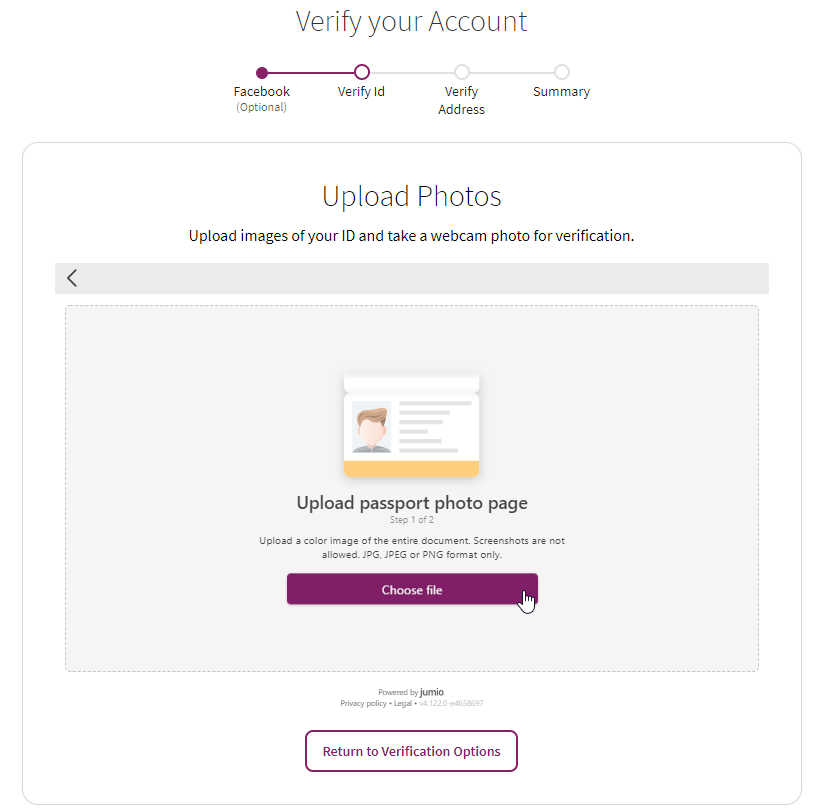 Make sure that your webcam is authorised on your browser, you will need it on the second step of ID verification – online selfie. To pass it, just follow the prompts on the screen.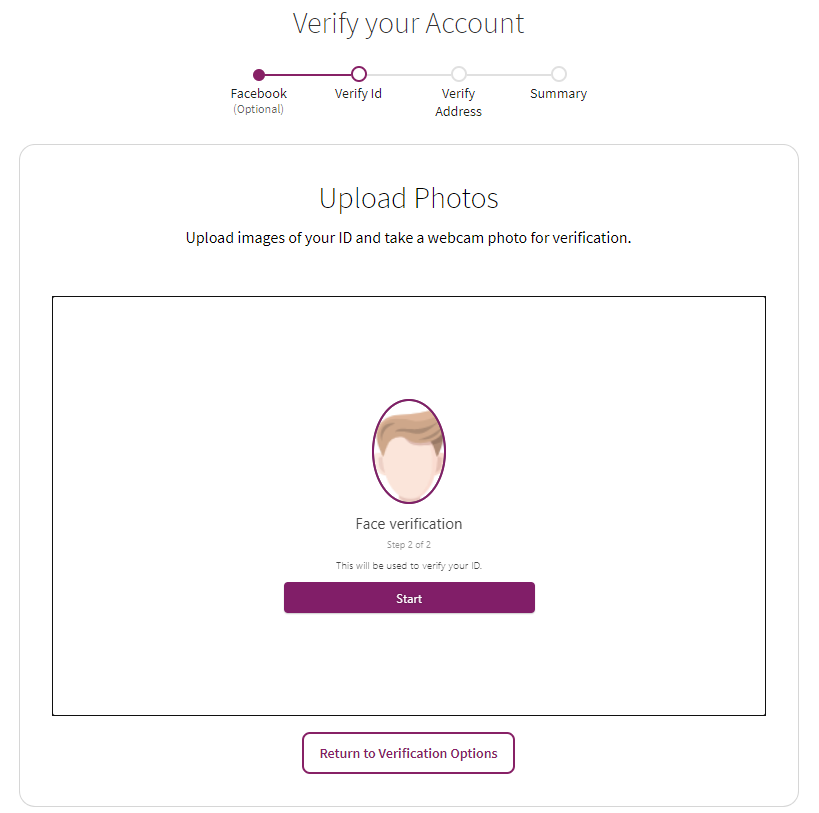 After uploading your photos, you should see a rotating icon on the page which indicates that your upload is "processing', please ensure you do not interrupt. Here's what the page should look like at the end.
If you get to this point, you have completed your ID verification, and now, onto the next!
2. Address Verification
After the computer has successfully uploaded your pictures in the ID verification phase, your webpage automatically advances to the next step – Address verification. Immediately, a notification pops on your screen tab, asking you to allow computer access to read your location. On the main page, you will have two options to select from as well.
In case the computer could not access the method however, you should consider option 2, which demands you to upload a location document. This is what you should expect to see when you click on option 2.
Step 1: Selecting your location Document
Once you find the above picture on your computer, you should select the type of document. Keep in mind that you must have an address document before selecting option 2.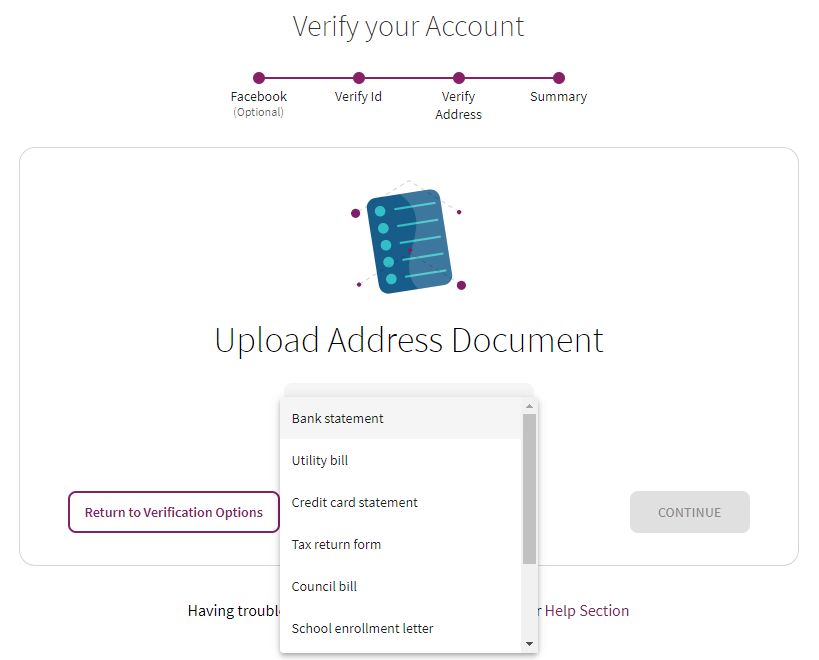 Step 2. Upload the document and Submit
After you have successfully selected your location document, click on the "upload" button and submit. If you encounter problems at this point too, return to use the first option which enables your computer to read your address automatically. Otherwise, reach our technical team for support.
If your upload is successful, you are immediately propped to the next page where your address upload is confirmed.
3. Summary
This is the final stage, where the computer confirms your verification. You should look forward to some official notification at this point. You will be navigated to the last page where details of your verification steps are provided. Usually, you would find that your verification is complete, and you can now move to your dashboard. Almost immediately, an email from Skrill will pop in your registered email as well, confirming that you have successfully verified your account.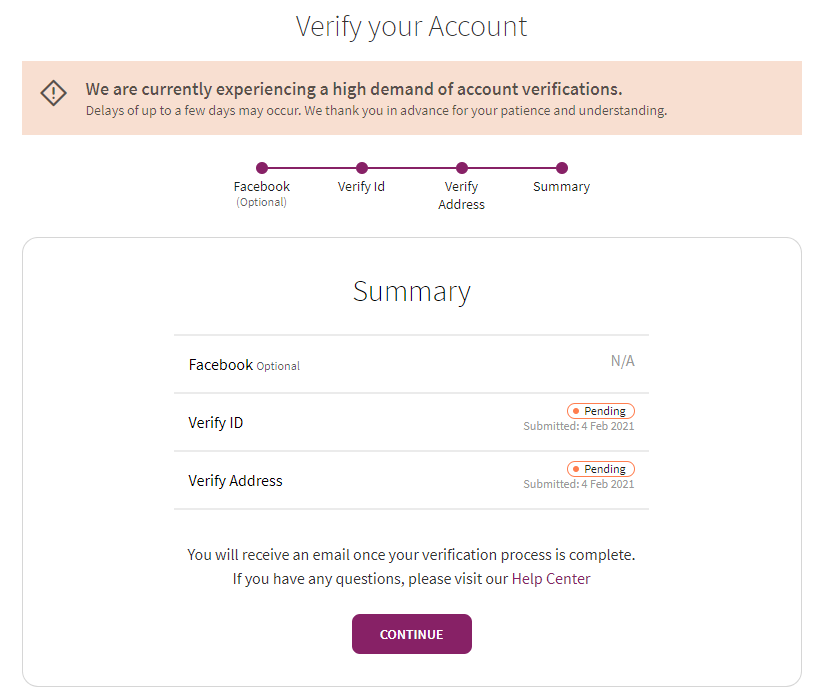 Congratulations! You have completed the Skrill verification process and ready to play and trade with thousands of amazing merchants!
Now you can learn more about Skrill Card limits and Skrill commission for transactions.