Step-by-step NETELLER Registration
It has never been easier to benefit from an incredible range of exclusive bonus features and preferential treatments by setting up a NETELLER account via Baxity. By the time you have gone through each of these registration steps, you will be profiting from lowered commissions and generous limits on every one of your transactions by unlocking an instantaneous Bronze PRO status.
Please note that NETELLER is the accepted payment option in Baxity Store that allows to purchase vouchers, gift and prepaid cards, and gambling credits. For example, to buy an AstroPay Voucher, simply add it to your shopping cart on Baxity Store, proceed to payment, and select NETELLER as a payment method. It is secure and profitable way to pay for an order.
Whether you are an avid gambler, poker player, sports bettor, a forex trader or crypto, you will be granted the privilege to open both a Net+ MasterCard and a second currency account on highly advantageous terms. Follow these few simple steps to start making deposits to your favourite merchants by the next day.
Go to Baxity.com
Visit the Baxity.com page and find the NETELLER logo to start your sign up procedure. The actions required are identical in both cases, but you will be awarded more favourable conditions the minute you complete the registration via Baxity. From reduced costs to higher payment caps, you will be able to capitalise on greater preferential terms than if you were to register directly through NETELLER. To guarantee your admission to these privileges, you should clear your browser cookies before starting on your new account creation to be validated as a member of Baxity's clientele.
Access the NETELLER registration page
The link will redirect you to the official NETELLER site, right onto its sign up page where you will be invited to enter your name, as indicated on your ID card or passport, and email address. As you create your password, you should keep in mind that the longer and harder the password, the safer your account will be. Click "Register Now" to proceed onwards.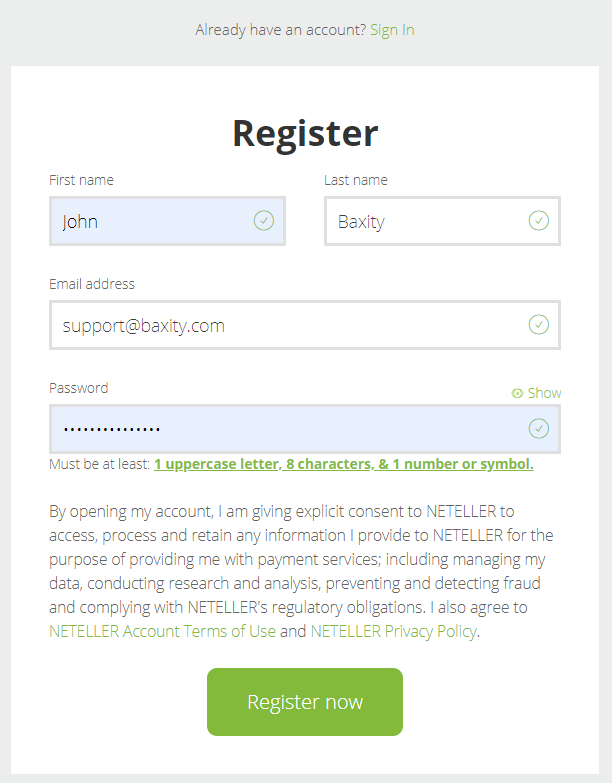 Setting your preferences
Fill out your country of residence and choose the currency you would like to open your wallet. One should note that once you have opened your account, it will not be possible to edit your currency preference. Care should, therefore, be taken with your selection to ensure that you are picking the one most likely to help you avoid accumulating unnecessary exchange rate fees later on.
You are given an array of 28 different currencies to choose from, including the most popular selections, USD, GBP and EUR.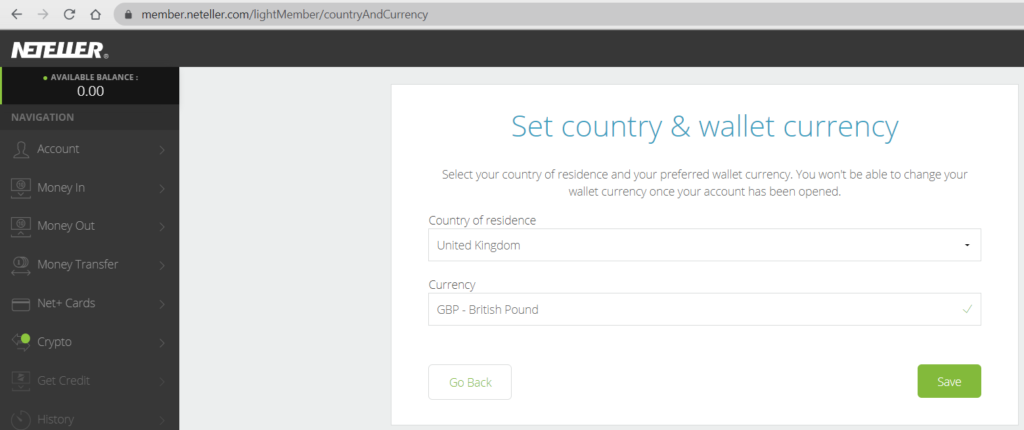 Enter your personal information
As with most registrations, just a few personal details will be needed to complete your account creation. Fill in your date of birth, gender, address and phone number before clicking on "Continue". You should ensure that your address is accurate and actual since you will need to confirm it later on. Similarly, your phone number should be valid as it will serve as a protection measure to log into your account in the future after receiving a code by SMS to submit alongside your password and one-time PIN code.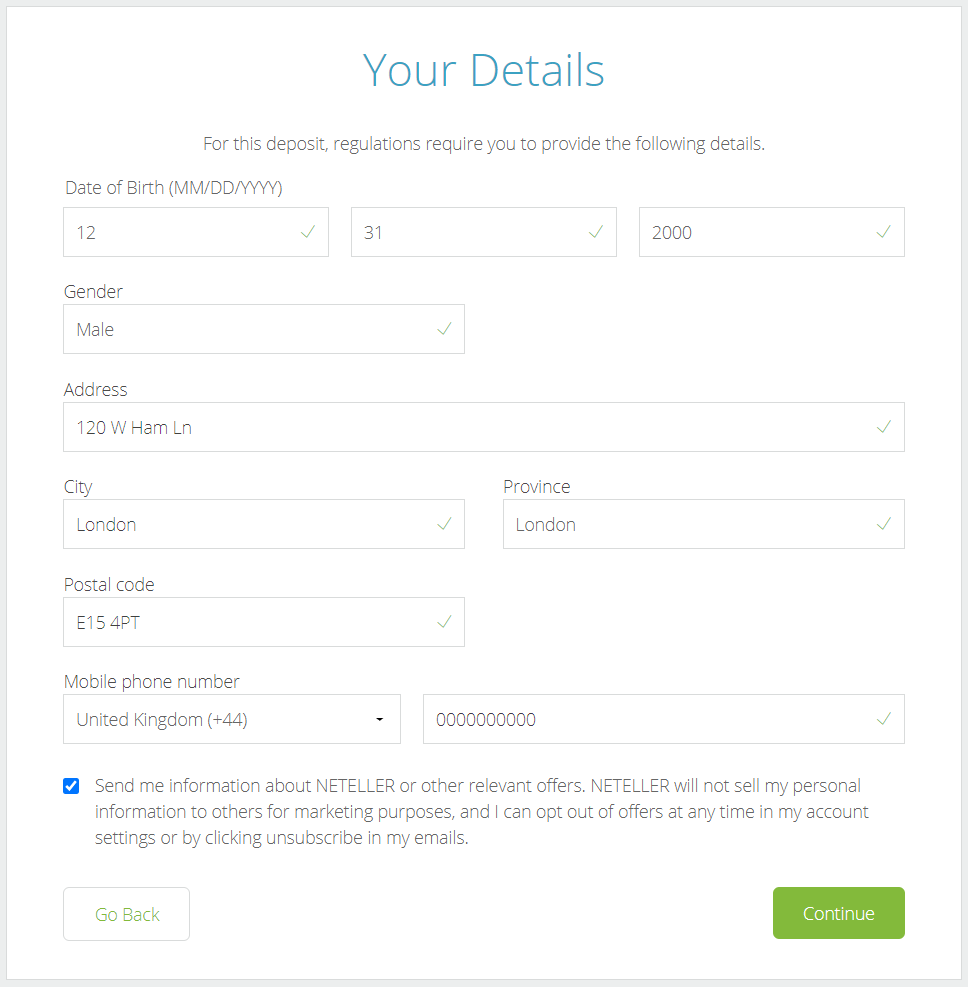 Checking your phone and email
You will be requested to enter PIN codes to confirm the personal data you have just submitted. These will be sent via SMS to the phone number provided upon registration for validation of your information and as a further precautionary measure to ensure the security of your account. Then the same for email.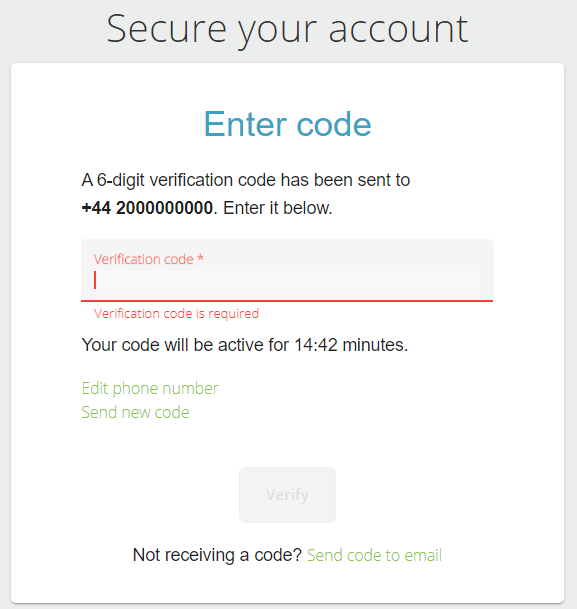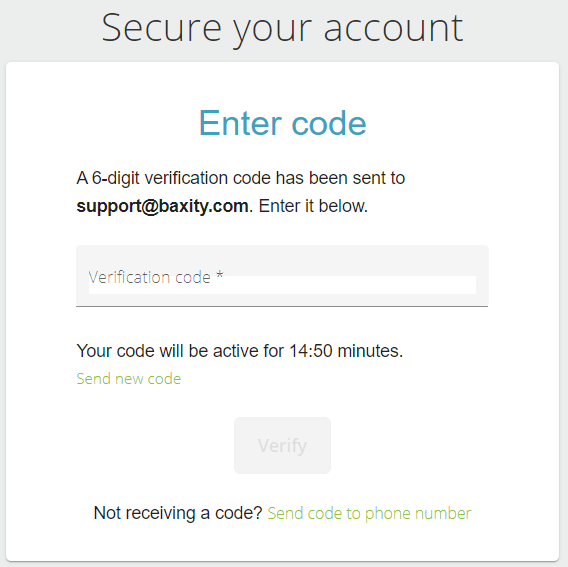 Creating a secure ID
The secure ID provides an additional layer of protection for your account, requested whenever you log in or wish to complete a transaction. It comes in the form of a 6-digit code which you may create on your own or generate automatically as long as it adheres to the three criteria of complexity: be 6 digits long, include 2 or more different digits and no consecutive number sequences. You will be given the option to reset it in the future if you so wish.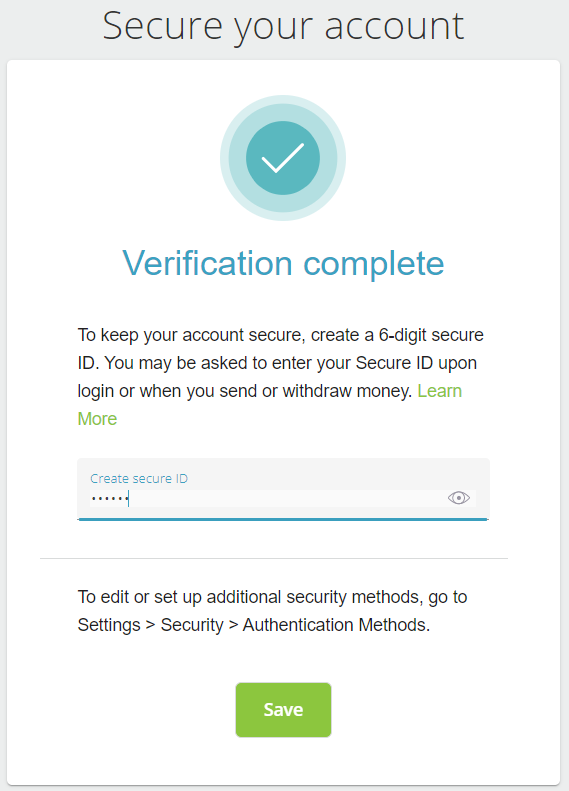 NETELLER personal ID
This is a 12-digit number uniquely attributed to your account upon its creation. Your account ID is permanent and should be quoted whenever you get in touch with NETELLER's support team or wish to request a VIP status upgrade with Baxity. You may find your personal ID at the top of your Account overview or directly in the Account section of your NETELLER profile.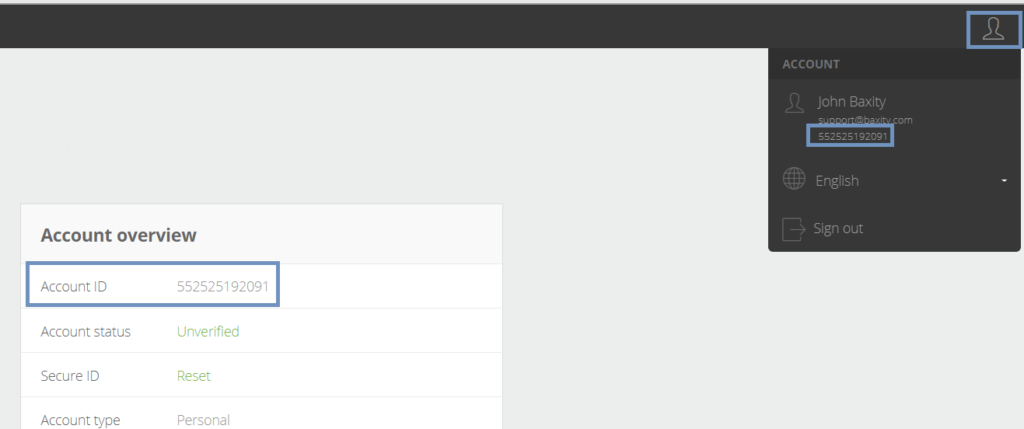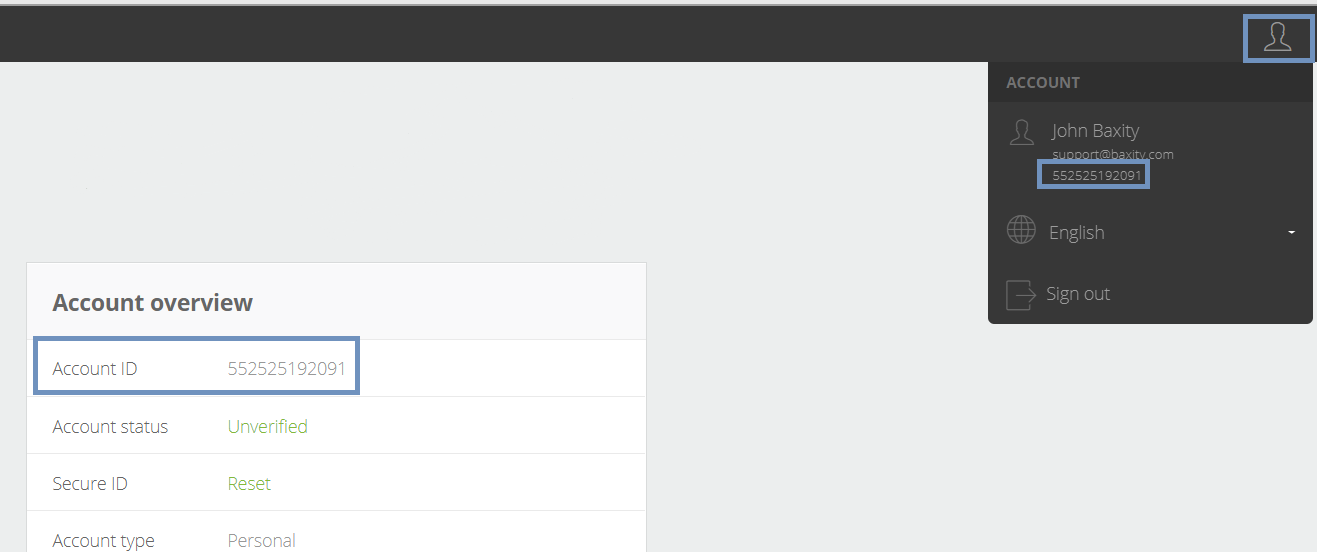 NETELLER will immediately send out an email to confirm your current standing.
Verifying your account
After completing the registration process, you can immediately start verifying your account. To do this, go to the Verification tab, which is located in the Settings menu section. If you registered using the Baxity link, you do not need to make a preliminary deposit. In other cases, you need to replenish your account with $ 5 first. You can find detailed instructions for the verification process here. Briefly summarized, you will have to upload a good quality photo or scan of your ID and make an online selfie, either using your mobile phone or computer webcam. Finally, you need to provide a document to prove your place of residence, and if you fulfil all the requirements, your account will be verified in less than 24 hours on prioritised terms.
Enjoy your immediate status upgrade
After your identity is successfully verified, fill out a simple form on the Baxity website with all the necessary details copied down from your account. Select NETELLER from the drop-down menu to enter your account ID and associated email. Click on "Join now".
Within just one day, you will be able to enjoy a Bronze PRO VIP status without having to make a single deposit. You will obtain a confirmation by email so that you can log back into NETELLER to experience all of your recently acquired bonuses. If your status hasn't been updated automatically, you should send an appeal by email with your ID and Baxity will have the issue resolved by the next day.
How to register a second currency account?
For gambling fans who like to place their bets in various countries across the world or traders buying from international merchants, NETELLER's Silver VIP status offers the convenient option to open accounts in multiple different currencies. This ensures that users are not overpaying on their conversion rates every time they are making a payment abroad.
You may operate each of these individually from separate profile pages to keep a clear oversight over your finances. These are offered to any account having reached Silver VIP status.
Luckily, if you have just been following the registration steps above via Baxity, you will be glad to note that you will only be required to deposit $ 7,500 to upgrade to the necessary Silver level. By sidestepping the substantial $ 50,000 requirement put in place by NETELLER for all of its regular clients, you can enjoy Baxity's favourable terms to get a second currency account running in no time.
The registration process is remarkably similar to the one you have had to follow your first account and can be completed just as quickly.
Head over to Baxity.com
As with your primary account sign up, you will have to follow through to the same Baxity link to enjoy your exclusive bonus advantages.
Open the NETELLER registration page
Find the NETELLER logo to click through onto their familiar registration form. Although you should fill in your full name as before, a different email needs to be used for your second sign up. Continue through by clicking on "Register now".
Choose your second currency
This time around, you should pick out a different currency to open your new profile with.
Enter all the relevant details
You will once again be asked to fill in your home address, date of birth and point of contact before proceeding with a click on "Continue".
Validate your second currency account
Make sure to get in touch with Baxity's customer support to receive detailed instructions on how to validate the exclusive NETELLER VIP status. This lets you bypass any tedious document uploads to open your second currency account within just 24 hours of your request.
Make the most out of your second account
Don't forget to head over back to Baxity to sign up your additional account onto its rewarding loyalty program using your newly obtained account ID and email. Click "Join now" and start trading with foreign merchants and users in your second currency.
How to switch account currency
Whether you have just moved countries or simply weren't careful enough when setting your currency during registration, you can go through the following procedure to reset your currency choice. The only way for you to switch the currency of your main account is to shut it down and reopen a brand-new account.
No matter how long you have been using your account for, you should make sure to empty out any remaining funds from your balance. Once you are ready to discard your account, you can follow these steps to switch currencies.
Close down your existing account
Log into your account as usual and go to the "Settings tab" in the left menu bar. Simply follow the link "Close account" to complete your account shut down.
Go to Baxity to register
You should clear your browser of any cookies before accessing Baxity's main page to create a new profile by following the backlink through the NETELLER logo. Your new account sign-up should be fulfilled under a different email from the one used your first time around. Further steps repeat the instructions above.
How to enable two-factor authentications
As a trusted online payment service, NETELLER featured an additional security measure to allow its users to build up an extra wall of protection to keep their funds guarded against potential hackers. This comes in the form of a unique code that will be requested whenever you log onto the site.

Recently, NETELLER has added several additional methods of protective identification in the hope of upgrading its security measures even further. They can be used together with two-factor authentication, or separately. You will now be sent a unique code via SMS which you should use with your PIN code to complete your sign in procedure. It is, therefore, crucial to provide a correct phone number during registration and always be sure to have a working connection as this code will be valid for just 15 minutes.