This crypto exchange is owned by Bitstamp Ltd with offices located in Luxembourg, London and New York. Bitstamp is the first licensed cryptocurrency exchange in Europe which gives the customers trusted and safe access to the crypto wallet. In this Bitstamp review you can find how it works, is Bitstamp safe, does it make sense to use it and is Bitstamp legit.
What Is Bitstamp
Bitstamp is a payment institution launched in 2011 and regulated by the Luxembourg financial regulator. This virtual asset service provider is the leading european cryptocurrency exchange. To get the answer to the question "Is Bitstamp a wallet?" check out our review.
How Does It Work
To start selling, buying or trading with Bitstamp:
register an account choosing the right account type – personal or corporate;
pass through the Bitstamp account verification process;
make a deposit using your bank card, bank account or cryptocurrency deposit methods available;
and start buying, selling or transferring the cryptocurrencies.
Supported Cryptocurrencies
You can buy approximately 48 types of coins on Bitstamp. To check the supported cryptocurrencies log into your account.
Supported Countries
The Bitstamp payment system supports purchases of currencies with credit and debit cards or bank accounts in all member states of the European Union. The crypto exchange system is available in most states of the USA too, but additional identity verification can be required.
The other supported countries are listed below:
Switzerland, Norway, UK, Montenegro, Serbia, Turkey, Monaco, Andorra, Iceland, Greenland, Moldova, Gibraltar, Liechtenstein, Isle of Man, San Marino, Hong Kong, Faroe Islands, Åland Islands, China, Singapore, Taiwan, New Zealand, South Korea, Australia, Japan, Argentina, Israel, South Africa, Brazil (post-Liveness only), Chile, Kuwait, Qatar, Cayman Islands, Saudi Arabia, Peru, Madagascar, India, Puerto Rico, Mozambique, Dominica, Jordan, the Bahamas, Dominican Republic, Curaçao, Bahrain, French Polynesia, Barbados, Trinidad and Tobago, Réunion, Jamaica, New Caledonia, Paraguay, Brunei, Guadeloupe, Martinique and Sint Maarten.
Ways To Invest With Bitstamp
There are a lot of exciting investment opportunities for investors around the world. They may consider the Bitstamp exchange that offers a number of attractive features for investments. However, if you want to invest in niche or smaller altcoins, we recommend to focus on another exchange which may better suit your needs. We have listed below three ways to invest with Bitstamp.
Cryptocurrencies
Bitstamp as a crypto exchange and trading platform essentially facilitates the trading process between you and other customers. This means that you don't buy crypto from Bitstamp, you're buying or selling assets from or to another customer.
And moreover, Bitstamp allows you:
to transfer fiat currencies (EUR, USD, or GBP) and cryptocurrencies;
to exchange one asset for another, choosing crypto trading pairs listed on the platform;
to purchase on cryptocurrencies instantly;
tо withdraw or deposit from any location around the world;
to make free instant deposits (only for USA customers) through ACH transfers;
to stake with Ethereum (this feature is not available for US traders);
to save up on crypto exchanges using Bitstamp bonus code;
to view the current Bitcoin price and other cryptocurrencies value.
Bitstamp Pro
The Bitstamp Pro is designed for traders who need more advanced trading tools. With multiple programming interfaces (APIs – Websocket APIs, FIX, HTTP) you can get steady and efficient access to the crypto market.
Тo improve the security Bitstamp provides BitGo-sponsored institutional-grade storage which keep your assets in safety. If you have problems 24/7 customer support can quickly help you.
Corporate Accounts
The third way to invest with Bitstamp is by opening a corporate account. It is intended for commercial purposes and can be used only by legal entities. This type of account allows users to trade with capital which belongs to their business.
Getting Started With The Bitstamp Exchange
To register an account with Bitstamp isn't a simple task as it requires a mandatory verification process. You can get access to all features of the exchange system only after the Bitstamp account verification.
Step 1. Open an account with Bitstamp
To register a Bitstamp account you need to go through this link and click the "Get started" button.
Bitstamp offers two types of accounts: personal for personal use and corporate for companies and organizations. The first option will be ok for most users. Next, you will need to fill in the fields with the first and last name, as well as indicate (and confirm) the email address.
Step 2. Confirm your email address
After completing the registration process the payment system will send you an email to confirm your email address.
Check your inbox and click the "Complete your registration" button in the email sent to your address.
Step 3. Increase Bitstamp security on your account
This step requires setting the strong password for the safety of your account.
Step 4. Verify identity
In order to get full access to all features of your Bitstamp account you need to go through the verification process. To get started, you will need to provide your info: residential address, as well as your date of birth and nationality, then upload your documents.
Write the residential information in the appropriate fields.
After that, you will need to confirm your mobile phone number.
Once confirmed, provide a valid identity document (passport, driver's license or ID card).
The Bitstamp crypto exchange system offers a one-time link to Onfido, a third-party service for verifying documents and user identities. Using your smartphone or computer you have to upload an identity document, then shoot a short video following the instruction. After successfully fulfilling all the requirements you should see the following window:
For the next step, you need to provide your basic financial information: your current occupation, annual deposit estimation, source of funds.
To verify your residential address, provide an utility bill, a bank account statement, or government-issued document (such as a tax statement).
After successfully going through a verification process, you will get access to the trading platform account with the possibility of using all tools for buying and trading on the crypto exchange.
Step 5. Deposit funds.
There are 3 ways to deposit funds to Bitstamp. Log in to your account and select the preferable one: bank account deposit, Bitstamp debit card or credit card deposit, cryptocurrency deposit, then enter the bank details and deposit amount. Please, don't forget that credit/debit card or bank account must be held in your name only.
Step 6. Buy cryptocurrencies
After account replenishment you can purchase cryptocurrencies available in your account with fiat. Select the type of crypto you want to buy, then the fiat and enter the amount or choose the necessary option.
Deposits And Withdrawals
What is the best and most used way to deposit to Bitstamp? Log in to your Bitstamp account, click on Deposit option, then choose a preferable one from deposit methods, listed below:
Bank account transfer. It should be noticed that you can deposit funds from the bank account which is held in your name only. For US customers ACH is available (instant deposit) and UK customers can use Faster Payments to deposit money in.
Credit or debit card deposits (instant).
Cryptocurrency deposits (up to an hour).
As for withdrawal options they are only available in certain regions. You can check your Bitstamp account to find the methods that suit your country.
More details about how to get your funds out of your Bitstamp find below:
SEPA payments – only available for European residents or citizens. They usually take 1–2 business days to be processed.
International wire payments – the transactions are done in different currencies and take 3-5 business days to arrive to your bank account.
Domestic USD payments – USD-denominated payments sent from one US bank account to another US bank account. The money is credited to your bank account within 1–2 business days.
ACH transfers – the domestic USD payments are made via the ACH network. They take 1–2 business days to reach your bank account.
FPS payments – the domestic UK transfers are carried out via Faster Payments Service in which your bank needs to be included.
Bitstamp Fees And Limits
The fees a trader pays in Bitstamp depend on the trading size and payment method as well as on the country he lives in.
For Deposits
We would like to stress that the international wire transfers are the most expensive option and will cost 0.05% per deposit. SEPA deposits are generally free. The system charges a 5% fee on credit or debit card purchases. The minimum amount to open a deal on Bitstamp is 20 USD or the equivalent in other currencies and cryptocurrencies.
As for the Bitstamp limits for purchasing crypto with a credit or debit card the structure is as follows:
Daily: 2500 USD/EUR/GBP
Monthly: 20000 USD/EUR/GBP
Minimum purchase amount: 50 USD/EUR/GBP
Bitstamp limits may vary depending on the country of residence and it is not possible to increase (or decrease) these limits.
For Withdrawals
The main option on which the fee tiers depend is the total trading volume of the trader over the past 30 days. For bigger crypto trades, Bitstamp fees go down. The maximum fee is 0.5% per trade if the trading volume is <10 000 USD. If a trader's trading volume exceeds 20 000 000 000 USD over 30 days, transactions are carried out without Bitstamp fees.
Also, the Bitstamp withdrawals are not free of charge:
A debit card withdrawal minimum fee is $10 USD.
Withdrawals in SEPA countries incur a flat fee of 3 EUR.
Withdrawals through an international wire transfer cost 0.1%.
Detailed information on all fees can be found on the exchange website.
Trastra VISA And Bitstamp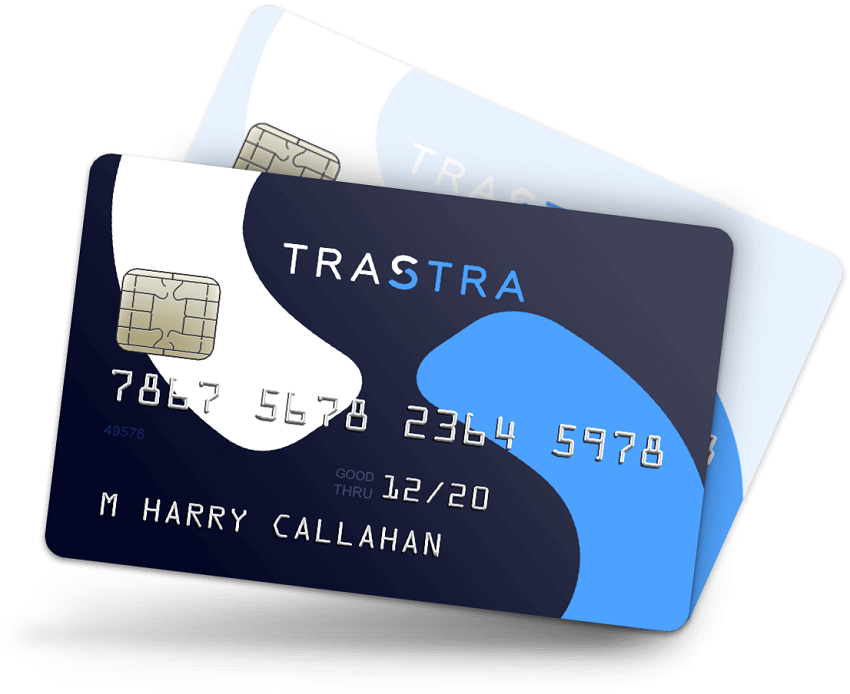 Since the Bitstamp cryptocurrency platform itself does not issue physical bank cards for storing digital assets, as an alternative, we recommend the Trastra VISA card. Trastra crypto debit card can be used for buying, selling and paying with cryptocurrency and has its own IBAN for receiving euros. You can pay with it using fiat or cryptocurrency all over the word.
Customer Support
Bitstamp crypto exchange platform provides 24/7 customer support, offering via phone line for urgent queries. It should be noted that this kind of Bitstamp support when you are able to talk on the phone with a manager is a rare opportunity in the cryptocurrency exchange space. This feature is very important for the clients who look for a safety system for exchange and payments.
That said, on the website there is no live chat and you can send a queries or message to the Bitstamp support team via email.
Is Bitstamp Safe
Bitstamp is a global crypto exchange with the rating F given by the Better Business Bureau. The ratings range from A+ to F and reflect how well the organizations or companies interact with its customers.
The crypto platform Bitstamp has never had scandals or lawsuits. However, in January 2015, $5 million in bitcoins was stolen by the hackers that forced the company to temporarily stop its services.
As for security and privacy Bitstamp strictly complies with KYC and AML regulations. You can open an account at Bitstamp for free, but need to undergo a verification of identity. It allows you to withdraw and deposit from your Bitstamp account. Whereas previously the verification process was done automatically, since 2017 the accounts have to be verified manually due to а surge in value of Bitcoin.
Security Measures
Тhe crypto exchange now takes the security very seriously:
the wallets are protected with two factor authentication;
the funds are stored in cold storage systems;
the withdrawal email confirmation is mandatory.
Bitstamp App For Mobile Users
Bistamp has a convenient mobile app compatible on Android and iOS devices. Its user-friendly design allows you easily trade on the go. But it is important to emphasize that the app cannot provide all the features as on a computer via browser. The chart analysis must be performed on the browser edition and it is much easier than via the Bitstamp mobile app.
The Bitstamp app is designed to make fast transfers, deposits, and easily checks on the investments. However, we recommend using another exchange which offers more features if you plan to do a lot of trading.
Pros And Cons
Pros
Cons

+ Accepts for cryptocurrency purchases debit ор credit cards and transfers via bank account

+ Offers 24/7 phone or email support

+ Crypto deposits are available to all countries

+ Easy to use and nice to trading

+ Coins kept in cold storage

+ High volume and liquidity

– Expensive withdrawal and trading fees

– No live chat

– Limited number of countries that support debit or credit card deposits

– Long and complicated verification process

– No margin trading
Alternative Exchanges
Now, let's compare with Bitstamp the other crypto exchange services such as Binance and Kraken. We need to emphasize that the Bitstamp funding options are slightly different from Binance and Kraken. For example, the fiat-to-crypto transactions features are an important tool for experienced traders who look to exchange assets with other users.
Minimum investment or deposit

20 EUR ( or GBP/PAX/USD/USDC/USDT)

BTC – 0.0002

ETH – 0.005

depends on the currency and payment method
depends on the currency and payment method
Fees
Trading fees:
0.0%-0.50%
Staking fees:
ETH2 – 15.00%
ALGO – 15.00%
Credit card purchase fee: 5%
Spot trading fee:
0.1%
Crypto buying/selling fee: 0.5%
US Debit Card deposit fee: 4.5%
Trading fee:
0% to 0.26%
Credit card purchase fee: 3.75% + €0.25
Investment choices
Cryptocurrencies
Cryptocurrencies
Cryptocurrencies, fiat assets, futures trading, tokens
Binance
The leading crypto exchange service was formed in 2019. This investment platform supports more than hundred cryptocurrencies and offers secure storage, crypto trading pairs, staking rewards and more. The exchange system's main features are low fees, comprehensive charting options, strong security options and cold storage.
Kraken
It is a crypto exchange platform for those who are new in crypto or who are looking for crypto investments tools or crypto solutions. It is a streamlined Bitcoin exchange designed for newcomers and experts. Kraken offers different deposits and withdrawals options, allowing you to keep track of all of your crypto in one convenient place.
Conclusion
The Bitstamp company founded in 2011 at one time controlled more than $700 million dollars per day, though this number has dropped because more exchanges have entered the cryptocurrency market. However, the users choose Bitstamp for its security features, availability in many countries including most of the english-speaking world and the Eurozone.
Bitstamp is a useful guide for newcomers purchasing cryptocurrency with fiat and simple enough to use, but clients who like to invest via credit or debit card can find better rates elsewhere because of high fees. As for the mobile app it does not allow access to all trading functions which are used by experienced traders.
On the whole, this Bitstamp review found that the exchange company provides a reliable and easy-to-use service for many of the most common types of cryptocurrency.
Frequently Asked Questions
What Is Bitstamp?
Bitstamp is a platform for traders that offers cryptocurrency exchange services through the personal and corporate account. The service allows customers to purchase crypto with fiat right from a credit/debit card or bank account, to have access to more coins. Bitstamp focuses primarily on crypto traders working with the most popular currencies. The cryptocurrency exchange provides a trading terminal and Tradeview software, which is constantly being improved and updated.
Is Bitstamp Safe To Use?
The world's largest exchange uses a two-factor authentication tool which is standard for all investment and payment platforms. Most of its digital assets are kept offline in cold storage and only a very small portion of crypto is stored in hot wallets.
Can I Use Bitstamp On My Mobile?
The Bitstamp mobile app has a user-friendly design to initiate transactions, withdraw the funds or check on investments. However, it is much easier to trade or perform chart analysis via browser edition.