Crypto exchangers typically have affiliate and referral programs for their users. But did you know you can use it to your own advantage and receive over 50% of the fees paid back? Read our explainer to learn how: you'll be surprised at how easy and risk-free it is!
Benefit From The Affiliate Program
ChangeHero and some other platforms offer special discounts and privileges to users who register in their affiliate program and refer other users to the site. For example, on ChangeHero, according to the official website, users who get a referral to make a crypto swap there will receive 50% or more of the revenue from it. The more users referred, the higher not only the total revenue but the share of it, too. This is why they recommend it to publishers and aggregators but in practice, anyone can register.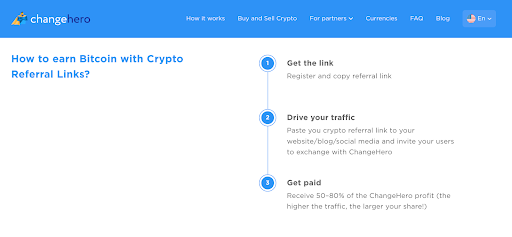 Due to how the swaps on ChangeHero work, the rewards are always accrued in BTC. Therefore, your revenue won't be split across altcoins and you won't have to deal with conversions unless you want to. Bitcoin is widely regarded as the safest option to invest in and earn crypto.
Who Can Register?
As we mentioned, while this campaign is advertised for influencers, bloggers, and aggregator sites, there are no formal restrictions on who can register. To create an account, you will need to provide a valid email in the form.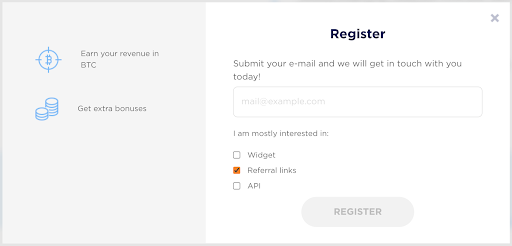 They will reach out to you and ask for an introduction within a day — make sure you will be able to reply. The same email will become your login, and when whitelisted, you will get your initial credentials from them. Once there, log in, copy and paste your link where you want it, and watch the stats go up.