With the rise of the popularity of cryptocurrencies, there is a growing demand for crypto payment gateways as more people are willing to pay with crypto these days. And among many payment solutions, Cryptomus offers its users the most comprehensive set of tools for effective crypto operation. This payment method is the best way to pay with crypto for prepaid, gift cards and vouchers at Baxity Store.
What is Cryptomus?
Cryptomus is a multi-functional cryptocurrency payment platform. It combines all the features necessary for the convenience of an average crypto holder, such as payment solution, crypto wallet, convert feature, staking, and P2P exchange.
Why is it better to pay with Cryptomus?
There are many advantages to Cryptomus, so the list below is some of the main ones:
Low fees: Lowest fees at the market starting from 0.4%.
Adjustable payment accuracy: Mark the transaction as paid even if your client is underpaid. For that choose the percentage allowed to be underpaid.
Acquire crypto for free: Make your client pay the commission. For this simply check the box below when making an invoice.
Auto-convert feature: The best way to save your funds from volatility. Just get your incoming payments converted to USDT automatically.
Telegram bots: There is no need to be logged into the account to know what is going on there – simply connect Telegram bots and get notified about everything.
Is Cryptomus safe?
Even though often crypto payment platforms are associated with the risk of hacking. However, with Cryptomus such risks are close to nonexistent because all the necessary security measures are applied: two-factor authentication, PIN code, and Whitelist managing features.
Fear about your private information leakage? Anonymous sign-up is available through Tonkeeper.
Getting Started with Cryptomus
So you've decided to use Cryptomus to accept crypto payments for your online business. What are the steps to start using it?
1. Sign up – Enter your email or phone number. Once you confirm it, you'll be logged into your account. Here you can already start working with your crypto funds by storing them, accepting payments, or sending money to other users.
2. Create a merchant – Go to the Business wallet and click Create Merchant button, then enter a name for your project. Here you can create invoices and accept payments by link or QR code or create a static address and share it with customers.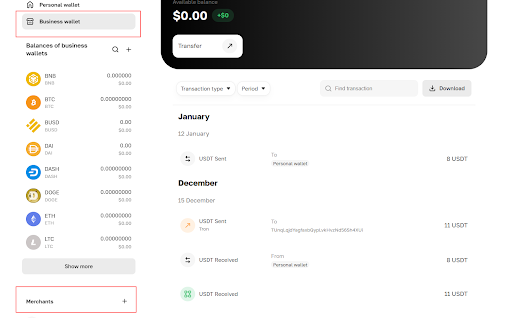 This way, you have two wallets:
The personal wallet is your wallet, where you can simply store, convert and transfer your cryptocurrency.
The business wallet is a wallet, in which you can create new projects, make invoices for payment, install widgets, see statistics on payments, and use many other features.
What is more, there is an option to integrate Cryptomus directly into your business' website, using integration by API or pre-made plugins. Cryptomus provides its users with such popular e-commerce plugins as PrestaShop, WooCommerce, OpenCart, WHMCS, or BillManager.
Closing Thoughts
Cryptomus is a fast and easy solution for accepting cryptocurrency payments. Cryptomus allows its users to store, convert, send, and accept crypto safely. The service is available for crypto holders worldwide, both for personal and business use. The platform helps to solve the problems that are often encountered by those accepting crypto payments for their businesses and constantly keeps developing.