Crypto Voucher is the perfect solution for anyone looking for affordable and uncomplicated ways to buy cryptocurrency. It is also important to emphasize the safety of payment with Crypto Voucher, when there is no need to enter bank card details in order to purchase it. The easiest and fastest way to buy Crypto Voucher is the Baxity Store – the best and reliable reseller of prepaid and gift cards. Below is an overview of Crypto Voucher.
What Is A Crypto Voucher
In the new world of cryptocurrencies, the use of crypto vouchers greatly simplifies the process of paying online with digital currency. No matter what cryptocurrency you bought your crypto voucher with, you can easily buy, exchange and send cryptocurrency in an instant.
How to register account
As with many payment system sites, registration on the Crypto Voucher website does not take much time.
1. Click in the upper right corner of the main page on the "Create account" button.
2. In the new window on the right, add your email address and click "Register".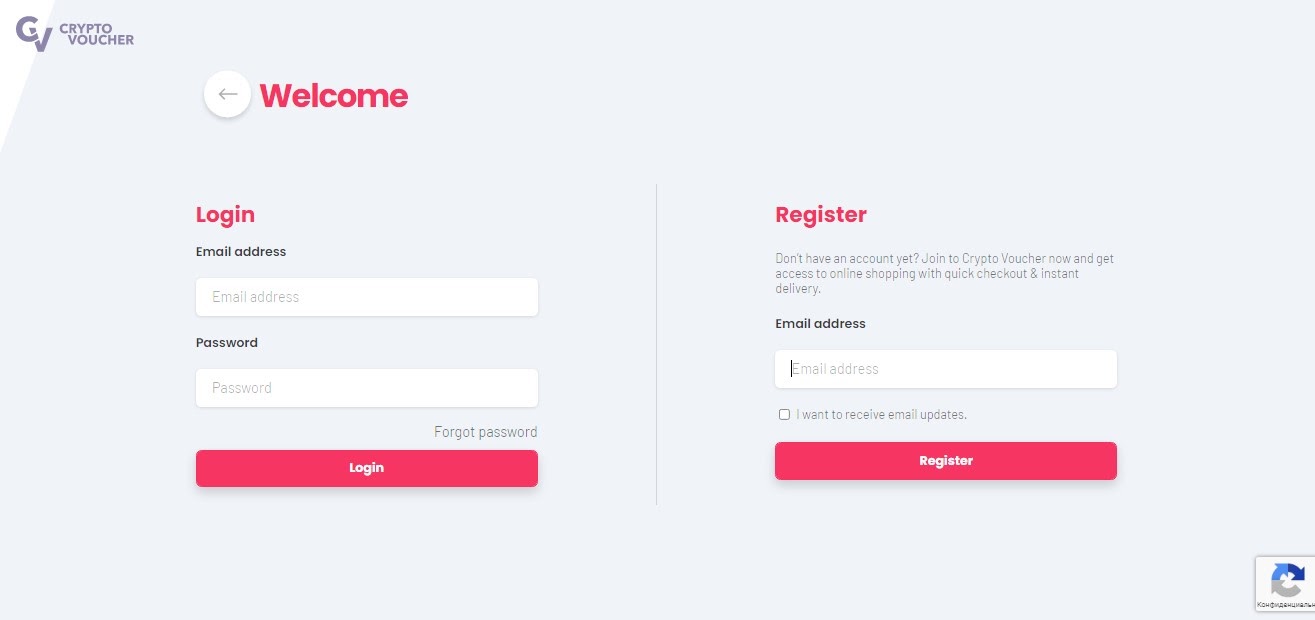 3. At the next stage, the system will send an e-mail to your mail with a link to confirm registration.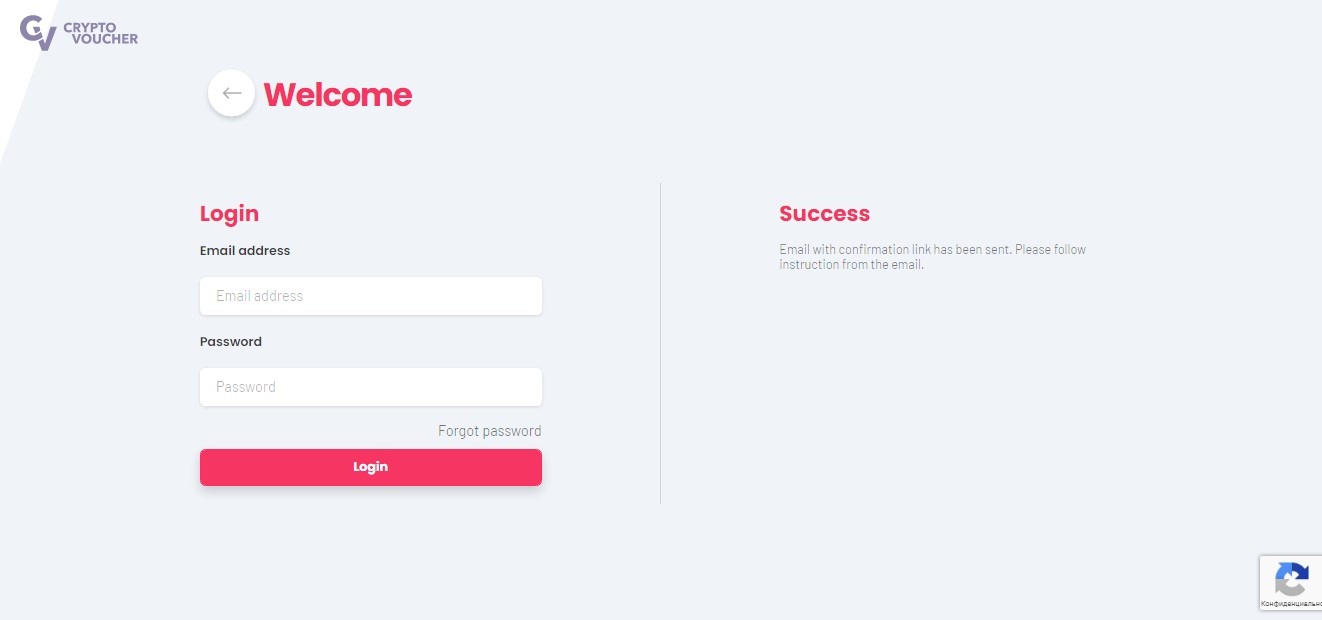 4. Follow the link and create a password. Enter it twice and click "Sign in".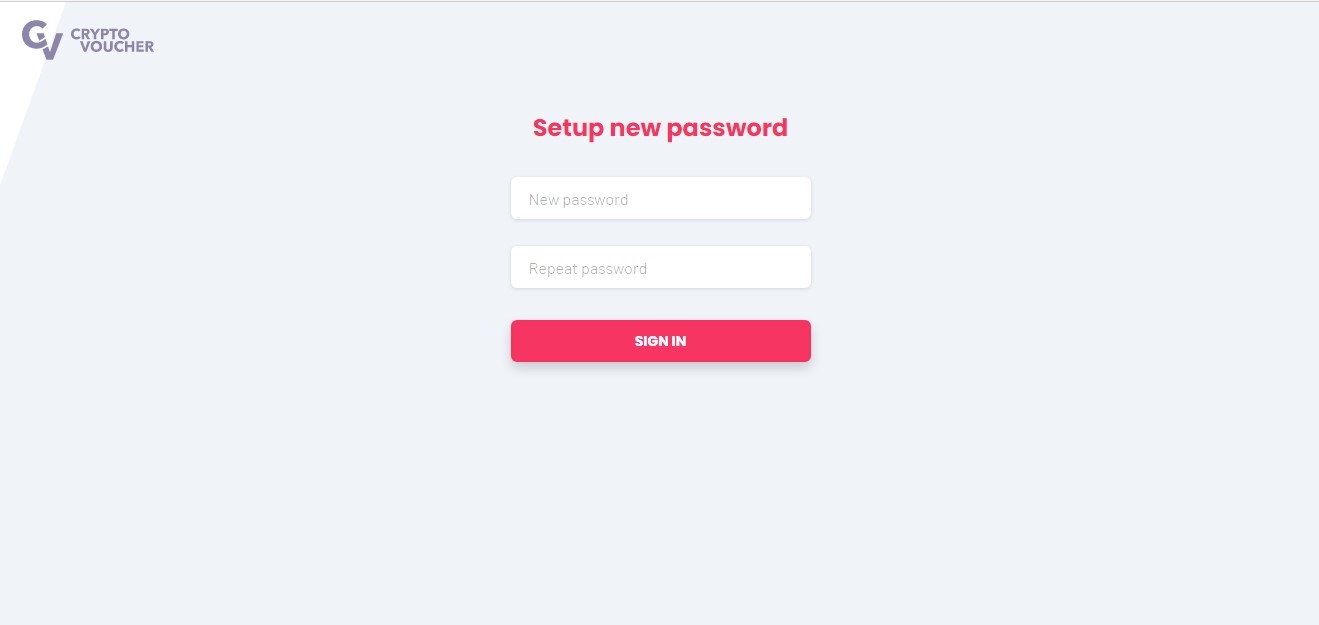 5. Next, select the country of your registration and add your phone number. Click "Send SMS Code".
6. In the new window, add the code that you received in the message on your phone and click "Confirm".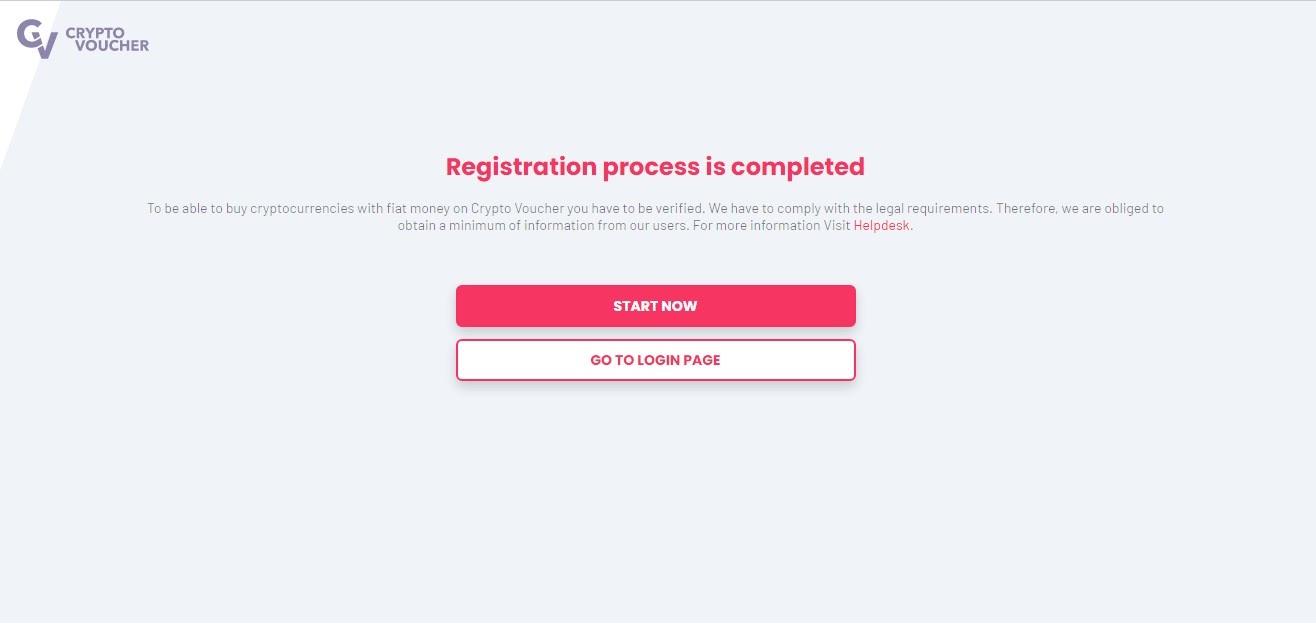 Upon successful registration, access to all functions of the site and high account limits will become available only after you pass verification. To buy cryptocurrency with fiat money using the Crypto Voucher, customer identification is essential.
To start verifying your account, log into your account and click "Verify". We would like to emphasize that when you buy Crypto Voucher on Baxity Store you don't need to go through the boring verification process. It is instant and effortless.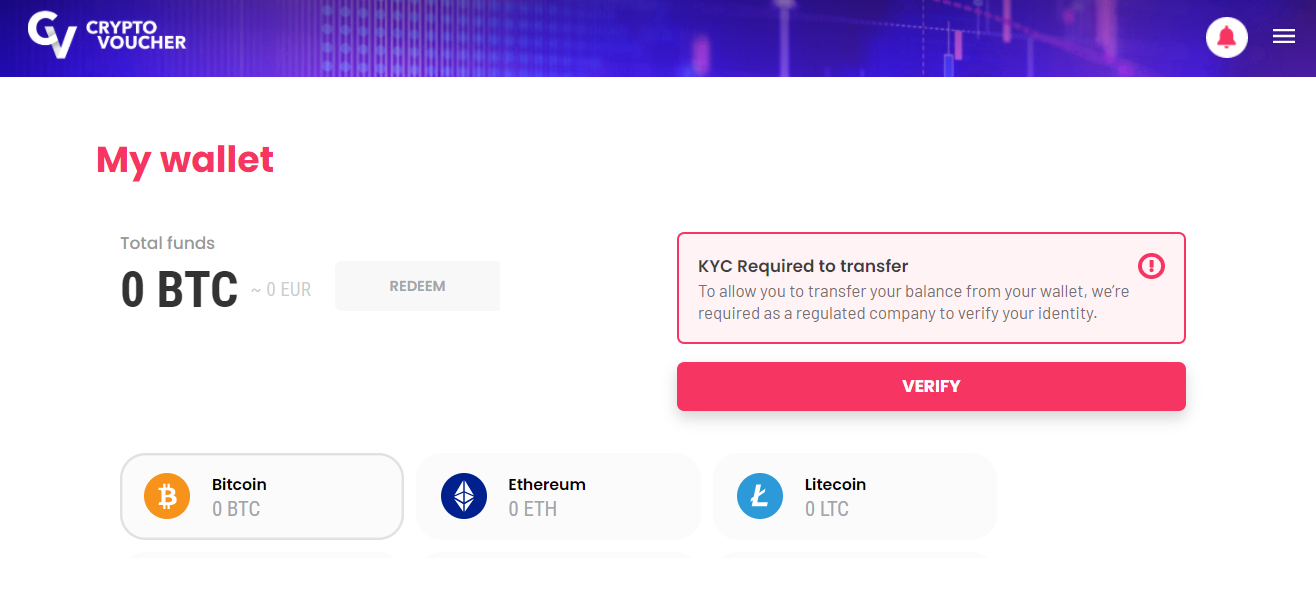 Verification in Crypto Voucher consists of three stages: providing personal data, assigning a voucher and verifying documents.
1. Fill in your personal information and click "Continue".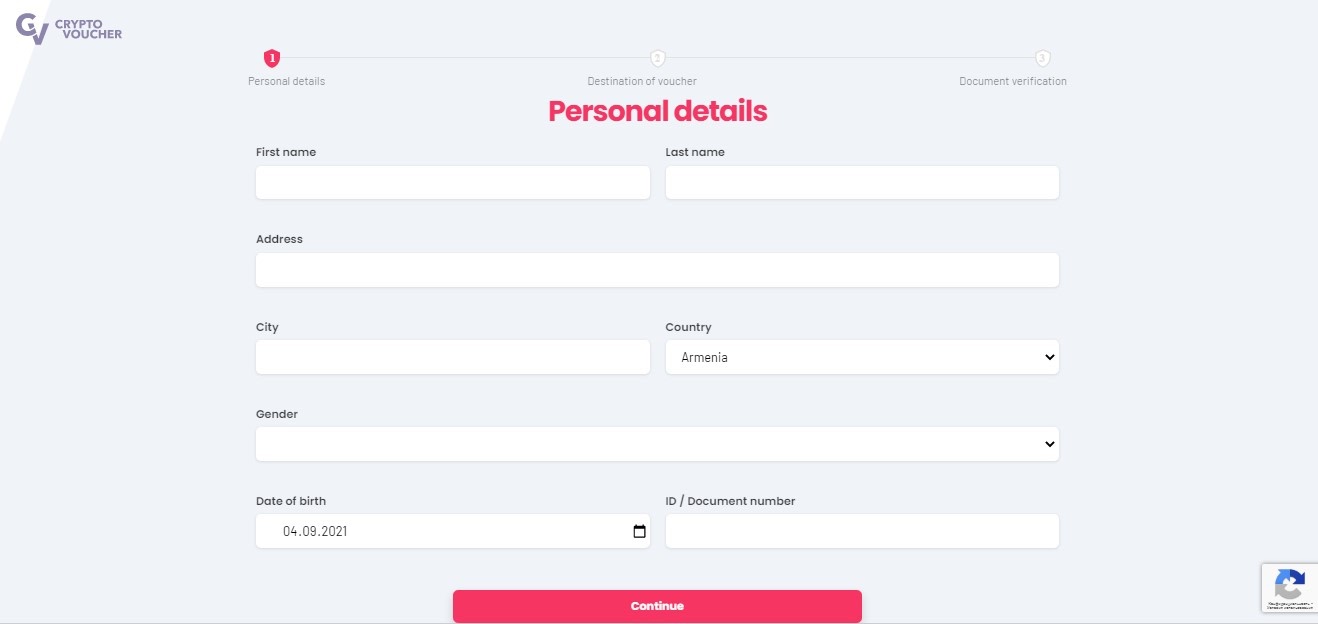 2. Complete the fields by selecting the appropriate option in the pop-up window:
– Source of funds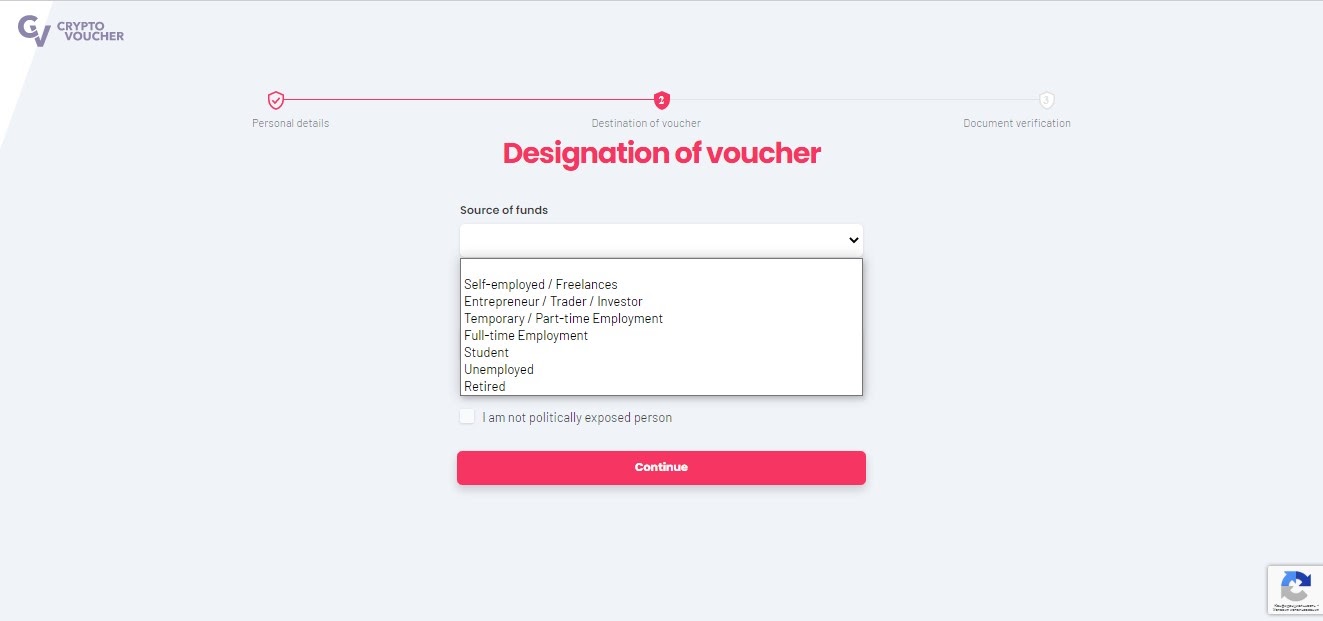 – Designation of voucher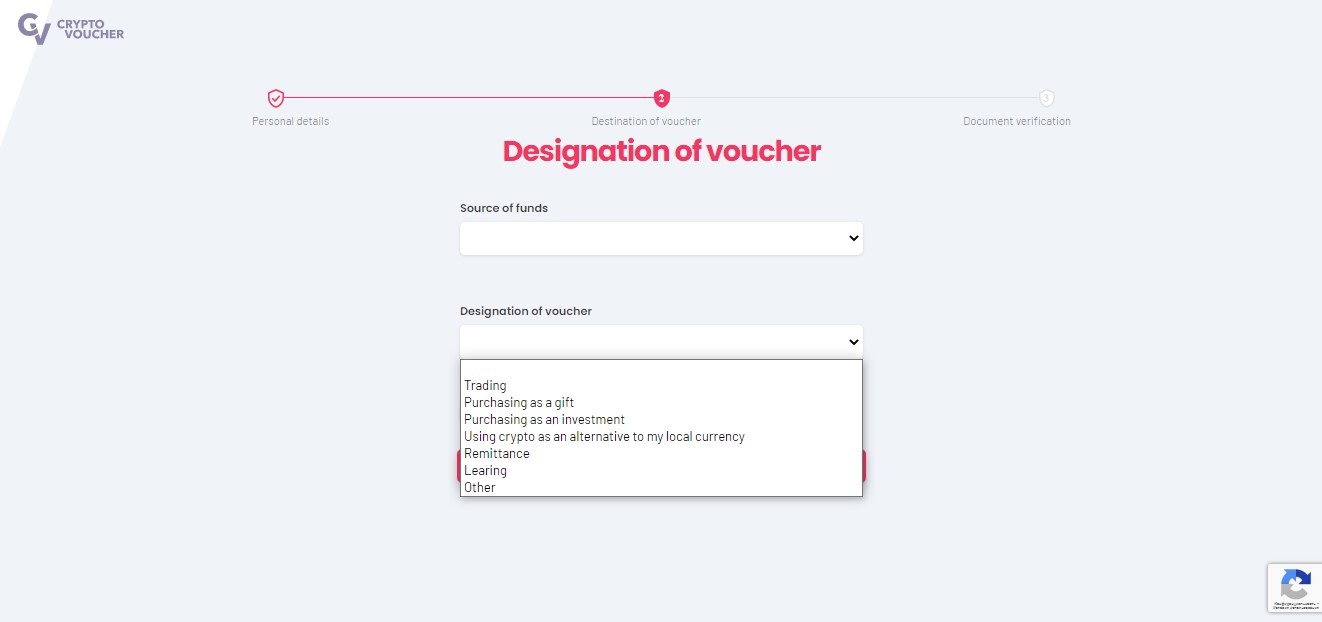 3. Next, the system will ask you to provide documents with personal information to verify your identity. You can choose the recommended automatic KYC identification procedure, which will take only 5-10 minutes. You need to prepare documents in advance and set up the camera on your computer or phone. Click "Automatic KYC".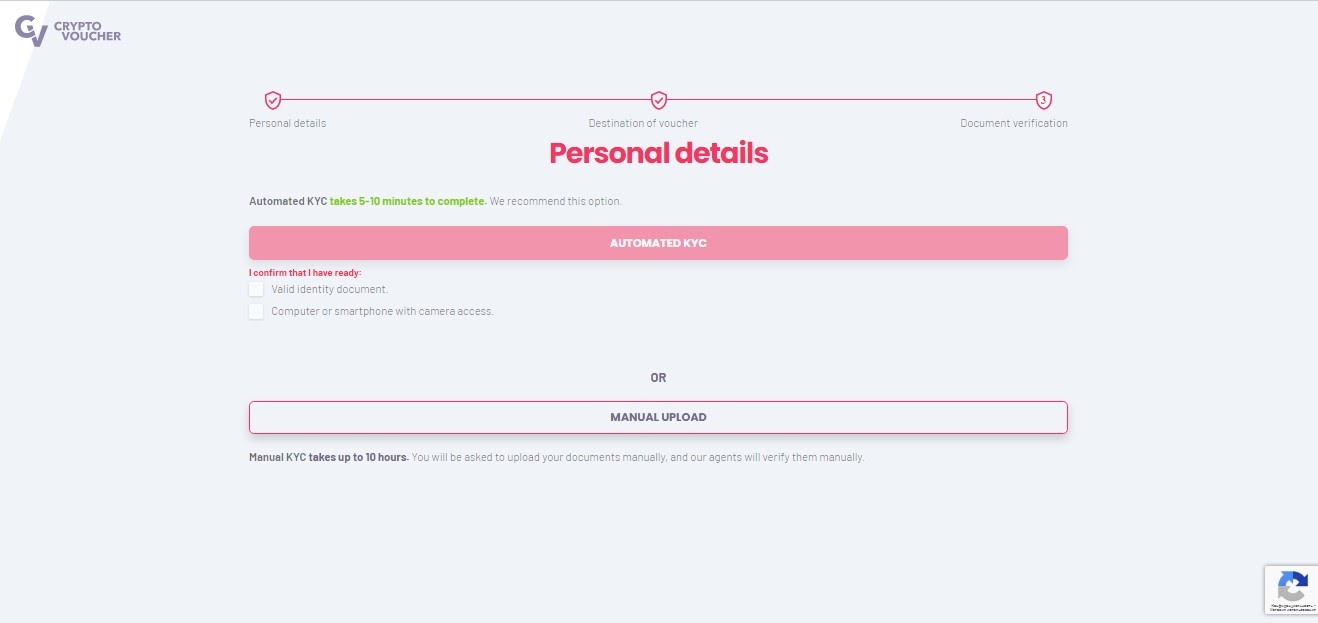 You will be redirected to the next page, where you must select a document to verify your identity. Click on the corresponding picture, for example a passport.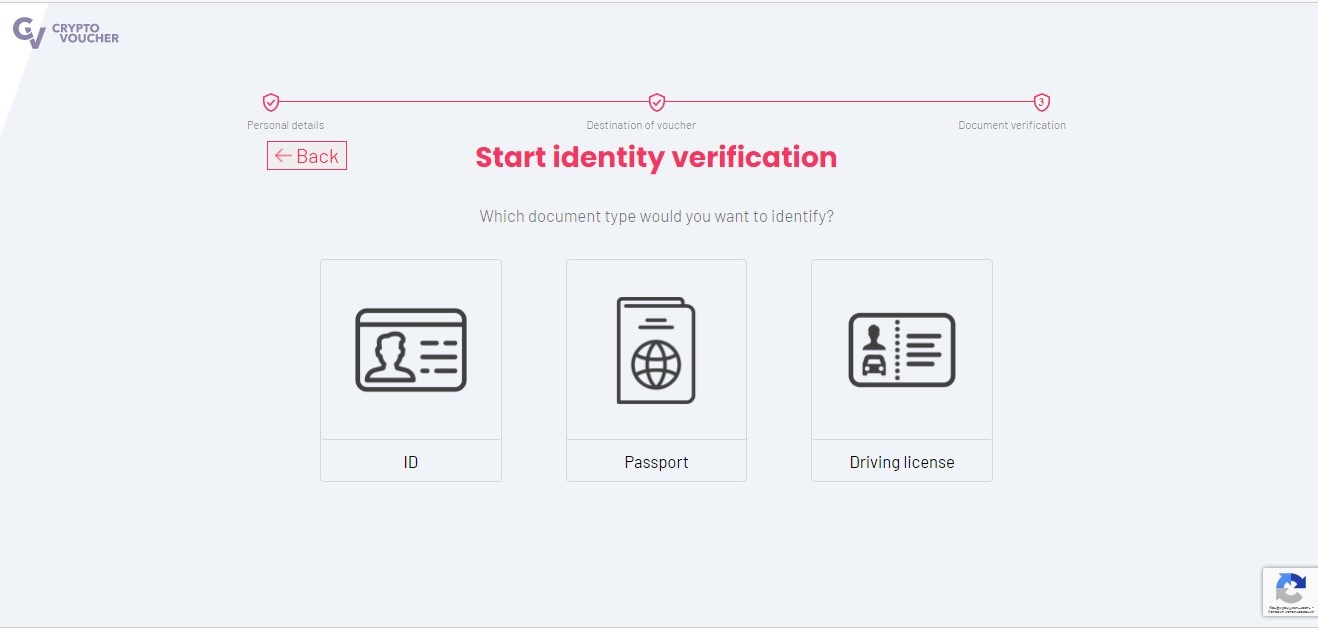 The window for starting the verification process will appear with the button "Start identity verification".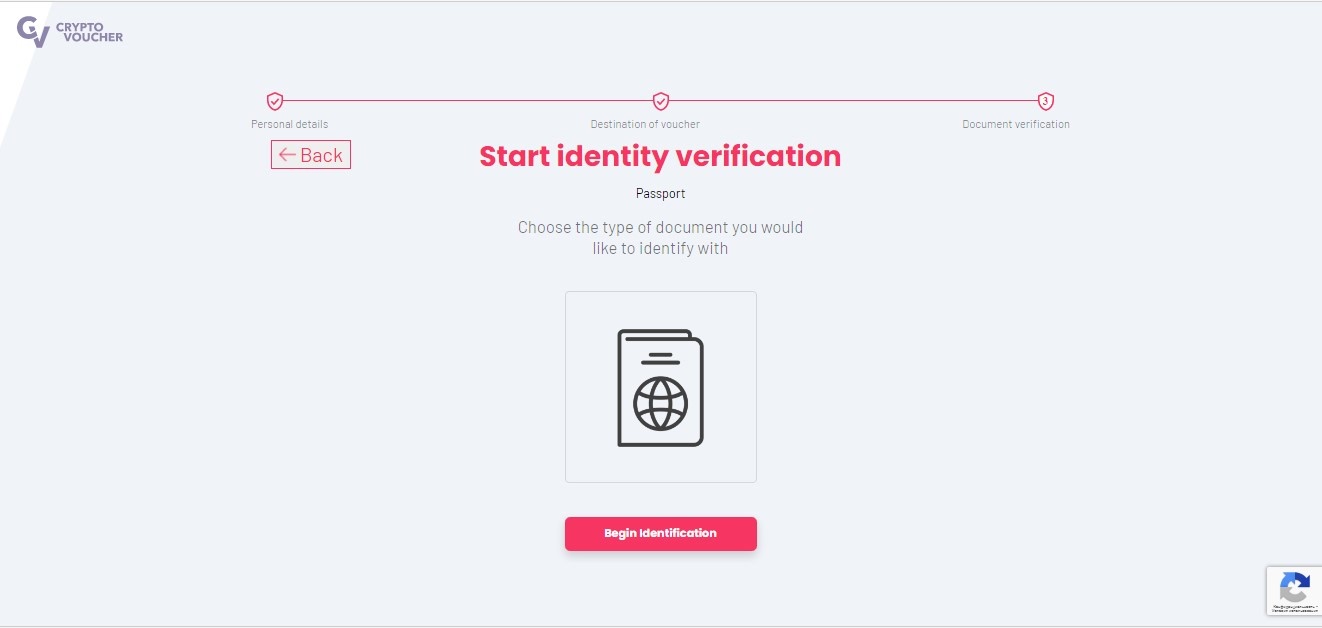 Open the browser access to your camera. If you do not have a camera, documents can be loaded manually.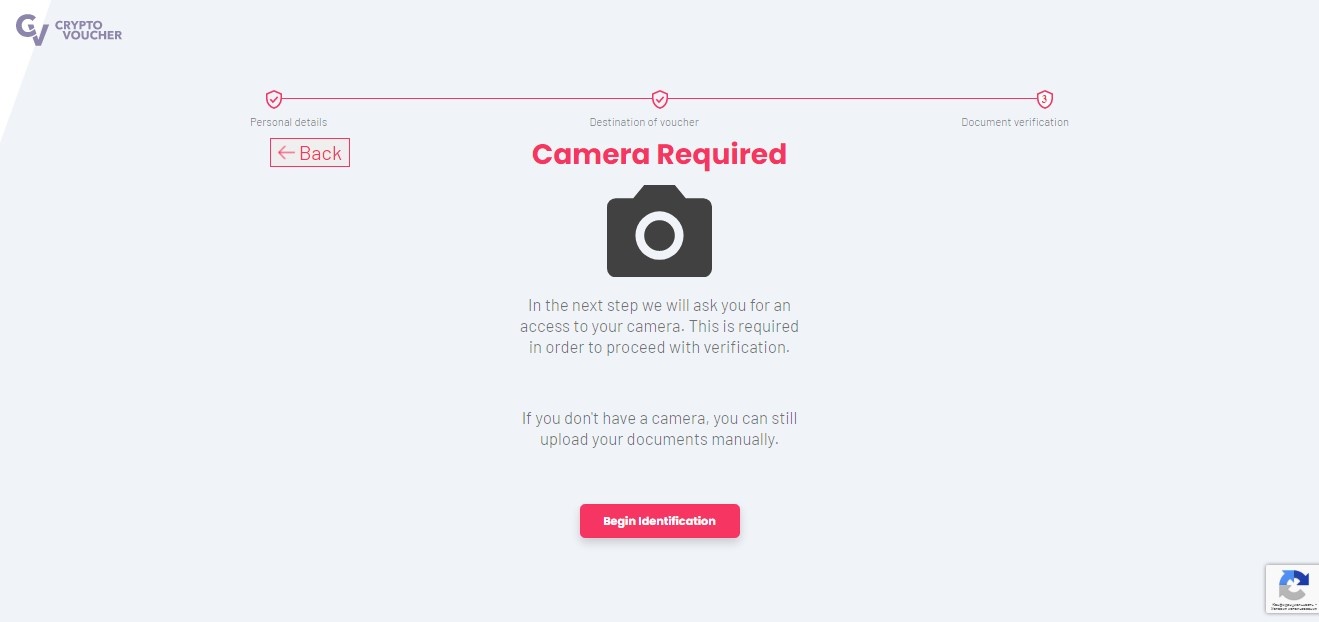 Click "Begin identification". Place the front page of your document in the window and take a photo of it with the button below the frame.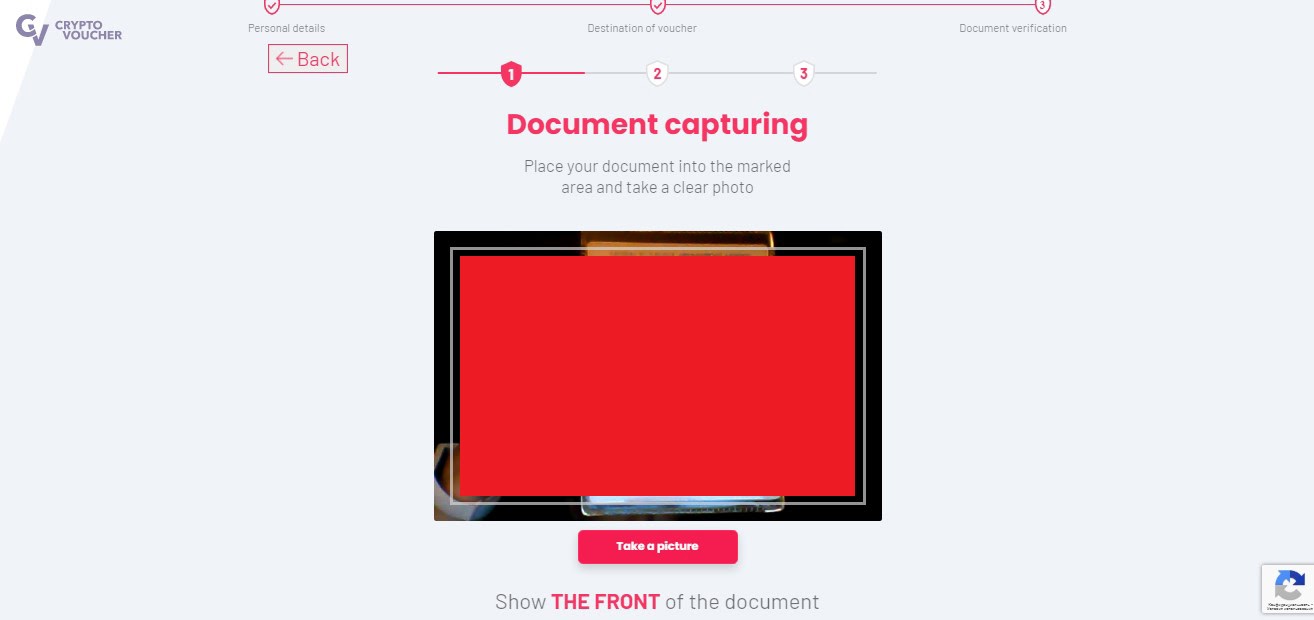 Next, you need to photograph the back side of the document or the second page according to the same principle as in the paragraph above.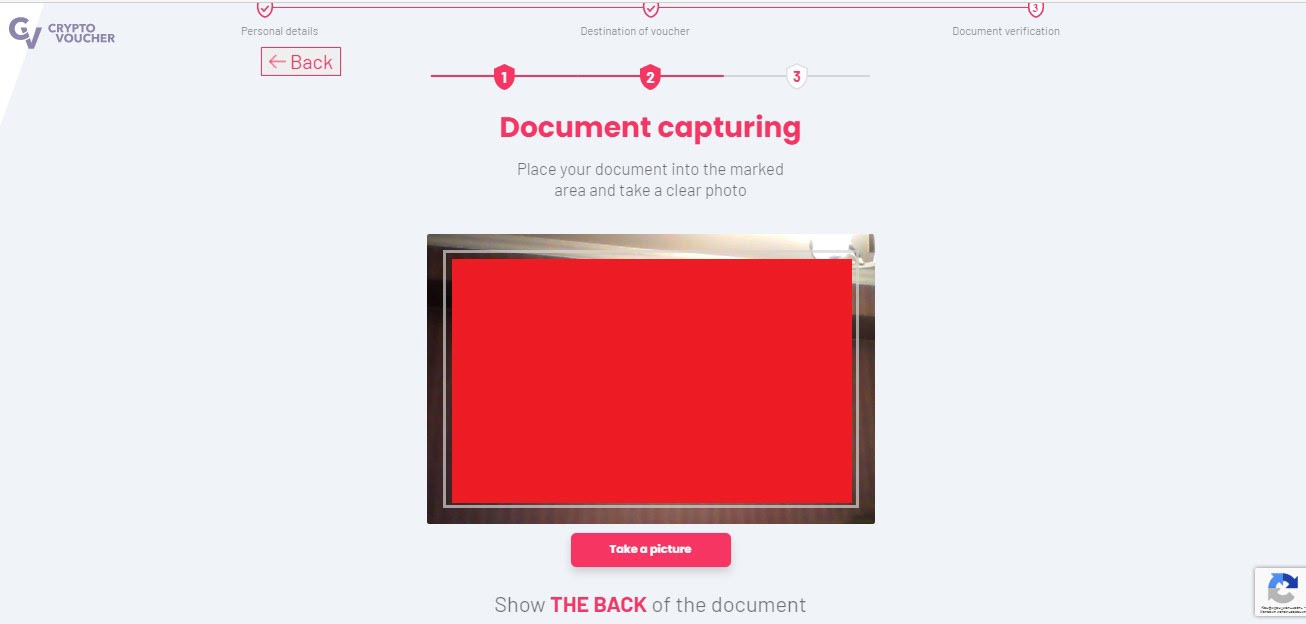 At the last stage, your image in the document is photographed, that is, your face.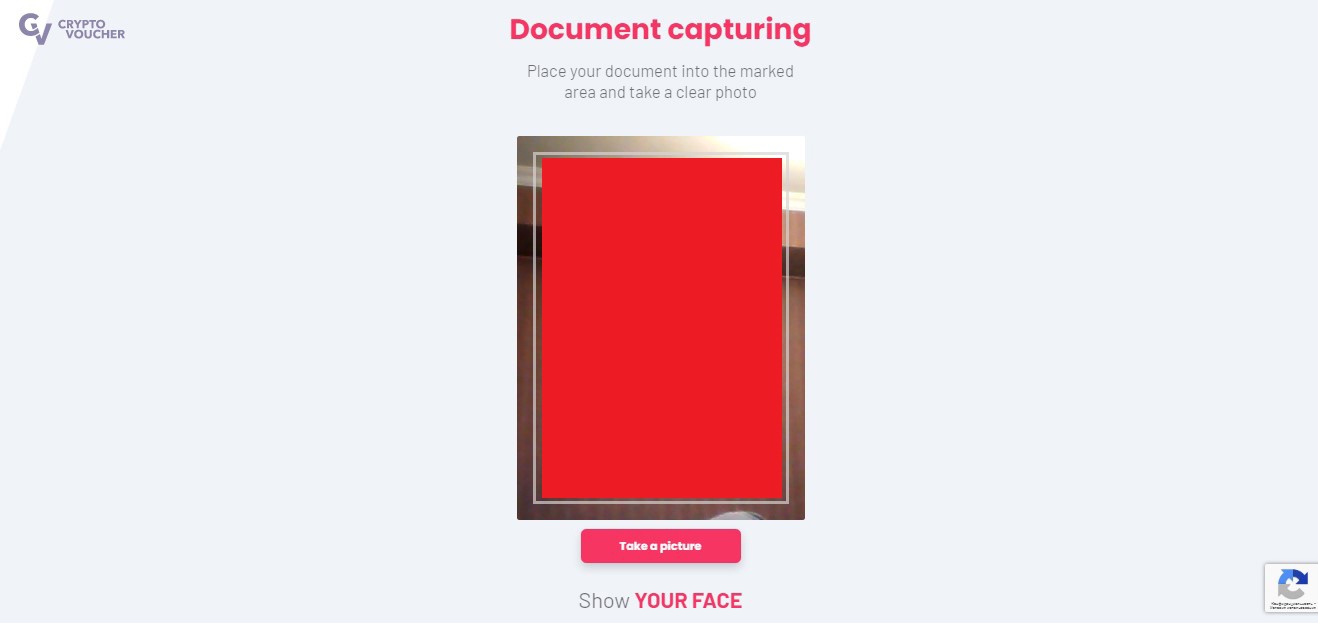 Finally, a notification will appear in a new window that the system is ready to verify your documents and verify your identity. On this page you can check the quality of the photos you have taken, then click "Continue".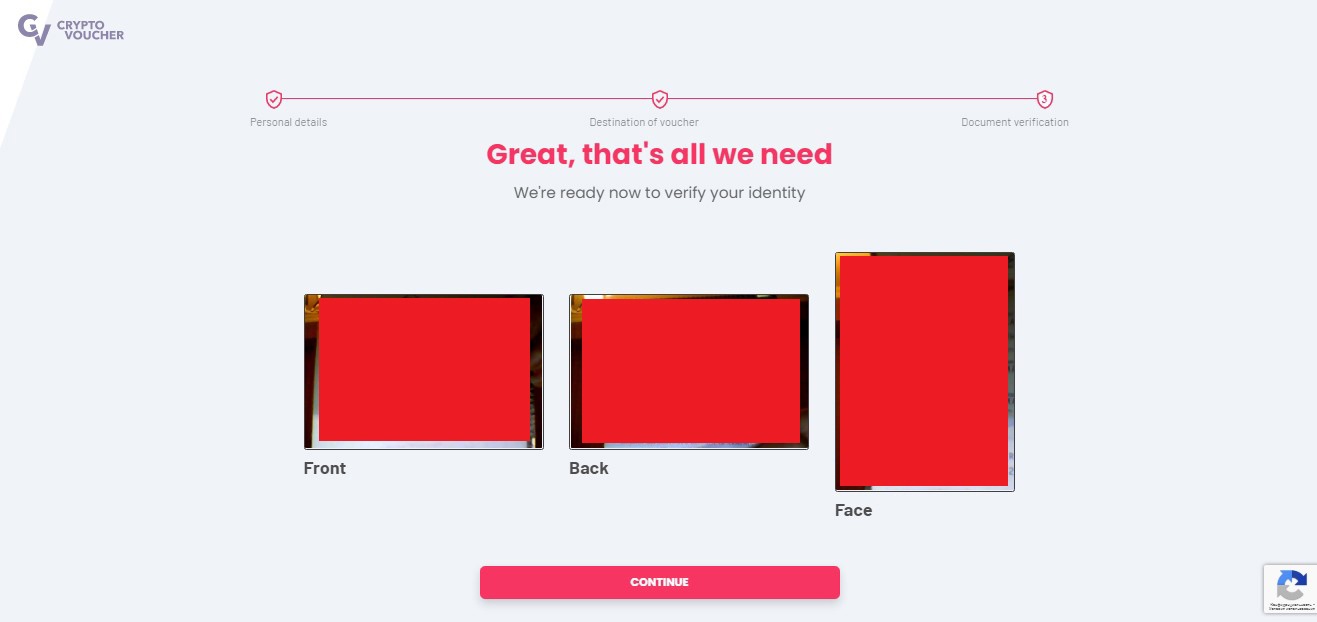 You will be notified about the results of verification by e-mail, the address of which was specified by you when registering in the system.
In some cases, the payment system in the letter asks to send also your selfie with a piece of paper, where you need to indicate the date when the photo was taken and write "Crypto Voucher". In this case, you must hold with your hand the document that you previously uploaded to the system for identity verification.
Where You Can Buy Vouchers
You can buy a crypto voucher both on the official website of the system with a wide selection of cryptocurrencies, and from authorized distributors. After purchasing a crypto-voucher, the system will send you an email notification about the purchase and the provision of a special Crypto Voucher code, which can be found in the list of crypto-vouchers in your personal account.
Directly From The Official Website
On the official website for the sale of crypto vouchers, you can  buy a voucher quickly on the main page.
On the main page of the Crypto Voucher website in the "Quick Buy" window or in your wallet, select the value of the voucher. The next line will immediately display the corresponding amount in cryptocurrency. Click "Buy Now".
A new window will display all the payment methods available in your country.
The crypto-voucher is valid for 180 days from the date of purchase, so we recommend using it for this period of time. It can be redeemed at a time and exchanged for only one type of cryptocurrency.
Pay for your purchase in one of the most convenient ways for you, for example, by credit card. Enter all the required card details.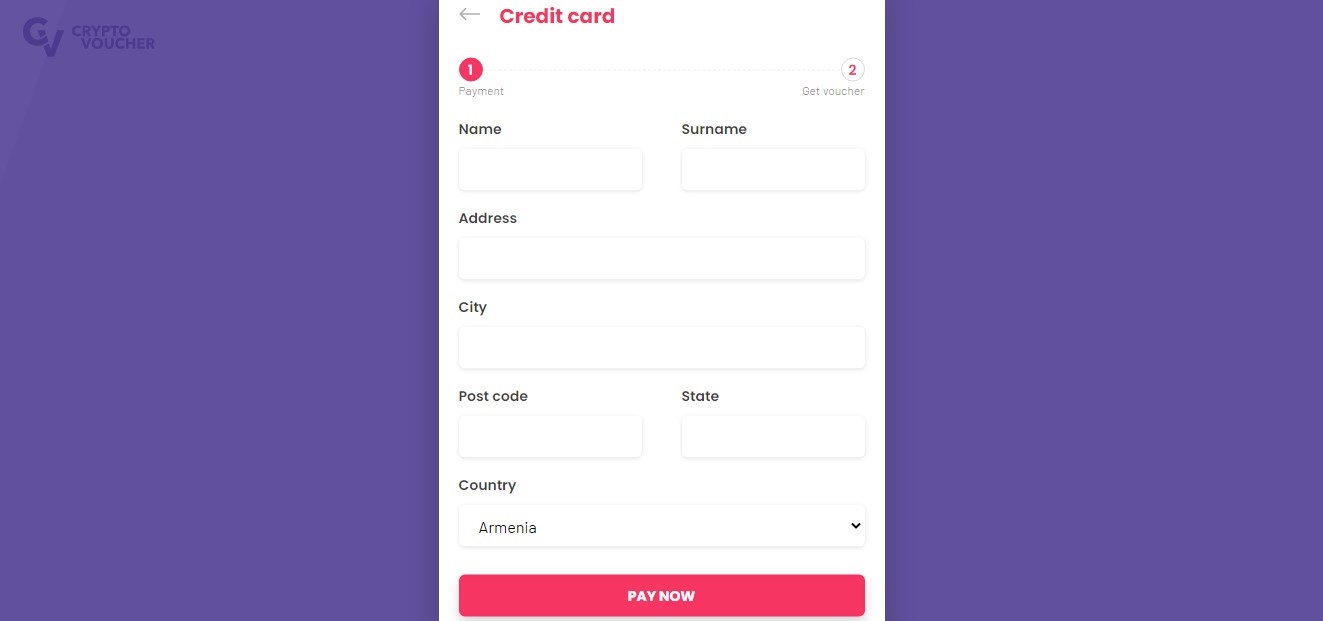 Then fill in your personal details and registration address. Click "Pay Now".
After successful payment, you will receive a transaction notification. You can now cash out the credit voucher or buy another one.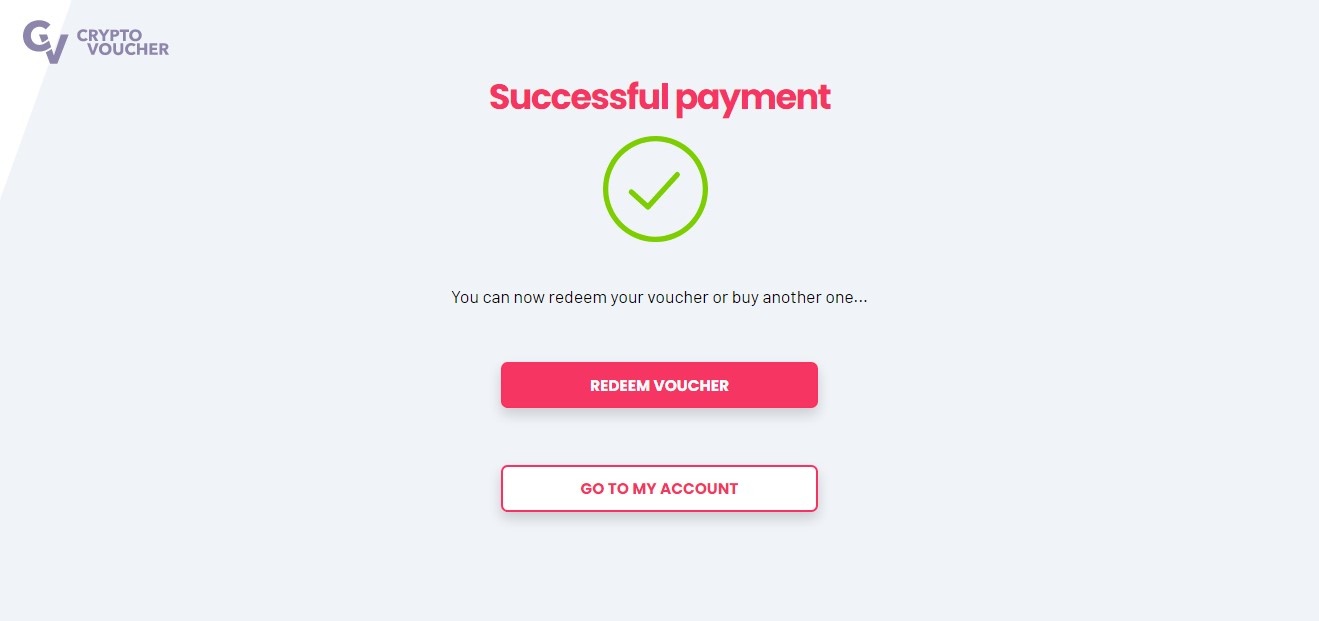 All available Crypto Voucher cards can be found in your account under "My Vouchers".
From Authorized Distributors
You can also buy a crypto voucher from reliable and trusted distributors, as Baxity Store. Click this link which will take you to the website of the authorized partner store.
It is important to know that it is more profitable to buy Crypto Vouchers from authorized distributors than on the official website of the payment system.
Buy Locally
To find a point of sale for credit vouchers in your area, go to the appropriate section of the Crypto Voucher website "Purchase Methods"> "Buy Locally".
Purchasing The Crypto Voucher
As we have described above, you can buy Crypto Voucher from Baxity Store authorized distributor.
Available currencies
The types of cryptocurrencies you can purchase with the Crypto Voucher card are:
Bitcoin, Ethereum, Litecoin, Dogecoin, Binance Coin, USD Coin, XRP
Payment methods
As soon as you click on the "Buy Now" button in your personal account, the system will redirect you to a page where you must specify the purchase amount (at least 10 euros) and select a cryptocurrency.
Click on the "Buy now" button and select from the list in a new window the available payment methods on the service:
| | | |
| --- | --- | --- |
| PayPal | MoneyGram | Xoom Money Transfer |
| Card payment | M-Pesa | Cardcash |
| BitBay | Neteller | G2A Wallet |
| Neosurf | OneVanilla VISA/MasterCard Gift Card | Multibanco |
| Flexepin | Payeer | Union Pay |
| Webmoney | Paysafecard | SEPA transfer |
| AdvCash | Paysend.com | PayByZen |
| Amazon gift card | Perfect Money | Przelew bankowy / Przelewy 24 |
| Bank transfer | PhonePe | Trustly |
| Best Buy Gift Card | Razer Gold Gift Card | Sofort / Klarna |
| Bitcoin Cash BCC/BCH | Sendwave Wallet | MasterCard |
| Bitsika | Sephora Gift Card | RedCompra |
| Cardless Cash | Skrill | VISA |
| Cash app | Steam Wallet Gift Card | Bancontact |
| Cash Deposit to Bank | TransferWise | Advcash |
| Cash in Person | TRON TRX | BLIK |
| Chipper Cash | VISA Gift Card | Banco do Brasil |
| Coles Gift Card | Walmart Gift Card | NL Ideal |
| Mastercard gift card | Western Union | |

Fees And Charges
When buying Crypto Voucher in any way convenient for you, pay attention to the commission of the payment system you pay with. Since the commission depends on the method of payment for the voucher, the amount of the fees can always be seen opposite the payment method. In any case, the final amount of the purchase of the voucher, including Crypto Voucher fees, is always displayed after choosing a payment method. On Baxity Store there are no hidden fees and when buying you see the total amount spent.
How to Redeem Crypto Voucher
To redeem a crypto voucher, log into your account, click "Redeem" in the left list.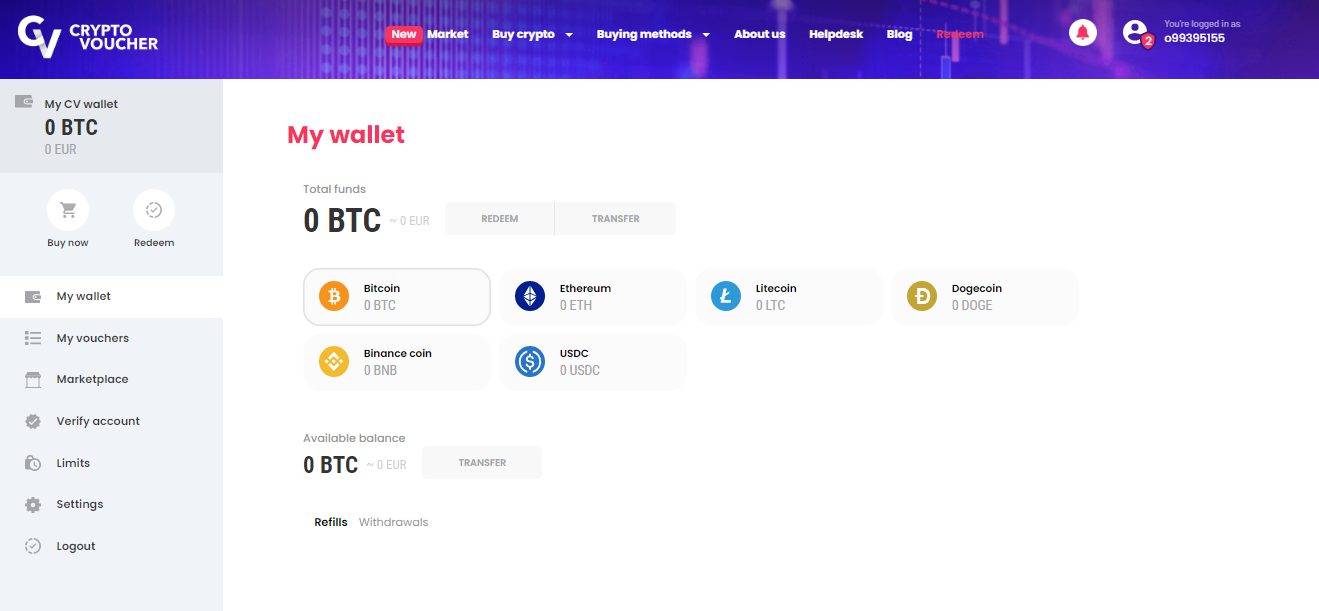 Enter The Code
The code is located on the "My Vouchers page". Click "Show Voucher".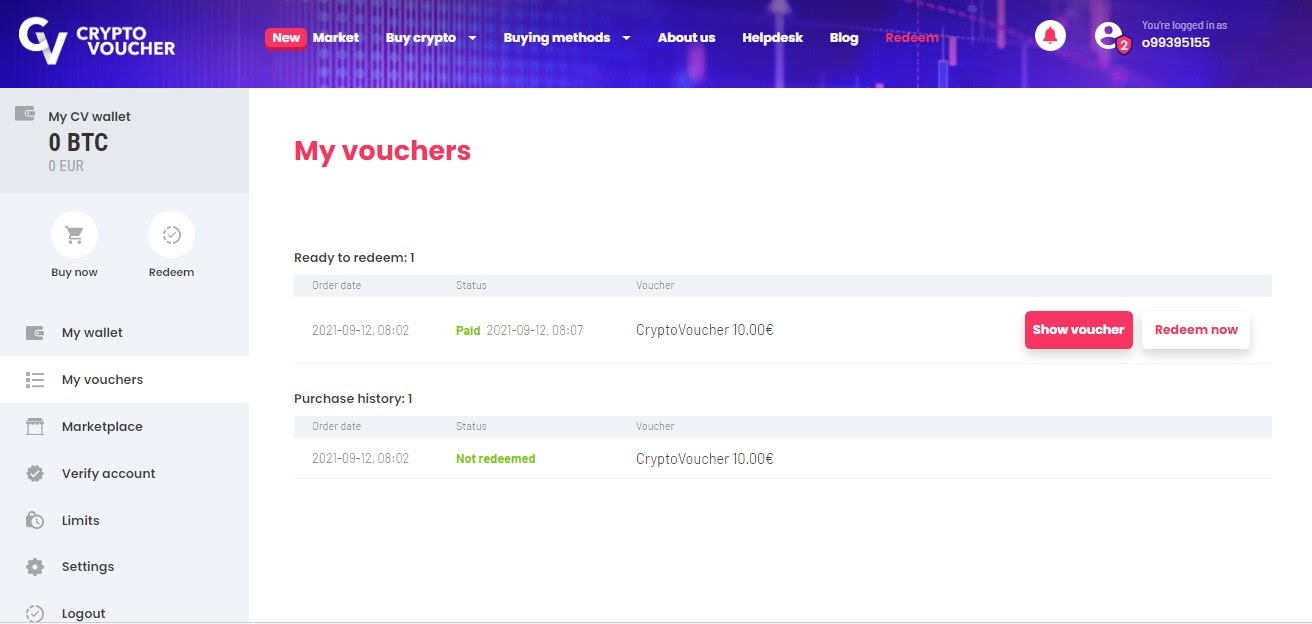 Choose The Cryptocurrency
Choose a cryptocurrency from the list and then pay attention to the amount you will receive after cashing out your Crypto Voucher card. Note that the transaction fees charged by the system are lower in LTC and Dogecoin than in BTC and ETH. This means you get more cryptocurrency if you redeem your voucher for LTC or DOGE.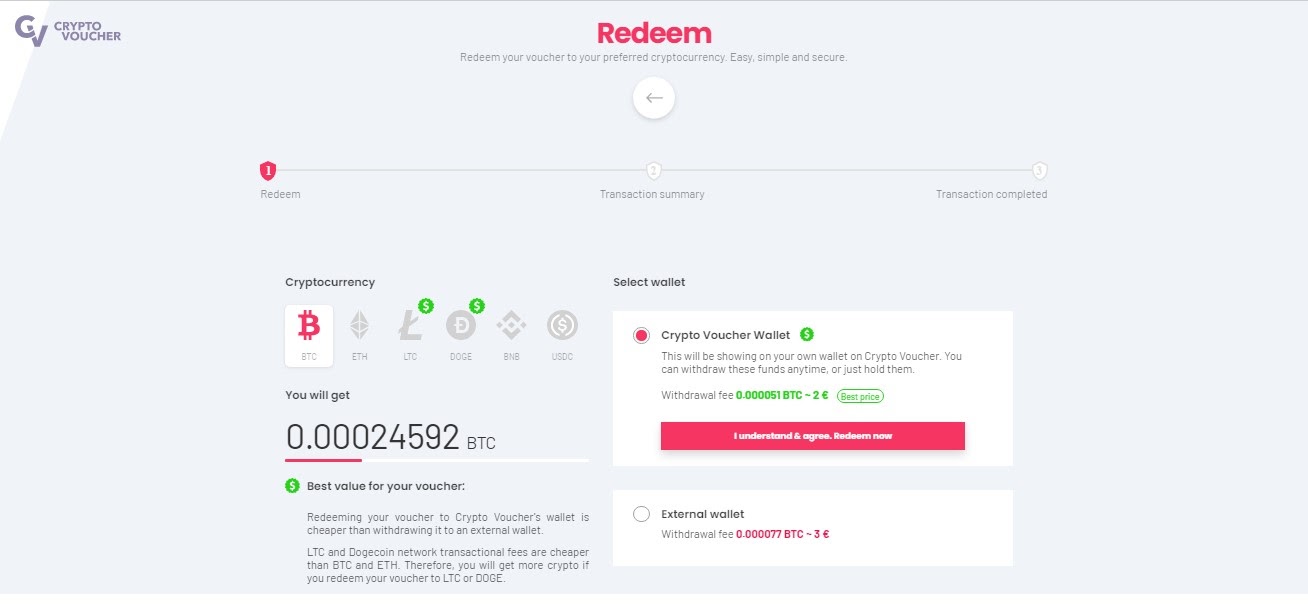 Specify E-wallet Address
Redeeming a voucher on a Crypto Voucher wallet is cheaper than withdrawing a cryptocurrency to a third-party wallet.
If you choose the method of withdrawing cryptocurrency to another electronic wallet, then in this case you need to enter the address of the corresponding electronic wallet. Choose a method and click on the button "I understand and agree. Redeem now".
A window will appear asking you to rate the service.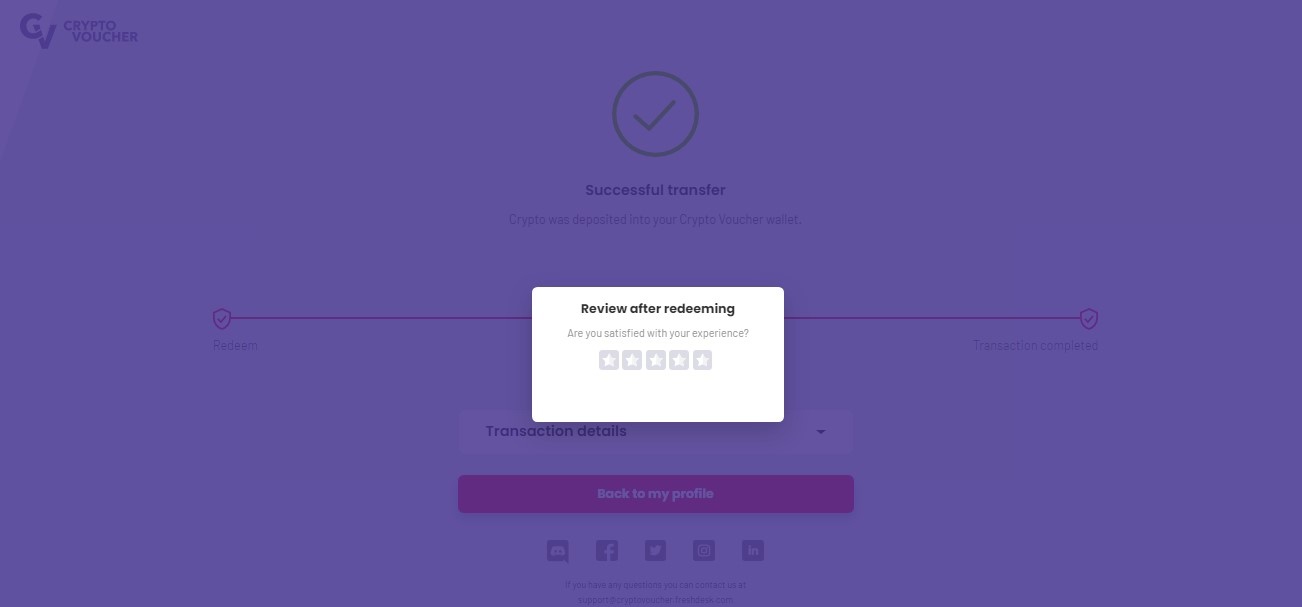 Next, you will be able to see the results and details of the transaction.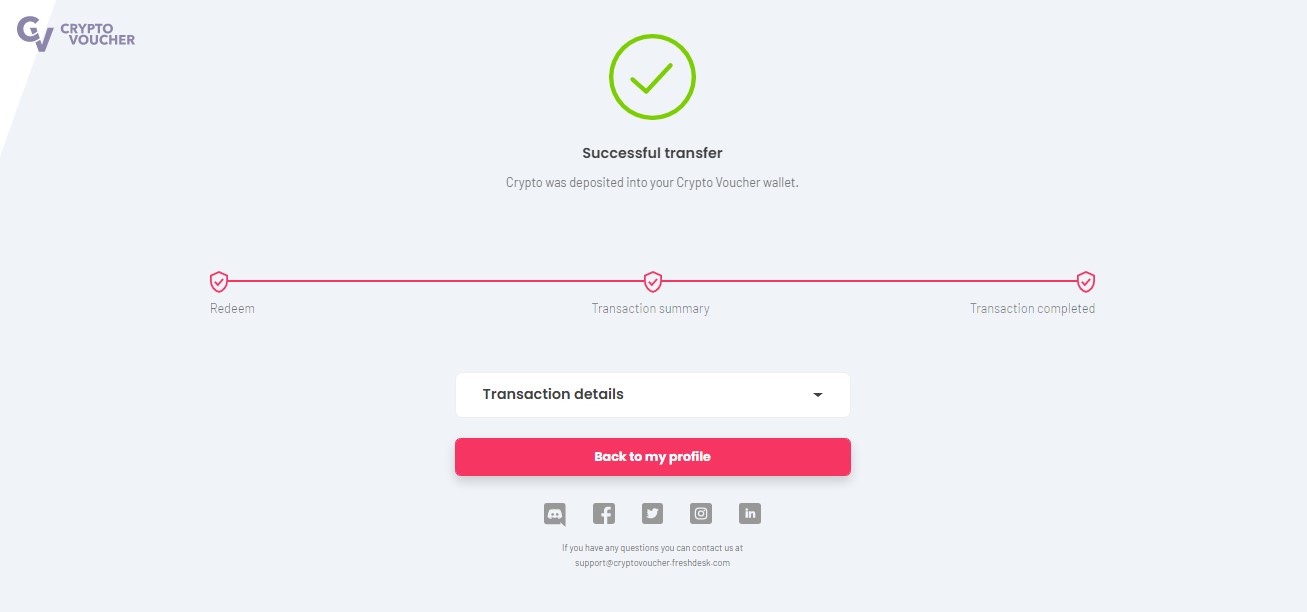 The amount in cryptocurrency will be displayed in your Crypto Voucher account or on a third-party wallet, in case you have withdrawn to another system.
How to Exchange a Gift Card for Crypto Voucher
On the site, you can also exchange Crypto Voucher for an online store gift card:
Enter the section "Purchase Methods"> "Exchange Gift Card" (only in dollars).
Click on the "Exchange Now" button below.
Select the appropriate brand and amount.
Provide gift card information and your personal information.
Within one business day, you will receive a notification about the crypto-voucher to your email.
Pros and Cons
Pros
Cons

+ Lots of payment methods

+ Low transaction fees

+ Instant transactions

+ Simple and accessible interface

– A limited number of cryptocurrencies

– Verification process is a bit difficult

– Low limits without verification
Crypto Voucher Reviews
To entrust your funds to a particular payment system, of course, you need to make sure of its reliability, as well as read the reviews of Crypto Voucher. On trustpilot.com, approximately 72% of consumers rate the Crypto Voucher payment system positively. The average rating of the site is 4.1, which allows you to trust it to a greater extent. Dissatisfied customers most often complain about the difficult verification process.
Alternative Payment Methods
We advise users of the Crypto Voucher payment system to also pay attention to alternative platforms that allow them to easily make financial transactions, deposit and withdraw funds at minimum commissions and high limits. These payment systems stand out for their reliability and high transaction speed.
Conclusion
Crypto Voucher payment system is an easy and fast way to buy cryptocurrency. A huge number of methods for buying a voucher makes the site available to residents of almost all countries. The purchase can be carried out both on the official website and from authorized distributors, as well as at local points for cash.
FAQ
How Do You Use A Crypto Voucher?
You can use Crypto Voucher to but cryptocurrencies online and you don't need to enter bank card details in order to make a payment.
How Do You Get A Crypto Voucher?
We recommend you to buy a Crypto Voucher on the one of authorized distributors websites – Baxity Store. This way you don't have to sign up for a Crypto Voucher account and pass verification process sharing your documents.
Can I Buy Crypto Vouchers With A Gift Card?
Yes, there different gift cards available among payment methods. You can all payment options available for your country on a Crypto Voucher official website.
How Do I Redeem My Crypto Voucher?
To redeem Crypto Voucher:
Log in to your personal account.
Click on the "Redeem" button in the left menu.
Select the voucher you want to cash out.
In the new window, select the cryptocurrency and wallet for withdrawal.
Click "I understand and agree. Redeem now".