Paysera is a payment system that operates as a form of the virtual bank with which users can open up online accounts without having to pay a service charge, be it individuals or businesses.
Paysera can be used for a number of transfers and transactions:
for online or offline card payments
for P2P transfers (amongst individual users of the system)
for international transfers (IBAN and SEPA)
for advantageous currency conversions
to withdraw money from ATMs across the world
With such a number of options, it can be difficult to discern which ones could apply to you and be useful for your daily online activities, and this article will take a closer look at the use of Paysera as a payment service for individuals.
History and facts about Paysera
Paysera's journey started in Lithuania in 2004, where three men came together to establish the SMS mailing service "Elektroniniai verslo projektai". The IT software developed by Kostas Noreika, Audrus Luciuna and Sharunas Brog was a success and can still be encountered today.

Two years later they launched another project, the Mikejimai payment service. Before it adopted the now well-known Paysera LT title in 2016, the company underwent multiple rebranding, first being renamed "EVP International" in 2008, then Paysera all short in 2014. Before it was given its final denomination, Vitenis Morkunas was hired to manage the company in 2015 as a CEO. Despite its numerous name changes, one thing has remained the same since the start: it's 100% Lithuanian origin and funding.
Now having settled on both its management team and branding, the company went on to launch a pay by phone software called MainIBAN in 2017.
When it comes to their licencing and certifications, Paysera first acquired its official payment system license in 2011, which was extended to include the issue of electronic money the following year. In 2017 and 2018 respectively, the company was awarded a PCI DSS certificate and a payment initiation services license, also known as PIS.
Keeping up with modern technological developments, the payment system set up its own mobile app in 2014, following up with VISA cards the next year. These were upgraded with a contactless feature at the convenience of their users just two years after their initial launch.
Also innovating its internal systems, the Paysera Tickets service was created in 2015 to facilitate the online distribution of event tickets. The company's efforts were rewarded with the title of "Trading Solution of the Year" at a competition in 2017.
From just 50 employees in 2013, the company has grown steadily to employ a total of 200 people by 2019, meanwhile opening new representative offices in Bulgaria and Romania, in 2016 and 2019 respectively. As its offices have grown, so has its accessibility across the world, servicing IBAN accounts since 2016, PIS since 2017 and the SEPA zone since 2019.
Paysera's growth is just as notable in its revenue increase, amounting to 11.05 million euros in 2019 and making up 0.19% of all the transfers for the year which itself extends to 5.9 billion euros. The payment system oversaw as many as 2.7 million transfers around the globe and in three dozen different currencies in that single year. This is a remarkable feat for any private company, not any less for one originating directly from the Baltic States.
Revenue: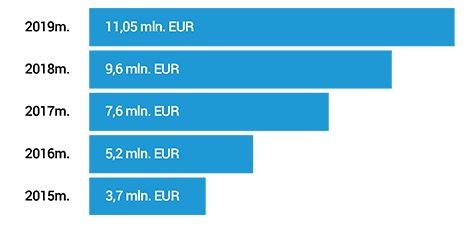 Pros and cons of Paysera
Paysera offers a number of features and options to its users, but the ultimate usage of its platform is unique to each and every individual. Whilst some may wish to carry out regular international transfers via the platform, others may be more interested in finding a convenient payment method for their online shopping. The payment system's most relevant pros and cons are therefore put on the review below as to encompass all available factors.
Pros:
Plastic cards are available for payments and cash withdrawals. The card is directly linked to your account with its own respective balance as to keep your primary funds safe all the whilst giving you instant access to the money you do need.
There is no maximum limit for transferring money
Convenient mobile app
SEPA and IBAN accounts
There is no verification of credit history
Low fees for currency conversion and international transfers
31 currencies are supported
User registration is available worldwide
Cons:
The card is only available for EEA residents living in the EEA
The limit for ATM cash withdrawals is set at €600 per day
First card service fee €0.75 per month
Additional fees may apply to SWIFT transfers
Paysera Features
When considering the advantages and disadvantages of Paysera's features, it is interesting to review the losses incurred by currency exchanges and transfers depending on the scenario at hand.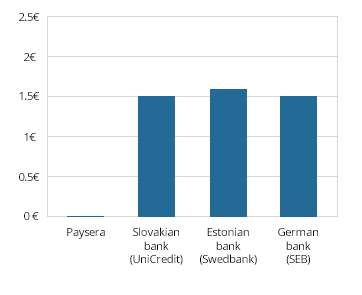 Comparison of Paysera and Bank commissions for 10 SEPA transfers in countries, which currently have the Euro as their national currency.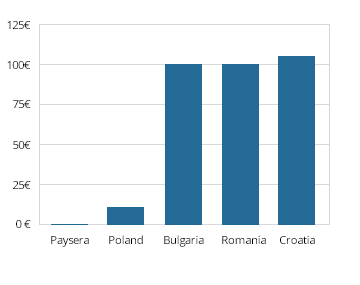 Comparison of Paysera and banks' fees to the specified countries for 10 transfers (from 1 to 100 euros).

Comparison: The net sum received by the recipient of your transfer in Euros in a European Union bank.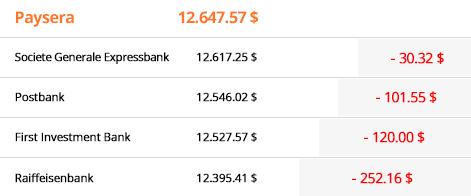 The net amount of USD you will receive when converting 10 000 GBP.
What other reasons are there for choosing Paysera as your online payment service of choice?
Instant transfers (SEPA INSTANT) in the SEPA zone in EUR and free of charge.
Complete international transfers around the world and in three dozen different currencies within just half an hour.
It takes just 5 seconds for a transfer to be carried out between Paysera users via the recipient's email or mobile phone number.
Use IBAN to transfer to 180 countries, choosing from a few dozen currencies and to 10 000 banks within 30 minutes.
Exchange in as many as 30 currencies with rates more profitable than those you might encounter in your local commercial bank.
Pay online or withdraw money from ATMs across the world with the Paysera VISA contactless debit card as your plastic card with an immediate link to your account. Note that the issue cost of the card is just 3 EUR.
The separation between your card and main account provides additional security and protection to allow you to regulate your card expenses without the risk.
Convenient mobile application for transfers, currency exchanges or plastic card management.
The opportunity to split your main account into multiple branches, organised by category to give you greater control over your finances and finally help you book that holiday, apartment or car that you have been saving up for.
Send money by transfer to WebMoney in USD in just a quarter of an hour.
Payment by QR code.
You can link your Paysera card to Google Pay, Samsung Pay, or PayPal.
Paysera Financial Services
Let us review in greater detail the general payment services hosted on the Paysera platform.
1. Local and international transfers with currency conversion at an advantageous rate
User accounts in Paysera are included in the SEPA system and the account features an IBAN. IBAN standard account numbers are recognized in banks across the world and are used to carry out money transfers from one account to another.
This system works in just the same way on the Paysera platform where users are invited to use a similar account format, as they would encounter in any other international bank, and the recipient of the transfer will be able to see who exactly has issued it from their first and last name or particular legal entity. The unique IBAN number is attributed to a user account automatically upon successful completion of the identity verification process.
When it comes to the specific regulations of your country of residence, these will not apply to your Paysera account since it may be considered as your Lithuanian bank account.
Transactions featured on the platform may be divided into four categories:
Bank transfer (SEPA or SWIFT). If a free SEPA transfer is not available, it is possible to make an international SWIFT / BIC transfer, for which a fee will be charged at pre-determined rates set by the banks involved in the operation.
Transfer to another Paysera account within the payment system
Transfer via WebMoney (in USD and WMZ)
Transfers from a mobile phone (for users who have phone payments enabled)
2. Autopayment allows you to schedule an automatic payment to be completed within a chosen period of time. If you are having trouble keeping up with your monthly payments and always end up having to deal with late payments, setting up pre-scheduled payments can not only help you save time but also avoid unnecessary troubles.
3. If you are used to dealing with a number of different countries simultaneously, Paysera's multi-currency accounts are a convenient way for you to carry out your international transactions. With 30 different currencies on offer, you can receive and convert various currencies at more favourable rates than most local banks.
4. VISA plastic debit contactless card
Although the payment system's main currency of choice is the Euro, users are nevertheless encouraged to pay for international purchases or withdraw money from foreign ATMs, although one should always mind the currency conversion charges.
Also, note that users must be residents of the EEA and be over the age of 16 to order a card.
Registration and verification
Registration
Anyone who has already celebrated their seventh birthday, no matter where they live, is invited to register an account with Paysera. After all, the process takes no more than 5 minutes and is as straightforward as can be. Here is a quick step-by-step rundown of the registration and verification practice.
On the Paysera website, click "Register" at the top right corner of the screen.
Choose your account type (personal account or business account). You may wish to download and install the Paysera mobile app for easy registration and verification since registration directly via your browser is not possible without a mobile app.
Finish off by agreeing to the General agreement and following the prompts on the screen.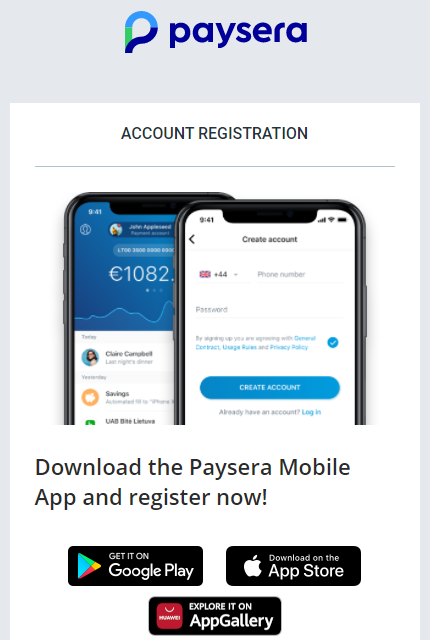 Once you have successfully registered a new account, you will be prompted to verify your account in order to unlock all of the platform's features and hence Paysera's full potential. Completing the identity verification process is just as straightforward, and you will simply need to prepare an international passport or ID card to go through it. Please note that national documents are not eligible as a piece of identity for verification.
Verification
How do I complete verification?
Log in to the Paysera mobile app and select " Identification"
Complete all these steps, including downloading an international identity verification document (international passport or ID card) via the mobile app
Your account verification should be completed within the next 4 hours. If this is not the case, you should get in touch with the Paysera support service to sort things out.
Fees and limits
Commission for opening and closing an account
The creation and maintenance of a Paysera account remain entirely free of charge for individuals as long as you do not leave your account inactive for more than 2 years. After those 2 years, your account will be charged a monthly administration fee of 2 EUR.
Otherwise, if you ever wish to shut your account down, you will not have to worry about any additional fees since this is also free of charge and lets you withdraw any remaining funds straight back into your Bank account.
Commission for adding funds to your account
When it comes to direct commissions on deposits, Paysera itself will not charge you anything. This may, however, change depending on the bank a user uses to carry out that deposit since the latter may apply its own fees on any transfers. It is therefore important to take the country, currency, as well as the bank you are depositing with and from into account since these three factors will determine the deposit commission. You will be duly informed of any such fee before you send the money off.
How do I find out the Commission amount for deposits?
Log in to your account and click "Update instructions" in the Top-up section of your screen.
Select the appropriate bank from the list and the deposit amount, the particular fee will appear.
Transfer fees
Paysera's charge on transfers is comparatively minimal as it only includes the relevant service costs in their commission, whether these be payments to partners or employees.
Account replenishment
Free
Mistaken replenishment of the account (wrong payment purpose is specified)
1,00 EUR
Mistaken replenishment of the account (the bank is specified incorrectly in the deposit instructions)

1.00 % of the transfer amount,

but no more than 13,03 EUR + actual bank expenses

Refund when the payment cannot be credited to the recipient's account
1,00 EUR + actual bank expenses
Data clarification/cancellation** / search for an international transfer when the transfer has already been sent from Paysera

1,45 EUR + the actual costs of the bank

(from 10.00 EUR to 80.00 EUR)*

Cancelling a SEPA transfer**

2.00 EUR if it hasn't been sent from Paysera yet

10.00 EUR if it had been sent from Paysera within 10 days of issue

21.45 EUR if it had been sent from Paysera and 10 calendar days have already passed

Cancellation of urgent transfer in EUR in Lithuania**
1.45 EUR + actual bank expenses (from 0.29 EUR to 29.00 EUR)*
Confirmation of the correspondent bank about the international transfer or providing of a message copy (SWIFT copy)
from 10.00 EUR to 20.00 EUR
Payment of the cash restriction information system (PLAIS)

1.02 EUR + 0.15 EUR (Paysera

fee for forced debiting of funds)
* The amount of the fee will depend on the tariffs set by the bank through which the transaction occurs
** You will be refunded within 30 days (in the SEPA zone it will be refunded in 10 days), the refund amount may be less than the transaction amount due to bank fees
Commissions for transfers in other currencies
Paysera gives you a number of options to choose from when transferring to and from other countries. The time taken for the transfer to be completed scales down according to the urgency of the transaction and the selected currency. This ranges from non-urgent (3-5 business days) to urgent (1 business day) and very urgent transfers (on the same day).
Still, the commission will be subject to further variation, assuming that you keep the same transfer currency:
Preferential — if you are a resident of a country or if you have a local account in the said country.
Standard – if you are a non-resident.
SHA – Commissions set by intermediary banks are paid by the recipient, whilst the sender covers all other costs.
OUR – all costs are invoiced to the sender who has initiated the transfer
Transfers within the payment system in any currency
| | | | | | |
| --- | --- | --- | --- | --- | --- |
| Country of residence of the recipient | Beneficiary bank | Standard fee | International company | Payment service provider | The bank receives money |
| All countries | Paysera | Free | + 1.00 EUR to the regular price | + 0.15 EUR to the regular price | Immediately |
International transfers in any currency
| | | |
| --- | --- | --- |
| Service | For international companies* | For payment service providers |
| International transfer (SWIFT) | + 30,00 EUR to the regular price | + 5.00 EUR to the regular price |
Regular transfer (USD)
| | | | | | |
| --- | --- | --- | --- | --- | --- |
| Country of residence of recipient | Beneficiary bank | Standard fee | Preferential fee | Submitted for implementation | The bank receives money |
| Other countries (except Lithuania)**** | All banks | 7,00 EUR*** | 7,00 EUR*** | I-V 8:00-15:30 | from 1 to 3 business days |
| All countries | Webmoney | 0,8 % + 0,29 EUR | 0,8 % + 0,29 EUR | I-VII 8:00-20:00 | up to 15 minutes** |
Urgent transfer (USD)
| | | | | |
| --- | --- | --- | --- | --- |
| Country of residence of the recipient | Beneficiary bank | Fee | Submitted for implementation | The bank receives money |
| All countries**** | All banks | 15,00 EUR | I-V 8:00-14:50 | up to 1 business day |
** A person will receive their payment by 12:00 on the following business day if there happens to be high traffic of transfers across the platform
*** The Commission is calculated in the same currency as the transfer was made, using the current exchange rate of the day.
**** Exceptions apply for some countries, and you can find out more about them by consulting the support service
Additional information on the commissions applied for transfers in other currencies is detailed here.
Paysera VISA card fees
Service
Price
Issuing cards to private clients
3.00 EUR (from 3 to 10 EUR for non-EEA citizens)
Issuing cards to business clients
5,00 EUR
Card delivery
Depending on the chosen delivery method (+ fee for card issuance)
Urgent card issuance
Not provide

Card activation (only over the Internet)

 

Free
Monthly fee for the first card (charged in advance, for the next month)
0,75 EUR

Monthly fee for the second and subsequent cards (when the card is linked to the same account as the first)

 

Free
Cancelling a card order
3,00 EUR
The rejection of the activated card
Free
Replacing the card (if it is lost)
The price corresponds to the cost of ordering a new card
Payment in EU stores in EUR and BGN
Free
Payment in EU stores in a different currency
0,10 EUR + 0,70 %*
Payment in stores in other countries in other currencies
0,10 EUR + 1,20 %*
Payment cancellation due to the payer's fault
10,00 EUR
Accident insurance
Not provided
Card with personalised design
Not provided
Fees incurred by the use of the Paysera card at an ATM
| | |
| --- | --- |
| Service | Fee |
| Cash disbursements in the EU in EUR and BGN | 1,00 EUR |
| Cash withdrawal in the EU in other currencies | 1,00 EUR + 1,80 %* |
| Cash withdrawal in other countries in any currency | 1,50 EUR + 1,80 %* |
| Cash Deposit | Not provide |
| Checking your balance | 0,30 EUR |
Limits
Set on your Paysera account
Paysera gives you the flexibility to handle and set your own account limits depending on your needs and preferences.
You may activate these changes and review them straight from your account settings under the "Limits, permissions, rights" tab. Simply access the "Paysera account management rights and limits" sectionб then click "Edit permissions and limits" to set the value of your limit and your changes will activate after 12 hours.
Set on your Paysera VISA card
The limits set on your Paysera VISA card are stricter and less flexible than those of your account. For cash withdrawals, you are required to stay under the daily € 600 maximum, with no room for expansion. The limit set on transactions is just as rigid, pegged at a €10 000 daily maximum for card purchases and cash withdrawals combined. Although you may not go over the limit, you may lower it at your guise from the "Accounts and Cards" section, directly accessible from the "Payment Cards" tab. You need to press on the card number, open Account Limits and set the limits you want.
Security
Whenever money is involved, security is key to choosing a reliable payment service, and Paysera has responded accordingly. Having tightened its security over the years, here is where the payment system stands today in its endeavour to optimise the safety and reliability of its platform:
Licenses and certificates from Europe and Lithuania:

recognised as an official payment system
to issue electronic money online
tier 1 standard (6 million card transactions per year) PCI DSS
PIS (payment initiation services)

Verification and audit by the National Bank of Lithuania
Paysera stores its users' money separately from its operating European bank accounts and is therefore not accessible for any kind of borrowing or investments.
Protected and secure website and mobile app. Its website is protected by TLS encryption to prevent the interception of personal data and features the emblematic green lock next to its web URL.
3-D Secure 2.0 security technology
Users' data is handled according to the regulations set out by Lithuanian laws and the state Inspectorate for personal data protection
Any activity on the platform or personal data is securely protected via 24/7 monitoring systems that operate every single day of the year. The system also makes use of rigorous data encoding procedures to keep hackers at bay.
Finally, who needs Paysera and why?
Anyone who has ever had to make a payment online or transaction across borders will benefit from Paysera's low service charges and varied choice of currencies. Taken as a virtual Bank, the payment system charges no account maintenance fee and features worldwide transfers via IBAN or SEPA, always at a minimal cost. Aside from its practical and easily accessible online payment service, Paysera also issues its own plastic VISA debit card for direct in-store payments or cash withdrawals from ATMs.
Although founded from purely Lithuanian roots, Paysera has established itself as a global payment service that boasts some of the most favourable exchange rates for foreign money transfers and in different currencies. Paysera is therefore ideal for anyone who is used to sending money from one country to the other or often finds themselves withdrawing money from ATMs around the world.