Skrill is an international e-wallet. Ever since the platform was initially launched, it aimed to provide an accessible, secure way to transfer money for various online activities – from shopping to gaming and gambling. In this guide, you'll learn everything about the Skrill sign-up process to simplify it even further.
Skrill Account Sign Up
Registering a new account is a straightforward procedure that anyone can handle. But if you want to be extra sure that you've done it properly, we'll describe each step.
To start the Skrill account sign up, you will have to make a few simple actions:
1. To sign up with perks of a Baxity's customer, click our link to launch the registration process. Make sure to clear your cookies and cache before you start.
2. Fill in the fields with your name, country, and account currency. Bear in mind that these can't be changed after registering.
3. Enter your email address and password.
4. Thoroughly review the Account Terms of Use and click 'Register'.
5. You will be forwarded to the page with personal information. Fill in all the required fields marked with * and click 'Next'.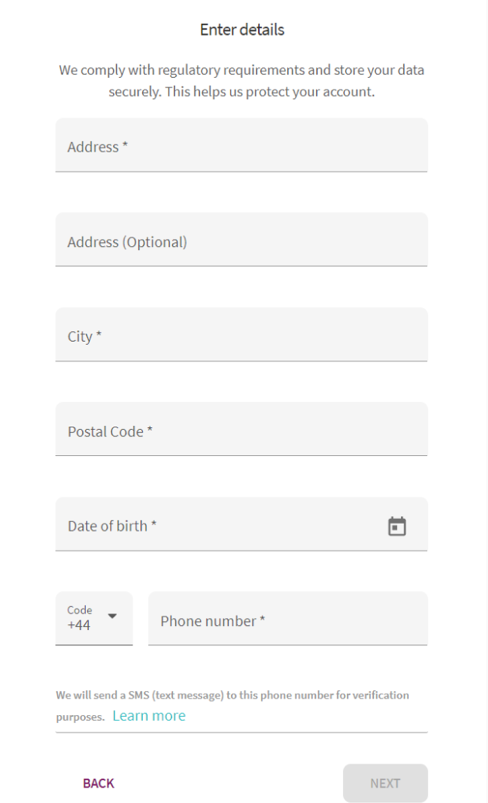 6. Enter a six-digit code from an SMS sent to your phone number (the one entered during the previous step).
7. Click 'Continue', and the initial registration will be complete.
As for the Skrill merchant account sign up, the process isn't vastly different except for some details. When you select a business account, it should be registered in the name of a company. Also, you will need to enter your business email.
Bear in mind that Baxity only works with personal accounts. If you want to learn more details about business accounts, contact the Skrill support team directly.
Skrill Email Verification
As we've mentioned, you'll need an email for Skrill sign-in as well as registration. It's a necessary step to finalize your registration and get full access to your account. This can be done in a few simple steps:
1. Open the message from Skrill welcoming you to the platform. It will be sent to the email that you entered during registration.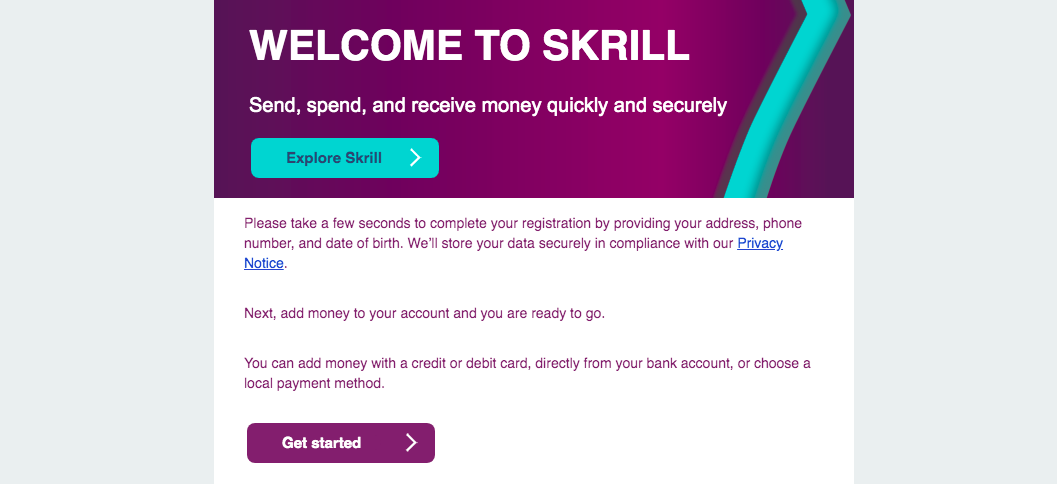 2. Take the opportunity to learn about the Privacy Policy.
3. Click 'Get started' and you'll be transferred to your Skrill account!
Skrill Fast Track Verification
After registration, complete the Skrill account sign-in and proceed to verification. If you want to remove the transaction limits altogether and verify your account as quickly as possible, take advantage of fast track verification by Baxity. It significantly improves the security of all transactions while also simplifying the process for the user.
With that said, if you register using our Baxity link, you won't need to make a deposit to become verified. Moreover, it will take up to 24 hours to have your submission reviewed. In comparison, it normally takes up to 5 days to get verified. If you want to learn more, we will gladly answer all your questions.
Once you're done, you can enjoy all the perks and extended transfer limits of a verified user. But what is a loyalty program without bonuses? Technically, there is no Skrill sign up bonus offered by the platform itself. However, if you want to take it a step further, you can upgrade to VIP status with preferential treatment as a Baxity customer. For detailed information on how to do this, follow this link.
How to Make Your Skrill Account Safer
Skrill is known for its robust security. At the same time, there is no harm in taking additional precautions when you're making online money transfers. To enhance security, we recommend these measures:
• Make your passwords as strong as possible. They should be long, contain special characters and uppercase letters, or, preferably, even be a nonsense phrase.
• Use additional authentication. You can enable authentication by phone number/email + PIN in the settings. Before this feature was introduced, there was 2FA.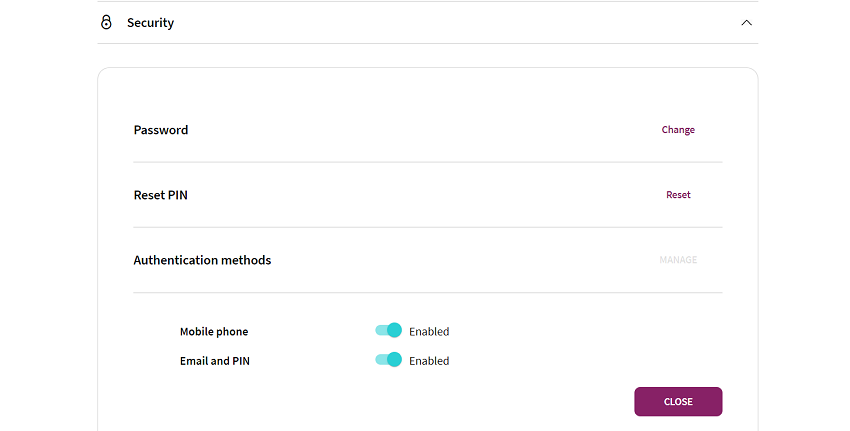 • Shop on reputable websites. While the transaction will be safe on the Skrill's side, you also need to trust the service you're buying from. Look for the various sign of a trustworthy company – valid address and contact number, positive user reviews, adequate privacy, and returns policies.
• Update your web browser. Developers regularly come up with updates and patches. With each new improvement, it should tackle more and more vulnerabilities that can compromise browser security.
• Install firewall software. This is one of the best solutions to detect and block unauthorized internet connections not only for Skrill transfers but for your online activity in general.
• Navigate directly through the URL. If you're about to make a purchase, make sure the site is legit. Enter the URL directly into your browser's address bar instead of clicking hyperlinks, banner ads, and third parties.
How to Activate Skrill 1-Tap
Skrill 1-Tap allows customers to avoid entering their payment details again and again. During the Skrill 1-Tap sign up, a user will submit the required info when you initially make a deposit or make a purchase on a certain platform. When this feature is activated, later on, they won't have to enter the same details. This makes future purchases infinitely more convenient.
To activate the Skrill 1-Tap feature, follow these steps:
1. Start the check-out process as instructed by the service you're purchasing from.
2. Click on the 'Deposit' button and choose the Skrill 1-Tap Tab.
3. Enter the amount you are going to top up.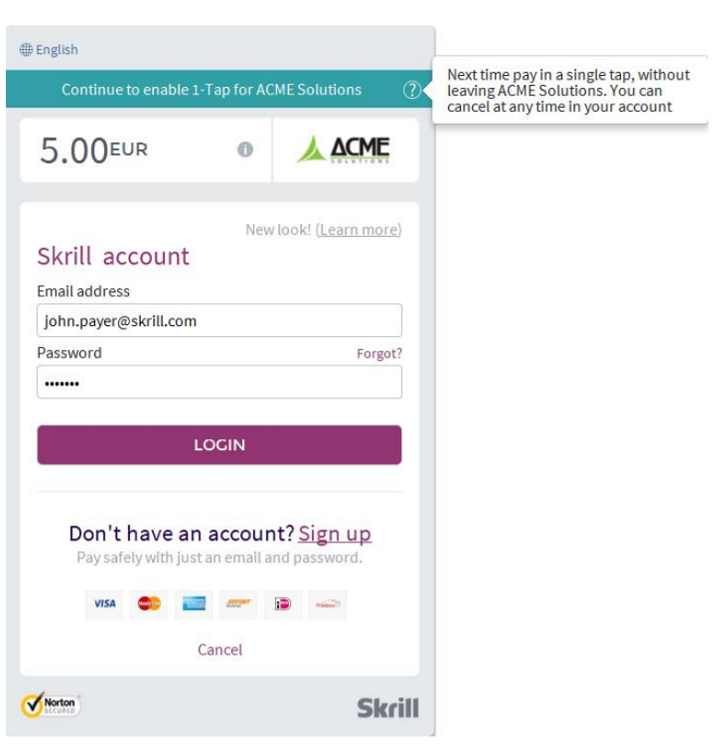 4. You will be redirected to Skrill for confirmation.
5. Once you complete the 1-Tap confirmation, it will be successfully activated.
In the future, you will only have to click the 1-Tap button, and you won't have to go through these additional stages to make a transaction.
There are several perks that this feature offers:
• Fields are validated instantly.
• All information is featured on one page.
• Payments are confirmed with a security code.
• Details aren't stored on the device to secure private data.
By following steps from this guide, you should be able to quickly create an account on Skrill. If at any stage, you come across a problem, the support team should be able to resolve it promptly.