2019 ended with over five billion phone owners across the world, a 2,6% increase from the previous year. It was recorded that the majority of these people spent nearly half of their waking time on their phones or laptop, accumulating a staggering 6 hours and 42 minutes of daily online activity.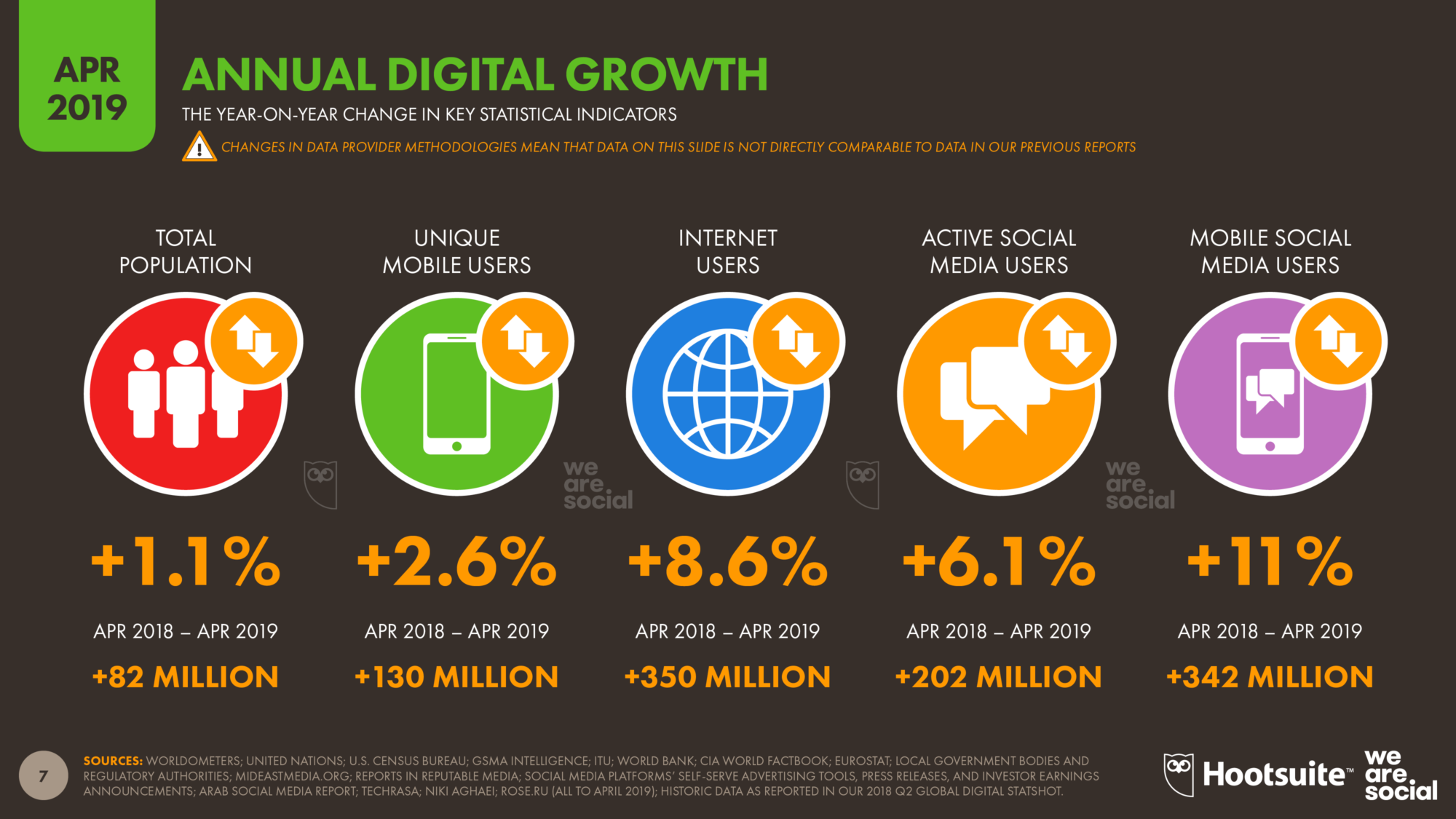 It should come as no surprise that a popular payment service like Skrill made the jump to smartphones and tablets all the way back in 2013. The Skrill mobile app is the quickest and convenient way for users to access all of their account's main features. Always in your pocket wherever you go, your Skrill Wallet lets you check your remaining funds, past transactions or withdrawals and transfers anytime you need to.
What functions Skrill App has?
All of your most-used basic functions are available in just the same way on the Skrill application, which you simply need to download on your tablet or phone to access anywhere you are.
The primary functions of the Skrill mobile application include the following:
Current balance (account balance) – it is displayed on every page of the app.
Knect points – it is only displayed on the main page of the app to show all of the points accumulated on your Knect loyalty program. You will be credited such points for every transaction you carry out, excluding those involving direct transfers to other Skrill accounts. Any uploads, withdrawals and deposits to merchants or buying and selling of cryptocurrencies will all contribute to your count. Each of these money transactions will be valid for the entirety of the current year as well as the following year. These earned points may subsequently be exchanged for money according to the ratio of 1000 points = 1 EUR.
Transaction History – is immediately opened up on your home screen as soon as you have logged into the app. This page will display all of your latest transactions and may be further expanded when you click on "See all".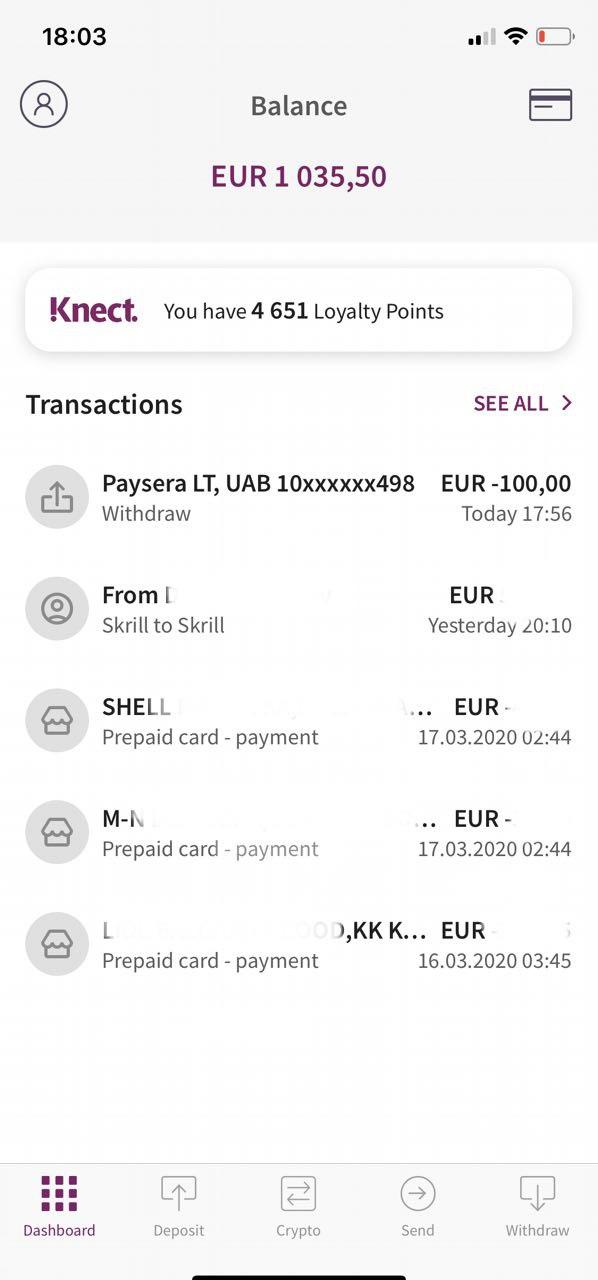 Deposit: These may be carried out using uploads from a credit card, Bitcoins or other viable methods. They will be dependent on the user's country of residence and the location specified on their account.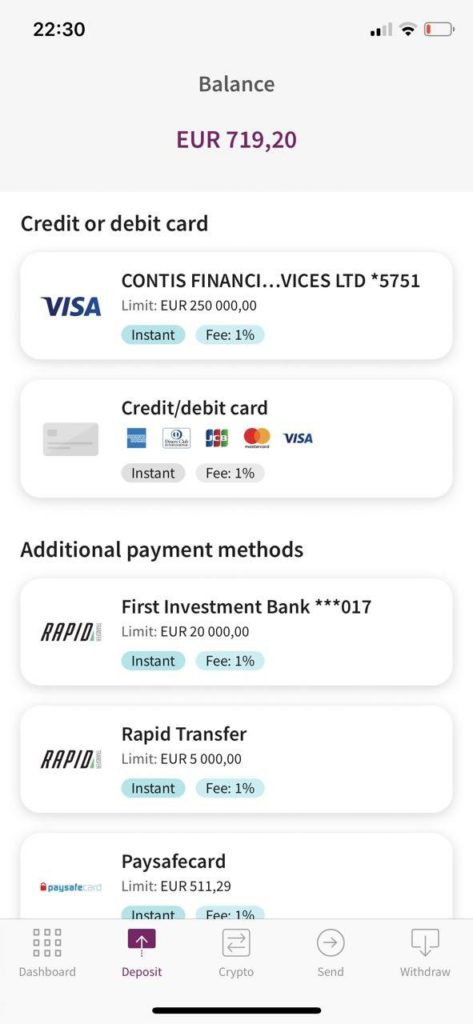 Cryptocurrency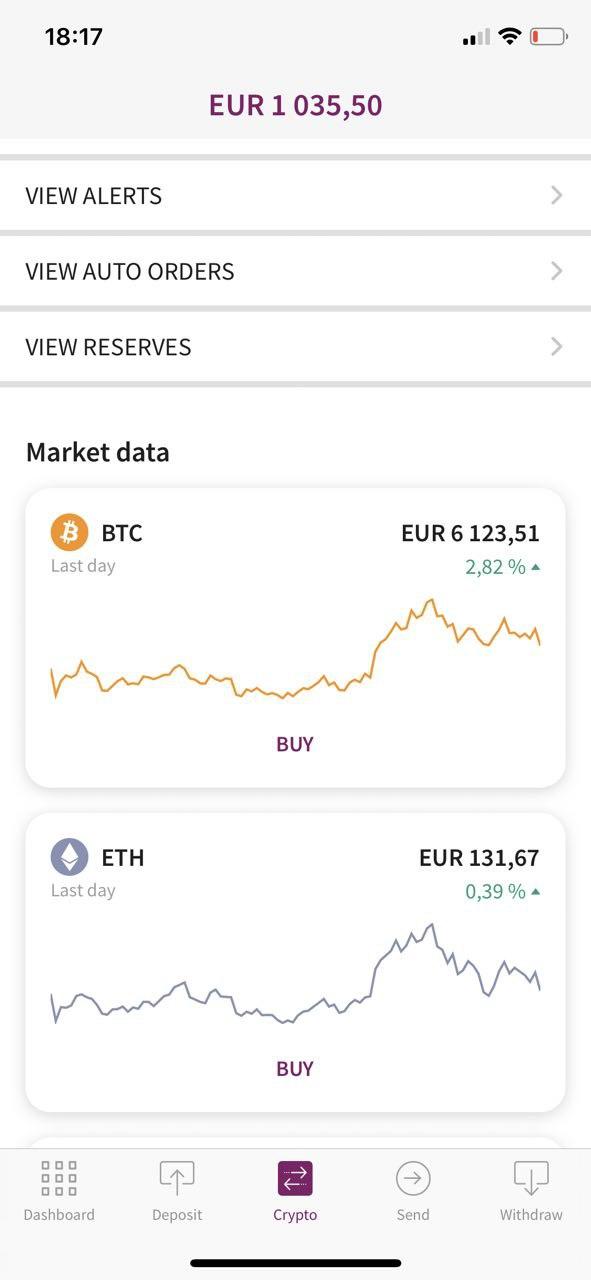 The main Crypto page showcases all of the latest market data charts, including the live price point value and the daily percentage change, for you to consult whenever you are thinking about buying or selling cryptocurrencies.
Skrill Crypto section featured on the mobile app lets you freely trade in all of the available cryptocurrencies, providing all the essential elements to help you manage your transfers by the second. From configuring notifications to alert you when a certain value is reached, to an automated Buy and Sell options for a given price point, trading in cryptocurrencies has never been easier. Even if you are busy running around back and forth from your laptop, you can set up your cryptocurrency reserves for your desired time interval straight from your smartphone.
You can access the personalised notification feature right from the "ALERTS" tab. As soon as your particular cryptocurrency of choice has reached the value you have set in, your phone will instantaneously give you the signal to decide whether to buy or sell it.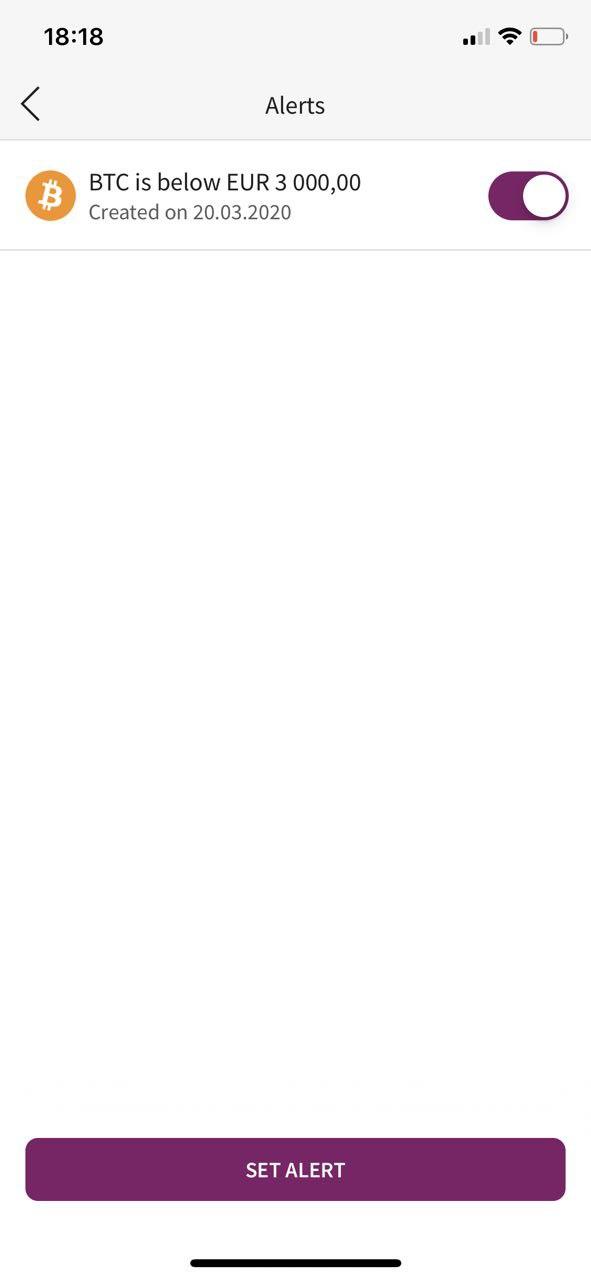 Similarly, if you have your mind fully set on a particular deal or are worried to miss out on it, you can choose to automate your cryptocurrency trading. You can set your desired value under the "AUTO ORDERS" sub-section to ensure that you never miss an excellent opportunity to make some profit.
The "RESERVES" sub-section allows you to replenish your cryptographic currency by uploading money in one of three ways:
By schedule, set at equal intervals to allow you to even out any fluctuations in the exchange rate of cryptocurrencies.
Once per period for a fixed amount of money, e.g. 1000 euros per month.
Customizable price charts, these give you the freedom to gauge the current market and make your own informed decisions on how to proceed with your crypto stocks.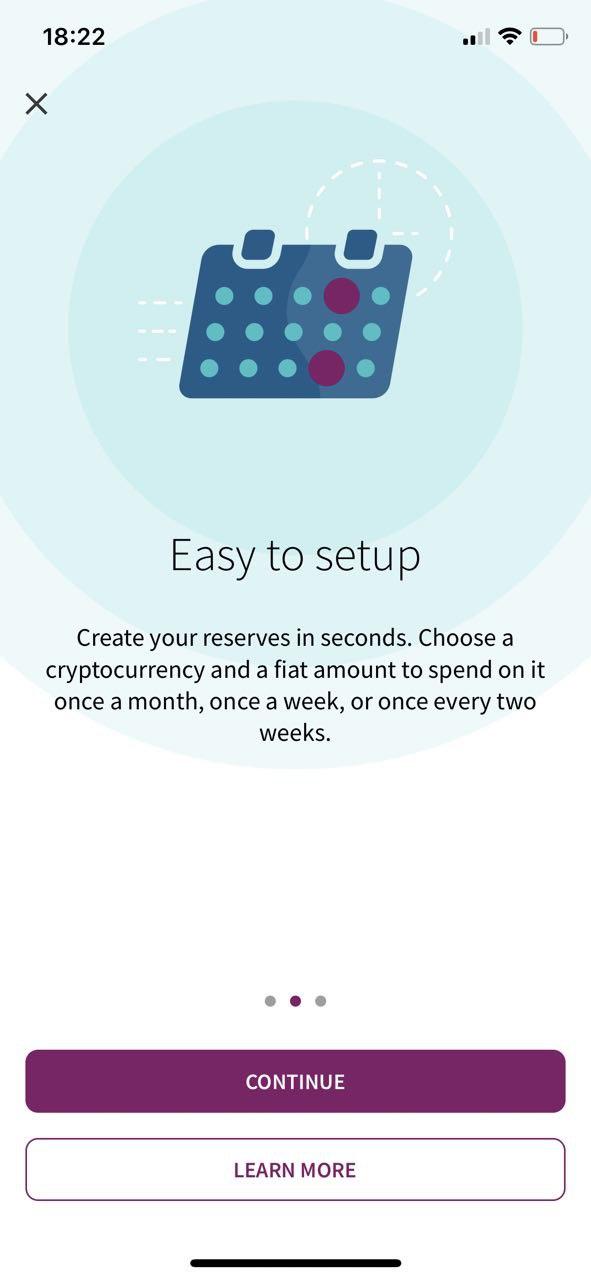 Money transfer
To another Skrill account: You have to specify the recipient's e-mail address and the transfer will instantly take place.
You even have the option of uploading your contacts directly onto the app to send out money through our contact's e-mail easily. This applies to any one of your contacts who themselves hold a Skrill account and have registered using that e-mail.
To your bank account or mobile wallet: For such transactions, you will need to mark down the recipient's country of residence and the currency of their account. You can easily make any transfers to your own bank account or that of another person. You will simply need to specify the name, surname, account number and bank code to complete a swift exchange.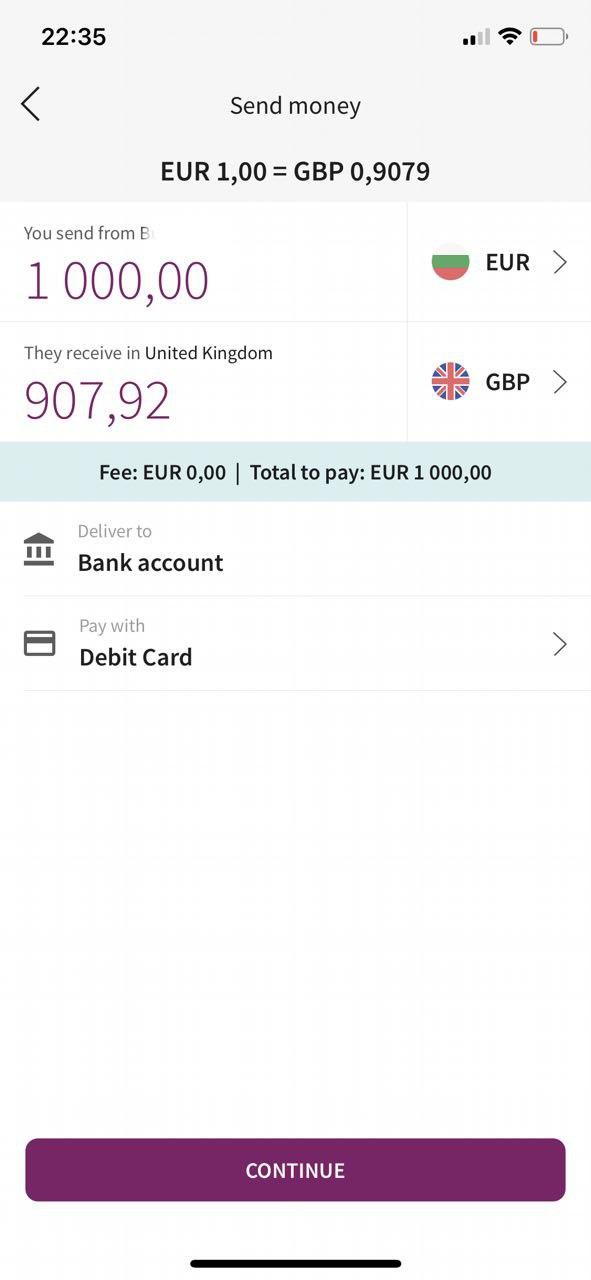 Money withdrawal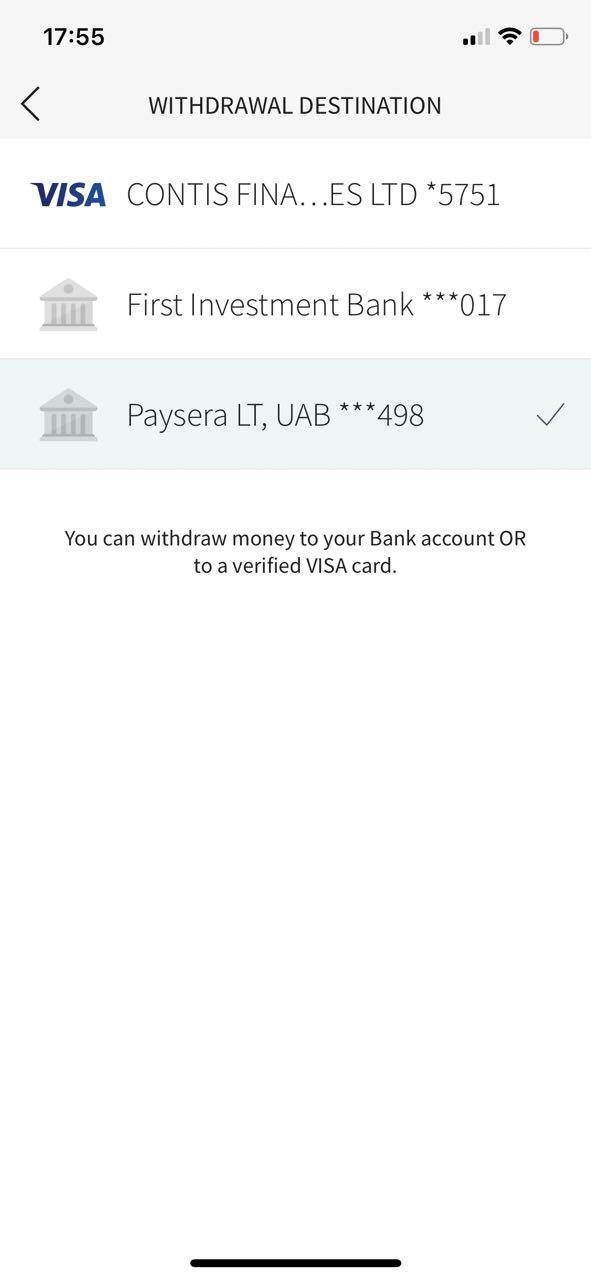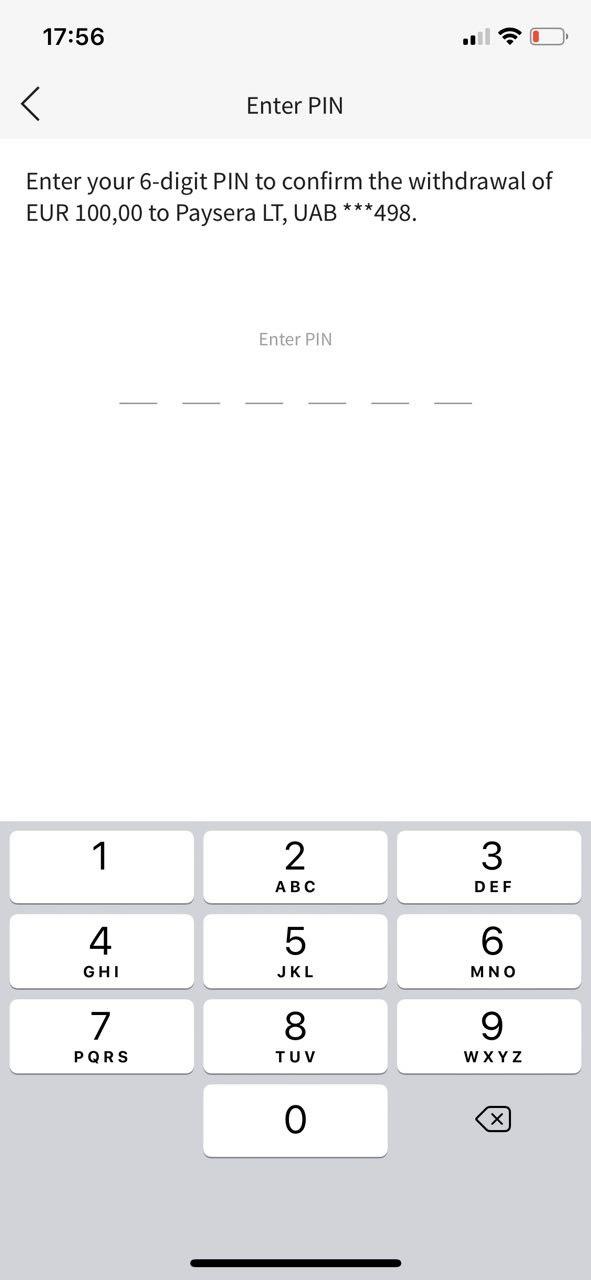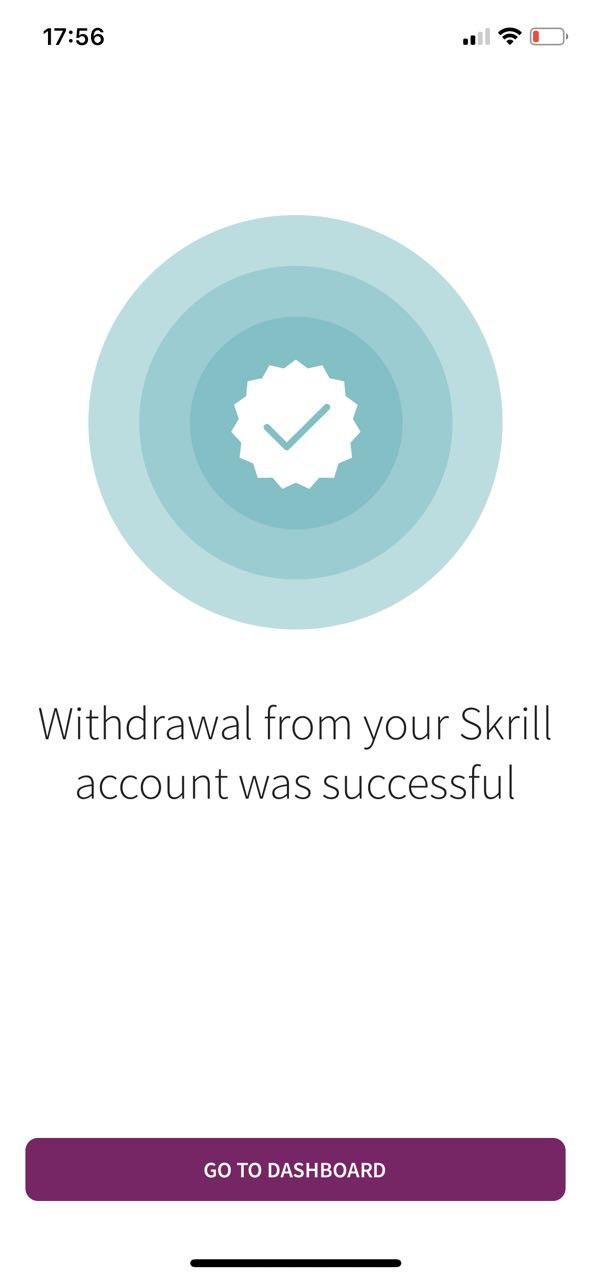 You may refer to the above screenshots to guide you through the money withdrawal procedure from Skrill to Paysera:
From the menu, click on the "Withdrawal" tab to find your prepaid Paysera bank account from the selection of potential destinations. Simply specify your choice of currency alongside the set quantity you would like to transfer. Depending on the currencies involved, you should take note of the corresponding foreign currency conversion charge before confirming your withdrawal. Introduce your PIN code to complete a successful withdrawal through the Skrill app.
You may find your most recent transfer to your Paysera account under your transaction history as follows.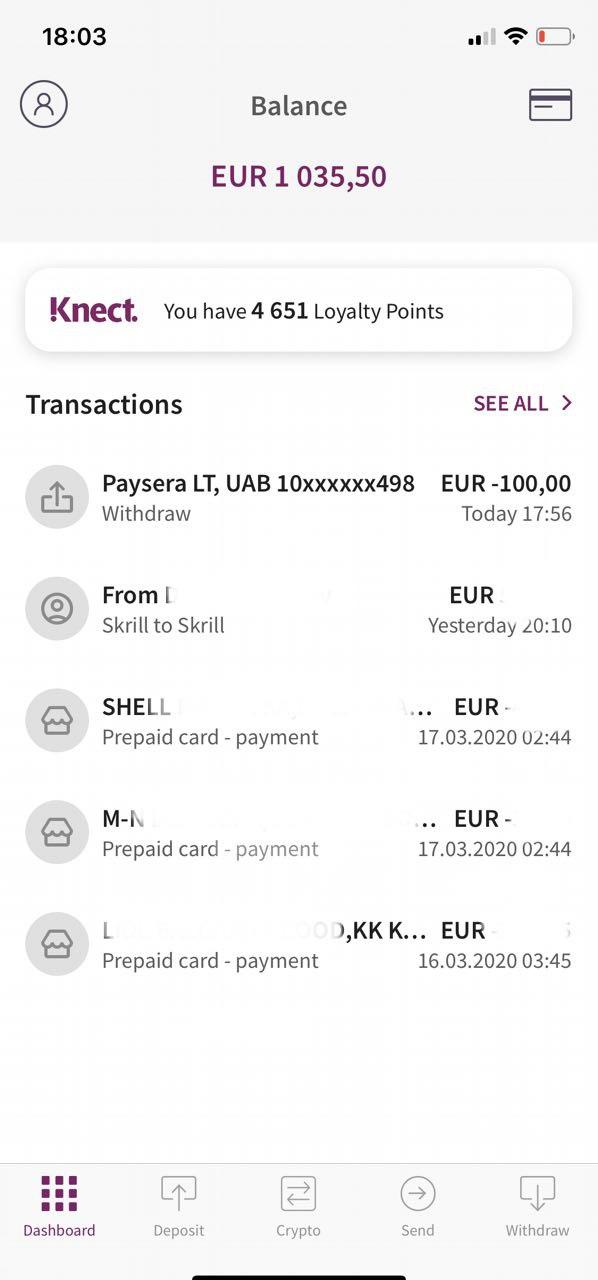 Making use of your Skrill Prepaid MasterCard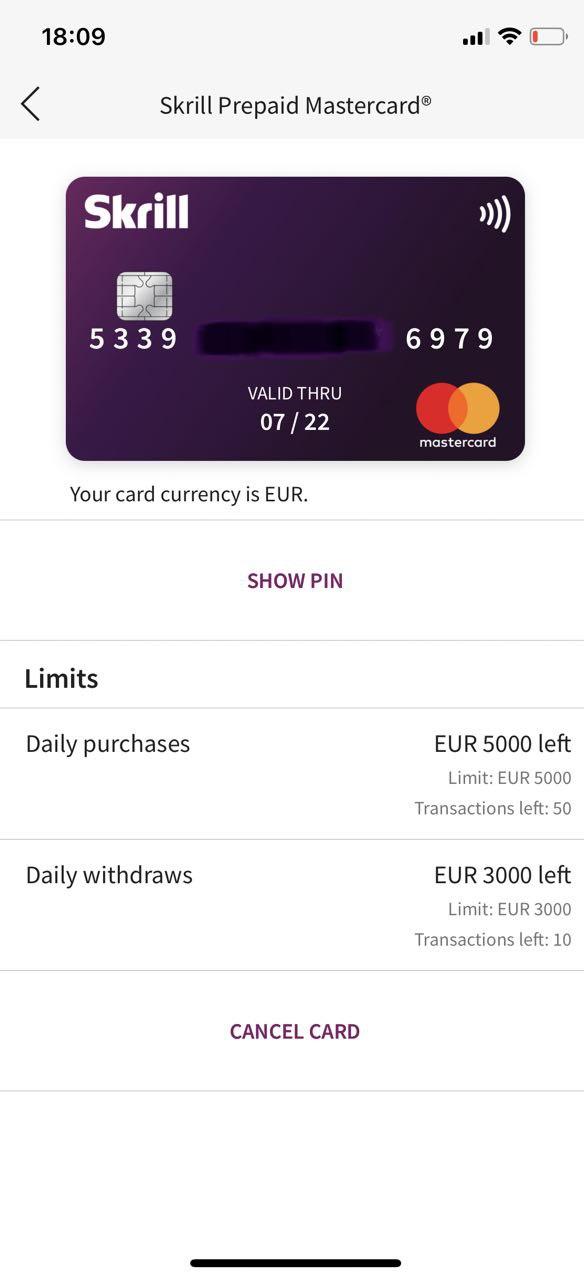 At the top right corner of the app's home page, a map icon will appear if you are currently in possession of a Skrill MasterCard. A click on the icon will redirect you to the Prepaid MasterCard management page, where you may carry out any one of the following:
View the card currency
Check the PIN
Review the Skrill limits on the amount of money you can spend, transfer or withdraw from ATMs
Cancel the card (if lost or stolen)
There is certainly no better companion to your MasterCard than the mobile app, giving you immediate access to your live balance, wherever and whenever you need it. Pull out your phone from your pocket to check how much money you can still spend or have already withdrawn today. You will also be able to immediately act on a stolen or lost card by sending in a cancellation request as soon as it happens.
How to set up a Skrill App?
To install the Skrill mobile app:
Go to your device and access either:

The App Store, if you have an iPhone and iPad (iOS platform)
or Google Play Market in other cases (Android platform).

Search for Skrill and install it.
The application icon will appear on your smartphone desktop:
Features of Skrill Mobile App
Once the app's download is complete, you will be required to log into your account and fully authorise it before you can start enjoying all of its features.
Authorization
To login, enter your account e-mail and password as you would on the desktop version. You will then be asked to come up with a secure PIN code for whenever you log into the app from your smartphone. If Touch ID or Face ID is enabled on your phone, you may connect them with the app instead of a PIN.
For additional security measures, the app will request a unique code from you that will have been sent to you by text message. Ultimately, the authorization process on your mobile is a straightforward process as long as you follow the on-screen instructions, you will soon gain access to all of your Skrill account details.
Once completed, you will be initiated onto the main menu page from which you can access your current balance, latest transactions and other convenient features.
Profile
You can view your profile at any time by clicking on the profile icon in the upper right corner of the app homepage. On it is displayed all of your essential profile information, including your ID number, as well as all of the essential functions related to the management of your account.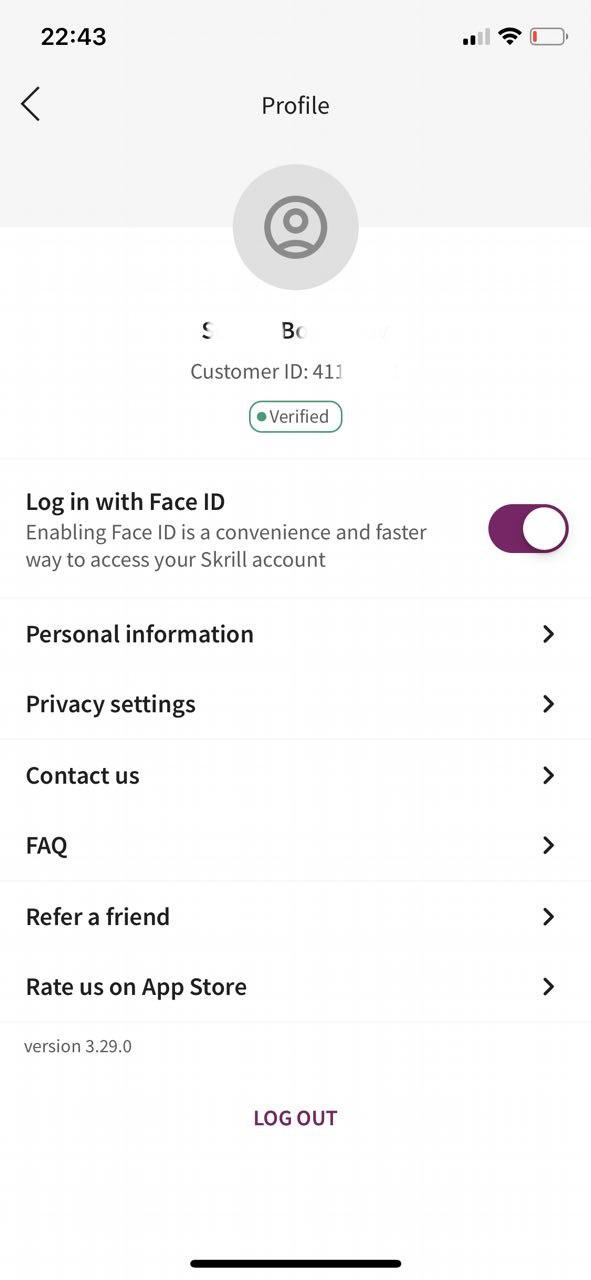 Privacy settings
These are divided into two submenus:
Data preferences – you can specify what personal data you authorise Skrill to collect to help inform improvements in their application performance, identify target audiences and create new products and solutions.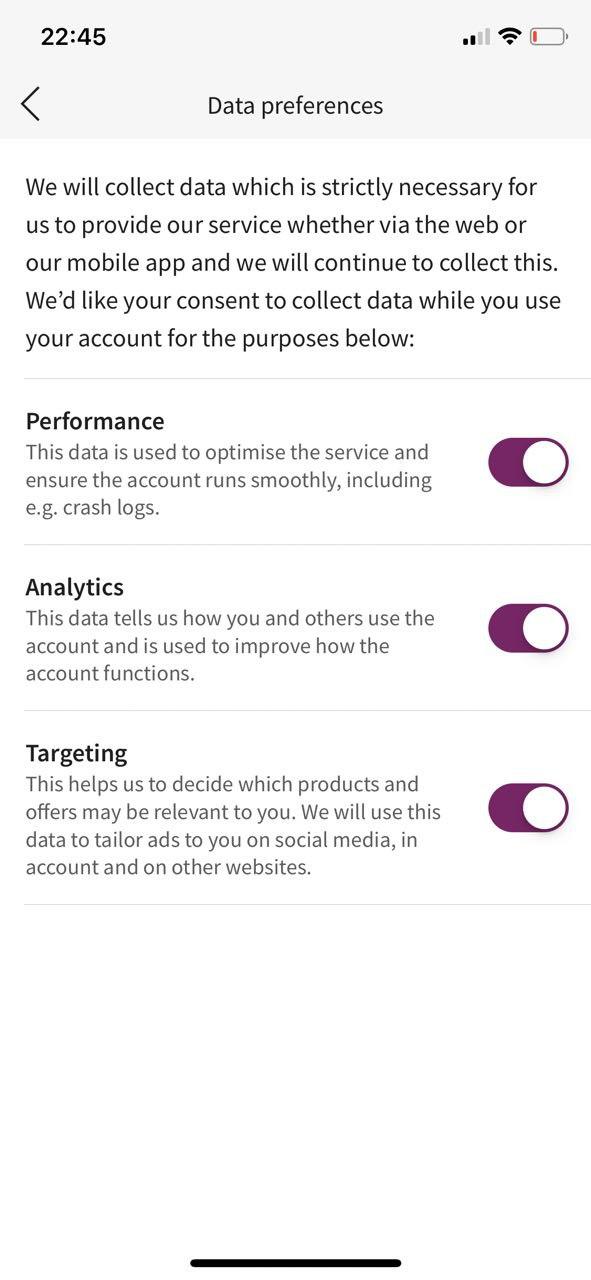 Marketing preferences – This section lets you manage all of the promotional offers you receive. You may also set up your notification preferences, whether it be by email, SMS or through push, to be kept up to date with all the latest offers reserved for Skrill users.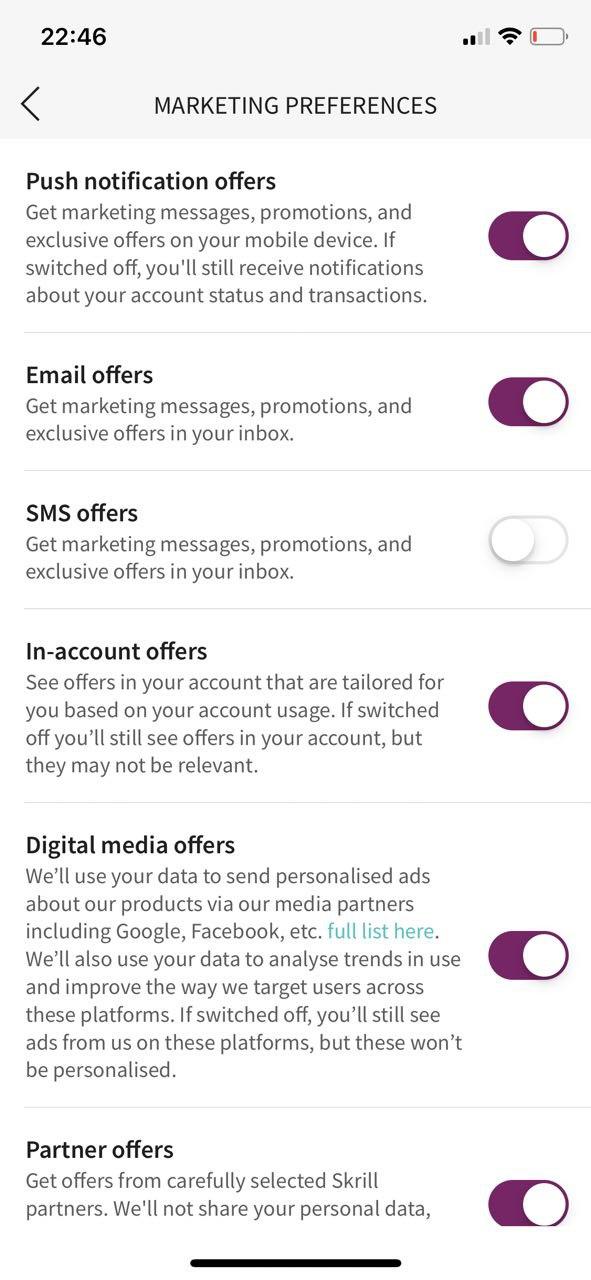 Refer a friend – Skrill will reward you with as much as €100 for every contact you are able to bring to their site.
That's how it works:
Someone registers a Skrill account using the link you have sent them from the app.
This contact creates an account and uses it.
You will be given a 10% commission on the transactions carried out by that person.
The more people you know who can benefit from Skrill's functional payment service, the more money you will make as Skrill rewards you for your service to their platform.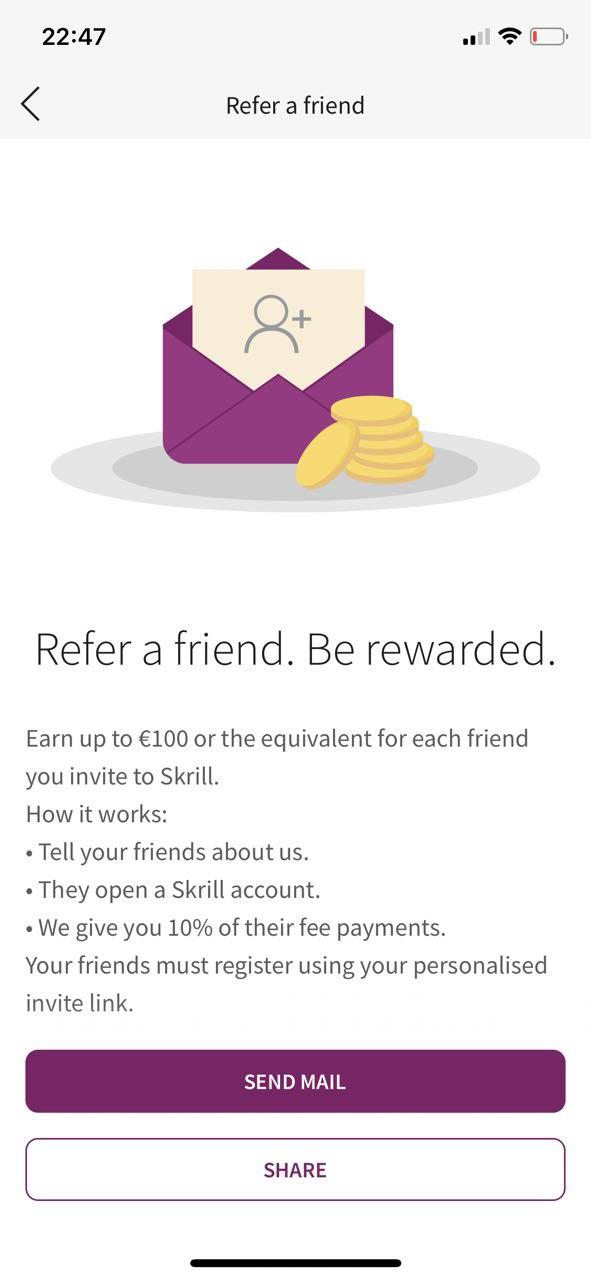 Contact us
If you happen to have any questions regarding any part of your account, you can send in your question directly from the app or otherwise call the support service. You may wish to consult the provided "HELP" section where 90% of the user's most common questions are answered in full detail to make sure your enquiry hasn't already been resolved, before getting in touch with the support team.
Help
The help menu conveniently categorises all user questions by topic of interest and maybe browsed through using a quick keyword search. Whenever you get stuck on something when using the site or wish to double-check a relevant piece of information, the Skrill FAQ will promptly help you out as your very own personal assistant.
Rate the app on the Google Play / App Store
If you are satisfied with your navigation through the Skrill app, you can let their dedicated team know by uploading a recommendation on the relevant mobile store. You will also be helping to convince new users as to whether downloading the app is worthwhile or not. If you do happen to have any complaints or wish to report a particular problem you have come across, Skrill's support team is readily available throughout the week to respond to any of your concerns.
Terms and conditions
Whenever you are having a little doubt about one of their terms and conditions, you can head over to its "Terms of Use" to browse through all of Skrill's legal terms. All you need to know about the complexities of your account are detailed in them, from your VIP status requirements and transfer limits to Knect rules, all in accordance with the country you find yourself in.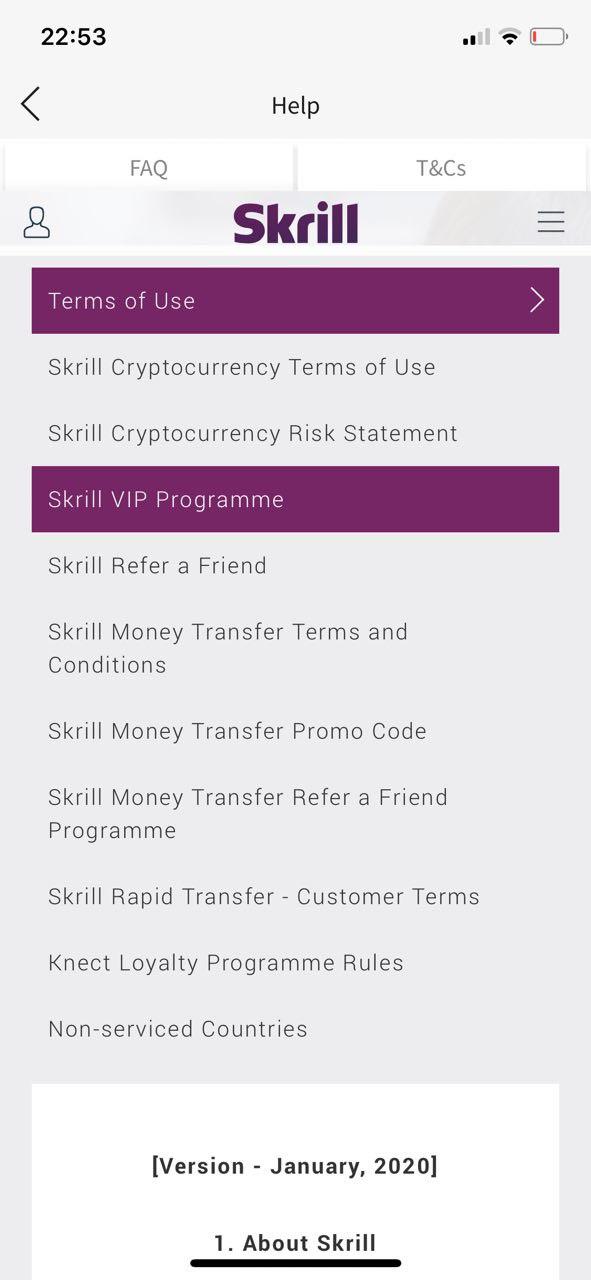 One should note that not all features and settings you are commonly used to on the desktop site are provided by the Skrill mobile application. For example, you will be required to complete any changes to your profile data or language preferences directly from your laptop or PC.
Summary
The Skrill mobile application lets you enjoy all of your favourite features quickly, conveniently and securely from anywhere in the world that has a good working internet connection.
Whether you are looking to find out your balance, view your recent transactions, upload or withdraw money, carry out transfers within or outside of Skrill, and even trade cryptocurrency – you can do all of it right from your smartphone. There's no need to have to worry about having to get back to your desk to check your remaining spending allowance. Your trusty Skrill Wallet will be by your side whenever you most need it.
If you happen to be the owner of a Skrill Prepaid MasterCard, the app lets you ditch your laptop or PC for a fully mobile and flexible payment experience.
You can even access a range of additional benefits directly through the Skrill mobile app whenever you create an account through Baxity. Enjoy every one of the following features whether you are at your desk or running errands outside, you will be able to make the most out of your every transaction now also in the most convenient of ways.
One should note that not all features and settings you are commonly used to on the desktop site are provided by the Skrill mobile application. For example, you will be required to complete any changes to your profile data or language preferences directly from your laptop or PC.
Expedited verification in just 24 hours, instead of the standard 5 to 7 business days, and bypassing of the € 5 deposit.
VIP Bronze for just €3,000 of Merchant deposits, instead of the €6,000 required for regular registrations
VIP Silver for €5,000 deposits, not for €15,000.
VIP Gold for €15,000 deposits, not for €45,000.
VIP Diamond for €15,000 deposits, not for €90,000.
The higher the VIP status, the lower the fees for transfers, conversions, withdrawals and higher transaction limits. Save yourself both your precious time and money by registering onto Skrill via Baxity to boost your total earnings in just a fifth of the time.