In the ever-expanding digital landscape of India, online payment methods have become essential for individuals and businesses alike. AstroPay vouchers have emerged as a popular and convenient payment option, offering a seamless experience for users across various platforms. In this article, we will explore what AstroPay vouchers are, how they work, where to buy and why they have gained significant traction in the Indian market.
What are AstroPay Vouchers?
AstroPay vouchers are prepaid vouchers that provide a secure and reliable payment solution for online transactions in India. These vouchers function as virtual prepaid cards and can be used to make purchases on a wide range of websites, including e-commerce platforms, online gaming portals, and digital service providers. They offer a hassle-free alternative to traditional payment methods, allowing users to complete transactions without sharing their personal financial information. We recommend to read this article too "Gaming credits, Prepaid and Gift Cards for India".
How do AstroPay Vouchers work in India?
The process of using AstroPay vouchers is straightforward. Users in India can purchase vouchers of different denominations from authorized sellers Baxity Store. Each voucher comes with a unique code that represents its value. To make a payment with voucher, users need to enter the voucher code during the checkout process on a supported website. The payment is instantly processed, deducting the corresponding amount from the voucher's balance. AstroPay vouchers can be used for partial payments, and any remaining balance can be utilized for future transactions.
Why are AstroPay Vouchers popular in India?
AstroPay vouchers have gained popularity in India due to several factors. Firstly, they provide a safe and secure payment option, as users do not have to disclose sensitive financial details while making online purchases. This aspect addresses concerns about online fraud and enhances trust among users. Additionally, AstroPay vouchers offer a widely accepted payment method across numerous websites and platforms, making them a versatile solution for various online transactions.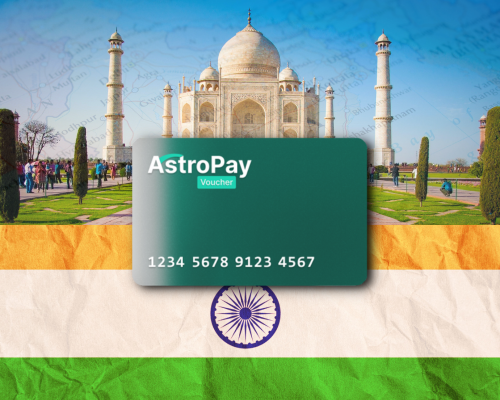 The flexibility of AstroPay vouchers is another appealing feature. Users in India have the freedom to choose voucher denominations that suit their specific needs, allowing them to manage their budget effectively. Moreover, AstroPay vouchers in India can be purchased from Baxity Store using different payment methods listed here, such as UPI, net banking, or debit/credit cards, providing convenience and accessibility to a wide range of users.
How to buy AstroPay vouchers in India from Baxity Store
AstroPay vouchers are a popular choice for secure and convenient online payments in India. Baxity Store offers a seamless way to purchase AstroPay vouchers, providing users with a hassle-free experience. If you're interested in buying AstroPay vouchers from Baxity Store, follow this simple guide:
Step 1: Visit the Baxity Store Website
Open your web browser and visit the official Baxity Store website.
Step 2: Explore the Available Options
Once you're on the Baxity Store website, look for the "AstroPay Vouchers" in Prepaid Cards category or use the search bar to find the desired vouchers.
Step 3: Select the Voucher Denomination
Choose the voucher denomination that suits your requirements. Baxity Store typically offers a range of denominations to cater to different budgets and needs. Select the quantity of vouchers.
Step 4: Add to Cart
After selecting the voucher denomination, click on the "Add to Cart" button. This will add the AstroPay voucher to your shopping cart.
Step 5: Review and Proceed to Checkout
Review the items in your shopping cart to ensure they are correct. If everything looks good, proceed to the checkout page by clicking on the "Checkout" button.
Step 6: Provide Required Information
On the checkout page, you may need to provide some information if you pay with the debit or credit card, such as your name, email address, and contact details. Fill in the required fields accurately to proceed with the purchase.
Step 7: Select Payment Method
Baxity Store offers multiple payment methods in India for your convenience. Choose the payment method  for India you prefer, such as UPI, IMPS, Paytm, PhonePE, NEFT, RGTS, Google Pay. Follow the prompts to complete the payment securely.
Step 8: Complete the Purchase
Once the payment is processed successfully, you will receive a confirmation of your purchase. The AstroPay voucher code will be sent to your registered email address or made available on your store account. Keep this code safe, as you will need it for future use.
That's it! You have successfully bought AstroPay vouchers from Baxity Store. You can now use the voucher code to make secure online payments across various platforms.
Enjoy the convenience and security of AstroPay vouchers for your online transactions!
Where can you use AstroPay Vouchers in India?
AstroPay vouchers are accepted on a plethora of websites and platforms in India. AstroPay vouchers are commonly accepted on online gaming platforms, allowing users to purchase in-game credits, virtual items, and other gaming-related content.
Overall, AstroPay vouchers have become an integral part of the Indian digital payment ecosystem. Their convenience, security, and wide acceptance make them a preferred choice for individuals seeking a reliable and versatile online payment method. As the digital landscape continues to evolve, AstroPay vouchers are expected to play a significant role in shaping the future of online transactions in India.