There are many options for playing poker online in the UK. Some options are reputable and offer great opportunities, while others can be scams. To make it easier for you to select the perfect online casino website, we've compiled a list of fan favorites. Our top UK poker sites were carefully reviewed and selected for meeting the following criteria:
a wide selection of games
excellent safety and player security
licensed and compliant to regulations
a large number of payment methods available
quick payout speed
All of the following sites offer a wide range of poker offerings, have excellent bonuses, and are quite reputable. So, without further ado, here are our top UK poker website picks!
Site
User Rating
Deposit Methods
Key Features
8/10
Major credit/debit cards, Skrill, NETELLER, ecoPayz, UKash, EntroPay, bank transfer, and more

Thousands of games and tournaments
Advantageous rakeback system
PokerStars School
Newly designed mobile app

9/10
Major credit/debit cards, Skrill, NETELLER, Webmoney, Entropay, and Paypal + many more

Many options for beginners and experienced players
Safe and fair platform
Member of iPoker Network

8/10
20+ deposit methods, including ecoPayz, Paypal, NETELLER, Skrill, and debit cards

Generous Promotions
No-deposit Welcome Bonus + Free Tournament Tickets
Excellent mobile app
Great reputation
Lots of free games to start off with

8.5/10
Major credit/debit cards Skrill, Neteller, WebMoney, PayPal, and Paysafecard

Reliable and reputable
Excellent welcome bonus
Wide selection of tournaments

9/10
Major debit/credit card, bank transfers, Skrill, Paysafecard, and Paypal

Large welcome bonus
Speedy, reputable customer service

9/10
Major credit/debit cards, Paypal, Skrill, ecoPayz, Paysafecard, NETELLER, and more

One-wallet solution for many gambling services
Advantageous rakeback program
Nightly freeroll tournament

9/10
Major debit/credit cards, bank transfers, NETELLER, Skrill, Paysafecard, PayPal, and Cash  Card

Low minimum deposit
Highly Optimized App
A Closer Look
Now that you've seen a brief overview of our top UK poker picks, let's delve into greater detail for each option. We'll review the overall user experience, the games and tournaments available, bonuses, rake, mobile app options, deposit methods, and customer support of each online UK poker site.
PokerStars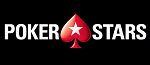 PokerStars was launched in 2001 and, by 2006, it became the largest online poker room. Their history has been filled with record-breaking occasions, such as setting a record for the largest online poker tournament back in 2009. PokerStars dominates the market for a good reason – it provides a vast array of free-to-play and real money tournaments. It's impossible to run out of options here!
Games and Tournaments
There is a huge number of poker games and tournaments available to play on PokerStars. Just a few include the Sunday Billion, Knockout Poker, and Spin & Go Flash.
Sunday Billion: This incredible weekly no limit tournament has a prize pool of 1 billion chips! There is a buy-in of 1 million chips. The tournament takes place every Sunday at 3 p.m. ET.
Knockout Poker: These Sit & Go tournaments reward you for eliminating your competition. Each time you knock out a foe, you'll get a boost to your bankroll.
Spin & Go Flash: Each one of these tournaments has a randomized prize pool. If you're lucky, you could rake in billions of chips in just a couple of minutes! If you like fast-paced action and the chance to win it big, we'd recommend playing this type of tournament.
Bonuses
There are two welcome bonus codes that new players can use to extend their bankroll. The first is "FREE30", which gives players an extra $30 to play with – so long as their first deposit is $20+. The second code is "STAR600". This code will match players' first three deposits by 100%, up to $600.
Rake
PokerStars used to have a 5% cash game rake policy (up to $5), and it only kicked in when the pot reached a pre-determined size. Now, however, PokerStars implements a linear-based rake system. This means that they start gathering rake from the first cent. To compensate for this, they have lowered to the cash game rake percentage from 5% to 4.5% (and even lower in some cases). In tournaments, the rake can vary from 6% to 10% of the overall buy-in cost.
Players can earn rakeback through "Frequent Player Points", which is then used as cash at the VIP store.  Depending on your VIP level, you can get rakeback returns of anywhere from 12% to 74%.
Mobile App
If you don't want to download PokerStar's desktop software, you can easily play their games through their revamped mobile app. PokerStars' original app was launched nearly a decade ago, but the new version is totally redesigned, with state-of-the-art features and biometric login capabilities. The updated PokerStars app was released in June of 2020 and is currently available on iOS devices. The old application could be accessed on iOS and Android.
Deposit Methods
PokerStars accepts various deposit methods – Visa, Maestro, MasterCard, and Diners Club International are all taken here. If you'd prefer an e-wallet deposit solution, you can use NETELLER, Skrill, UKash, EntroPay, and more. There's also the option to make a bank wire transfer.
Support
While PokerStars has many benefits for poker players, one recurring complaint in online reviews is its mixed customer service experiences. While some representatives are competent and positive, there are also some who are poorly trained and disrespectful. However, in PokerStars' favor, customer service is easily accessible via 24/7 live chat.
888 Poker
888 Poker has existed for over 20 years, and it has built up a loyal base of returning players due to its wide variety of games and attractive promotions. Some of its stand-out features include its gigantic freeroll tournaments, which feature prizes of over half a million dollars!
Games and Tournaments
One great feature of 888 Poker is that you can review interactive tutorials about each game. The tutorials will not only teach you how to play the games but will also give helpful strategies so you can improve your technique.
Let's take a look at some of 888 Poker's interesting tournaments. When you compete in a Snap tournament, you are automatically transferred to another table after folding, rather than having to wait on everybody to finish up.
If you play in a Blast tournament, they have automatic all-ins that are controlled by timers. This makes for a fast-paced, adrenaline-boosting adventure. With Progressive Knockout tournaments, you are competing to be the last person standing so you can rake in huge winnings.
There are also other competitions available, such as multi-table games, free tournaments, and satellite competitions.
Bonuses
888 Poker offers a very generous welcome bonus, in which they match 100% of your first deposit – up to $400. What's more, you will receive 10 tournament tickets. 7 tickets can be used to play in $500 tournaments, two of them are for $1,000 tournaments, and the final ticket is for the ultimate exclusive tournament competing against the site's best players. There is also an $88 no-deposit bonus available simply for creating a verifiable account.
Returning customers can compete in a "Galaxy of Freerolls," in which completing various actions throughout the website will give players freerolls tickets.
Rake
888 Poker's rake of each game is determined by the pot limits and the game variation – but it has a per-pot maximum of $5. 888 Poker does not offer rakeback.
Mobile App
You can download the 888 Poker app to play the games on your iOS or Android devices. The app offers the same functionality as the desktop mode. It is considered to be one of the best UK poker apps!
Deposit Methods
888 Poker offers an impressive 20+ deposit options! Some of the more popular ones include debit cards, wire transfers, ecoPayz, Paypal, NETELLER, and Skrill. In most methods, the minimum deposit is $10.
We would recommend using reputable e-wallets such as NETELLER and Skrill – they are quick, charge minimal fees, and offer privacy. We can offer you the most advantageous conditions when you sign up for NETELLER, Skrill, and even ecoPayz through us. Get access to free prepaid cards, more lenient VIP requirements, and more!
Support
888 Poker isn't known for having customer support that goes above and beyond. There is not a live chat option, but you can submit your question on the website's online contact form. You will receive an answer to your question, but it is not always in a timely manner.
William Hill Poker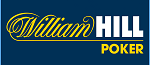 William Hill Poker is a very popular online poker venue, due to its large bonuses, a huge variety of games that appeal to all skill levels, and proven website security. It is also a member of the reputable iPoker Network.
Games and Tournaments
There are lots of chances to win cash at William Hill Poker. Each month, over €5 million is paid out to winners! There are also several Sunday special events, in which over €250,000 in prizes are doled out each week.
You can also participate in William Hill Poker's freerolls tournaments – these don't have an entry fee, but you can win cash, tournament tickets, and promo offers. There are four daily freeroll tournaments that you can participate in.
Bonuses
Newcomers will get a welcome bonus of £100 added to their first deposit! What's more, they will also get bonus spins, four tickets to enter £3 tournaments, and a ticket for a £7 cash game.
Players can also join William Hill Poker's VIP program, also called the "Player's Club." Depending on the VIP level you achieve, you can get freerolls, cash prizes, tournament tickets, cashback, and more.
Rake
The rake that William Hill Poker takes in is dependent on how much you contribute per hand and the cash table's limit.
Mobile App
You can use the iTunes store to download William Hill Poker's mobile app for iOS devices. If you have an Android device, you will need to install the app directly from the casino's website. Both versions make playing on the go very convenient.
Deposit Methods
William Hill Poker has a huge array of deposit options available – too many to list here. Some of the more popular options include major credit/debit cards, Skrill, NETELLER, Webmoney,  Entropay, and Paypal. The minimum deposit amounts depend on which payment method you are using.
When you deposit to William Hill Poker, consider using Skrill – for more info on this service, check out our thorough review. We can offer you numerous benefits when you sign up for Skrill through us. For instance, the threshold to join the VIP Silver are lowered.
Support
If you have questions, you can check out William Hill Poker's large FAQ section, or contact a representative via phone, email or live chat. What's more, the website also offers a "Poker School," in which you can learn excellent strategies.
Betfair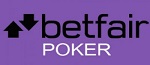 Betting exchange Betfair was founded by Edward Wray and Andrew Black back in 2000. It quickly began to grow and become a go-to online bookmaker. In the mid-2000s, Betfair launched new products, such as online poker. Even though Betfair is primarily known as a betting market, it has garnered a loyal base of poker players, who enjoy the website's reputation and vast game offerings.
Games and Tournaments
There are hundreds of active tournaments available on Betfair at any given time. At the time of writing, there are about 200 ones available, but this number will fluctuate. Betfair also has an innovative "Private HomeGames" feature, in which players can make their own rules! You can contact Betfair with the specifications and meet up to play poker with your buddies virtually.
Bonuses
Betfair is currently offering a welcome bonus for poker players; when you make your first deposit of 10 EUR or more, you'll get a 200% welcome bonus (up to 200 EUR). What's more, you'll get 500 EUR worth of freeroll tickets! This is an incredibly generous welcome promotion.
Rake
Betfair rake starts as low as $0.01 for each $0.20. In cash games, the max rake is determined by the number of players and the stake level. The maximum it will reach is $4. In tournaments, on the other hand, the rake will never exceed 10% of the tournament buy-in.
Mobile App
Betfair has many apps available for use on Android and iOS devices, including the Betfair Poker Mobile App. In some countries, you will need to download the app directly from Betfair's website. You can access exciting tournaments, huge prizes, and promotions through the app. New players can even sign up and receive their welcome bonus through the app!
Deposit Methods
Betfair's deposit methods vary depending on your country. In most countries, Skrill, Neteller, WebMoney, PayPal, and Paysafecard are accepted. You can also make deposits by using major credit/debit cards and Ukash.
Support
Betsafe has a very comprehensive support page, where you can quickly find answers to common questions. You can also leave feedback as to whether the answer was helpful or not. If you can't find the answer to your question, contact the customer support team via email or telephone.
Ladbrokes
Ladbrokes has actually been in existence since the late 1800s, but it was originally a horseracing bookmaker. The company created a website in 2000, and it quickly became a very popular betting website. Ladbrokes added a poker room to its website in 2004, and it has built a reputation as one of the most secure online poker and betting websites. Ladbrokes is a one-stop-shop for many users, as they can meet all of their gambling needs there.
Games and Tournaments
There is a free-to-play nightly tournament, with a prize of $1,200! You don't have to spend a single cent in order to win a portion of the prize pool. The largest cash reward possible is 100 GBP, while the smallest is 0.50 GBP.
You can also take part in The Big Game, which has a top prize of $500,000! You can enter the competition via freeroll, pay $5.50 to start at phase 1, $55 to begin at a
phase 2, $530 for phase 3, or $5,200 to enter directly at the final portion.
Bonuses
Ladbrokes' new customers receive $30 of tournament tickets with a minimum deposit of 20 GBP. While this might not be the best welcome offer out there, Ladbrokes stands out by giving great bonuses to existing players. For instance, their loyalty program gives players the opportunity to earn up to 40% cashback on a weekly basis.
Rake
As aforementioned, players can earn rakeback (or cashback ) of up to 40%. As far as the casino's rake percentage, Ladbrokes does not make this information readily available on their website. However, according to Rakeback.com, Ladbrokes' Pot Limit Omaha, Pot Limit Hold'Em and No-Limit Hold'Em games have a rake of 5% to 6.66% and use an incremental measurement system.
Mobile App
You can access Ladbrokes poker services via a desktop browser, mobile browser, or the Ladbrokes Poker mobile app. Play on the go, for free or for real money! You can access tournaments with huge prizes directly from the app, which is available on Android and iOS devices.
Deposit Methods
Ladbrokes offers many kinds of deposit methods, with the minimum requirement being 5 GBP – 10 GBP. Some of their methods include major debit/credit cards, Paypal, Apple Pay, ecoPayz, Trustly, Paysafecard, Instant Banking, NETELLER, Skrill, and The Grid.
Support
You can contact Ladbrokes' support team 24/7 via live chat, or you can reach out via email or phone. You can also take a look at their Helpsite, which has answers to dozens of FAQs.
Paddy Power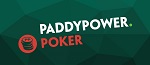 Paddy Power was founded in the late 1980s by three Irish bookmakers- Davir Power, Stewart Kenny, and John Corcoran. They had 40 land-based betting shops that were combined to create the Paddy Power corporation. Nowadays, Paddy Power can be used for many gambling activities, including online poker. They have drawn in a large, curious crowd, largely due to their shocking marketing schemes.
Games and Tournaments
There are 200+ active tournaments available for players to sign up for via the tournaments page. On a typical Sunday, you can expect there to be 10+ main events in the lineup, starting at 3 p.m. GMT and ending at 8 p.m. GMT. The prize pools range from 3000 EUR to 25,000 EUR, while buy-ins are a mere 10 EUR – 100 EUR. Some tournaments will even be free to enter! Just check out the tournament lobby to see which events best meet your needs.
If you want to get up to speed on the different types of poker, just check out Paddy Power's Poker School, which contains tutorials about many variants.
Bonuses
Paddy Power has a large number of bonuses available on their promotions page, which returning players can take advantage of. For instance, some lucky players will randomly be credited with money in their accounts on Friday. You will have to withdraw the money before it expires in 20 minutes!
New players can access a welcome bonus offer – they will get 50 EUR in cash to play with if they make a minimum deposit of 20 EUR.
Rake
Depending on the size of the pot, Paddy Power will take 1% – 5% as a rake. Paddy Power offers rakeback through a rewards system. For every 1 EUR that you contribute to rake or fees, you will earn a total of 20 loyalty points. These points can be traded in for cash – and the more points you earn, the higher your cashback percentage will be. When you make it to the final level, you'll earn 22.2% rakeback! The minimum rakeback percentage, for level 1, is 6.6%.
Mobile App
The Paddy Power Poker app lets you access bonuses, paid tournaments, and freerolls. What's more, the tournament lobby has gone through an optimization process, which lets you register for events faster and navigate the system easily. You can play on this app on both Android and iOS devices.
Deposit Methods
Some of the deposit methods that Paddy Power offers include debit/credit cards, bank transfers, NETELLER, Skrill, Paysafecard, PayPal, and Cash  Card. The minimum deposit is 5 GBP/EUR.
Support
Head to the Paddy Power Poker Help Center to get quick answers to most questions you would have. If you still need help, you can message a customer service representative or even reach out to them via Twitter!
Bet365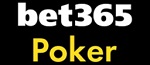 Bet365 launched in 2000 with just 12 employees. Fast forward to 20 years later – they now have over 5,000 employees and a staggering 53 million customers! Every couple of years, Bet365 launches new, engaging content, enabling them to stay ahead of the curve. Take, for instance, their implementation of live streaming in 2006,  a mobile-friendly website in 2010, and their first app in 2012. Bet365 offers a stellar user experience, which was reflected by their "Operator of the Year" award from EGR.
Games and Tournaments
The main Bet365 tournaments are as follows:
Age of Gods Twister: Jackpots for this game range from 50 EUR to 100,000 EUR. The entry fee starts from 1 EUR.
Premium Steps: This speedy Sit-and-Go has a maximum prize of 800 EUR and a 0.50 EUR buy-in.
Wild Twister Sit and Gos: This all-in tournament has a max prize of 100x the buy-in. Prizes are awarded as tournament tickets.
Bonuses
The Bet365 Poker Welcome Package gives new players a bonus of up to 365 EUR, a free spin on the Welcome Prize Wheel, and a Twister ticket worth 1 EUR. If you create a nickname on Bet365, you will get five tournament tickets that will give you access to 100 EUR bronze loyalty events.
Rake
Depending on the type of game, Bet365 takes a rake of 3.75% to 6.66%. Players can enjoy 12% – 30% rakeback through a points-to-cash conversion process. For every 1 EUR spent towards rake, players will earn 15 "merit points." Depending on a player's monthly rake level, they will be in either a bronze, silver, gold, or platinum VIP level. After maintaining a VIP level for 3+ months, they can purchase a bonus rakeback reward!
Mobile App
The Bet365 poker app is one of the best available, as its features improve with every single update. You can redeem bonuses, navigate the site via the same layout, and participate in the same tournaments as the desktop counterpart. The app is easily navigable and user-intuitive. You can use it via iOS and Android devices.
Deposit Methods
Bet365 customers can make a minimum deposit of 5 EUR to 100 EUR (depending on the deposit method) and a maximum of 100,000 EUR. You can use a major debit/credit card, a bank transfer, or an e-wallet – such as Paypal, Skrill and Paysafecard.
Support
You can get in touch with Bet365 about any poker-related questions via Live Chat or email. At the moment, Bet365 has had to suspend their telephone support services.
Summary
When it comes to playing poker online in the UK, you need to visit a site that can offer a wide variety of games, lots of opportunities to make money, generous bonuses, and many deposit options.
If you are planning on playing poker online, we highly recommend signing up for an e-wallet such as NETELLER, Skrill, or EcoPayz. This will enable you to make speedy deposits and payouts with minimal fees, plus it adds an extra layer of security and privacy. Plus, by using our services to sign up for an account with these reputable e-wallets, you will gain access to excellent perks – like priority verification, easier access to VIP levels, and complimentary prepaid cards. We hope that our list has helped you find the perfect UK poker site for you!