ecoPayz Verification
ecoPayz offers a quite comfortable mode of operation, but not all users know that the full functionality of the platform is significantly expanded upon verification. To discover all the benefits of ecoPayz, you should complete the ecoPayz account verification immediately after registration.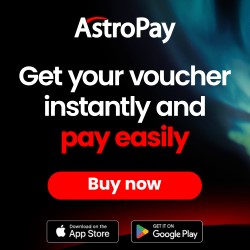 If you are faced with a choice of which payment system to use for your business — for making transfers to vendors or any other purpose — but are not sure whether to choose ecoPayz or any other online system, you can use the materials on our website. It answers favorite questions in detail: is ecoPayz safe, how to pass the ecoPayz login process, etc. It also has a detailed review of this online payment system.
Register via Baxity now and go through your ecoPayz account verification — and get a large number of bonuses and privileges! Check the information about them below.
Benefits ecoPayz Customers Get After Verification
Going through ecoPayz verification after registering via Baxity, you can get a whole list of bonuses you won't receive from another platform.
For gamblers and traders, such benefits are allowed:
Fast verification process (within two hours)
Аctivation of the Gold status immediately after the verification is completed (compare: Baxity customers can get access to it, while regular customers are granted the Silver status after verification only)
Top limits users also granted cash awards
The customer would activate VIP account with additional prizes immediately after the deposit of €10,000
For businesses, it can also be very comfortable due to many reasons. Some of them are:
The opportunity to accept payments from customers via new reliable channel
The possibility to make money on the community and a website businessman already has by connecting the audience to Baxity
ecoPayz verification: step-by-step guide
Here, you can find a step-by-step guide on how to pass your ecoPayz account verification quickly and unproblematically.
1. Prepare the documents to verify your identity.
Identity ecoPayz verification documents could be:
an identity card (ID card)*
a national passport
a foreign passport*
a driving license*
* You should submit the photos of both sides/pages of the document
2. Prepare the document to verify your residential address.
An address ecoPayz verification documents could be:
a bank statement
an utility bill
a certificate of residence
another document issued by a government institution
* The document must contain your name, address (entered in your ecoPayz account), a stamp and a sign of a representative of the appropriate organ.
3. Take a high-quality selfie.
It must show only your face without any additional objects or accessories.
4. Meet all the requirements.
All documents are subject to special requirements:
They should only reflect genuine information
The data used in the registration process must match the information provided in the documents
Photos or scans of documents must be of high quality and resolution and in color, and all four sides of the documents must be clearly visible, without light-exposed places. Your fingers must not cover your documents, and all of the corners and margins should be depicted on it
Screenshots are not accepted
Your address documents must be freshly signed (no more than 90 days must pass from the date of their certification)
Take into consideration that ecoPayz may request documents confirming the source of funds.
5. Send your docs*.
All the documents should be sent from the email you used for ecoPayz account verification to the recipient affiliatedocs@ecopayz.com. Mark your email subject as Baxity docs.
*The step is available for Baxity clients only.
It can take some time for your documents to be checked — usually about two hours on business days. After the review, you will get a notification about the result in your email. After your ecoPayz account verification, you will be granted a Golden status automatically.
As you can see, the ecoPayz account verification process is very simple and intuitive. You can start to use all of your benefits, making just five steps.
Not registered with ecoPayz yet? It's time to do it now, using Baxity — so you get the maximum bonuses!
Step-by-Step guide to ecoPayz Account Verification for non-Baxity clients
This guide will be useful for private users that want to verify their ecoPayz accounts. If you want to go through this process in priority, you need firstly to sign up for your ecoPayz account via Baxity. You also need to clean your cache and browser cookies before this registration.
1. Go through your ecoPayz login process, click "Upgrade" 

2. Click the "Verify your identity" button.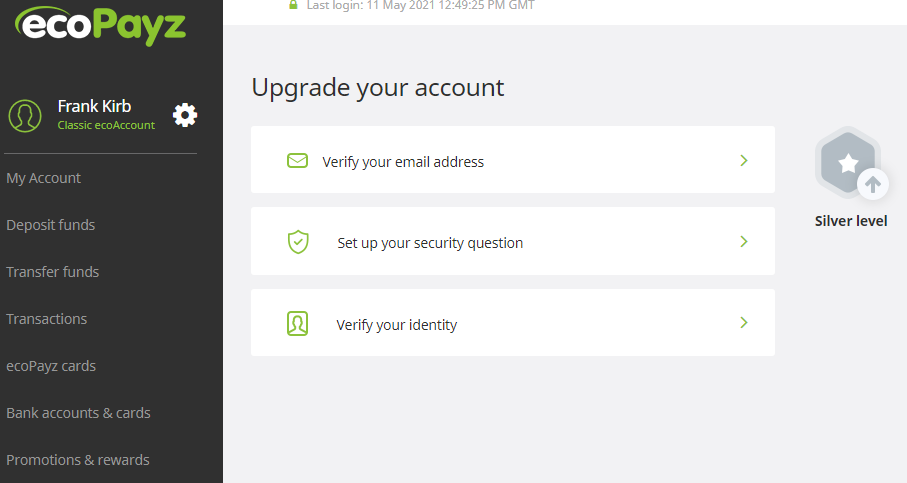 3. The upgrading process consists of three steps: email address verifying, setting up a security question, and identity verifying. Upon completing all of them, you can get a Silver level.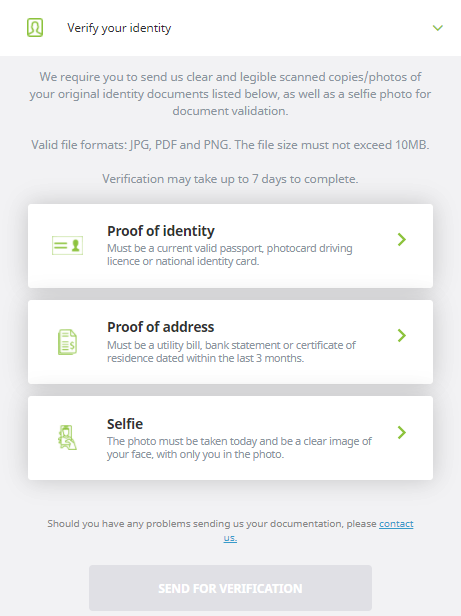 Identity verification consists of:
Proof of identity (you should provide high-quality photos or legible copies of your valid passport, driving license, or national ID card).
Proof of address. Submit one of the documents listed above
Your selfie.
Take a high-quality selfie. It must be taken on the day of uploading documents and have a clear image of your face. It must show only your face without any additional objects or accessories.
Take into consideration that ecoPayz may request documents confirming the source of funds.
These are all the steps you should take to verify your ecoPayz account. But you can always simplify this process by registering via Baxity! It will save you time and get you some privileges that were mentioned above.