NETELLER is a digital service for online e-money transfers, not very popular in Pakistan, but the most famous worldwide. Established in 1999 it is owned by the British global payments company "Paysafe Group". It is very much similar to ecoPayz and Skrill, which provide users with the most reliable and instant money transfers in the world of gambling. In this article we have drawn up a detailed NETELLER review for Pakistani users.

What Is NETELLER
NETELLER is a money transfer gateway designed for online payments whenever and wherever you want. It is fast, secure, reliable and easy to deposit and withdraw. Due to enhanced security of this payment system уou do not have to worry about your funds being compromised and all customers can securely use NETELLER in Pakistan.
Why Use NETELLER
The top clients of the NETELLER payment system are those who need to transfer money, pay for goods and services, as well as gamblers, bettors, stock exchange traders and merchants accepting money from players.
Find out what you can expect from having a NETELLER account:
A wide range of deposit options
Fast and secure withdrawal options
Zero fees on international money transfers
Lower exchange rates for VIP members
Loyalty points on the NETELLER transactions
How Does The eWallet Work
To understand how does NETELLER ewallet work and start to use it, simply complete these three steps:
Make a deposit
Verify your identity
The last point is an easy way to ensure that you have free access to all your NETELLER wallet benefits. After a successful verification you can make safe and convenient payments online just with your email address and password. Тhat means that your sensitive financial information (bank details) is kept hidden from the recipient. In addition, the latest fraud prevention technologies of the company securely protect your account.
Create NETELLER Account
NETELLER in Pakistan lets you send and receive money as well as make secure and fast online payments whenever you need using many different devices. To do so requires signing up to NETELLER and verifying the account owner identity. Now, let's talk about how to create a NETELLER account.
Click the "Join for free" button on the NETELLER site and go to the payment system sign up page. Start to enter the information required on the registration form in Latin characters: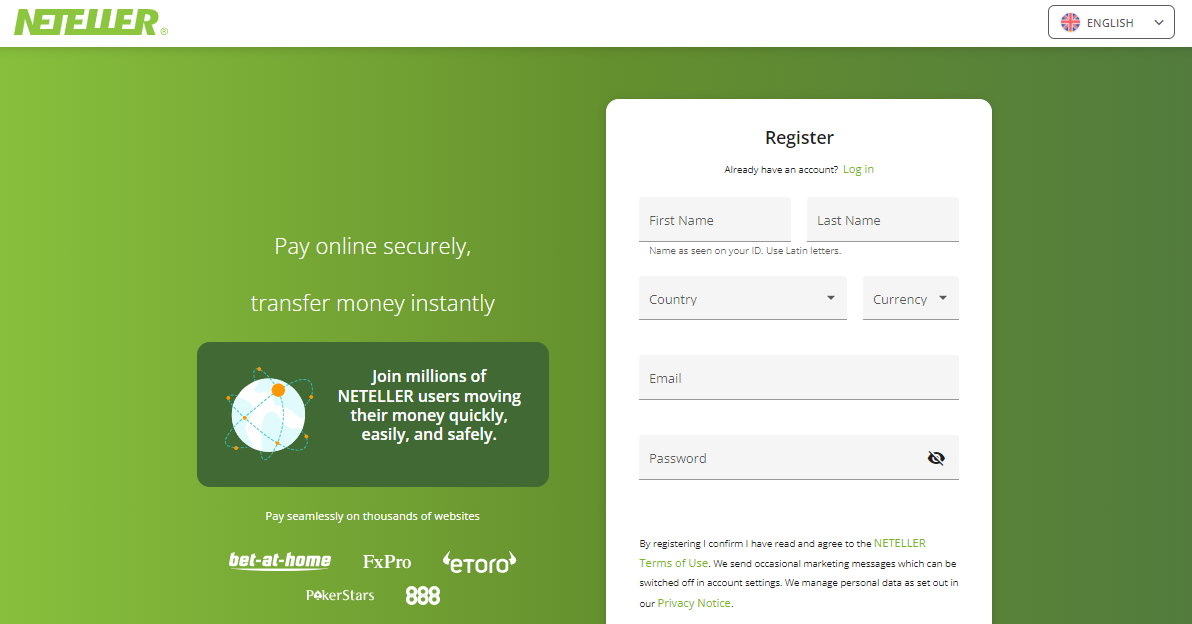 1. First name (Name as seen on your ID)
2. Last name
3. Country
4. Currency
5. Email
6. Password
7. Click on "Register"
8. Address (need to verify)
9. Optional address
10. City
11. Postal code
12. Date of birth
13. Nationality
14. Phone number (need to verify)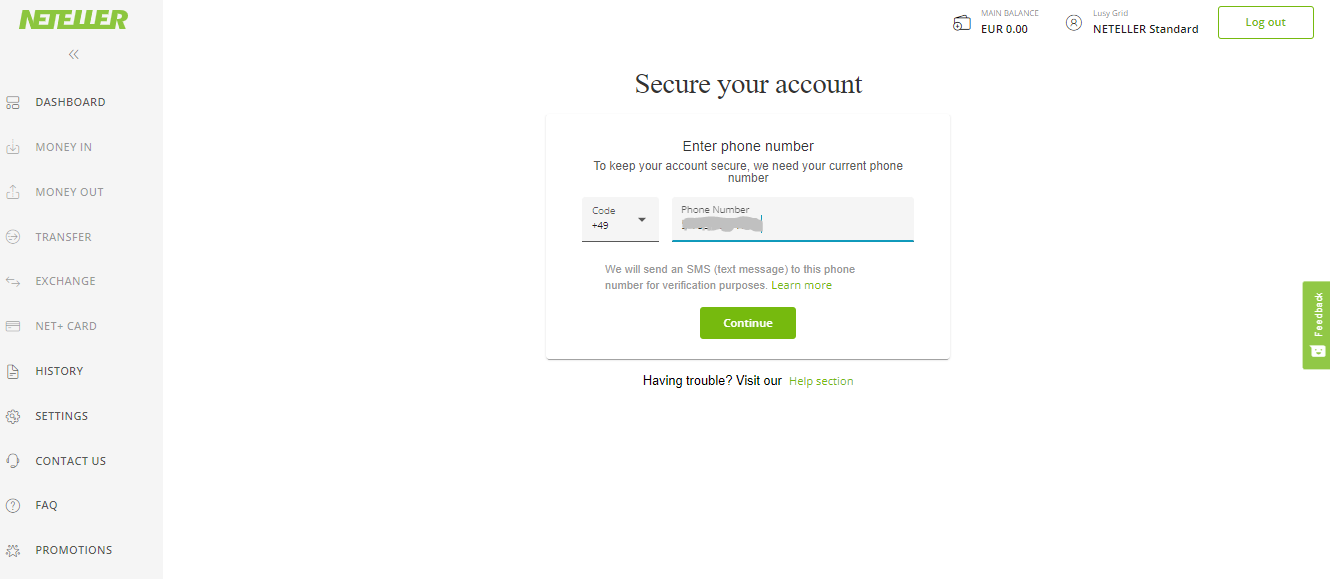 15. Click "Continue"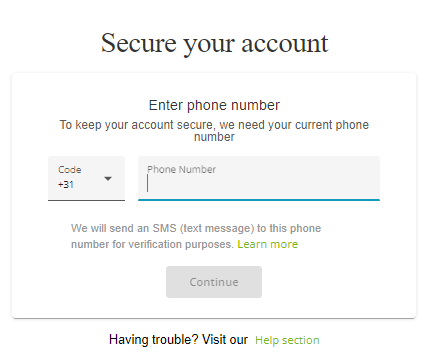 16. Enter a code sent to your phone number to complete the registration
17. Click "Verify"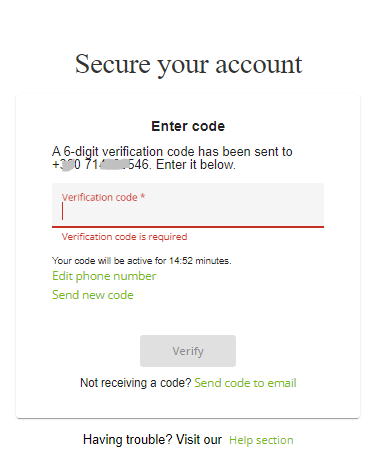 18. Create a 6-digit Secure ID. It is asked when performing transactions.
19. Click "Save"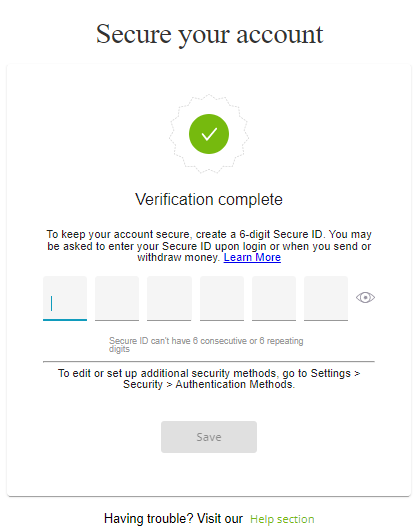 Next you need to top up your account with $5 and you are ready to start the verification process. Мeanwhile when registering a NETELLER account through Baxity link, the verification process is free and takes only 24 hours on any business day. For regular users it takes 1-5 days.
Account Variants
NETELLER Standard – once the account registration is completed you will obtain the NETELLER standard level with standard digital wallet features.
NETELLER Тrue – to unlock NETELLER Тrue status and get the account benefits you have to make an eligible deposit and verify your identity. After the successful verification you will be able to transfer money with low fees as well as to get refer-a-friend bonus and bonus loyalty offers.
NETELLER VIP – the transactions to merchants, buying or selling crypto guarantee your VIP status with exclusive terms to use your wallet: fully-functioning account, discounted deposits and withdrawals, free money transfers, dedicated VIP Manager, lower FX fees, VIP promotions and events.
Verification Account In Pakistan
How to verify a NETELLER account in Pakistan? To verify your identity follow the steps described below:
1. Enter NETELLER login and password for signing in your account, go to the "Settings" and choose the "Verification" tab.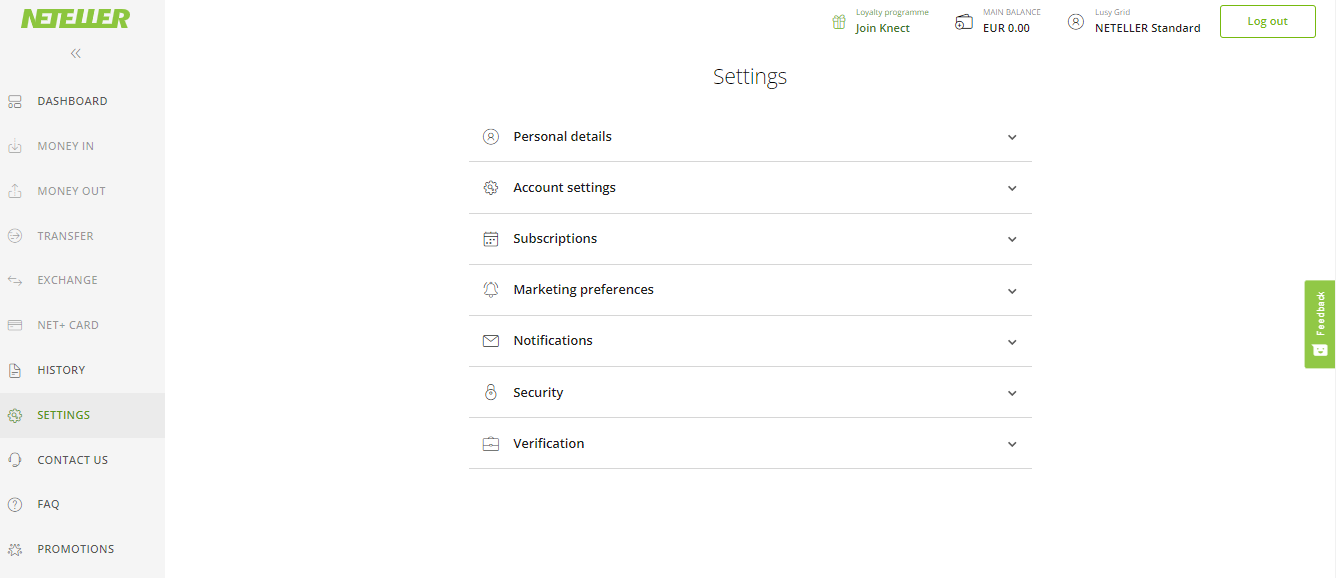 2. Click "Verify".
3. You can use your phone camera by uploading the NETELLER mobile app as the fastest way of verification or:
4. Upload your valid and readable ID image and take a webcam photo.
5. Choose the issuing country and the type of document for verifying.
6. Take photos of the front and back of your ID and complete this step easily.
7. The next step is your face verification – center your face in the frame and take a picture.
The system will also ask you to verify your address by uploading an address verification document. You will receive an email once your verification is completed.
Note: Accounts registered through the Baxity link are usually reviewed and accepted quickly – 24 hours on any business day.
Deposit And Withdrawal Options For Pakistan`s Users
There are many ways in NETELLER for Pakistani users to instantly make deposits or withdrawals – local bank, credit card, debit card or international bank transfer. The money transfers in account are available through JazzCash, Skrill, Easypaisa e-money service too. You can find out the available deposit or withdrawal options for your country by referring to the Money in or Money out tab in your account. If you don't see a certain deposit or withdrawal method, it means we do not support it in your country.
The Limits
It is important to know that the limits applied depend on:
– verification status
– VIP level
– payment method
– country
The maximum or minimum amount you can deposit or withdraw will be displayed to you during the transfer process.
The minimum amount depends on the specific withdrawal option you've selected. Some types of withdrawals can only be executed if the amount is above a certain threshold.
The maximum amount shown depends on:
• your available balance (it should be able to cover withdrawal and currency conversion fees, if any)
• your individual account limits (you can find out more on increasing your account limit here).
Available Currencies
Using a NETELLER account means to choose from a wide variety of 28+ supported currencies.
AED
AUD
BGN
BRL
CAD
CHF
CNY
COP
DKK
EUR
GBP
HUF
INR
JPY
MAD
MXN
MYR
NGN
NOK
PLN
RON
RUB
SEK
SGD
TND
TWD
USD
ZAR
Exchange Rate Conversion
For transactions involving currency conversion NETELLER in Pakistan adds a fee 4.49% on top of the wholesale exchange rates. The exchange rates are based on the average daily interbank market rate published by Reuters. They vary and will be applied immediately without notice to you.
For VIP members exchange rates are lower and they pay as little as 1%.
Fees To Pay
Here you can find the transfer options on NETELLER in Pakistan with the fees rates:
Money transfers for NETELLER Standard level – 2.99% min USD 0.50
Money transfers for NETELLER level – 1.45%
Send money from NETELLER to NETELLER – 2.99%, min USD 0.50
Receive money from NETELLER – free
Send money by international bank transfer – up to 4.99%
Domestic transaction (transfers in Pakistan) – 2%
Transfers to bank accounts: USD 10 fixed (free of charge from Gold status onwards)
Special Offers For The Users
There are many advantages to registering a NETELLER account through the Baxity link. You get all benefits on special terms such as:
VIP Bronze Pro level just after verification via Baxity
reduced currency conversion
bonus points
VIP Silver for $7,500 deposits instead of $50,000 for regular accounts
How Secure Is NETELLER In Pakistan?
NETELLER is a platform operated by the global company Paysafe Group. It is not a bank and is subject to digital money regulation from the FCA (British Financial Conduct Authority). The FCA is one of the strictest regulatory entities globally, that's why the safety of your money on your NETELLER account is guaranteed.
Any user can also in turn increase the security of his account in the following ways:
Use a strong password
Keep your password in a safe place
Add two-step authentication for your account
Never log into your account on public devices
Don't reply on suspicious mail
Can I Use NETELLER For Gambling In Pakistan?
In this NETELLER review we want to emphasize that it is one of the main leaders in online gambling payment services. Pakistani players can use NETELLER transactions to play slots and games at online casinos and deposit in betting sites. However we recommend choosing reliable and trustable gambling sites with high reputation. To understand how secure the casino is, read the players reviews, check the list of partners and online payment processing companies which guarantee seamless deposits and withdrawals.
Opening an account via Baxity link offers the players the free Bronze Pro VIP status that means to reduce the withdrawal and deposit fees as well as to increase account limits for transfers and instant cash out.
Pros And Cons Of Using NETELLER Account
Pros
Cons

+ Simple and instanttransfers

+ Free transfers to merchant – no fees

+ Widely accepted by poker rooms, casino, bookmakers, exchanges and Forex platforms

+ Prepaid Mastercard and virtual cards

– High currency conversion charges for non-VIPs (4.49%)

– Prepaid payment card available only for EEA countries
Open A NETELLER Account With Baxity Benefits
We told you how to use NETELLER in Pakistan, but it is more profitable to use a NETELLER account when it is created via Baxity link. The following benefits from Baxity help you to use your wallet on favorable terms:
Fast verification in 24 hours with no entry fees (for regular users – $5)
Bronze Pro status just after identity verification
Lower conversion fees
High withdrawal limits
NETELLER Silver level for $7 500 instead of $50 000 for regular users
Customer support in Russian, English, Bulgarian for 365 days a year, 24/7
Frequently Asked Questions
How To Verify A NETELLER Account In Pakistan?
Log in to your account
Go to the settings
Choose the Verification tab
Click on one of the documents you have to verify.
Upload photos of the document
Verify your address by uploading an address verification document.
Make a selfie.
Is NETELLER Available In Pakistan?
Yes, it is. For Pakistanis, this ewallet is a good option for transferring money to merchants or friends, make deposits and withdrawals, sell and buy cryptocurrency. It is a secure and fast way to make transactions online.
Do Pakistan's Casinos Accept NETELLER As A Payment Method?
When it comes to making transactions to any of the online casinos, gamblers in Pakistan can choose the NETELLER payment system. It is one of the most popular e-wallets and online payment systems among online casino players. Opening a NETELLER account via Baxity link would instantly upgrade the account level to VIP Bronze and reduce the currency conversion fees as well as increase the withdrawals limits.