OpenBucks Cards is a convenient and anonymous way to make payments on the Internet. You no longer need a credit card or bank account to buy a product, subscribe, or top up a mobile phone account.
What Is Openbucks
OpenBucks Gift Cards are a profitable solution to the digital security challenge and a guarantee that hackers won't gain access to your personal data.
About Paysafe Group
In July 2020, the Paysafe Group acquired the OpenBucks platform. In addition to OB, the Paysafe Group includes the NETELLER, Skrill and Paysafecard payment systems. The last payment method is identical to OpenBucks. Why does Paysafe Group have two identical companies? All due to the popularity of OB among fans of online games and e-sports.
How It Differs From Paying By Credit/debit Card
When paying by credit card, you indicate its number, expiration date and CVC / CVV2 codes. Some sites also ask for additional information: your full name, E-mail, mobile phone number. All this data can be obtained and used by intruders. The weekly identity theft news confirms this.
When paying with OpenBucks gift cards, you indicate the card number and its pin code. No personal information is used at the time of purchase. This reliably protects you from hackers. Your personal data is protected as much as possible: in terms of security, OB is not inferior to digital currencies, and it is easier to understand the platform.
Does The User Need To Register An Account?
Registration is not required to use OpenBucks. To pay off an OB, 2 conditions must be met:
The online store accepts payment with OpenBucks gift cards;
You purchased a gift card from one of the official resellers.
What Gift Cards Does Openbucks Accept
You can pay online not only with OpenBucks gift cards, but also with partner ones:
plastic cards CVS / Pharmacy;
plastic cards Dollar General;
paysafecard;
with Pacific Coffee credit cards for Hong Kong residents.
You can buy OB or partner cards at one of 60,000 service and payment points.
How To Pay Online With It
If you have already purchased an OpenBucks Gift Card, then you will need to complete 3 steps to pay for the item.
Step By Step Instruction
1. In the list of payment methods on the merchnt's website, select the option "Cash and Gift Cards" ("Prepaid cards", etc.)
2. Select a card for payment you need.

3. You will be redirected to the payment page. Enter the gift card number and pin code and click "Pay".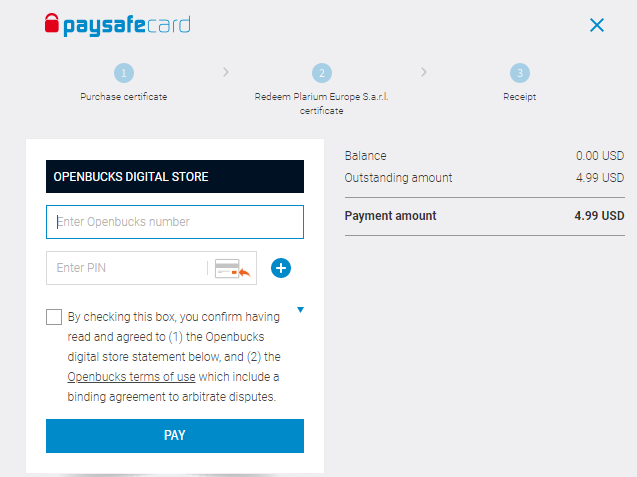 How To Combine Few Cards In One Payment
If you want to buy a something, the price of which is higher than the balance of the gift card, then you do not need a new card with the exact value. The key rule is that all cards must be of the same brand: you can use several OpenBucks vouchers when paying for goods. However, within one transaction, you cannot pay for the product first with Dollar General, and the missing amount cannot be covered with a CVS / Pharmacy gift card.
For combined payment, repeat the steps from the step-by-step instructions above, but instead of "Pay" select the «Enter more gift cards» option (or "Add Card").
There is no additional commission for multiple cards.
Websites Accepting Openbucks Payments
Over 2,000 partner stores accept payments with Obucks gift cards. The most famous of them:
Wargaming.net. Developer and publisher of multiplayer online games World of Tanks, World of Warships and World of Warplanes.
Razer Gold. Shop to buy content for over 33,000 games.
Xsolla. Payment service for game developers and publishers. Provides payment, billing, distribution and marketing services.
InnoGames. The developer of the popular games Forge of Empires, Elvenar, Warlords of Aternum.
Plarium Games. Developer and publisher of multiplayer games including Raid: Shadow Legends, Vikings: War of Clans, Terminator Genisys: Future War.
What Is Obucks Gaming Card
Along with partner gift cards CVS / Pharmacy, Dollar General, Paysafecard, Pacific Coffee, the OpenBucks platform also offers its own cards – Obucks Gaming Cards. It is a prepaid digital card. The card can be purchased at our store.
Where You Can Buy Obucks Сard
The most convenient way is to purchase a card on the official websites of the payment system partners.
How To Pay Online With It
The card payment procedure is almost completely the same as transactions using OpenBucks vouchers. Two significant differences:
1) the card is digital, that is, it has no physical form;
2) it is accepted for payment exclusively in online games.
How To Check Your Openbucks Balance
To check your gift card account balance:
Go to the official OpenBucks website, to the "Balance" tab;
In the opened form "Check oBucks card balance" enter the card number and its pin code.
Click on "Check Balance".
Websites Accepting Obucks Gaming Card
Gift cards are a convenient payment tool for gaming. You can buy virtual goods from over 1000 online games.
The most popular of them are Fortnite, World of Tanks, Raid: Shadow Legends. Read the full list on the OpenBucks website.
What Can You Spend Your Ebucks On
The most popular products in gaming are skins. But with Obucks cards you can pay not only for changes in the character's appearance, but also for weapons, items of equipment, vehicles and experience boosters.
Pros And Cons
Let's conclude the OpenBucks review with the main pros and cons of the payment system.
Pros

Cons

+ anonymity and protection of your personal data;

+ no need to register an account and go through verification process;

+ 60,000 points of payment;

+ the same gift cards are combined in one payment.

–it is impossible to make a refund;

–limited scope – mainly online games;
Alternative Payment Methods
If support for only 3 currencies is not suitable for you, or the online store does not accept OpenBucks as payment methods, then pay attention to alternative payment systems: ecoPayz (ecoVoucher), AstroPay, Neosurf. They work with a large number of currencies and are focused on transactions around the world, not just the United States.
Conclusion
To conclude our OpenBucks review, shopping online with gift cards is the perfect way to avoid identity theft. During the payment, you only indicate the Obucks voucher number and its pin code. Your information will never end up in the hands of intruders when using OB. The platform's integration with Paysafecard and the growing popularity of alternative payment methods will drive more interest in OpenBucks in the coming years.
FAQ
How Do You Make An Openbucks Account?
No registration is required to use OpenBucks: during checkout, you select the Obucks gift card as your payment method and you are redirected to the platform's official website. There you enter the card number and its pin code. Nothing else is required.
What Gift Cards Can You Use On Openbucks?
The platform works not only with its own vouchers, but also with gift cards CVS / Pharmacy, Dollar General, Paysafecard, Pacific Coffee.
Where Can I Use Openbucks?
More than 2000 online stores accept payments with OpenBucks gift cards, including: Xsolla, Paymentwall, Plarium, Wargaming.net, Webzen, Smilegate West, InnoGames.