If you are in the market for a Bitcoin exchange platform, you may have come across Paxful in your research. But what exactly is Paxful? Is it reputable, and can it provide a high-quality level of service? Keep reading our guide; we'll break down what exactly Paxful is, what services it offers, fees, limits, and more. We hope that our review will help you make an informed decision as to whether Paxful is the right bitcoin exchange and e-wallet for you.
What Is Paxful?
Paxful is an internet-based marketplace in which sellers and buyers can collaborate to exchange Bitcoin. The service offers a huge amount of payment options (over 300), and the overall user experience is well-designed. Paxful also offers 24/7 customer support and gives all exchange customers a free e-wallet.
Paxful currently has over 2,000,000 active customers, and its client base shows constant growth. Its popularity is largely due to its large number of payment methods, and the hassle-free exchange service that Paxful provides.
Short History of Paxful
In 2014, the founders of Paxful, Ray Youssef and Artur Schaback created a service called EasyBitz – which was later rebranded as Paxful. Youssef and Schaback's primary goal was to help businesses, merchants, and normal people have easier access to buying and selling Bitcoin.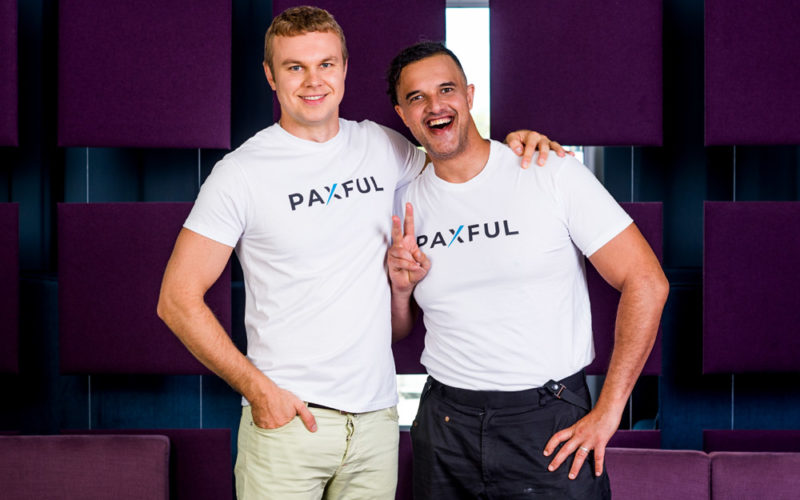 Paxful's popularity has skyrocketed since then, and the company has become a household name. But not many people know that Ray Youssef actually used to be homeless. His experiences without a home showed him the importance of having access to decentralized currency such as Bitcoin. Paxful gives back to the world by using Bitcoin to pay for charity projects – such as building wells so third-world communities can access fresh water.
Review of the Main Paxful Services
So now that we know a bit about Paxful's history, let's take a look at what services the company offers.
Bitcoin Exchange
Paxful makes it incredibly easy to exchange Bitcoin on their peer-to-peer marketplace. Since there are over 300 payment options available, getting Bitcoin is now more accessible than ever. You can even use gift cards, cars, and groceries as payment on the platform!
For payment methods, we recommend using secure e-wallets like NETELLER, Skrill, or ecoPayz. We've reviewed these services in the past and found them to be reliable, affordable, and easy to use. What's more, when you sign up for these services with us, you get access to exclusive benefits. For instance, you can get free Gold status with ecoPayz, instant Bronze Pro VIP status with NETELLER, and lowered VIP thresholds for Skrill.
So, how can you use Paxful to buy Bitcoin? First, sign up for a free account (this will set you up with a free Paxful e-wallet; more on that later). Next, choose the methods of payment that you would like to use. Input the total amount of BTC you want to buy. Then click on the Search button.
After doing so, you will be able to see the available sellers. You can browse through the list and see which sellers match up with your requirements, and which ones have terms you find favorable.
Once you have selected a seller, you can confirm the amount of BTC that you'd like to get. Then, you will be directed to a private live chat. Communicate with them to make the payment and confirm it. The seller will confirm that they received the payment on their end and then release the BTC. It will be stored in your Paxful e-wallet.
And what if you want to sell Bitcoin, rather than buy it? Well, here's how to do it:
Log in to your Paxful account and navigate to the "Sell Bitcoin" page. Input the amount of Bitcoin that you are okay with selling, and choose which type of payment you'd like to receive. You can also set a preferred location. Next, click the button to search for current offers.
You can browse through the offers to find a buyer that aligns with your criteria. You can see buyers' reputation, level of verification, and more. When you find an offer that appeals to you, click the Sell button.
This won't complete the sale; first, you'll need to read through the Buyer's terms. When you are satisfied, you can finalize the sale. Your BTC will be held in escrow, and you can then communicate with the buyer via live chat.
When the buyer releases their payment, you can then release the BTC that's in escrow.
As you can see, Paxful takes many steps to protect buyers and sellers, ensuring that they receive their funds in ways that are favorable to them.
Bitcoin Wallet
Paxful offers a free Bitcoin wallet to all customers. The wallet allows you to access your funds at any time and place, in a secure way. Because your money is stored on the cloud, you don't have to worry about losing your funds even if you lose your device. Over 3,000,000 customers have used Paxful's e-wallet to receive and send Bitcoin; in fact, over 40,000 Bitcoin have been transferred in total.
Paxful's e-wallet does not take any commission fees. What's more, you can access the peer-to-peer marketplace through the wallet, so you can easily exchange fiat currency for Bitcoin and vice versa.
Digital Bitcoin Kiosk
Paxful makes it simple for businesses and merchants to offer a Bitcoin exchange on their website. All you have to do is fill out a form to create a kiosk, add it to your website, and collect 2% commission on every sale that occurs on it.

The benefits of using digital Bitcoin kiosk include:
Quick and easy deployment
Customizable
No-Risk of chargebacks
Support is provided to developers by Paxful
Customers can use over 300 payment options to buy Bitcoin
Escrow
When you sell Bitcoin through Paxful, the crypto will automatically be held in escrow. This means that you won't be able to cancel the trade, but the buyer will have to fulfil their end of the deal in a set amount of time. If they fail to do so, Paxful will cancel the trade automatically, and the Bitcoin will go back to your wallet. So, this takes the burden off of your shoulders and protects buyers and sellers alike.
Peer Program
Paxful offers a "Peer Program," in which users can level up and gain access to exclusive benefits. The three levels are Peer, Ambassador, and Associate.
Peer (Level 1): In order to maintain this status, you must refer 7 new customers to Paxful, moderate an online group on the website, and generate one social media post per week, using the hashtag #PaxfulPeer. Benefits of being a Paxful Peer include getting direct VIP support from Paxful moderators, receive invitations to events that Paxful hosts in your region, earning $5 for every referral that you bring to the program (after they have finished their 1st trade), and getting a commission each time that one of your referrals purchases Bitcoin on the platform. What's more, you can earn Paxful-branded swag and earn a badge to show off on your profile.
Ambassador (Level 2): In order to make it to level 2, you have to create 1 Paxful-themed social media campaign each month, provide weekly reviews about Paxful features, be a group moderator, generate 5 Paxful-based social media posts on a weekly basis, and organize a meetup for Paxful customers. As far as rewards go, you earn everything that Peers get, plus more. For instance, for each meetup that you organize, you will earn $500. You will also get more bonuses for creating excellent social media posts.
Associate (Level 3): This is the most difficult level to obtain, but you will earn the best rewards. To make it to the Associate level, you must create 1 Paxful-based Youtube video on a monthly basis (and they need to receive at least 100 views each), refer one user to the Peer Program per month, train new and existing Peers, and help defend Paxful against hackers. In return, Associates receive $150 worth of BTC each month, the chance to receive a full-time job with Paxful, an opportunity to visit a Paxful office, and also all of the benefits from the Peer and Ambassador levels.
Paxful is one of the only Bitcoin exchange platforms that have such a thorough map to success for loyal customers. Plus, they reward you for creating content, rather than just how much money you spend. This makes the rewards accessible to far more people.
Paxful Fees
Paxful doesn't charge fees to buyers, but sellers themselves can choose to set a fee. They might apply different fees to various payment methods. Furthermore, sellers will pay a 1% fee of their sale price to Paxful. Lastly, when sending Bitcoin, the sender will have to pay standard network fees. These charges don't go to Paxful but are instead paid to Bitcoin miners.
For clarity, take a look at the Bitcoin Exchange fee table:
Type of Payment
Selling Bitcoin
Buying Bitcoin
Bank Transfers
0.5%
no fee
Credit/Debit Cards
1%
no fee
Digital Currencies
1%
no fee
Online Wallets
1%
no fee
Cash
1%
no fee
Goods & Services
1%
no fee
Gift Cards

3% for most gift cards

5% for iTunes and Google Play gift cards

no fee
If you are using Paxful to send Bitcoin, rather than exchanging it, you will get your first 5 send-outs free per month. After that, there will be a minor fee separated into three tiers associated with the miners' costs.
| | |
| --- | --- |
| Amount Sent | Fee |
| Up to $9.99 | 0.0001 BTC |
| $9.99 to $19.99 | 0.0002 BTC |
| Above $20 | 0.0005 BTC |
There will also be a 1% fee or $1 fee (whichever fee is greater) applied to each transaction on the seller's end. These will only be applied to send-outs after the first five free ones. If you don't have at least $1.00 worth of Bitcoin in your account, you won't be able to send funds.
Paxful Limits
Paxful levies limits on your account based on your level of verification. There are currently four different levels of verification available.
| | | | | | |
| --- | --- | --- | --- | --- | --- |
| Level Number | Requirements | Limit Per Trade | Trade Lifetime Limit | Sending from Wallet Lifetime Limit | Receive to Wallet Lifetime Limit |
| Level 0 | None | $0 | $0 | $0 | Unlimited |
| Level 1 | Phone and email verification | $1,500 | $1,500 | $1,500 | Unlimited |
| Level 2 | Previous requirements + ID verification | $10,000 | $10,000 | $10,000 | Unlimited |
| Level 3 | Previous requirements + address verification | $50,000 | No limit | No limit | Unlimited |
| Level 4 | Previous requirements + enhanced due diligence on Paxful's end | $50,000+ | No limit | No limit | Unlimited |
Supported Countries
Paxful is available internationally, with the exception of a few countries. There are also "grey" countries, meaning that citizens of these countries must verify their identity before they can use Paxful to sell or send Bitcoin.
Non-Supported Countries
"Grey" Countries

Burundi
Central African Republic Sanctions
Cuba
Crimea region
Iran
Iraq
Lebanon
Libya
North Korea
Somalia
South Sudan-related Sanctions
Sudan and Darfur
Syria
Yemen

Albania
Belarus
Bosnia and Herzegovina
Bulgaria
Democratic Republic of Congo
Republic of Congo
Croatia (Hrvatska)
Kosovo
Macedonia
Montenegro
Romania
Russia
Serbia
Slovenia
Venezuela
Zimbabwe
Paxful Safety
What does Paxful do to keep its users safe? Well, as mentioned earlier, Paxful holds Bitcoin and other cryptos in escrow to protect both buyers and sellers. As far as the safety of the website itself, it is protected by up-to-date SSL encryption to protect your personal data.
There are several ways that you can ensure your safety even further when using Paxful to exchange Bitcoin. First of all, you can see which sellers that Paxful recommends and check out their reputation. Furthermore, do not communicate with any seller outside of Paxful – otherwise, you won't be protected. Finally, don't release your crypto from escrow until you have received payment from the buyer.
Paxful has published some helpful tips of their own on their customer support page. Let's go through some of them.
Cash payments: When accepting cash, make sure that the buyer has deposited the cash in your name. Be sure to ask them for the receipt. Furthermore, do your utmost to verify the identity of the person you are trading with; you should not do cash dealings with a third party.
E-wallets: Make sure that the buyer has a verified account on their e-wallet platform. Again, make sure that you are not dealing with a third party. One way to cover your back is to ask the buyer to physically write the bitcoin purchase amount and the trade ID on a piece of paper. They can send you a picture of the written contract, which you can use as evidence against a chargeback. Furthermore, you can ask for evidence that they actually have the necessary funds in their e-wallet.
Credit and Debit Cards: For these, you will generally follow the same precautions as an e-wallet. However, you won't be able to verify their account the same way that you can with an e-wallet. This is why we recommend using methods such as NETELLER, Skrill, and ecoPayz when accepting payments through Paxful.
When you sign up for any of these services through us, we can get you exclusive benefits in addition to the added security inherent to e-wallets. For instance, you can enjoy  free prepaid card for all services and easier access to VIP levels. We'll get you the best conditions!
Gift Cards: Before accepting a gift card payment, ask for the buyer to provide you with a receipt – this should show that they paid for it with cash. Furthermore, be wary that you aren't dealing with a card reseller.
FAQ
Why should I use Bitcoin?
Bitcoin (and other forms of cryptocurrency) are decentralized, meaning that they aren't controlled by a central government authority or bank. You own the money. What's more, it isn't subject to inflation. Since there is only a set number of Bitcoin that will ever be in existence, the market won't become oversaturated with them. You can also try your hand at trading types of fiat and cryptocurrencies to turn a profit.
Bitcoin and other cryptos make it easy to pay for services privately, such as online gambling. With Paxful, it makes it easy to keep crypto on hand for your online purchasing and trading needs.
What tips can you give me for buying Bitcoin?
When it comes to buying Bitcoin, there are several key factors that you should keep in mind. We'd be happy to give you some insight. First of all, you should consider Paxful's minimum trade amount, which is currently 10 USD for buyers and 0.001 BTC for sellers.
You should also take a look at the reputation and activity level of various sellers. If you see that a user has a reputation that looks like "+1000/-5," this means that they have had 1000 instances of good feedback and 5 instances of negative feedback. You will want to look at the percentage as a whole – the best users will have 98% positive feedback or higher. You can also see if the seller has had their ID verified, as well as when they were last on the platform. Just click on the seller's profile to view all of this info.
Our next term is to read the terms of offers thoroughly before you engage in a trade. Some sellers require verification photos, receipts, or other documents to safeguard their sale. If you feel like you won't be able to fulfill their requirements, you can find another seller who meets your needs.
You should also keep a careful eye on the current price of Bitcoin, as it is constantly fluctuating – and the figure can change from seller to seller. Check how much you can get per dollar. The higher the figure is, the more profit you'll get.
Our last tip is to always be polite to your seller. If there is ever a dispute, your language will be taken into account. So, make sure not to let emotions get the best of you, even if you are in a frustrating situation.
Is exchanging Bitcoin an instant process?
Exchanging Bitcoin will not always be instantaneous. The speed of the trade is dependent on multiple factors, such as the seller's availability, the terms of the offer, and the payment method used. To speed up the process, you can live chat with the seller/buyer directly and choose offers from sellers who are currently online.
How can I keep my account safe?
If you want to ensure that nobody accesses your Paxful account without permission, you can do so by setting up 2-factor authentication. You can set up your account so that you receive an SMS message when the account is accessed by an unrecognized device.
You can also set security questions for your Paxful account to help restore access if you lose it. Access your account settings, navigate to the menu on the left, and click on the "Set Security Questions" button. You can choose three questions and type out your answers.
Can I send Bitcoin from my Paxful wallet to another one of my wallets?
Yes, you can do this! All major e-wallet types are accepted, so long as the Bitcoin addresses are in P2PKH or P2SH addresses (these addresses begin with the numbers 1 and 3, respectively). So, just enter your e-wallets Bitcoin address on the Paxful platform to send over your BTC.
Summary
As you can see, Paxful provides its users with a safe and convenient way to make Bitcoin exchanges under terms that are advantageous to them. The sheer number of payment options alone sets this Bitcoin exchange platform apart from the rest. If you're going to buy Bitcoin via Paxful, we recommend using NETELLER, Skrill, or ecoPayz to do so. By signing up through us, you can get the best possible conditions. Whether you want priority verification or favorable VIP terms, we have you covered.
To sum up, Paxful is a legitimate and intuitive way to buy, sell, send, and receive Bitcoin. We hope that our review has made it easy for you to determine if Paxful is the right Bitcoin exchange solution for you.