Paxful introduces mandatory verification in the UK, stops providing services in Venezuela, and joins forces with REDOT. Meanwhile, Skrill and NETELLER are both announcing changes to their VIP programs and refusing to top up accounts with cryptocurrencies.
Paxful user identity Verification is now mandatory for UK users
October 2020 will mark a change in Paxful's user policies, at least as far as British citizens and residents are concerned. These modifications will mainly target the platform's "Know Your Customer" scheme for identity verification, coming in the form of stricter requirements for users. Such added measures of verification are primarily set up to better protect the personal data and private activity of account holders. User identity verification aims to make the platform more secure as to allow people to make transactions more confidently and with higher levels of protection.
If you are hoping to continue using the Paxful payment system, you will now be required to complete the verification process by the end of October. Accounts which fail to do so will have tight restrictions applied onto their accounts which will limit access to the platform's features. Most notably, you will be prevented from making transactions as the option will be removed.
How do I pass verification in Paxful?
Log into your account;
Click on your nickname in the upper right corner;
In the pop-up list, select "Verify Me";
Upload a photo of your document and take a selfie in accordance to the instructions listed on the screen;
Paxful security service will check the documents and confirm your verification within a brief space of time.
Paxful is about to "leave" Venezuela
On the 14th of September 2020, Paxful posted an unexpected notice on its official website announcing the company's "departure" from Venezuela. The details of the post pointed to Paxful's failure to meet the country's local legislation on some of their activities as the reason for this leave.
It was therefore announced that, starting from the 16th of September, Venezuela based users would have to withdraw their funds and empty out their Paxful accounts – all within 30 days. The platform granted free withdrawals of funds by lifting any of the commissions and charges which usually apply. Venezuelan users exempt from this measure are those living outside of Venezuela and who are able to provide confirmation of their current address.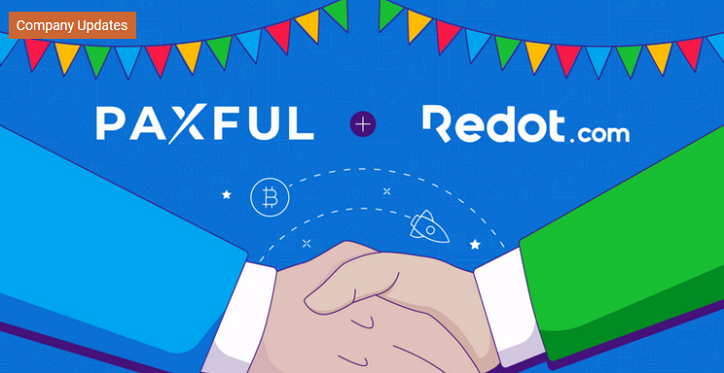 Paxful and REDOT announce new partnership
September truly was a busy month for Paxful which ended with a partnership announcement with REDOT. The company agreed on a fast integration of their services with the Estonian digital asset exchange platform, REDOT. The latter is fully licensed by the European Union, currently serving both the European and global cryptocurrency markets.
Such joining of forces will give REDOT users access to more than 300 different cryptocurrency payment methods via Paxful. On the other hand, Paxful account holders will now benefit from instantaneous transactions and a customizable interface, as well as profit from REDOT's more advanced software features. This partnership therefore seems to announce a good future for both companies as they come one step closer to globalising the cryptocurrency market.
Since the partnership was announced, new features have already begun to roll out on both the Paxful and REDOT platforms for their respective users to make use of.
Skrill and NETELLER scrap cryptocurrency replenishments
It is already since the 15th of September that neither Skrill nor NETELLER users have been able to top up their accounts with cryptocurrencies via the usual Bitpay exchange channel. Both payment systems' exclusion of cryptocurrencies is thought to be associated with yet another toughening of requirements set out by the regulatory authorities concerned. One should note that these restrictions do not apply to residents of the European Economic Area.
Unfortunately, speculating on the temporary nature of these restrictions seems vain – the return of cryptocurrency trading is unlikely. Whilst residents of EEA countries are still able to use cryptocurrencies, these transactions now come with significant constraints. From an imposed $1,000 daily limit and a ban on the exchange of funds between Bitpay and other users, to the unavailability of the Skrill Quick Checkout feature for certain users – measures on cryptocurrencies are tightening everywhere.
New VIP statuses in NETELLER
September also announced changes in NETELLER's loyalty program. Where statuses were until then provided for an entire year, they are now limited to a calendar quarter. Furthermore, the Platinum status level was cancelled and replaced by the new "Exclusive" status, along with changes to the requirements for other levels. NETELLER has made it much easier for their users to achieve higher status levels. This VIP scheme update will officially launch on the 16th of November 2020.
Goodbye Bronze, Hello Skrill VIP upgrade
Following up on NETELLER's footsteps, Skrill has itself announced changes to its VIP status levels. These revisions are most notable for their removal of the basic Bronze status which will instead be replaced by two brand new levels:
Skriller. This status is acquired immediately upon registering your Skrill account.
Skriller Verified. A level up from the Skriller, but still a basic status. Here you are not only required to register onto the Skrill platform, but also top up your account at least once, install the mobile app, and complete all the necessary verification steps.
Once successfully achieved, the Skriller Verified status will allow you to carry out internal transfers without a commission. Otherwise, the commission for such transactions is set at 2.99% for the Skriller status.
Look out for these changes to take effect on November 3, 2020.