Skrill and TransferWise are both excellent services used to make online purchases, store funds, and send and receive payments. The question is, though, which one is best for you? We'll compare every facet of both Skrill and TransferWise – read on for information to help you make the best decision on which service to sign up for.
Comparison of Skrill & TransferWise Cards
TransferWise

Skrill

Card Type
debit
physical
debit
physical
(+contactless)
Virtual Card
n/a
yes
Currency
any currency available in your account
only EUR
Card Provider
MasterCard
MasterCard
Countries
US, New Zealand, Australia, Singapore, and countries in the EEA
EEA countries only
Card Loading: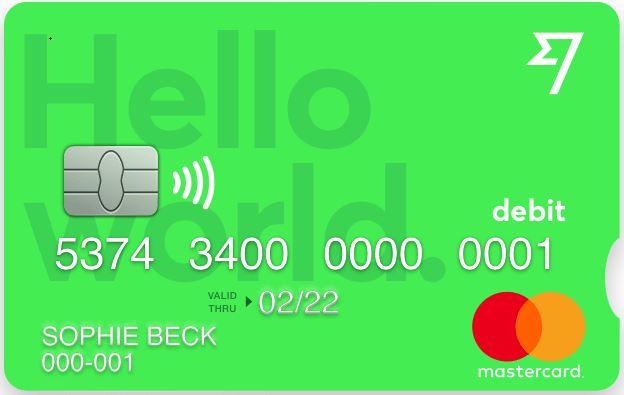 The TransferWise Card doesn't have a balance that's separated from a user's account. When you top up your borderless Transferwise account through the Transferwise login, it will load the funds onto the connected cards.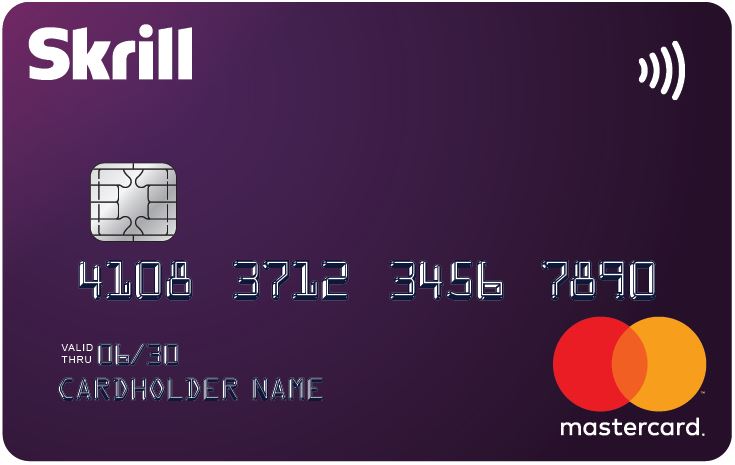 The Skrill Card can be deposited by adding funds to your corresponding Skrill Digital Wallet, since both of them have a direct connection.
Card Security:
TransferWise cards have a 3D secure payment protocol, meaning that some online purchases are followed up with a confirmation SMS or a call. The Skrill card also has this security feature enabled.
Comparison of Fees and Limits
Before diving into the fees and limits, we wanted to note that US and UK Skrill users have different fees associated with their accounts. However, for the purposes of this comparison, we will list fees that UK users must pay for Skrill.
TransferWise

Skrill

Deposit fees
0,2%
1-2,5% (depending on the country of residence)
Withdrawal of funds
Free
5,5 EUR (bank transfer)
7,5% (VISA)
4,99% (MasterCard)
Transfers between accounts
Free
4,49%*
Currency Conversion
0,35-3% (depending on the currencies)
1,99-3,99% (depending on VIP level)
ATM Withdrawal Fees

Free**

1,75% (more than 200 GBP)

1,75% (free – from VIP Silver level and above)
ATM Withdrawal Limits
1 000 GBP (per transfer)
1 500 GBP (per day)
4 000 GBP (per month)
900 – 5 000 EUR per day (depending on user's VIP level)
* In order to reduce fee on p2p transfers to 1.45%, you need to top up your account by Bank transfer or VISA/MasterCard.
** Note, that there are no TransferWise fees associated with withdrawals if you withdraw no more than 200 GBP per month.
Other things to note: With TransferWise, your transfer limits are dependent on which currency you are sending, what currency it is being exchanged for, and the method in which you pay.
Dynamics of the popularity of TransferWise vs Skrill on the Internet for 7 years
For the period from October 2013 up until November 2020.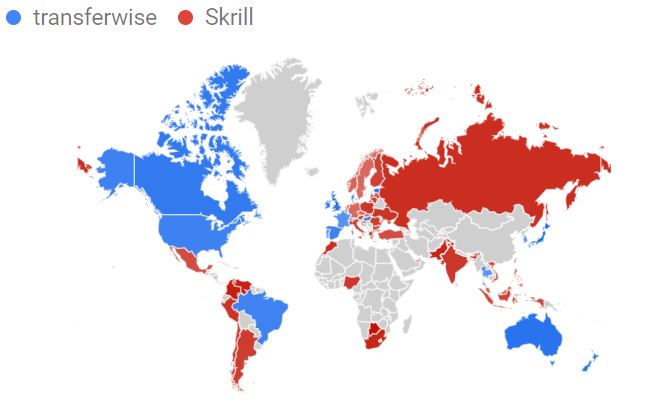 Comparison of Features
TransferWise

Skrill

Deposit Methods

 – bank transfer

– transfer from another TransferWise account

– credit/debit cards

– bank transfer

– PaysafeCard

– Neteller

– Bitcoin

– other local services

Withdrawal Methods
– bank account

– bank account

– VISA/MasterCard

– crypto wallet

Verification

– up to 2 business days

– ID + selfie with a document + proof of address (sometimes)

– about 2-3 business days (up to 24 hours if registering via Baxity link)

– ID/passport + proof of address + selfie via a web camera online

Services

– convert fiat money into crypto

– international money transfers

– set up transfers with locked amounts

– use Google Pay and Apple Pay

– mass payout capabilities for businesses

– international money transfers

– payments online

– knect loyalty program

– cryptocurrency exchange

– VIP program

Currencies
– keeping funds in the account + currency conversion: 50+
– topping up of the account: 19
40+
Customer Service
– e-mail support
– mobile phone support
– e-mail support
– mobile phone support
Mobile App
– yes (iOS and Android)
– yes (iOS and Android)
Security
– regulated under the FCA
– uses KYC procedures
– 2FA is available
– regulated under the Central Bank of Ireland (previously – FCA)
– SCA
– 2-step authentication is available
Supported Countries
50+
110+
Services: Skrill has more services than TransferWise – for instance, users can convert fiat monies into various kinds of cryptocurrency. There is also a Skrill loyalty program, Knect, in which users can amass points and trade them in for cash rewards and other prizes.
Customer Service: Both TransferWise and Skrill have a dedicated customer support team, but TransferWise customer service is generally known for having higher-quality assistance. Neither Skrill nor TransferWise doesn't have online-chats on their web-sites for immediate solving of customers' issues.
FAQ
Can I send money from Skrill to TransferWise and vice versa?
No, Skrill and TransferWise accounts are not compatible. Thus, you can't send money from TransferWise to Skrill or the other way around.
Is TransferWise safe? What about Skrill?
Yes, both services are safe. For a full breakdown, check out TransferWise's justification of their safety, as well as our review of Skrill's security.
What other services can I use?
If you are still looking for an online financial provider, perhaps consider Revolut. Read our Revolut vs. TransferWise review.