If you have heard of Wirex but don't know what exactly it is, let us shed some light on the subject. Wirex is an e-wallet app that allows you to merge cryptocurrency (i.e., Bitcoin) and fiat in one account. Wirex also allows you to complete international payments and P2P (peer-to-peer) money transfers. You can access Wirex's services via its app or through its browser interface.
Wirex's number 1 draw is the combination of fiat and cryptocurrency/Bitcoin capabilities. Wirex's founders believe that its customers shouldn't have to make the choice about which type of currency they want to make transactions with and hold in an e-wallet. The integration of both cryptocurrency and fiat is the future of the financial realm.
Wirex's headquarters are located in the UK, but the company also has some offices in Japan and Kyiv. The company does not have any official holidays, nor is there closing time. This means that you can make transfers at any time that is most convenient for you.
Wirex is currently supported by 130 countries; the US is not one of these, but the company plans to expand its app and Bitcoins services to more countries in the near future.
If we have piqued your interest, continue reading. In this review, we will look at many aspects of the Wirex app and its other services in great detail.
Wirex's Pros and Cons
Pros
Bitcoin Cashback Program: Wirex has been rising in popularity lately, due to its main draw – the fact that it is the only card provider that utilizes a Bitcoin Reward Program. Depending on how much of Wirex's native currency (WXT) that you buy, you can earn the following Bitcoin cashback:
| | |
| --- | --- |
| Amount of WXT | Cashback Percentage |
| 0-49,999 | 0.5% |
| 50,000-99,999 | 0.75% |
| 100,000-499,999 | 1% |
| 500,000+ | 1.5% |
Reasonable Limits & Low Fees: Wirex does its utmost to provide customers with minimal limits and affordable fees. We will look into these later into this guide.
Visa Card: Wirex's contactless Visa card makes transactions convenient and is accepted pretty much everywhere.
Cons
App Design: While the Wirex app is certainly functional, it is not as user-friendly as some competing apps.
Lack of Customer Support: There is no phone number or Live Chat function that you can use to contact Wirex.
Registration and Verification Process
To register for a Wirex account via the Wirex website, follow these steps:
From the registration page, fill out the initial form. You shall need to choose which country you reside in, input your email address, generate a secure password, and then click on the Continue button.
After you complete that page, go ahead and check your email inbox. You should have received a confirmation email from Wirex, so click on the email and follow the verification link.
When you click the link, you will be brought back to the Wirex webpage and directed to fill out some personal information, such as your phone number and your home address.You will need to verify your phone number: after entering your phone number, you will receive 7-digit code on your mobile device and then you need to enter this code on webpage. After this, you will have to scan a QR code with your mobile device.
After submitting personal information, Wirex will redirect you to a screen in which you should upload required documents to verify your address and identity. The verification process should be only a couple of minutes long.
After verification, you will need to create a memorable word (more on that later).
After completing all of those steps, you are now registered and verified, so you are ready to start using Wirex.
What if you want to register for an account on the Wirex mobile app instead? Well, in that case, follow these instructions:
The first thing that you need to do is download and install the Wirex app on your mobile device. Be sure to read the reviews to make sure you are downloading the legitimate app.
Once the app has finished installing to your phone, open it up and tap on the Register button.
On the next screen, input your country and account login credentials (email and password).
Check your inbox for a verification link and tap on it.
Go back to the Wirex app and then tap on the Continue button.
Next, you will need to confirm your home address and then add in personal details, such as your date of birth, full legal name, and your nationality. Then, Wirex will need to verify your phone number. Input your number and country code, and then tap on the Send button.
Check your text messages for a 7-digit code. This part of the process could be 10 minutes in length, but it is usually faster. If you don't see it in your inbox after 10 minutes, you can tap on the Resend button. After this point, you will submit the verification documents that were explained earlier.
And this is how you can register for an account on the Wirex app. Please keep in mind, though, that you will still need to use the Wirex website in order to upload verification documents. To make this process easier, you can use your mobile device's camera to scan the documents.
Fees and Limits
As mentioned before, Wirex tries to keep its fees low and its limits high, in order to provide the ultimate convenience and satisfying customer experience. Please view the tables below a comprehensive review of Wirex's fees and limits.
Fees
Feature
EEA
All other regions
Wirex Visa Card Charges
Account fee
No fee
No fee
Multi-signature crypto accounts
No fee
No fee
Multi-signature fiat accounts
No fee
No fee
Card account maintenance fee
£1.00 / €1.20 / $1.50 monthly
N/A
Card issuance
No fee
N/A
Card delivery
No fee
N/A
Top-up charges
Crypto top-up by external card
1%
1%
Bank transfer IN/OUT: SEPA
No fee
No fee
Bank transfer IN/OUT: FASTER PAYMENTS
No fee
N/A
Bank transfer In SWIFT
No Fee
No Fee
Bank Transfer Out SWIFT
£12 / €13 / $15
$15
Transaction Charges
Crypto exchange services
Over-the-Counter rates + commission
Over-the-Counter rates + commission
Fiat exchange services
Interbank rates + commission
Interbank rates + commission
Internal transfer (between Wirex users)
No fee
No fee
External transfer (crypto)
Blockchain fees (speeds up crypto transactions; not a Wirex fee)
Blockchain fees
ATM charges (FX fee applies for withdrawals abroad)

EEA Countries (this includes the UK) £1.75 / €2.25 / $2.50

International: £2.25 / €2.75 / $3.50

N/A
Limits
Feature
EEA
All Other Regions
Fiat exchange
UNLIMITED
UNLIMITED
Crypto exchange
This depends on which currency the conversion is being performed from. You can review the various limits of Bitcoin, Litecoin, Ripple, and more here: https://Wirexapp.com/help/article/Wirex-cryptocurrency-account-limits-0072
Crypto transfer OUT

Stand-alone transaction: $10k

Daily: $50k

Stand-alone transaction: $10k

Daily: $50k

Credit / Debit card top-up
Daily: $5k
N/A
Card spend limit per transaction
£7.5k/€8k/$10k
N/A
Transferring funds between current account and Wirex card
No Limit
N/A
Maximum account balance
No Limits
No Limits
Maximum card balance
£15k / €16k / $20k
N/A
Spend from card
Daily: £7.5k / €8k / $10k
N/A
ATM withdrawals
Daily: The equivalent of $250
N/A
Outgoing Bank Transfer Limits
Minimum Transaction Amount
Daily limit
Maximum Transaction Amount (EEA)
Maximum Transaction Amount (Other Regions)
Faster Payment
£10
£3000
N/A
£3000
SEPA*
$10
N/A
N/A
$50,000
SWIFT
$10
N/A
N/A
$50,000
Wirex Money Transfers
To transfer fiat within Wirex, you must follow these steps:
The first thing you will need to do is access your Wirex account.
Once you log in, you will see your Wirex account's Dashboard. Here, you will make a selection regarding the account that you want to transfer money from.
Your Wirex app dashboard will look like this: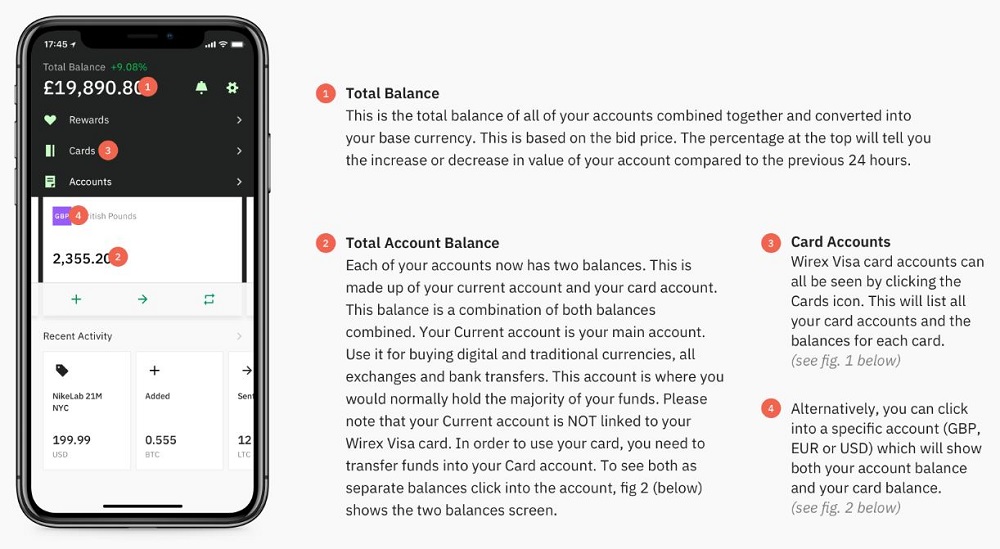 See that Accounts tab? Select the arrow at the end of the tab and click on "Send".
The next screen will let you pick who you would like to send money to. You can choose to send fiat to yourself, to a business, or to another person. Press whichever you desire, and then you will need to enter the details that are necessary for the transfer.
You will need to input the exact amount of money that you would like to transfer. Then, press the Confirm Button.
This will bring you to a transfer details page. At this part of the process, you can add a comment to accompany the transaction. Click on Send.
Access your verification email and confirm that you would like to complete the transaction.
Now that you have followed all of these steps, the transaction is processing. Once the recipient gets their funds, the transaction will show as "Complete" on your transaction history page.
Now, if you want to send cryptocurrency, such as Bitcoin, via Wirex and its app, you will have to follow a slightly different process. The steps are:
Open up your Wirex app and press the account section, selecting the account that you need to transfer crypto from.
Press the Send button.
Input the amount of cryptocurrency that you would like to send.
Input the cryptocurrency address of your desired recipient.
Review the details and press Confirm.
Open your verification email and follow the link to finalize the transaction. Keep in mind that if you've previously sent crypto to this account, you won't have to confirm it. The transfer will be sent instantaneously.
Wirex Visa Card
The Wirex Visa card features a sleek design with chip technology and contactless capabilities. Here is what the newly redesigned card looks like: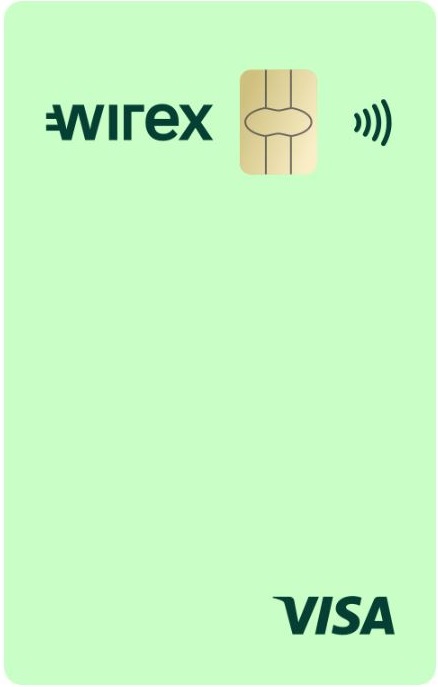 Amazingly, Wirex allows its customers to have 3 cards, each of which can be assigned to one fiat currency. Keep in mind, you can only order the card via the website (or the Wirex app) if your account has been verified. Another important detail: depending on the region in which you reside, you may have to possess a minimum fund threshold within your account. Without meeting this threshold, you can't order a card. Be sure to check your app to see how much you need.
Ordering a Wirex Card
Here is how to order a Wirex Visa card via the Wirex website:
Access your account's Dashboard; press the "Order Cards" link.
You will be prompted to select the kind of currency that you would like your Wirex Visa card to be compatible with.
Click on the "Get the Card" button.
You will now be asked to review your account details. If your shipping address or billing address has changed, be sure to update them.
Click on the "Place Order" button. The process is now complete!
If you want to order the Wirex card via your Wirex app, here are the steps you need to follow:
First, open up the Wirex app and tap on the "Choose a Card" section of the dashboard. You will need to swipe through the options that pop up in order to get to the "Add New" button.
After pressing on "Add New", choose which currency you would like your card to be in, and then tap on the "Next" button.
The Wirex app will bring up the Card Order screen. Be sure to review your delivery address.
Press on the "Order Card" button. Once the order has been confirmed, a confirmation notice will pop up, and then the process is complete.
Regardless of which method you use to order your Wirex Visa card, shipping should take approximately 4 days. Once your Wirex card arrives in the mail, you need to activate it in order to use it.
What if you can't order a Wirex card? There are a few reasons why you could run into this problem. If one of your existing Wirex cards is currently in the negative, you won't be able to order a new one. You'll have to top it up with new funds first.
Another reason why you might not be able to order a new Wirex card is if you have another card that has been activated but never used.
As mentioned before, if you don't have enough money in your account, depending on your region, you will not be able to order a Wirex Visa card.
And, finally, if you've ordered a card in the past but never activated it, this factor would also prevent you from having the ability to get a new Wirex card.
Activating a Wirex Card
If you want to use the Wirex website or the Wirex app to activate a Wirex card, the process is pretty much the same. Here is what you must do:
Access the website or app's dashboard and select the card that you would like to activate
Input the card's final four digits, in addition to its set expiration date.
Next, you will need to enter the CVV code found on the back of the card, plus set a PIN Number.
Finally, click (or tap) on "Activate Card".
This process works for both the Wirex website and the app, but there is an even easier way to activate your new Wirex card via the Wirex app. When you select your card that you would like to activate from your app's dashboard, you can actually scan your card's details via your device's camera.
Please keep in mind, regardless of the method of activation that you choose, a Wirex card activation could take 5 minutes.
Topping Up Your Card
In order to top up your Wirex Card via the website or the app, this is the process to follow:
Access your account and navigate to the Dashboard.
Choose the card that you would like to add funds to.
When the card window pops up, click or tap on the button that says "Add Funds to Card."
Next, add the exact amount that you would like to put on your card. You can also click the maximum amount button to add all of your Wirex's available money in that currency to your card, so long as it doesn't exceed your card's balance limit.
Finally, once you review all of the details, click or tap on the Add Funds button.
Wirex App
Here are the following account actions that you can make using the Wirex account:
Add funds to your crypto account, personal cards, or Wirex Card
Convert currencies
Send money internationally
Access your unique cryptocurrency address
Activate a Wirex Card
Block a card if you believe that somebody has hacked into its details, or if it was stolen. Make sure that you first transfer any crypto funds from the Wirex card into your crypto account, because this is not an automatic process.
You can also unblock a Wirex card at any time
View relevant card details, such as PIN number
Access account settings
Where Wirex Is Available
Wirex is presently available in over 130 countries, but more are coming soon. You can see the entire list of currently supported countries here:
Wirex Cryptocurrency Wallets
Wirex is a convenient service because it lets you manage cryptocurrency (such as Bitcoin) in addition to fiat currency. Plus, there is its awesome Bitcoin cashback program.
Receiving Bitcoin and Other Cryptocurrency
In order to receive crypto like Bitcoin from other people, you need to give them your crypto address. You can find it in the Add Funds section of your Wirex account. You will also receive a handy QR code.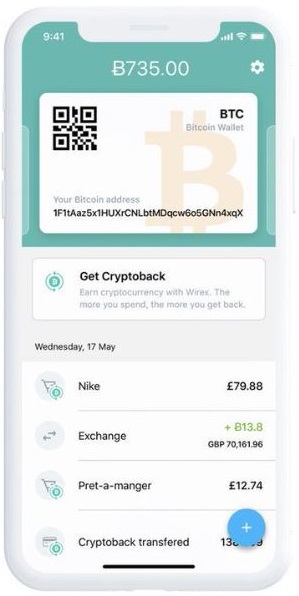 Sending Bitcoin and Other Cryptocurrency
If you want to send crypto like Bitcoin from your Wirex account to an external crypto account, you must follow these steps:
First, access your Wirex account, and press the "Crypto Account" button on the dashboard.
A list of available actions will pop up; click the one that says "Send."
Next, input the exact amount that you would like to transfer. You will need to enter your desired recipient's wallet address during this part of the process. You can also attach a note to the transaction.
Review all of the details, and then press "Confirm."
Find the email that Wirex sent you to confirm the transaction. The email will be invalid after 1 hour, so be sure to do this step in a timely manner. However, if you have previously transferred cryptocurrency to this particular account previously, you won't have to confirm the transaction via the email verification link.
Exchanging Bitcoin and Other Cryptocurrency
If you want to purchase and sell crypto or convert fiat to crypto (and vice versa), you can do so easily with Wirex. Bitcoin exchange is quite simple!
Access your Wirex account and press on the account that the exchange of Bitcoin (or another crypto) will involve.
Press the "Exchange" button on the left side of the website (or, if you are on a mobile device, tap on the "Exchange" icon that is found on the Dashboard).
In the "Exchange From" section of the next page, input the source account. In the "To" section, you will enter the target account type.
Enter the exact amount of currency that you would like to exchange, and then press the "Exchange" button.
Review the details of this transaction before clicking the "Confirm" button. Congratulations, your Bitcoin (or other cryptos) exchange is now complete!
Wirex Security
Wirex takes many steps to protect your account. Some of its methods include:
Two-Factor Authentication: Not only will you have to input a password to access your Wirex account, but you will also have to enter a special code that is created via a third-party authentication app. This is an optional security measure, which can be enabled via the Wirex website or app's account settings. If you are making a huge transaction, you might be asked to provide 2-factor authorization, regardless of whether you have it activated in your account settings.
Memorable Word: This feature is currently available in Europe. When you create an account, you will need to create a word that is at least 6 characters long. You won't be able to use any numbers or special characters. If you need to reset your password or access the Wirex app via a new device, you will be asked to enter random letters of your memorable word. For instance, you might need to put in the 2nd, the 6th, and then the 1st
Account Freezes: If Wirex has reason to believe that somebody is using your account in a fraudulent manner, they will freeze your account and then get in contact with you. You also have the option to freeze and unfreeze your card from within the Wirex app.
SSL: Wirex protects your account data with 256-bit SSL encryption.
Our Wirex Review Conclusion
Whether you want to exchange, send, or receive fiat currency or Bitcoin, Wirex is an excellent solution for your mobile banking needs. Its high limits, low fees, top-notch security measures, and Bitcoin rewards program are all elements that make Wirex a great service.