Trastra – A Convenient Way to Exchange Cryptocurrency
Trastra is a fast and reliable cryptocurrency wallet, founded in London in 2017.  It allows its users to easily exchange cryptocurrency to euro and vice versa. Trastra customers don't need to have a bank account in order to use their cryptocurrency services.

The types of cryptocurrency available on Trastra are:
You can access Trastra's functions on both a web browser and its mobile application. Plus, you can order a Trastra Visa payment card – which is perfect for customers who want to get paid in cryptocurrency, cash it out in EUR, and at the same time remain anonymous.
Features of Trastra
Let's take a look at what you can do with Trastra:
Payment Card
You can link your Trastra Visa debit card to a multi-crypto wallet, and pay for goods in EUR. There's no need to visit a bank; the card is delivered directly to your home. Use the card to withdraw money at ATMs, manage your funds while out and about, and spend currency anywhere. Use the Trastra banking app to receive push notifications, load your card instantly, and disable the card if you ever lose it.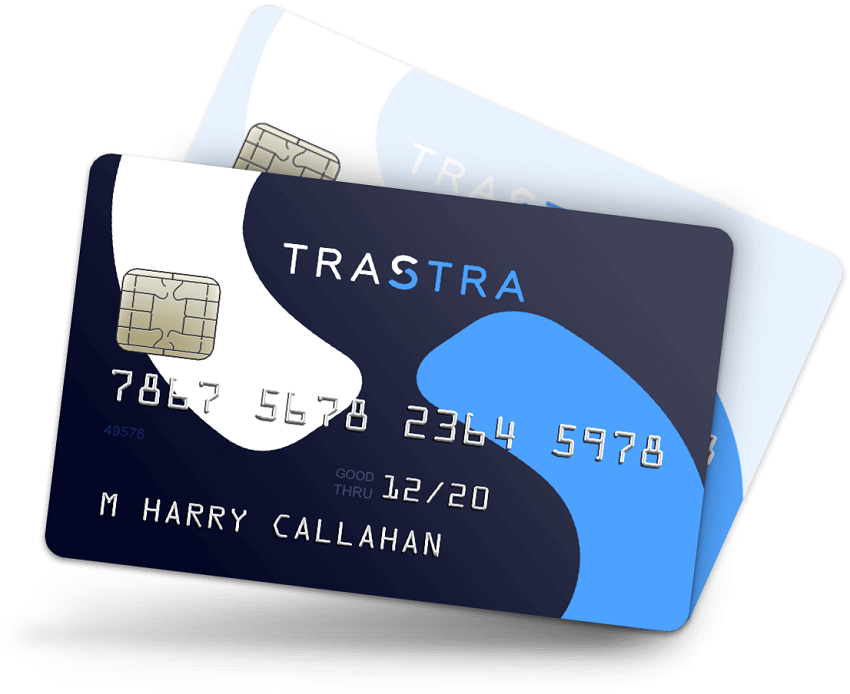 The Trastra crypto card is also compatible with contactless payments – you can use your smart watch or your smartphone to complete cryptocurrency payments. Alternatively, you can complete one-touch payments with the card by using its integrated PayPass technology.
Each transaction made with the Trastra crypto card is reviewed and approved via the Verified by Visa check. When making online transactions, it must pass VISA 3D security protocol. And, lastly, all Trastra cryptocurrency cards use chip technology for an additional layer of security.
Limits of Trastra Cryptocurrency Card
After a review of the card's limits, we found that you can spend up to 8,000 EUR per day. This was recently increased per request from customers. You can also have a maximum balance of 8,000 EUR. Card users may withdraw up to 300 EUR on an ATM per day.
Trastra Cryptocurrency Card Fees
There is no card load fee, as well as no euro offline or online purchase fees. For non-euro purchases, card users will need to pay a fee of 3% of the transaction's value. For card-to-card internal transfers, there's a 0.20 EUR fee. ATM balance inquiries are 0.35 EUR each, and ATM PIN changes are 0.40 EUR. For each ATM withdrawal, Trastra charges a 2.25 EUR fee.  For an ATM foreign exchange withdrawal, there is an additional 3% added to the 2.25 EUR. And, lastly, there is a monthly management fee of 1.25 EUR. The first charge will occur after the first time you've loaded the card.
Fees

Card order
9.00 EUR*
Card load
Free
Euro offline purchase
Free
Euro online purchase
Free
Non-еuro purchase
3% of the transaction's value
Card-to-card internal transfers
0.20 EUR
ATM Balance Inquiry
0.35 EUR
ATM PIN changes
0.40 EUR
ATM withdrawal (eur)
2.25 EUR
ATM Transaction with Foreign Exchange
3% +2.25 EUR
Annual card management
15 EUR
* Payment card order will be completely free if you register in Trastra with Baxity and met certain conditions.
Corporate Card Options
If your online business generates cryptocurrency revenue, you can use Trastra's business services for your checkout process and to pay your employees.
Create Crypto Wallets
You can use Trastra to store 5 of the world's most popular cryptocurrencies, in addition to exchanging them for fiat currency. With Trastra's crypto wallets, you can store, send, receive, exchange, and withdraw cryptocurrency – Bitcoin, Bitcoin Cash, Ethereum, Litecoin, and Ripple, to be exact.
Use your crypto wallet's transactional options to control the speed and the costs of your exchanges. You can pick a smaller mining fee and no commission, but it will come at a slower speed. If you want a medium speed, choose a moderate transaction fee. Even the highest transaction speed is available at a reasonable price.
Trastra Mobile App
Download the Trastra mobile app to manage your crypto wallet on the go. It is available for download on the App Store and on Google Play. You can use the app to create multiple crypto wallets, use its integrated QR code scanner in order to send crypto, and choose your mining fee (and subsequent transaction speed).
You can also use the app to make POS (and ePOS) purchases, cash out crypto at an ATM, exchange crypto for fiat currency, and send, store, and receive cryptocurrency.
Lastly, check out the Trastra app to search for transactions easily by using filters. Keep track of all inbound and outbound transactions, and receive push-notifications for account activity.
Trastra App FAQs
How does the QR Code scanner work?
Trastra lets you use QR codes to instantly add funds to your crypto wallets. To do so, follow these steps:
Open your device's camera.
Point the camera at the QR code.
Check the top of the screen for a notification.
Tap on the notification; this will trigger the code's action.
How do you exchange cryptocurrency on the Trastra app?
This is a fairly simple process. The steps are:
Use the main menu's slider to pick the crypto wallet you want to work with.
Tap the dashboard's Exchange icon.
Input the amount of cryptocurrency that you would like to exchange.
Tap on the Exchange button.
Upon confirmation, your new funds will be sent to your Trastra card.
How can you access transaction information?
One great thing about the mobile app is that it lets you quickly and easily track purchases and other account activities. When you log in to your account, you can see your complete history of activity on the final balance page. To see further details about an activity, tap on it, and scroll down.
What security measures are there?
One security measure used in the Trastra crypto app is 2-Factor Authentication. Another one is 3D Secure – this means that you'll need to enter your card's CVC card, expiration date, and your date of birth before completing transactions.
Who Is Trastra For?
While anybody can benefit from Trastra's services, after a review of what it can do, we believe that gamblers, forex traders, freelancers, cryptocurrency miners, and online businesses stand the most to gain from the service's benefits. The anonymity of Trastra makes it ideal for transactions that a normal bank would not allow.
At the moment, account activity is restricted for residents of the following countries:
| | |
| --- | --- |
| Algeria | Nigeria |
| Angola | The Northern Mariana Islands |
| Bangladesh | Rwanda |
| The Central African Republic | Senegal |
| Congo, the Democratic Republic of the Congo | Sierra Leone |
| Cote d'Ivoire | Somalia |
| Cuba | Sudan |
| Eritrea | Swaziland |
| Guinea | The Syrian Arab Republic |
| Guinea-Bissau | Tanzania, the United Republic of Tanzania |
| Haiti | Timor-Leste |
| Korea, Democratic People's Republic | Uganda |
| Libyan Arab Jamahiriya | The United States |
| Malawi | The United States Minor & The Outlying Islands |
| Morocco | Yemen |
| Myanmar | |
Residents of 31 EEA countries are eligible for Trastra card delivery.
| | | |
| --- | --- | --- |
| Austria | Greece | Netherlands |
| Belgium | Hungary | Norway |
| Bulgaria | Iceland | Poland |
| Czech Republic | Ireland | Portugal |
| Croatia | Italy | Romania |
| Cyprus | Latvia | Slovakia |
| Denmark | Liechtenstein | Slovenia |
| Estonia | Lithuania | Spain |
| Finland | Luxembourg | Sweden |
| France | Malta | United Kingdom |
| Germany | | |
Getting Started
Are you ready to start using Trastra? We've done a thorough review of the sign-up procedure so that we can guide you through the process. To create an account, navigate to the Trastra website and click the "Sign Up" button, located on the page's upper-righthand corner. You'll need to input your full name, your email address, choose a password, verify the CAPTCHA check, and then click Sign Up once more. After this, Trastra will send you a verification email.
Click on the verification email and follow the link it contains within 1 hour. At this point, you will be able to enter your Trastra account. If you want to activate crypto wallets, you will need to go through an identity verification process, which is as follows:
Verify your phone number. You'll enter your number, and an activation code will be sent to you via SMS.
Input your full address. Make sure to include your apartment number, if applicable, and your postcode. In some cases, you will need to provide a document proving your place of residence.
Verify your personal information by uploading a photo of your ID, passport, driver's license, or residence permit.
Lastly, upload a selfie for the facial verification check.
After completing all of these steps, Trastra's system will automatically begin to verify what you have provided. This should only take a short time – 15 minutes, in most cases.
How Can We Help?
When you sign up for a Trastra account through Baxity, we can offer you the best terms and conditions – for instance, a rebate on the Trastra Payment Card. The card costs 9 EUR, but we will be able to return that 9 EUR to your account. Baxity will compensate 9 EUR for ordering Trastra VISA card. You just need to follow these steps:
Create Trastra account via our special link.
Top up your account with 9 EUR.
Order Trastra VISA card.
Activate your Trastra crypto card.
Convert crypto into fiat money (on your Trastra card) in the amount of 1000 EUR and more.
Summary
As you can see from this review, Trastra is an excellent option for anonymous and fast cryptocurrency banking. There is no need for you to have a bank account – because of this, Trastra makes crypto exchanges more accessible than ever. You can use Trastra's handy Visa debit card to make POS and e-POS transactions instantly, with high limits and low fees.