The payment services Neteller and Skrill continue to redesign their status systems. On April 27, 2021, the services added statuses (or tiers) called Neteller True and True Skriller. Neteller also launched a loyalty program Neteller Knect. More good news for those who prefer to buy crypto with Skrill and Neteller wallets — two new cryptocurrencies are available for purchase. What changes do these updates bring to payment system users? Let's get to the bottom of it.

New Statuses in Skrill and Neteller
The initial statuses in both wallets, given simply for registering, are now called Skriller and Neteller Standard, while the following ones are named True.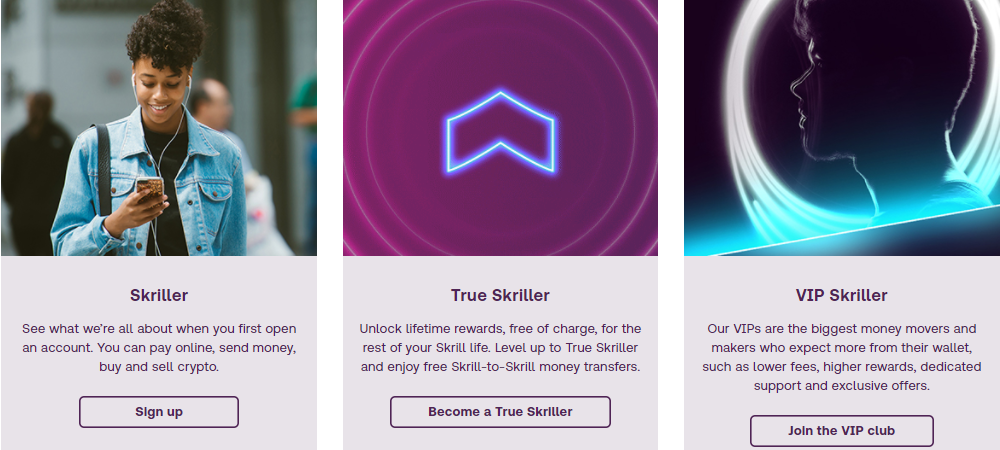 Their main advantage is the absence of commissions for internal transfers (however, the commission for transfers between Skrill and Neteller is still 3.49%). In the future, these statuses can receive increased Knect cashback and referral program bonuses.
To get the status, you should:
Download and open the wallet application;
Get verified;
Make an eligible deposit from a bank account or card at least once.
After you complete these requirements, your account will get the True status from the effective day of change.
How Does the Status System Work from Now On?
When you register on the platform for the first time, you automatically get a starting status: Skriller or Neteller Standart. It includes standard wallet functionality and an opportunity to participate in the Knect loyalty program. Then, you can get a new True Skriller and Neteller True status by fulfilling the requirements above.
After that, you can upgrade your account to VIP Skriller or Neteller VIP status by making deposits from your wallet to merchant sites. Depending on the number of deposits, you can get one of the three Skrill statuses (Silver, Gold, Diamond) or one of the four in Neteller (similar statuses, as well as the maximum — Exclusive).
The VIP status offers you the best conditions:
free withdrawals
lower exchange fees
access to 24/7 technical support.
Fees for Transfers and Inactivity in Neteller
Users with True Skriller and Neteller True status will now be able to send free money transfers within payment systems, i.e., from Skrill to Skrill or from Neteller to Neteller. If you don't have the status, such a transfer will cost 1.45% of the commission.
On June 26, 2021, the tariff for internal transfers in Neteller for users without Neteller VIP or True status will increase. Instead of 1.45%, it will be 2.99%. At Skrill, the new rate is already in effect.
There is more – now you can get a fee for inactivity. You don't have to pay anything to use Skrill — but you do have to meet one condition. You must complete transactions or log in at least once every six months. If you don't meet this condition, you will be charged a monthly service fee. The fee will be 5.00 EUR (or the equivalent in another currency).
Skrill Money Transfer: Transfers to Russia
Receiving money transfers via Skrill Money Transfer is now possible in Russia. One can send money to a Russian bank account even if the payment receiver doesn't have a Skrill account. And no commission!
Buy and Sell Crypto with Skrill and Neteller: New Opportunities
Two new cryptocurrencies appeared in payment systems — ADA and EOS. Let's take a closer look at each of them and see what you can do with these currencies in Skrill and Neteller wallets.
Cardano (ADA for short) and EOS are new cryptocurrencies available to buy and sell on the Skrill and Neteller crypto exchanges.
Now you can:
Buy crypto with Neteller and Skrill with a fee of €0.99 to 1.5% per transaction (depending on the purchase volume);
Sell cryptocurrencies (similar fee);
Convert cryptocurrencies into one of 14 available cryptocurrencies;
Send cryptocurrencies to a friend within the payment system with a 0.5% commission.
However, there is a limitation for Skrill and Neteller crypto withdrawal: it is not possible to withdraw anything on a crypto wallet yet. So far, the service only allows you to sell the currency for fiat currency and order the standard withdrawal — to a bank account, Visa or Mastercard, your Skrill/Neteller wallet.
We have a surprise for Baxity clients. From May 1 till June 30, 2021, all Baxity clients who deposited 5,000 USD (Neteller) or 5,000 EUR (Skrill) will get Silver VIP status till the end of 2021. Join now!