Now deposits via Bitcoin in ecoPayz are unavailable for EEA, UK and Russia
What Is ecoPayz?
ecoPayz is an online service that allows its users to send, receive, and spend money in a secure manner. ecoPayz works with 54 different currencies, and you can have up to 10 currency accounts simultaneously. You can access funds that you deposit or receive via your ecoPayz account, or you can sign up to receive an ecoCard (or its ecoVirtualcard counterpart). ecoCards make it easy to buy what you want on the go!
Something interesting about ecoPayz is that it offers its customers the option to send and receive Bitcoin. As Bitcoin becomes a more popular cryptocurrency to buy throughout the nation, and as its value continues to rise, this is quite a convenient feature.
Bitcoin is a decentralized cryptocurrency, meaning that it is not dependent on a central bank or government authority. Furthermore, since there will never be more than 21 million Bitcoins in circulation, Bitcoin is not subject to inflation.
Benefits of Operations with Bitcoin in ecoPayz
So, why should you use ecoPayz for Bitcoin transactions, rather than using an alternative service? Well, ecoPayz has its own advantages, such as speedy transfer of Bitcoin, an advantageous VIP system, and quick identification verification.
There is also an incredible benefit that many e-wallets don't hold a candle to. You see, when you upgrade from a Classic account to a Silver account, you gain the ability to hold up to 10 currencies in your ecoPayz e-wallet. This means that you likely won't have to deal with pesky foreign transaction fees when you buy something online.
With other services, you would be charged a fee if your currencies didn't align when you buy an item from an online or land-based merchant. To create a Silver account, you will need to provide proof of residence and verify your identity.
How to Deposit Bitcoins to ecoPayz
If you are wondering how to deposit Bitcoin to ecoPayz, just keep reading! The first step of the deposit process is to sign in to your account. Look to the menu on the left side of the screen and click on the "Deposit funds" button. When the next page opens, click on "Local deposit options", then click on the "Bitpay" option. You will be able to enter the exact amount of funds that you would like to deposit via Bitpay.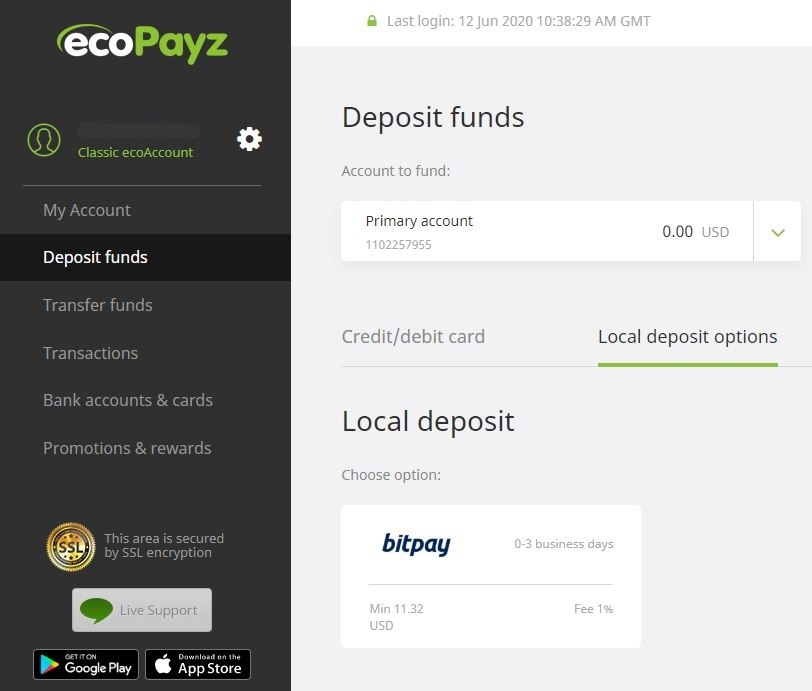 Currently, the minimum amount for a Bitcoin deposit is $100 USD, and there isn't a maximum deposit amount.
Next, click the "Continue" button.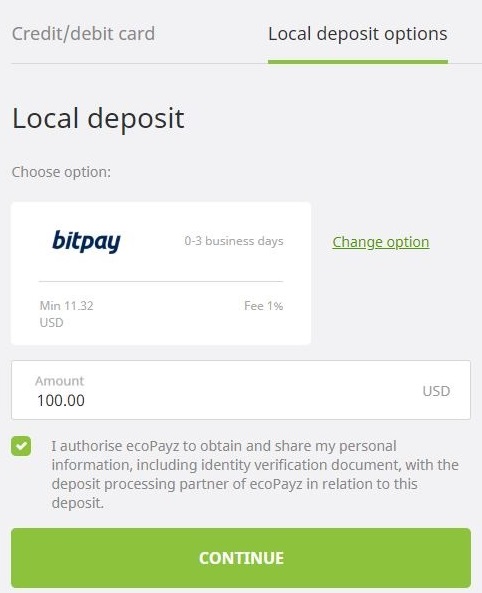 You'll be able to review the important deposit details: the account you are funding, the total amount of deposit, the method, the fee, and the amount to be charged. After this, click "Confirm" and ecoPayz will direct you to Bitpay to finish the transaction.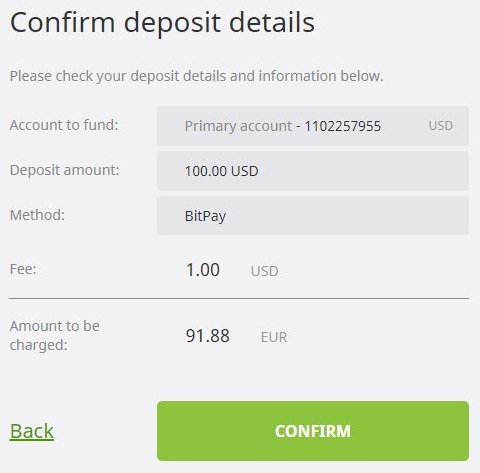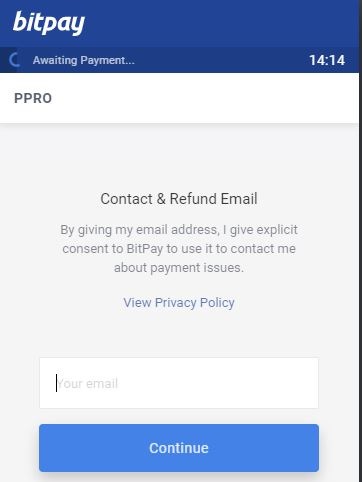 Within 1 day – and usually, way faster – your deposit will be accessible. Then, you can use the money to buy whatever you'd like. Go ahead, buy away!
Summary
As Bitcoin continues to gain popularity, it would be wise of you to choose an e-wallet with Bitcoin exchange capabilities. With ecoPayz, you have that option, plus extra perks, such as being able to buy things without a foreign transaction fee.