Bitpanda is one of the most reputable cryptocurrency exchanges in 2021 – and it is quickly becoming one of the most popular due to its wide range of innovative features. Plenty of positive reviews can be found on the web – and there are lots of discussions about Bitpanda and reviews on Reddit. So, what exactly makes Bitpanda so attractive to cryptocurrency traders? Keep reading our Bitpanda review to find out!
Pros and Cons
Since you've clicked on this review, you're likely wondering – is Bitpanda good? Well, as with any crypto exchange, Bitpanda has its upsides and downsides.
Pros

Cons

+ Wide range of services

+ Bitpanda goes beyond a simple exchange platform

+ Easy-to-use interface

+ Helpful customer service representatives

+ Many payment methods are supported

+ Relatively low Bitpanda fees for credit card, e-wallet, and bank wire transactions

– Fees are not as transparent as some other exchanges (they are included in the price, rather than separated)

– The website is only available in English and German

– Bitpanda verification time takes a little longer than other services since you need to do an actual video call
Key Features
Here's a quick overview of some of Bitpanda's key features:
Buy and sell digital assets like Bitcoin, Litecoin, Ethereum, and more
Quick and convenient transactions thanks to high-end servers, strong APIs, and a totally automatic order system
Services are available 24/7, so you can take advantage of the market wherever, whenever
Cryptocurrency Academy provides excellent training resources on crypto investments
Many deposit and withdrawal options
Supported Coins and Cryptocurrencies
We've included some of Bitpanda's most popular supported cryptocurrencies in the table below. Check here for the complete list – there are many supported tokens!
| | | |
| --- | --- | --- |
| Cryptocurrency | Buy/Sell | Transaction |
| Bitcoin (BTC) | ✓ | ✓ |
| Litecoin (LTC) | ✓ | ✓ |
| Ethereum (ETH) | ✓ | ✓ |
| Dash (DASH) | ✓ | ✓ |
| Ripple (XRP) | ✓ | ✓ |
| Bitcoin Cash (BCH) | ✓ | ✓ |
| Komodo (KMD) | ✓ | ✓ |
| Bitpanda Ecosystem Token (BEST) | ✓ | ✓ |
| Augur (REP) | ✓ | ✓ |
| Stellar (XLM) | ✓ | ✓ |
| 0x (ZRX) | ✓ | ✓ |
BitPanda Services
Next, let's take a look at the services that Bitpanda presents its users.
Bitpanda Card: This VISA-powered card lets you spend your metals, cryptocurrencies, and other digital assets as cash. You can spend any asset immediately – there's no need to top back. What's more, you can get BTC cashback with each purchase!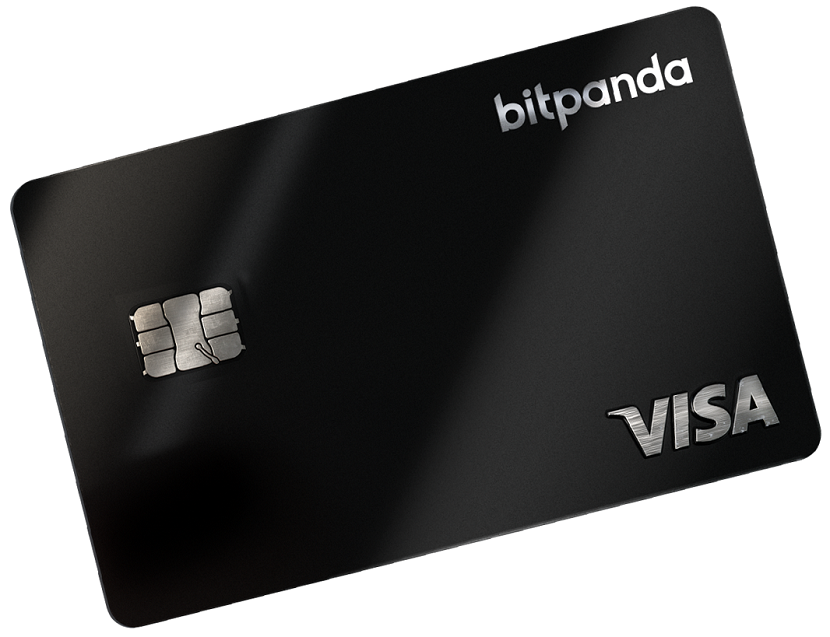 Bitpanda Metals: Invest in silver, platinum, gold, and palladium with low fees. This is real metal! Your physically-backed investments are stored, duty-free and insured, in Switzerland.
Bitpanda Swap: Instantaneously swap digital assets. There is no transaction size limit! Simply use your Bitpanda wallet to convert one digital asset into any other supported digital asset.

Bitpanda Ecosystem Token: This is Bitpanda's own digital currency, called BEST. When you hold BEST in your personal Bitpanda wallet address and do at least one trade per month, your holdings of the token will increase by up to 12% per annum.
Bitpanda Savings: Create a savings plan to automatically buy digital assets of your choice. This way, you can benefit from the cost-average effect without having to think about making purchases.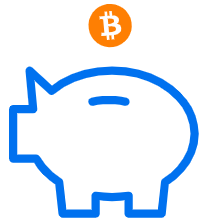 Bitpanda Crypto Index: This is a long-term, zero-maintenance way to build a diverse crypto-portfolio. You can automatically invest in small chunks of the whole crypto market, thus reducing your exposure to volatility.
Bitpanda To Go: This service is available at 400 post offices and 1350 retail partners throughout Austria: you can purchase prepaid cryptocurrency with cash and then redeem it on Bitpanda.
Bitpanda Plus: This exclusive service is for users who want to make trades that are larger than BitPanda's default limits. There are rigorous requirements, but if you are approved to the program, you get increased limits and exclusive support from account managers.
Bitpanda Pay: Use this service to send money to any IBAN address. You can shop, pay bills, and send money to friends.
Bitpanda App: The iOS and Android Bitpanda apps let you buy and sell cryptocurrencies, create price alerts, and send payments on-the-go.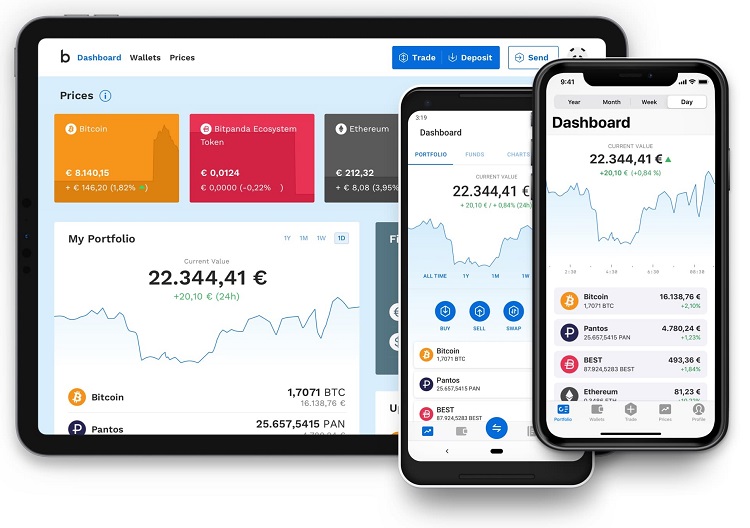 Bitpanda Affiliates: By becoming a Bitpanda affiliate, you can get up to 20% of revenue from customers that you refer.
Bitpanda Pro: This EU-regulated exchange uses an innovative trading API and an intuitive interface, making it easier than ever to trade on EU crypto-to-fiat markets. The markets are:

Deposit and Withdrawal Options
As mentioned earlier, Bitpanda offers a wide variety of payment methods – let's take a look at the ways that users can deposit and withdraw funds. Now, keep in mind that your payment methods are dependent upon your account currency. Furthermore, there are different payment methods available dependent on whether your account is verified or not. For clarity's sake, we will list verified options in the table below.
| | | |
| --- | --- | --- |
| Account currency | Deposits | Withdrawals |
| EUR | Visa (including Trastra Visa card), Mastercard, Skrill, NETELLER, SOFORT, iDEAL, GIROPAY/EPS, SEPA | NETELLER, Skrill, Amazon.de, SEPA |
| USD | Mastercard, Visa, Skrill | Skrill |
| CHF | Visa, Mastercard, Skrill, NETELLER, SOFORT, SEPA | Skrill, NETELLER, SEPA |
| GBP | Visa, Mastercard, Skrill, NETELLER, SEPA | Skrill, NETELLER, SEPA |
| TRY | Visa, Mastercard, Bank transfer, Papara | Bank transfer, Papara |
Now, for transaction fees – buying and selling cryptocurrency on Bitpanda, no matter what the payment method is, comes with a 1.49% fee. Metals differ slightly; gold comes with a 0.5% buying and 1% selling fee, silver has a 2.5% buying and 2% selling fee, platinum – 2.5% and 2%, and palladium – 2.2% and 1.8%.
Limits depend on your level of verification and currency type – let's take a look at some of the limits for EUR accounts. For the full list, check Bitpanda limits section.
| | | |
| --- | --- | --- |
| | Light Verification (day/month/total) | Full Verification (day/month/total) |
| Online Payment Deposits | 0/0/0 | 10,000/300,000/10,000,000 |
| Online Payment Withdrawals | 1,500/10,000/50,000 | 100,000/2,000,000/10,000,000 |
| Credit Card Deposits | 0/0/0 | 2,500/300,000/5,000,000 |
| Credit Card Withdrawals | 0/0/0 | 0/0/0 |
| SEPA Deposits | 49,999/5,000,000/100,000,000 | 500,000/5,000,000/100,000,000 |
| SEPA Withdrawals | 500,000/5,000,000/999,999,999 | 5,000,000/5,000,000/999,999,999 |
Bitpanda Supported Countries
Only users who reside in these countries may get verified Bitpanda accounts:
Best Payment Solutions for Bitpanda Users
As you may have noticed, Bitpanda tends to favor e-wallets – especially Skrill and Neteller. However, if you want to make payments on Bitpanda via Paypal, you cannot do so; the option was removed in 2017. Skrill and Neteller definitely have very positive attitudes towards cryptocurrency, which is what makes them the ideal payment solutions.

If you prefer paying with a Visa card, though, then we would recommend using Trastra. Why? The Trastra card lets you spend cryptocurrency as cash! It's highly convenient.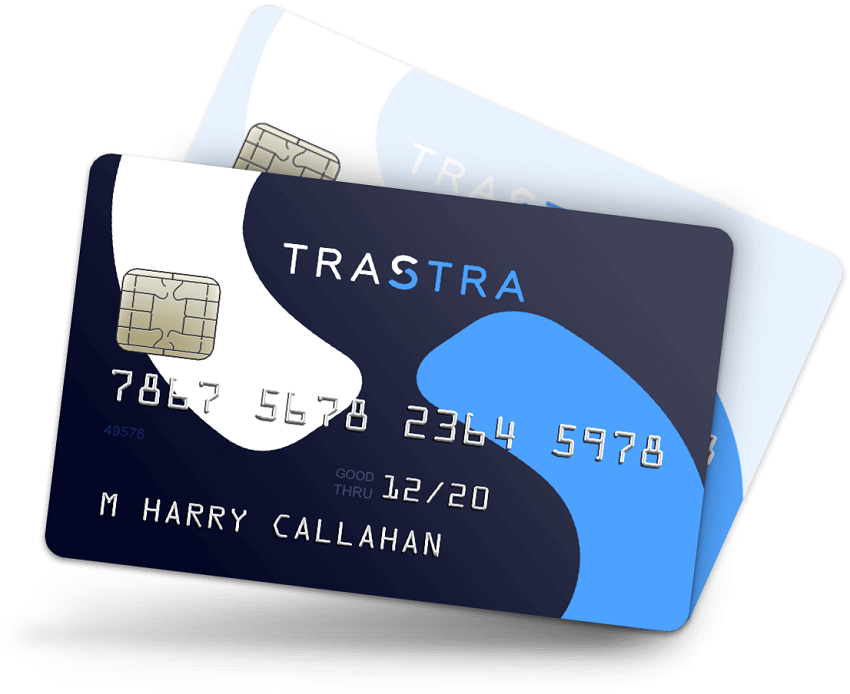 FAQ
What is the minimum deposit/withdrawal on Bitpanda?
With cryptocurrencies, this depends on your verification status and your method of payment – you can see the minimums for each digital coin on the appropriate page. For fiat currency, however, the Bitpanda minimum withdrawal and deposit amount is EUR 25/ GBP 25/ USD 25/ CHF 25/ TRY 100.
Does BitPanda use the MetaTrader trading platform?
No, Bitpanda does not use MetaTrader.
How do you contact Bitpanda customer support?
You can read articles at the HelpDesk, ask the community on various social media channels, or submit a contact form.
How do you delete your Bitpanda account?
Simply fill out the Bitpanda contact form and request for them to delete your account. Be sure to use your account email when submitting the form.