Over the past few years, Bitcoin has been increasing in popularity across the world. Nowadays, many online casinos and gaming sites accept it as a form of payment. In order to get your hands on some, you can use NETELLER to exchange Bitcoin and to deposit it to your NETELLER e-wallet.
Benefits of Operations with Bitcoin in NETELLER
There are several benefits to using NETELLER for Bitcoin transactions.
Flexibility: NETELLER accepts 28 different currencies when you buy Bitcoin.
Security: NETELLER is a reputable company with years of experience. It is known for its multiple methods of security and customer protection.
Speedy: When you buy and sell Bitcoin with NETELLER, the exchange occurs instantly. When you deposit Bitcoin to your NETELLER wallet, it can take from 1 minute to 1 business day.
Now that you know why it is advantageous to use NETELLER to exchange and deposit Bitcoin, let's look at how exactly the process works.
How to Deposit Bitcoin to NETELLER Wallet
Please note that starting from September 15, 2020, the possibility to top up your NETELLER account using BTC remains only for residents of the EEA countries. In other countries this deposit method is no longer available.
If you are wondering how to deposit Bitcoin to your NETELLER wallet, follow these steps. You can complete the steps in an instant!
Go to the NETELLER deposit page, which will instantly give you multiple deposit options. Look for the Bitcoin deposit option and give it a click.
NETELLER will instantly take you to a page where you can choose the deposit amount or decline and go back. Go ahead and enter the amount of Bitcoin you want to deposit and click the "Continue" button. The limit will typically be 3,600 EUR, and there could be 2,5% fee associated with your deposit. However, these figures can change depending on your NETELLER wallet's status or the country in which you reside.

At this point, NETELLER will send you to the Bitcoin BitPay exchange page in an instant. How to transfer money from your Bitcoin wallet? You can use the barcode that pops up or click on the link that is labelled "copy payment URL." Be sure to double-check your chosen Bitcoin money amount one final time before you send the transfer off to completion.
The deposit will process, but this will not happen instantly. Sometimes the Bitcoin transfer to your NETELLER wallet could go through in one minute, while at other times, the transfer to your wallet could take up to 1 business day.
You can use Bitcoin for making transfers to Neteller merchants or to other members.
Please keep in mind that you will be unable to make purchases using Bitcoin and a Bitcoin withdrawal from your NETELLER wallet to your bank account. Nor will you be able to make a withdrawal to your NETELLER MasterCard.
How to Buy Bitcoin With NETELLER
Now that you have learned how to deposit Bitcoin to NETELLER via a relatively quick transfer, let's learn how to use NETELLER to actually buy Bitcoin.
From your NETELLER dashboard, look at the left-hand menu and click on the tab that says "Crypto." You will see a list of all available cryptocurrencies to buy, along with their current exchange rate. Click that "Trade" button listed to the far right of the cryptocurrency that you would like to buy. In this case, we would click the "Trade" button on the Bitcoin (BTC) row, conveniently located at the top of the Crypto page. Of course, you have several other options besides this, to suit your preferences – ETH, LTC, EOS, and more.
Once you've selected your cryptocurrency, you will fill out a transaction form. There is a box at the top, labelled "From". Select which fiat currency you would like to purchase your cryptocurrency with. Put the total amount of fiat you'd like to spend in the box next to this. Then, in the "To" section, where BTC is selected, you will see the amount updated to reflect how much EUR you are spending, and in accordance with the current exchange rate. Speaking of the rate, you can look to the right side of the screen. The exchange rate will be listed there, and it will refresh frequently.This part of the Bitcoin buying process will also show you any fees. Review the fees – if you are not satisfied, you can back out to decline the purchase. If you are fine with the fees, press "Complete" to buy Bitcoin.
After you click the "Complete" button to buy Bitcoin, you will see the short summary of the payment that includes transaction ID, exchanged amount, amount of Bitcoin, exchange rate, processing fee and the total.
You can click "View transaction history" to review more details. NETELLER will send your new balance to your wallet account overview. This happens instantly; you will have your Bitcoin in only a few seconds.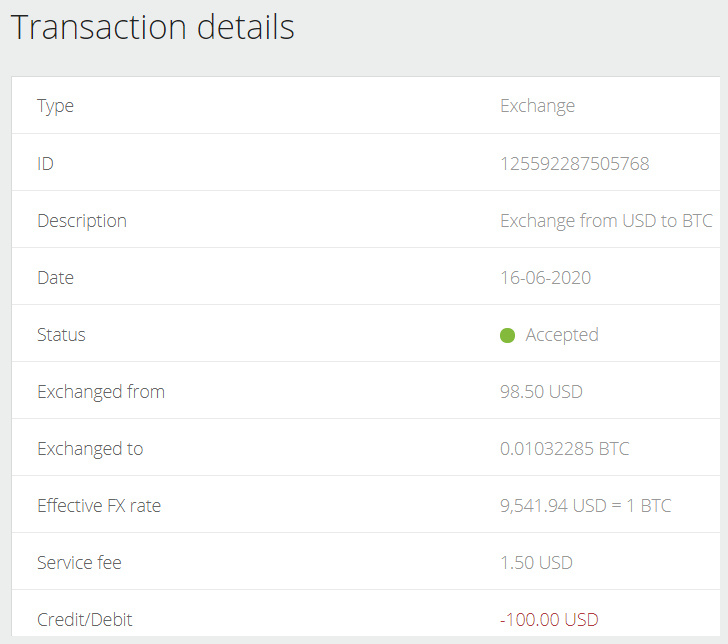 How to Sell Bitcoin with NETELLER
If you would like to sell Bitcoin with NETELLER, it is nearly the same as when you buy it.
Once again, head to NETELLER's Crypto link. You will see the same page, as shown in the previous screenshot. Click on whichever type of crypto you would like to exchange; in this case, BTC.
This time, instead of choosing an exchange of fiat currency to Bitcoin, swap the exchange direction. Don't forget to check the Bitcoin exchange rate and any fees!
Click Complete, and NETELLER will process the transaction. The Bitcoin will be removed from your account, and you will have your fiat currency in your NETELLER wallet in an instant.
Comparison of Additional Bitcoin Services
If for any reason, you need to decline from using NETELLER's Bitcoin services, you have other options.
BitPanda
BitPanda is a very popular Bitcoin exchange that has headquarters in Austria. The process to buy Bitcoin typically takes less than 10 seconds. This pretty much instant process does not display fees publicly. However, you can quickly and reliably use BitPanda to transfer Bitcoin to your NETELLER wallet.
CoinCorner
The special thing about CoinCorner is that it has a fixed exchange fee of 1%. This means that you can buy and sell Bitcoin on this platform with minimal fees.
Wirex
Wirex allows its customers to have complete control over their fiat currency and cryptocurrency from one card. With its Visa, you can use both categorizations of currency no matter where you are in the world. The card also automatically makes payments in local currencies so you don't have to worry about keeping track of that. What's more, you can earn crypto with Wirex's revolutionary Cryptoback program.
Revolut
Revolut is another multi-currency financial solution that allows you to manage everything directly from one app. The app makes crypto exchange accessible for everybody, as it has now expanded the services to its Standard (free) account holders. Plus, you can hold up to 29 currencies in your account at once.
Local Bitcoins
Local Bitcoins is an international Bitcoin exchange that allows you to buy Bitcoin with a wide variety of payment methods. In some countries, Local Bitcoin is the only service you can use to buy Bitcoin.
Summary of Bitcoin Exchange on NETELLER
As we have discussed, NETELLER is a fast and reliable way to buy and sell Bitcoin. It also offers Bitcoin deposit options with minimal fees, as well as other cryptocurrency offerings. If you have any questions about how to buy, sell, or deposit Bitcoin with NETELLER, feel free to contact us at Baxity. As a NETELLER partner, we are happy to offer you insight.