TRASTRA Account with IBAN
Trastra is a trusted financial platform that allows you to buy, sell, and cash out cryptocurrency funds. This service has recently launched an IBAN account; it is available to all new users who use the Trastra web application or the mobile app. This functionality will soon be added to the accounts of existing users.
What Is an IBAN Number?
Before we dive into the meat of this article, we wanted to answer a quick question – what is an IBAN number? It is a standard, worldwide-recognized method of identifying a bank account when an international transfer is underway. The acronym stands for "International bank account number." This number begins with 2 characters that identify your residential country, and then another 2 numbers showing the check number, 4 characters representing your bank, 4-6 digits for your sort code, and then a final series of digits for your account number.
Here is a sample IBAN code you might see if you are in the UK:

Now that you know the IBAN meaning, let's take a look at the key features of a Trastra IBAN account.
Trastra IBAN Account
There are many benefits that come with using Trastra IBAN for employees and employers alike. With businesses, they can now do international transactions without having huge fees. Trastra IBAN for employers makes it easier and more profitable for companies to scale their products up to a global level.
Now, what about individuals? If you are an employee who wants to start using crypto, this is where Trastra's IBAN account comes in handy.
The company's bank can pay out to the employee's Trastra account, and then the Euro salary can be converted to crypto without complications. You can decide whether you want to convert the entire salary or just a portion of it.
And, great news! It works the other way around too. If an employee gets paid in BTC or another form of crypto, Trastra's IBAN account lets them immediately convert it to Euros when paying with a VISA card. Most international stores accept Trastra's VISA card, making it easier for you to spend your crypto payments wherever you'd like.
One more piece of info – for those of you who enjoy gambling online: you can now use the Trastra IBAN account to convert your fiat winnings into crypto. You don't have to use a local bank at all!
How to Get a Trastra IBAN Account
As mentioned before, only new users are able to get a Trastra IBAN account; however, this functionality will soon be added to existing user accounts.
So, how do new users go about getting one? All you have to do is verify your Trastra account and then order Trastra's Visa card. After that, you'll automatically receive an IBAN Payment account.
The verification process contains four steps:
Verify your phone number
Provide your address
Upload ID document (passport, driver's license, ID, etc.)
Liveliness check (Selfie)
Now that you've taken care of verification, you can order a Trastra card. You'll need to have enough funds in your account to cover the card order fee – this is typically 9 EUR, but it is free when you partner with Baxity! Next, you will find the "Cards" section of your online dashboard and click on "Order Card." Double-check your shipping address and then confirm the order. You'll receive the card in the mail in up to 10 shipping days.
IBAN Transfer to External Account
Currently, there is no feature allowing a Trastra user to make an IBAN transfer to an external account. However, according to Trastra's FAQ section, this functionality is coming soon. Once it is available, Trastra users will have access to money transfer services across SEPA zone countries.
How to Top Up Trastra Account via IBAN Bank Transfer
Currently, this is only available with EUR currencies and is an option for SEPA-zoned countries. To top up your account with an IBAN bank transfer:
Access your Trastra account dashboard and click the "Deposit Funds" tab – this is found in the upper left corner.
Choose the "Deposit EUR" button.
Copy your IBAN number. You can provide this IBAN number to your employer, and your salary payments will be added directly to your Trastra account.
For more topping-up options, check out our recent Trastra review!
Get Benefits in Trastra With Baxity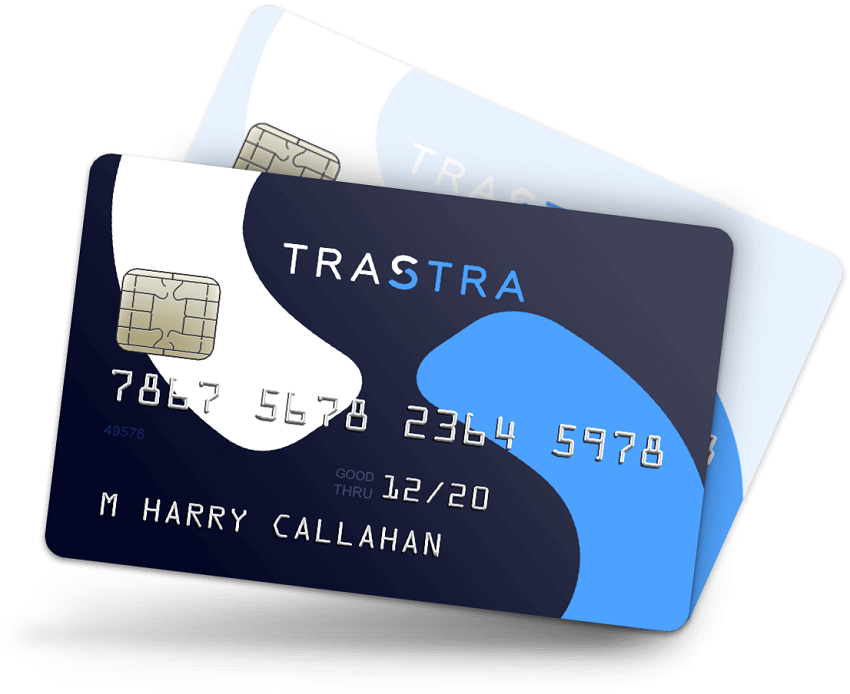 There are huge benefits to using Trastra as your primary online banking service – for instance, easily being able to spend crypto on-the-go, excellent limits, competitive fees, and attentive customer support. A Trastra account gives huge advantages, no matter what purpose: crypto, euro, gambling, or business usage. But, when you use our link to sign up for Trastra, you gain even more benefits! For instance:
FREE Trastra VISA Card
Ability to use a card with no bank account
300 EUR daily ATM withdrawals
Tiny fee of 2.25 EUR for ATM withdrawals
FREE purchases with cards – no fees!
FREE transfers of crypto to VISA card
You will also get a refund of 9 EUR from Baxity for ordering a Trastra crypto card! To get compensation for the card:
Use Baxity link to create a Trastra account.
Deposit 9 EUR to your crypto wallet.
Use your account to directly order the Trastra VISA card.
After the card arrives, activate it.
Convert 1000 EUR worth of crypto to fiat money on your card..
After that, you'll receive the compensation.
As long as you are ready to start using Trastra for quick and easy fiat and crypto payments, sign up for an account. And, since you will be a new user, you'll be one of the first people to get their IBAN payment account!
What do you think of Trastra's new IBAN feature? Let us know below. We'll also be happy to answer any of your questions about Trastra's other services.