Payment systems are known to rule the online world of e-markets and virtual poker tables alike. The ease and efficiency with which E-wallets operate not only rival that of traditional banking, but also outperform conventional bank transfers and credit card transactions by making thousands of markets available right from the comfort of one's own home. Amongst these, Skrill stands out as a payment service designed to take care of all of your needs and preferences – all of its how to's and where's will be discussed further below.
What is Skrill?
Although Skrill is known as an international payment service, it was originally founded in the United Kingdom. Upon its creation in 2001, Skrill was known under the name Moneybookers which primarily overlooked services for the gambling industry. Poker tables, sports bettors and online casinos ruled the company's client base until 2011 when Moneybookers underwent a large-scale rebranding campaign which saw them adopt their current name, Skrill. Its brand name was not the only one to change, its priorities and structure also evolved to allow them to expand over multiple areas of service. The most recent event in the payment service's development was its purchase by Optimal Payments, the owner of one of Skrill's competitors, NETELLER.
At present, Skrill has amassed more than 36 million clients from all over the world, all of which have come to value the payment system for its reliability and security. These are equally recognised by the Central Bank of Ireland and European e-Money licenses for meeting some of the highest regulation standards. The company also holds individual licenses from each US state.
The Advantages Of Skrill
One can discuss Skill's advantages over its direct competitors, as well as other payment methods, across a number of different areas. First, let us have a look at where it stands out against other payment methods:
Speed of operations. Online purchases or transfers can be completed within just a few clicks, something which can scarcely be said about credit cards and bank transfers which may take up to 3-5 business days to complete similar transactions.
Reduced instances of blocking. Even the most advanced and modern banks are guilty of excessive prevention, either by blocking payments or adding additional checks. Online payment services are much more aligned with their client's preferences and are more flexible in this regard.
Easy registration. Signing up to an e-wallet will scarcely take more than just a few minutes, all the time it takes to fill out a couple of forms – without ever needing to leave the house. Opening a bank account or ordering a credit card like a MasterCard, even at your local bank, will require you to visit the establishment, bring the necessary documents and be prepared to sign an array of papers. That is once you have finished standing in line and freed up some time during the week to avoid closed banks over the weekend.
Service charge. No need to pay up annual charges for the running of your account. On the other hand, banks will debit a set amount of money from your account every year to cover their service fees.
Skrill's benefits are also highlighted against other competing payment systems:
Gambling presence. Skrill may have evolved its business structure from its early days but it certainly did not lose its prime position in poker rooms or bookmaker offices. Neither ecoPayz nor NETELLER, not even PayPal as a matter of fact, come close to Skrill's widespread representation.
High reliability. Both its licence from the Central Bank of Ireland and its strict identification procedure has allowed Skrill to become one of the most reliable e-wallets in the world.
Low commissions. The payment service boasts competitively low commissions across a range of operations. Where NETELLER charges a 2.5% fee for deposits to your account, Skrill lets you add funds for free using MasterCard, Visa or American Express. One should, however, be aware of the way such commissions are dependent on the user's country of residence which will vary according to the independent conditions imposed by the legislation of some countries. These charges will vary between 1% to 2.5% accordingly.
Knect loyalty program. You may earn points on every one of your transactions, to be exchanged for money, discounts, gift cards, merchant vouchers or a range of other gifts. Skrill currently stands alone amongst its competitors for offering such a well-structured and clear loyalty program.

Once higher VIP statuses are earned, these aforementioned conditions become even more favourable for the user.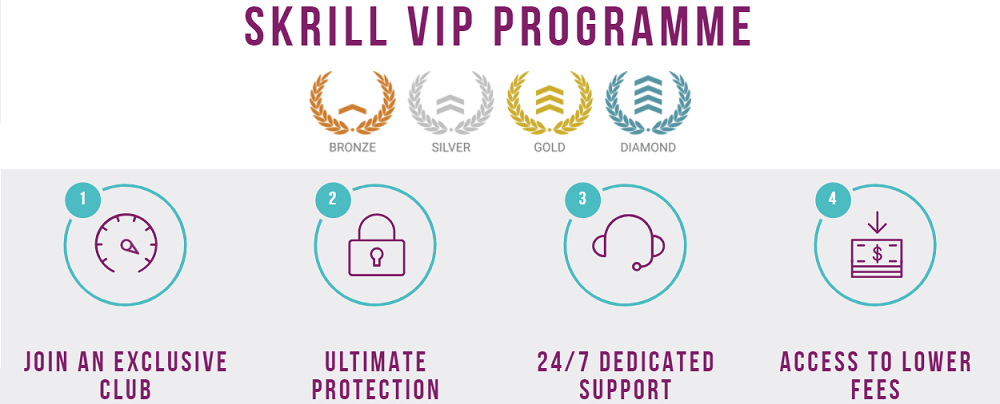 You may profit from even greater benefits when registering onto Skrill via Baxity:
Your account will be subject to priority verification (within 24 hours);
You may bypass the required €5 deposit to complete your verification
VIP-status is made available to you on highly advantageous terms (VIP Silver unlocked as €5000 worth in deposits). You may get in touch to find out more on how to upgrade your status level.
You can find out more information on how to proceed in order to get VIP status on the most favourable terms in our Skrill VIP article.
Online stores and services that accept Skrill
How to get started on using your e-wallet and where to use Skrill? It is long since Skrill was only known amidst gambling fans and avid sports bettors. With its popularity growing on a yearly basis, this e-wallet has become the go-to way for customers to complete their online shopping across some of the largest e-commerce platforms, be it eBay, Amazon, AliExpress or even Skype. These include, but are certainly not limited to:
eBay. Just a few years ago, Skrill still held a prime position on the largest online trading platform. This has however changed dramatically in recent years since eBay refused to host the payment service on their site despite its apparent convenience. Until further notice, purchases cannot be paid for using Skrill as a direct method of payment on eBay.
AliExpress. Another popular site for buying and selling products online, AliExpress may not directly list Skrill on its available payment methods, but you may pay with the Skrill Prepaid MasterCard without trouble.
Amazon. One could not discuss online markets without mentioning this trading giant. Amazon does, in fact, operate on a similar basis as AliExpress with regards to the use of e-wallets.
Skype. Skype is where most internet calls and video chats happen and luckily it is also where Skrill is accepted without reservations.
Steam. One of the most prominent game stores online, Steam lets you easily purchase games using Skrill.
PokerEnergy.net. This sizeable poker software seller accepts Skrill as a payment method across the entirety of its online site.
Grandeshopping.it. This platform lets you purchase from European online clothing and accessories stores via Skrill no matter the brand's individual conditions.
DHgate.com. Skrill is put on offer as the default payment method for this large wholesale seller of Chinese goods.
FxPro. It takes just 10 minutes for one to make a deposit via an e-wallet to the largest online broker in the world.
Exness. With an impressive trading volume of $ 325.8 billion, no delay is required here for you to add funds to your account using Skrill.
Pokerstars. The world's leading poker room and an active developer of sports betting and online casinos, Skrill holds a prime position as a default payment option.
GGPoker. Amassing the third-largest number of poker players, this platform ensures that Skrill deposits can be carried out in an instant.
PartyPoker. Over its two decades of operation, PartyPoker has acquired one of the most respected statuses across the world. It, therefore, comes as no surprise that it has chosen Skrill as its main deposit option for instantaneous transactions.
Conclusion
Skrill is a payment tool which has placed convenience and accessibility at the core of its operations in order to provide its customers with a range of features tailored to their needs and preferences. From gambling enthusiasts to regular online shoppers, everyone can benefit from the platform's many advantages. It has proved its reliability over its years of operation, catering to its early clients in poker rooms and online casinos just as well as to its new customer base across various online platforms. The company has succeeded in recent years in popularizing Skrill as a universal wallet, both in its global reach and availability, and is set on further increasing its reach to other sites. Skrill's presence on some of the online world's biggest names, from Skype and Amazon to AliExpress and eBay, all certainly testifies to its success, even though some additional terms of use may apply.