There is scarcely a more thrilling card game than Poker, whether played in the company of friends or strangers on the other side of the world. Combining simple rules with a real ocean of combinations and strategies, poker is a game for entertainment as much as for the brain.
Every new hand that gets dealt around the table calls for another strategy, another impromptu trick and even another brief acting performance. Its game plan is as versatile as its player base is extensive. Indeed, one may count as many unique resolutions to the game as there are bets to place.
These can start at just a few dollars and extend out into the hundreds and thousands just as easily. Luckily, there is always a poker table to match one's ambitions – and wallet.
This has become even more true in recent years as the world of online games has expanded to give households across the world the opportunity to play for fun from the comfort of their own home. Jumping forward, online poker has risen even further in popularity following the recent coronavirus outbreak and the strict confinement rules that have accompanied it.
An increasing number of online poker apps have been harnessing the emotional thrill of live poker games to create a fully immersive experience for their players. You can find the same enjoyment and rush of adrenaline you might experience at a live poker table, only without all the waiting and restrictions.
Playing online using the internet not only lets you play out games more quickly and with a higher number of hands, but it also gives you the chance to place your bets at multiple tables at the same time, something which would be physically impossible to do offline.

Be it young or old, novice or professional – it is hard to resist the excitement of a good game of poker. Still, new players will inevitably come to face a problem: where to play online poker for free?
If you do not happen to have an expert poker player on hand, it is a very fair question to have when faced with what seems like a sea of choices. Before you and your money start drowning in this swamp of unofficial sites and hidden fees, here is a complete guide to the online poker gaming sites where you can play for fun with no deposit.
General information about the free poker game
As you start browsing through online poker sites, you are likely to come across two principal game modes: to play with real money or use the software to play for free. These are known as follows:
Conditional money/chips poker;
Game on "Play Money".
It is obvious that skipping a deposit usually comes with a number of advantages:
➔ No risk of losing your money during the game. It will not matter if you make a careless judgement or how much money you choose to bet at the table, the contents of your wallet will remain intact;
➔ You can play around and get used to the various features unique to online poker and all of the associated technical components: the poker client, navigation in the lobby or table search. If you have the ambition to play online poker at a professional level, practicing with conditional chips is the perfect compromise before throwing yourself out into the deep end;
➔ You can become familiar with the rules of all the different variations of poker games. Whether it is seven-card stud, Badugi or even H. O. R. S. E., no deposit games let you try out for free all those unique variations you have often heard of but never dared to try out before with real bets;
➔ Learn the mechanics of bluffing and train yourself in strategic game plans before getting scrutinized at a high-stake poker table;
➔ Enjoy a game of poker in a stress-free environment. Forget all about the psychological pressures and fears of losing to enjoy the game for its own sake;
Why do poker rooms do this?
It does not take an economist to wonder why such commercial companies even want to offer their high-cost and high-performance servers for unpaid games? Before you go on thinking that these poker sites are willing to sacrifice their profits for your free entertainment, the answer is straightforward: it is all about marketing.
By handing around these conditional chips, poker sites are attracting new players and forming them into real poker players who are likely to go on to bet real money on their platforms. Many professional poker players start off as mere fans whose curiosity and caution sees them start out in a more comfortable and lower-stake environment.
Ultimately, the set up works out well for everyone – poker sites enjoy a healthy influx of new players, whilst casual fans enjoy high-quality and low-risk poker games.
How do I choose a site for poker without a deposit?
You will find it much easier to choose a poker site to play for free than to play for high-stake professional games; after all, you are not placing your hard-earned money into the hands of your chosen platform. Although you may unwind, we still do not recommend you taking this decision lightly – the online platform you choose can make or break a poker game, even those which are free of charge.
You are likely to run into these three primary problems when searching for a suitable online poker room:
low traffic (number of players to play with)
slow and inconvenient software;
the lack of interesting poker disciplines or varieties (it is worth remembering that the list of card games is not limited exclusively to hold'em or Omaha).
The worst case, though unlikely, would be to download a game file containing a virus or other malicious software. Hackers scour every part of the internet, and poker platforms are not exempt from such tricks looking to steal your personal data and bank details.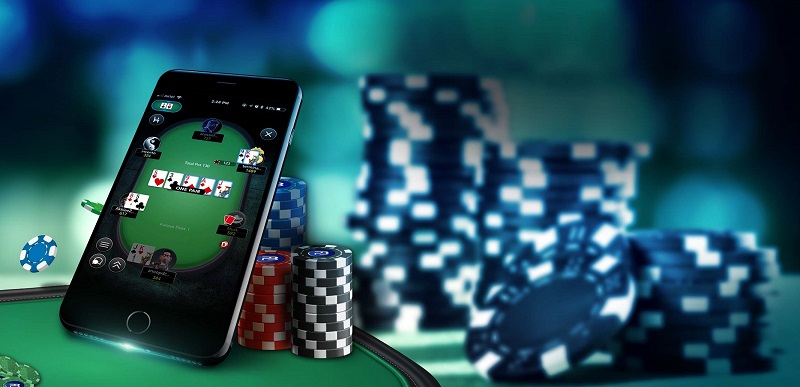 A general recommendation would be to prioritise popular poker brands. Fortunately, there exist numerous ways of checking the authenticity of a particular poker site: consult online reviews of the site on specialised poker resources and forums or, alternatively, check for the network on PokerScout. The latter has the added advantage of providing a live estimate of the number of players online at any given time to help you avoid times of low traffic.
What is a Freeroll, and what is the difference between it and a free poker game?
Free poker games come in various forms and structures. You may be given the option of inviting friends to play for fun or conversely be offered to play freerolls. A "Freeroll" will most often be used to refer to a multi-table poker tournament which you can participate in to play for real cash prizes but with no deposit.
These free tournaments are popular amidst amateurs and professionals alike, with many experts starting their careers participating in such low-stake competitions. You may even recall Annette Obrestad, the youngest winner of the WSOP tournament where she managed to rake in an impressive $ 4,000,000 prize.
Such freerolls can run on a few hundred dollars to as much as a million. Before the events of the infamous "Black Friday", when the United States issued a simultaneous block on several world-leading poker sites, including PokerStars, Full Tilt Poker, Absolute Poker and Ultimate Poker, seven-figure prizes were still a common sight at such free tournaments.
PokerStars even managed to hold four individual freerolls all at once in 2016 and worth one million dollars each. Despite such impressive achievements, these grand prizes remain rare on free MTTs as it is much more common to play for smaller amounts. Depending on the poker room, competitions may be held on more or less of a regular basis, some choosing to host them in conjunction with special dates or status poker series.
As enticing as these freerolls may seem, not all of them can be accessed so liberally via a simple registration.
Freerolls may sometimes ask you to subscribe onto the poker site's social networks to obtain a ticket via email or a unique tournament password in some other way. The sign-up conditions vary from one poker site to another, and you will almost always find free tournaments held by poker affiliates or communities, albeit exclusively for their players.
As with most free poker games, the ultimate aim of freerolls and conditional betting with friends is to initiate new players into the world of poker. Some fans of card games start off by playing with conditional money only to become full-fledged poker players, whilst others just drop in to try out a few free tournaments; either way, none of them would have had to invest a single cent.
List of free poker sites
This list of poker sites was compiled according to the highest average number of players at their tables.
Please note that we will not be considering local poker rooms or those of suspicious nature. Certain sites, like the Asian gaming site IDNPoker, have been classified as "questionable". Despite holding the second place in terms of overall traffic through the site, IDNPoker has been associated with a number of scandals:
➔ super-users (artificial intelligence or a living person who knows your maps because of a vulnerability in the software code),
➔ bots (special software using the same artificial intelligence, designed to beat living people due to complex algorithms and superior computing speed),
➔ teamplay (a joint game of collusion between two or more persons, aimed at winning money from a respectable and unsuspecting opponent, in fact – fraud).
Poker rooms which are only available on the territory of a single state will be designated as local and hence not considered in this ranking. The most obvious examples are Indian poker sites Adda52 and Pocket52, and Bodog.
Further exemptions include the GGpoker networks which simply fail to host a free online poker software, as is the case with Winning Poker Network and the iPoker Network. Although clients may view the "Play Money" tab, no actual gaming tables have been registered under it.
The absence of any free poker game was confirmed by the technical support team of each of these networks, and these may therefore be removed from the list since the companies' reorganization has chosen to remove such non-profitable branches from their platforms.
Finally, the French network Winamax will be ignored in the following ranking as its lack of language options nullifies its international status and strictly limits the software usage to French-speaking players. Despite such forced exemptions, there are various poker sites you can enjoy with no deposit.
With the considerations made above, we have compiled a generalized list of poker sites which offer online poker games without the need to make a deposit:
Poker site

Rating (based on the position in the overall rating by the number of players)

Bonus

Key Features

1 place

Instant bonus of $ 30 or
first Deposit bonus of 100% up to $600

the best and most convenient online poker software;
the most comprehensive list of card disciplines;
the game is played 24 \ 7;
freerolls with real cash prizes;
good training articles and video courses at PokerStars School";
unique formats that are not available anywhere else.

5 place

First Deposit bonus of $ 30 with tournament tickets

a lot of MTT on conditional chips;
it is possible to create a private club in "Club Games";
own poker school.

5 place

First Deposit bonus of 100% up to 100€. It is not available for all countries; you need to check with the technical support of the poker room

a large selection of free MTTs
the ability to voluntarily block yourself from the game for a certain period of time.

9 place

No Deposit bonus of 88$
and
First Deposit bonus of 100% up to $400

intuitive interface;
the training section in the presence of;
good player traffic;
there are a browser version and a mobile app.

14 place

First Deposit bonus of 100% up to $1000

responsive technical support;
convenient navigation in the client's lobby;
it is possible to play using the browser.
In the second part of this article, we will go into detail about each poker room from the list separately and analyse each of their individual characteristics.