In the previous article (Where to play free online poker. Part 1), we defined the concept of "free poker game", laid out the particular motivations of both players and companies which participate in the provision of such free play, and briefly reviewed the best poker rooms to play at with conditional chips. In this second part, we will have a closer look at each poker room and carefully consider every one of their advantages and disadvantages.
PokerStars has grown to become synonymous with online poker over the past decade. From the first few hands dealt out in 2001, PokerStars was launched to fame just two years later in 2003 when Chris Moneymaker's win of the world series qualifying tournament (WSOP) triggered a real boom in the online poker industry. For just a meagre $86, he was able to take part in the main poker event of the same year.
It did not take long for him to prove himself against some of the best players in the world, going on to win the main tournament and its hefty $ 2,500,000 prize. This historic win propelled the realm of online poker to popularity, attracting a multitude of new players eager to reproduce Moneymaker's staggering success. Naturally, it was onto PokerStars platform that these ambitious players mainly flocked to in the hopes of becoming the next world series winner.
PokerStars' popularity continued to grow over the following years thanks to a great promotion scheme, a stellar loyalty program, as well as exemplary software. Its record tournament series guarantees have also certainly encouraged poker players all around the world to register onto the site.
Whereas professional players are eager to sign onto PokerStars for its profitable tournaments, amateurs have also enjoyed the platform's software for its deposit-free games. These are available for all who download the poker room client and complete the straightforward registration process. You may switch software onto a free game within just a simple click: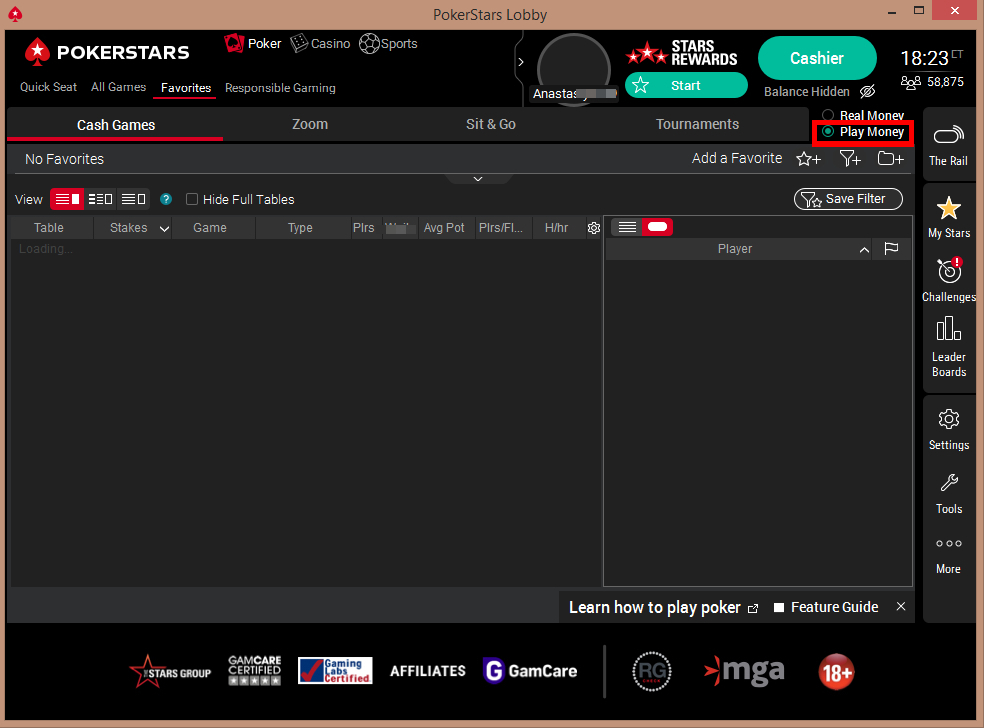 PokerStars justifies its top ranking in more areas than one, and that certainly includes its conditional money poker games. Just a quick glance over the lobby's principal tabs reveals its generous choice of card games and poker game modes. These include:
Unlimited Texas hold'em;
Omaha;
Limit hold'em;
Seven-card stud;
Razz;
Courchevel;
Five-card draw poker;
Badugi;
Mixed poker (including 8-Game and H. O. R. S. E.).
The full list is available on the screenshot of the PokerStars lobby: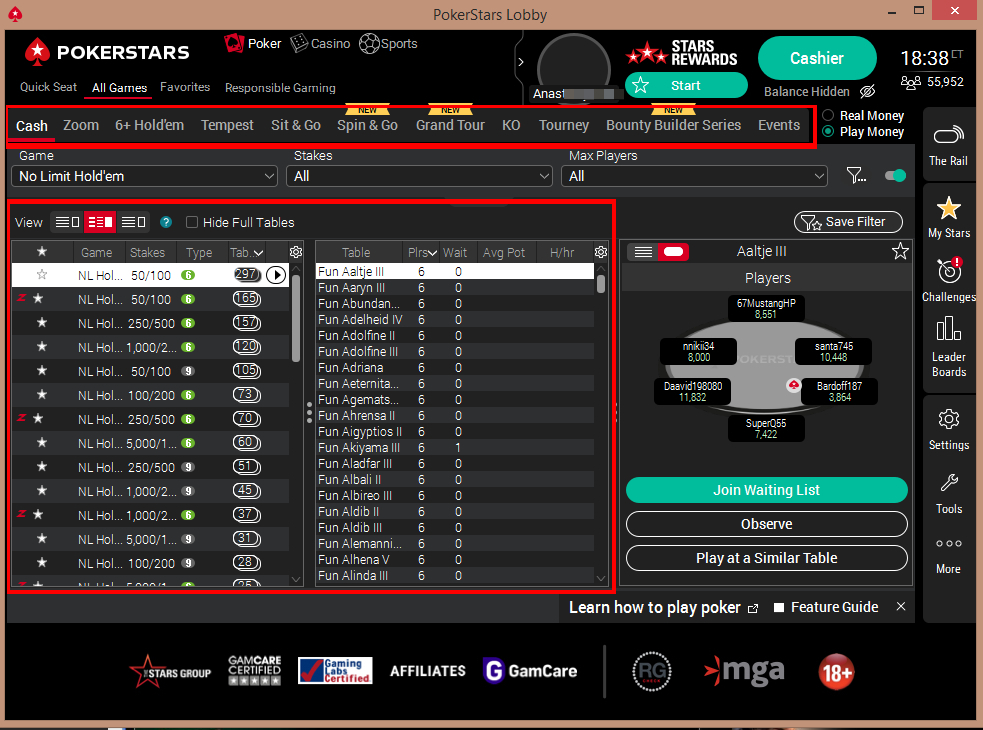 There is no need for exaggeration when relating PokerStars' game options as there is scarcely any other site which matches its variety. Even when comparing real-money games, few of PokerStars' competitors are able to boast such a wide number of choices. Indeed, not only can you bet conditional money at cash tables, but you may also play online poker with a short deck, try out the experimental game Tempest Holdem, or even join in on single-table tournaments like Spin&Go and Sit&Go. The MTT tab itself deserves mention on its own as the choice of tournaments is nothing short of incredible and scarcely inferior to any real money alternative.
As you start betting and winning, you can keep track of your balance and earnings at any time by clicking on the "Cashier" button. Whenever you see yourself running low on chips, simply click on "Collect" to gather some more.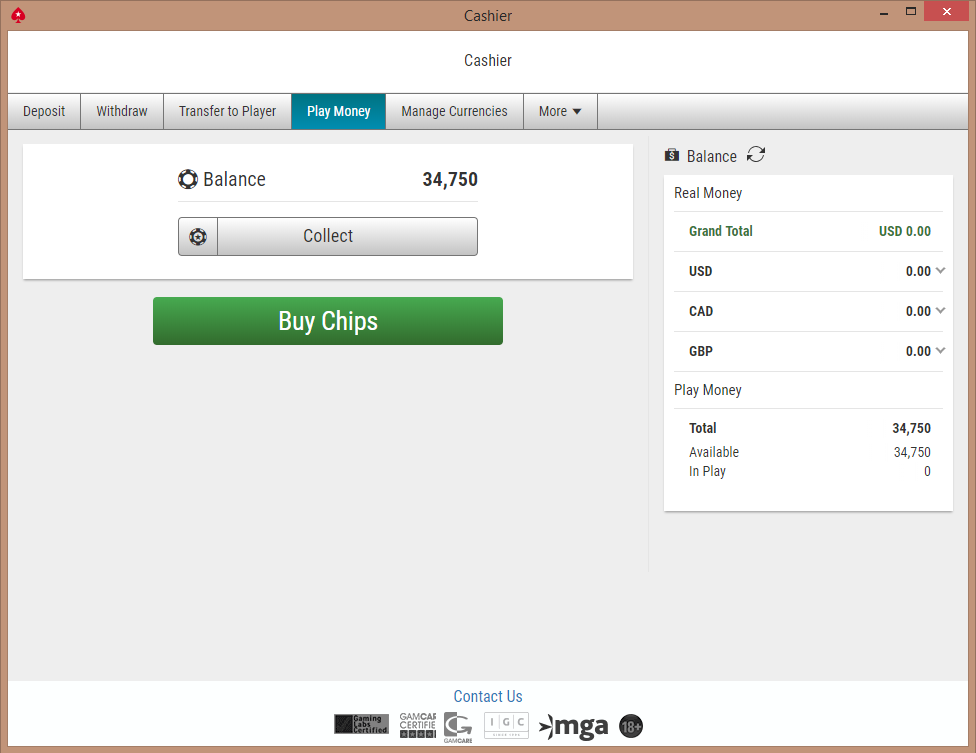 You may collect up to 15,000 conditional chips at any one given time, and you have to wait 4 hours before ordering more. This limit is set so as to prevent players from amassing several millions of dollars of conditional money and still attribute a certain value to these fictitious chips by instilling a sense of responsibility even amidst amateur players.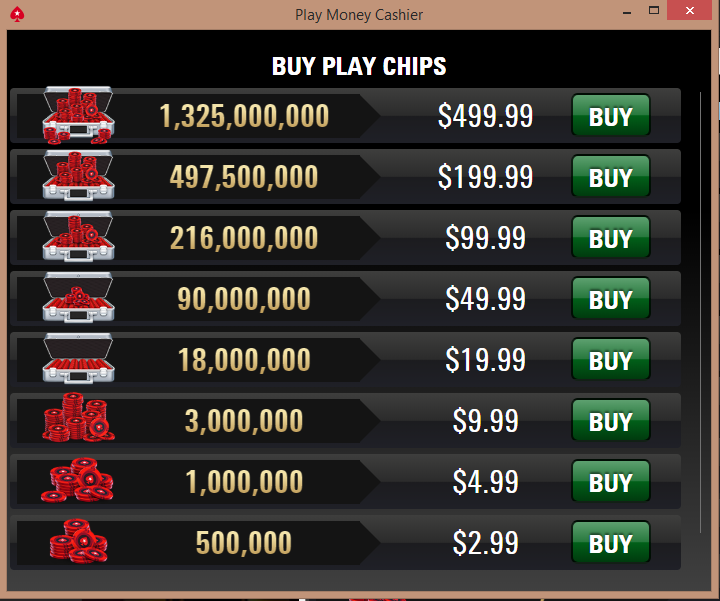 Another function on offer is the "Buy Chips" tab. This lets you purchase conditional chips in exchange for real money, something which might be of interest to ambitious poker fans reaching for those higher bets. Since it may take a while to accumulate sufficient chips the conventional way, buying them can help you save time and animate the game.
This tab («Home Games») was unique to PokerStars for a number of years before it was adopted by competitors. This option lets you create your very own poker club and invite your friends to join.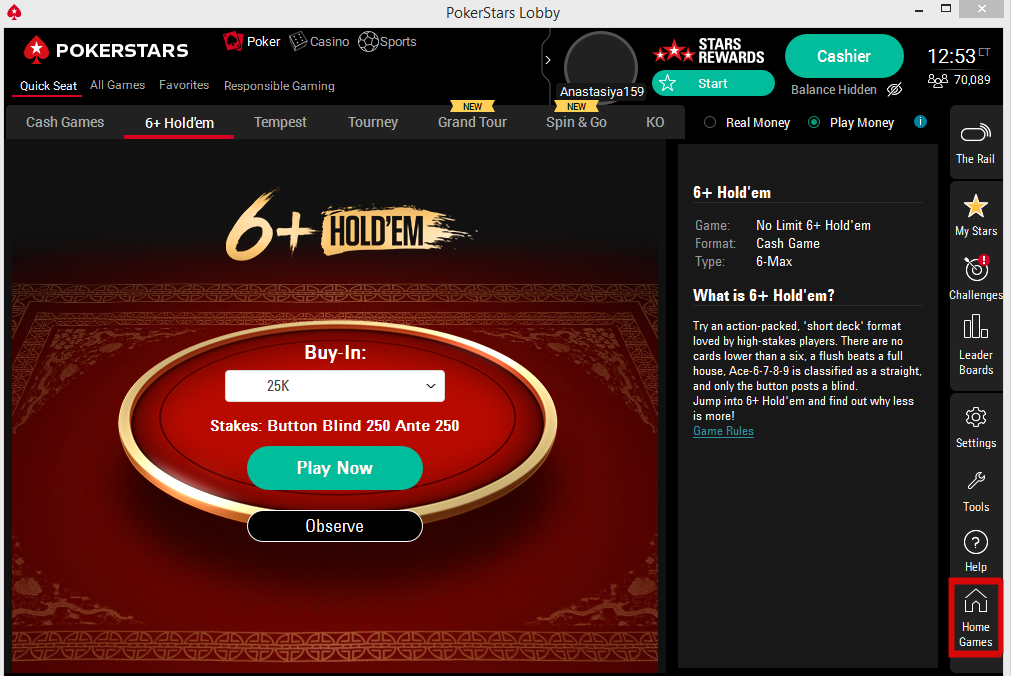 This functionality is accessible upon a quick club registration; you may then send out invitations to any friends or family and choose your preferred game type and betting limit. As with most games on the platform, you may also decide whether you wish to play for real money or bet with conditional chips.
PokerStars detaches itself from its competitors in yet another aspect with its PokerStars School. This separate portal lets players have the opportunity to learn the basics of poker and accumulate precious information about potential game strategies. The PokerStars training portal is readily available from the tab on the official website:
The PS school's knowledge base includes 21 poker courses (each with 5 to 38 lessons; the lesson is a comprehensive article on a specific topic). In the "Live Training" tab, live broadcasts of the game of the leading players are held daily, where they demonstrate the use of poker concepts in practice. The PokerStars school not only gives players the opportunity to improve their playing skills but also rewards them with real prizes or tournament tickets. Leader boards and tournaments are regularly held among members of the PokerStars School community.
PokerStars is also featured on a mobile app for both iOS and Android so that you never have to wait to play your next poker game. Whether you are home, on the way to work or queuing at the supermarket, you can place your bets wherever and whenever you are.
Whilst many poker players assert that PokerStars has dominated the world of online poker ever since its initiation, it was, in fact, Partypoker which first established the online poker trend. Having launched all the way back in 1997, a full four years before PokerStars ever laid out its first hand, it almost instantly became a hit in the burgeoning poker industry.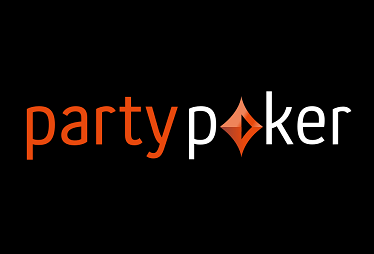 By 2005, Partypoker has amassed more poker players than any other site. Nowadays, such a feat would seem inconceivable, but back then, Partypoker had more traffic on its platform than all of the other poker sites combined. It only took Party Gaming, Partypoker's parent company, to go live on the stock exchange market for its founders to become instant billionaires. Unfortunately, the winds eventually turned the other way in 2006 as stricture regulations in the US forced the company out of its largest client base. It never truly recovered from its loss and has since failed to reclaim its leading position from its fierce competitor PokerStars.
Today, Partypoker is still struggling out of a difficult situation, albeit with a head held so high that it has made some analysts advocate its return to a leading role in the upcoming years. In the meantime, Partypoker still defends its advantages with great conviction: switching between free and paying games only require two clicks, one in the lower-left corner on "Real Money", followed by "Play Money".
Despite this apparent simplicity, the Partypoker suffers from a struggling client software which holds it back from rightfully competing with its rival PokerStars. Its graphics engine has long since been considered obsolete, and although it had announced an imminent transition onto a new client last year, nothing has yet happened. Instead, developers are perpetually adding new features onto the current software with no grand reorganisation in sight.
The choice of card games and disciplines on Partypoker also fails to impress alongside its competitors – there are just 4 tabs on offer. These include:
Several cash tables for conditional money on no-limit hold'em and Omaha, as well as one table on limit hold'em;
Total 1 Fast Forward poker table;
A little more than ten Sit&Go tournaments.
Only the substantial selection of MTT tournaments for conditional money is worth commending, although the number of players remains fewer than at PokerStars, there are enough to provide players with an immersive experience.
How do I top up my share of conditional chips on Partypoker? If you happen to lose every last one of your chips, you may request up to 5,000 new ones without having to leave the game table. There is, however, no opportunity to purchase conditional chips for real money.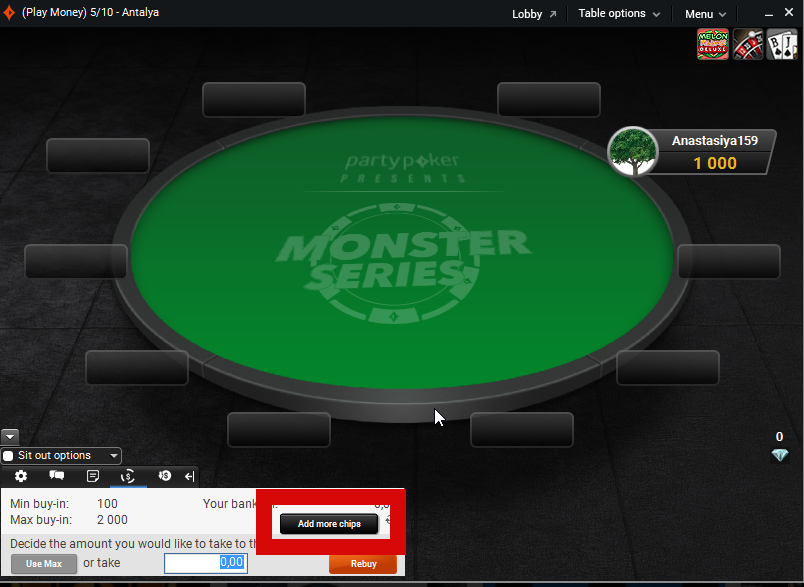 More recently, Partypoker has added the "Club Games" feature onto its platforms for its players to host private games. Players are now able to create their own clubs for friends and family, much analogous to PokerStars' "Home Games". Similarly, you may create your own exclusive table, choose a poker discipline and set the limits and decision time – all you need to have some fun with friends.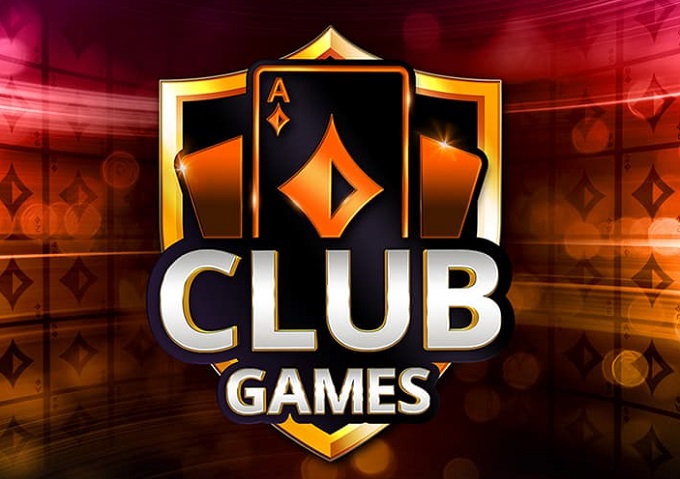 A more useful feature hosted on the Partypoker platform is its training portal. Known as "My Game", this feature is easily accessible from the poker room home page under your nickname and by following the link of the same name. Having accessed the portal, you may browse through the "Courses" tab for your choice of lesson and compilation of theoretical information related to poker strategies. You will also find that every article has a visual demonstration adjoined, be it a training video or selection of images.
You may play on Partypoker not only from a desktop computer running Windows and Mac operating systems but also from an iOS/Android smartphone.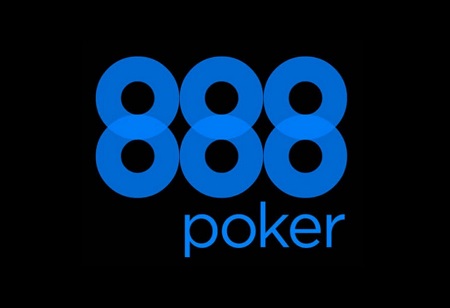 888Poker first launched in 2002 under the name "Pacific Poker" and has since gained widespread popularity thanks to the exemplary structure of its tournaments and more exclusive field of players. At the time of the events of Black Friday, Pacific Poker claimed the third-largest player base, right behind two giants of the online poker industry, PokerStars and Full Tilt Poker. Following a restructuration to optimize part of its operations, the Pacific Poker network has transformed itself into a single poker room, now known as 888Poker. This coincided with a loss of interest in 888, inciting 888 Holdings to focus more on other areas of the gambling industry, including sports betting and online casinos.
It would nevertheless be wrong to say that the company has neglected poker completely. As a matter of fact, its exclusive contract with the World poker series (WSOP) proves it otherwise.
The 888Poker interface had a radical change of face in 2019 to make its navigation more convenient for its users. Although this may be subjective, the 888Poker platform is considered by many to be superior to its competitors, with the exception only of PokerStars.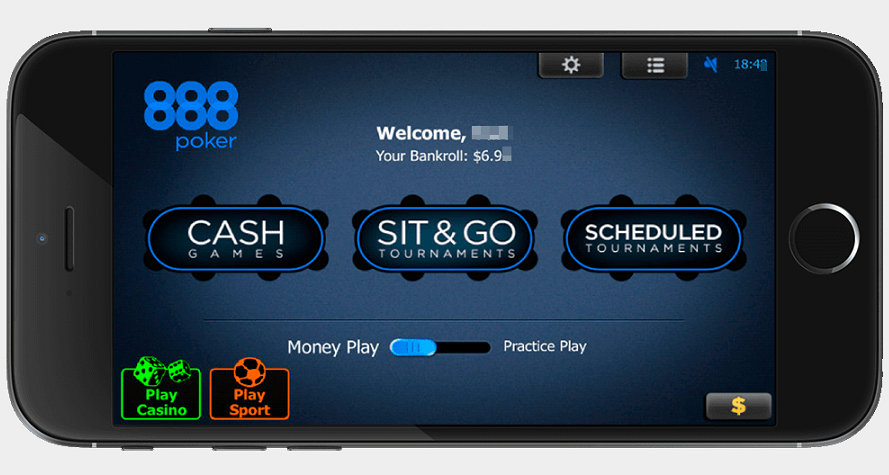 888Poker has made playing deposit-free simple – just download the poker server and complete the standard registration procedure. After registration, you will be required to enter your details and switch the game mode to conditional chips in the lobby found in the upper right corner of the home page: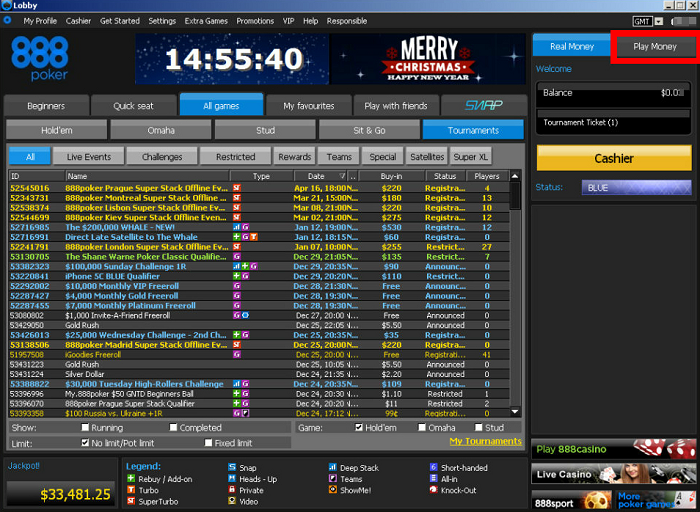 A careful study of the games offered in the 888Poker lobby lets us draw a number of conclusions:
The choice of card games and exclusively poker disciplines is significantly greater than at Partypoker, although still inferior to that of PokerStars;
In addition to traditional hold'em and Omaha, you can play for conditional chips in stud, SNAP (the local version of fast poker), and even Blast (which is the equivalent of Spin&Go);
The number of players at the tables is comparable to that of Partypoker. The problem arises from the significantly greater choice of game modes which "blur" the traffic over a vast number of tables and may give the impression of emptiness.
When you first start playing on 888Poker, you will be given just 1,000 money chips which instil a more responsible and conscious attitude within the players, despite the use of conditional chips. Such mentality is at the heart of 888Poker, although you should not worry about losing all your chips since these are automatically topped up every time you return to a table. Note that you will not be given the option of buying additional poker chips for real money.
A little training in the game of poker is provided on 888Poker, but it leaves much to be desired. The local version of the poker school is located in the "Get Started" tab.
Clicking on "Poker School" in the pop-up window will redirect you to a new page in your browser. Here you can learn the rules of card games and individual poker disciplines, as well as a generalized basic strategy for cash games, tournaments, and Sit&Go. The Get Started tab also contains the "Poker Tips" option. But here, too, only a few fundamental tips are written out for beginner poker players.
A few months ago, 888Poker announced that it would launch a similar functionality to that used by such features like Home Games and Club Games. It still remains that for the moment being this feature is not available, be it at regular tables or for free play on conditional chips.
Recently, an analogue of Home Games and Club Games was added to 888Poker. You may find it in the "Extra Games" tab under" Play with Friends". There you will have the opportunity to create a private tournament or cash game, or even choose to join an existing one. If you decide to create a new game yourself, you will need to select the game name, start date and time, as well as the stack size. To accept the invitation of a friend, you will simply be asked for the game name and password.
You can also play for fun on 888Poker from your Android/iOS smartphone, or directly from your browser. The browser version fully corresponds to the mobile app in all of its functions and options.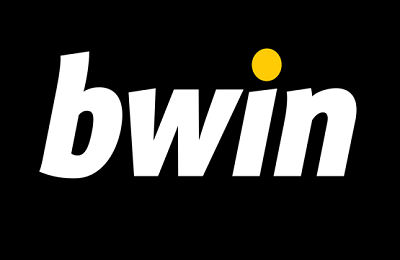 Bwin Poker. In 1997 the very first website specialising in sports betting was launched and was quickly followed by the poker division in the early 2000s as part of the aforementioned "poker boom". Bwin ended up transferring onto the OnGame network in 2005 which itself ceased to exist only a few years later, seeing Bwin rebought by Partypoker. The Party.Gaming network was itself purchased by GVC Holdings in 2016, this marking the last major corporate change in the company's history. More recently, Party.Gaming has overseen both Coral Poker and Ladbrokes Poker.
In recent years, the network has gradually worked to regain its lost standing. This 'poker Renaissance' may be attributed to a number of factors:
Combining players from different poker rooms in one single environment;
Respect for professional players on the part of Party. Gaming;
Good and balanced promotions and bonuses as incentives for both poker professionals and ordinary amateurs;
Continuous improvements to the software of their poker applications.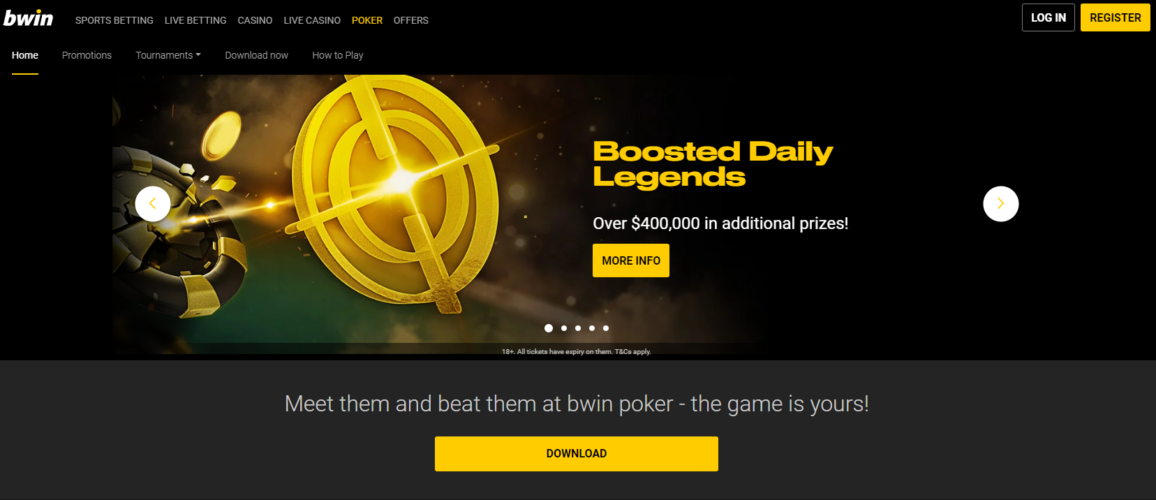 The Bwin Poker software has several features in common with Partypoker, although it still holds claim to a number of unique features. The most notable difference may be observed in the design of the lobby, which is laid out in darker and more moody colours. In contrast with the competing Winning Poker Network, which suffered from a number of unplanned issues during its transition onto a new platform last year, Bwin.Party opted for a more gradual improvement to its poker platform. On the one hand, this helps you avoid a number of problems with the inevitable bugs associated with new SOFTWARE, but on the other, Bwin Poker has struggled to make quick enough progress as so overcome the technical gap between its platform and that of its competitors PokerStars. A mobile app for iOS and Android is available on the official Bwin website.

Similarly to Partypoker, the button to switch between playing for real money and conditional chips is located in the lower-left corner of the home page. 6-max and 9-max unlimited hold'em cash tables are available for free play, whereas Omaha is represented only by Pot Limit. You may also play fast poker in the "Fast Forward" tab or join Sit&Go tournaments for conditional chips, although these are far less popular on Bwin. You may still find lots of MTT tournaments, each with different buy-ins at full or short tables, depending on the player's particular preference.
If you happen to lose all your chips at the cash tables, you may request an additional 5,000 free chips to top up your balance.
A notable way in which Bwin differs from other platforms is its lack of "Club Games", functionality to create private tables. As this option has only just recently made its debut on Partypoker, it may be assumer that other poker rooms on the network will follow shortly.

Chico Poker, as it is known today, was first established in 2011. This later date is explained by the fact that the brand was built upon the foundations of another poker network – Action Poker Network. A marking step in the latter's history was its adoption of the UIGEA law in 2006, having been forced out of its largest and most profitable market just shortly before. Its steady decline continued up until 2011 when the company was bought out by Julian Holdings International.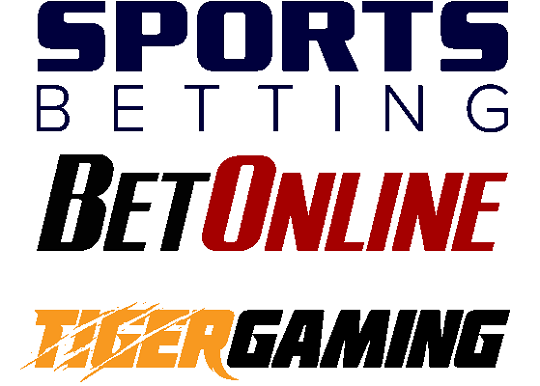 For the time being, Chico Poker is comprised of 3 individual poker rooms:
TigerGaming;
BetOnline;
SportsBetting.
As it eventually joined BetOnline, the site was able to regain access to a large client base in the United States. This boost has allowed the Chico network to keep up with its more important competition, ranking as high as 12th amongst poker rooms across the world.
For clarity's sake, we will take the Tiger Gaming poker room as the basis of our software analysis, it being the largest and most well-known component of the Chico Poker Network.
Formal account registration is required if you want to play online poker for free and takes scarcely more than 5 minutes to complete. You will be asked to confirm your personal details via a link sent out to the email used for the registration.
The software works at a decent level and boasts a significant number of customization options. The combination of black, orange and green colours in the client's lobby adds a touch of originality to the display and compliments the convenient organisation of tabs according to game types and poker games. Switching between playing for real money and conditional chips can be done in just one click: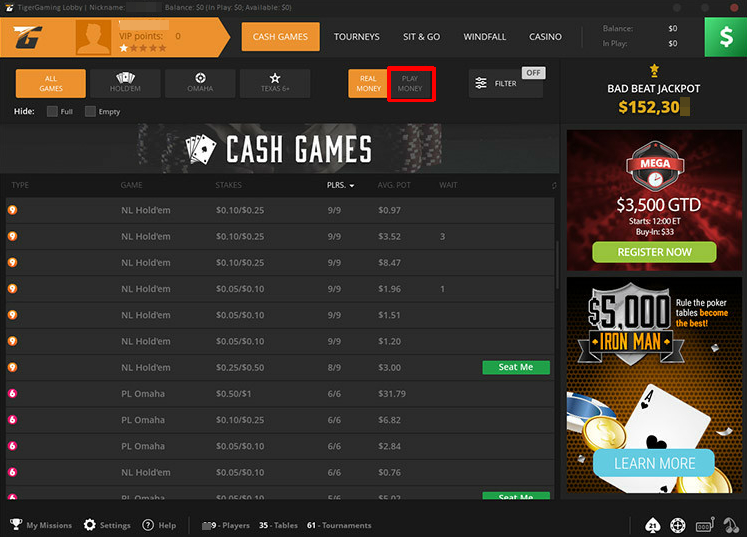 With conditional money, you can play NL Holdem, NL\PL Omaha, as well as several MTT tournaments. But the game for conditional chips in Sit&Go in the local version of Spin&Go called "WindFall" is not provided. Initially, you will be given a total of 1,000 chips to bet on any poker game of your choice. If you lose, you can easily restore your balance:
Go to your account using the button in the upper-right corner (the icon with the image of a dollar in a green rectangle);
In the window that appears, click on "Reset".
TigerGaming has a mobile app, although the game is also available directly from your browser. To play without downloading additional software, you just need to go to the official site of the poker site and follow through to the desired tab.
Conclusion
Rapid technological progress and the associated spread of Internet access across the world have given poker fans a unique opportunity to spend time doing what they love, wherever and whenever they wish to. No need to leave the confines of your home to play online poker with friends for fun or professionals. You do not even have to risk your own money anymore to play a game of poker for fun since you can now join tables on a variety of gaming sites with no deposit. With a large number of high-quality poker platforms on offer, you won't even have to worry about crooked software or suspicious sites.
The largest and most popular poker platforms, PokerStars, Partypoker, 888Poker, Bwin Poker or Chico Poker Network, all provide conditional money games at the click of a button. Just a simple registration procedure, a quick software download and you are ready to start bluffing your way to the top of the leader board. Some of the most advanced gaming sites even feature mobile apps to allow you to set up your poker table wherever you are – whether you are relaxing at home or commuting to work, there is always a way for you to join a live poker table somewhere in the world.