AstroPay vouchers have revolutionized the world of online transactions and deposits, offering a secure and versatile payment method that's embraced by both seasoned digital shoppers and newcomers to the realm of online payments. In this article, we'll take you on a journey into the realm of AstroPay vouchers, exploring their myriad benefits and the top merchants who accept them across various countries.
So whether you're an avid online gamer, a savvy shopper, or simply someone looking for a reliable and secure payment solution, this guide will unveil the potential of AstroPay vouchers for you.
Understanding AstroPay
AstroPay stands as a globally renowned digital payment solution, celebrated for its unwavering commitment to secure and accessible online purchases. A notable facet of AstroPay is its extensive utilization on gaming websites, particularly by gamers seeking to replenish gaming accounts or make discreet deposits. This popularity has firmly established AstroPay Vouchers as the preferred payment method for the gaming community, uniting security and user-friendliness. Whether you're a dedicated gamer or merely in search of a reliable online payment solution, AstroPay has you covered.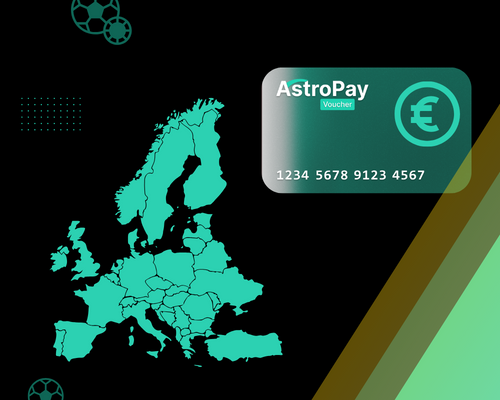 Where to Buy AstroPay Vouchers in EUR?
If your goal is to obtain AstroPay vouchers in EUR, the Baxity Store stands as your reliable and convenient option. This reputable platform provides a user-friendly interface that allows you to select your preferred voucher denomination in EUR, streamlining the acquisition process.
Here's a step-by-step guide on purchasing AstroPay vouchers in EUR through the Baxity Store:
Visit the Baxity Store's official website.
Register for an account or log in if you already have one.
Navigate to the "AstroPay Vouchers" section.
Select your desired voucher denomination and currency (EUR).
Proceed with the payment, following the provided instructions.
Upon the successful completion of your purchase, you will receive your AstroPay voucher code via email or directly within your Baxity Store account.
Why Opt for Buying AstroPay Vouchers EUR with Cryptocurrency?
When it comes to acquiring AstroPay vouchers in EUR from the Baxity Store, there exists a payment option that not only enhances convenience but also delivers substantial cost savings (if for instance you want to top up the merchant). Customers who opt for cryptocurrency payments can unlock an exclusive 2% discount by applying the Crypto_Astropay promo code on checkhout. Here's why this option shines:
Cost Efficiency: Cryptocurrency payments translate into a 2% discount on your AstroPay Voucher EUR purchase, ensuring optimal value for your money.
Swift Transactions: Cryptocurrency payments are celebrated for their speed and efficiency, ensuring a streamlined process from payment to the delivery of your voucher code.
Heightened Security: Cryptocurrency payments utilize blockchain technology for advanced security, safeguarding your transaction and personal information.
Global Accessibility: Cryptocurrency payments transcend borders, providing accessibility to customers across the globe.
Anonymity: Cryptocurrency payments preserve your privacy, making them an attractive choice for those who value discreet financial transactions.
To unlock this exclusive discount, simply opt for cryptocurrency as your payment method during checkout and apply the Crypto_Astropay promo code.
Securing Your Exclusive 2% Discount for AstroPay Vouchers EUR
If you're looking to secure an exclusive 2% discount on your AstroPay Vouchers EUR purchase, the process is both straightforward and rewarding. Here's how you can make it happen:
Start by initiating the checkout process and choose "Pay with cryptocurrency" as the mandatory payment method for getting the discount.

In the designated "Coupon code" field, apply the Crypto_Astropay promo code.

Upon successfully applying the promo code, watch as the 2% discount is effortlessly subtracted from the total cost of your AstroPay Voucher purchase.
By opting for cryptocurrency as your payment method and incorporating the Crypto_Astropay promo code, you'll not only streamline the purchase procedure but also optimize your savings. This avenue presents an excellent opportunity to experience all the advantages of AstroPay Vouchers EUR while making the most of your financial resources. Whether you're a seasoned cryptocurrency enthusiast or just venturing into the world of digital currencies, this discount possibility guarantees a cost-effective and efficient AstroPay Voucher acquisition.
Exploring Top AstroPay Voucher EUR Merchants Worldwide
Where Can You Use AstroPay Vouchers EUR?
AstroPay vouchers have found a home among various international merchants. Whether you're situated in Europe, there's a plethora of merchants who enthusiastically accept AstroPay vouchers EUR. To simplify your search, we've compiled a comprehensive list of top AstroPay merchants across different european countries:
Top AstroPay Vouchers EUR Merchants by Country
Countries
AstroPay Vouchers EUR Merchants
Austria
20bet – EU
Callkey system Limited
Betfootball – EU
VulkanVegas-EU (Brivio)
Hellspin- EU
Belgium
StarPay Limited_EU
Betitall EU
BiamoBet – EU
ZenCasino – Tsars – EU
Momus 2006 LTD EU
Bulgaria
BetinAsia – EU
Betfootball – EU
22bet – EU
Qbet
AstroMario
Croatia
22bet – EU
RR Invest – ZenCasino – Tsars
Dama N.V.-EU
1goodbet EU
Betwinner – EU
Cyprus
Skythor – EU
bettogoal – EU
Full Force EU
Dama N.V.-EU
Czech Republic
20bet – EU12
22bet – EU
Advabet
Callkey system Limited
Chipstars Casino
Estonia
Cashalot
Momus 2006 LTD EU
MMC GLOBAL HOLDINGS LIMITED – EUROPE
Betobet – EU
BetinAsia – EU
Finland
NewEra EU
CW_EU
Advabet
Callkey system Limited
Bellona EU
France
1xBet – EU
Betwinner – EU
22bet – EU
Mountberg LTD EU
Qbet
Germany
22bet – EU17
20bet – EU
Callkey system Limited
Gammix Ltd EU
BetinAsia – EU
Great Britain
Aspire Global – UK
Slotbox
CSGOEmpire – EU
Unibet
HitCigars
Greece
Momus 2006 LTD EU
ZenCasino – Tsars – EU
BetinAsia – EU
BiamoBet – EU
Full Force EU
Hungary
22bet – EU20
Betfair – EUR
PokerStars – EUR
Ditobet – EU
Bellona EU
Latvia
PokerStars – EUR
Betwinner – EU
Unibet
1xBet – EU
Melbet – EU
Lithuania
Momus 2006 LTD EU26
BiamoBet – EU
ZenCasino – Tsars – EU
StarPay Limited_EU
Unibet
Malta
Rootz-EUR
RR Invest – ZenCasino – Tsars
Cashalot
TuskCasino – EU
House Rules Group Ltd – EUROPE
Monaco
22bet – EU31
Netherlands
FairGame_EU
Callkey system Limited
Qbet
Beem – EU
P&T MULTIMEDIA SERVICES LTD
Poland
IceCasino-EU (Brivio)
VulkanVegas-EU (Brivio)
gg.bet-EU (Brivio)
LemonCasino EU
Unibet
Portugal
Momus 2006 LTD EU39
IceCasino-EU (Brivio)
VulkanVegas-EU (Brivio)
Bellona EU
Chipstars Casino
Romania
1xBet – EU41
RR Invest – ZenCasino – Tsars
BiamoBet – EU
Netbet – EU
Zweeler Ltd
Serbia
bet36543
GG Poker
Vantage Enterprises Limited
www.playhugelottos.com
1xbet
Slovakia
PokerStars – EUR45
22bet – EU
Green Feather Online Limited EU
FairGame_EU
Cashalot
Slovenia
PokerStars – EUR46
22bet – EU
Betfootball – EU
ZenCasino – Tsars – EU
Betobet – EU
Spain
Betwinner – EU
BetinAsia – EU
22bet – EU
Codere – ES
20bet – EU
Sweden
Nucleon_EU (L.C.S Limited)
Shark77 LTD EU
Full Force EU
Qbet
Bellona EU
Switzerland
Betitall EU
Momus 2006 LTD EU
Qbet
Gammix Ltd EU
22bet – EU
Why Opt for AstroPay Vouchers When Depositing on Gambling or Betting Websites?
When it comes to topping up your account on gambling or betting platforms, AstroPay Vouchers offer a multitude of advantages, making them a preferred choice for numerous users. Here's a breakdown of why depositing money with AstroPay Vouchers is a savvy decision:
1. Enhanced Security and Privacy. Depositing with AstroPay Vouchers means you don't have to divulge sensitive financial information to the gambling or betting website. This significantly reduces the risk of data breaches and unauthorized access to your financial details.
2. Anonymity. Users who value their privacy appreciate AstroPay Vouchers as they allow you to keep your identity hidden. You don't need to link your bank account or credit card to the transaction, ensuring that your gambling activities remain discreet.
3. Controlled Spending. AstroPay Vouchers are prepaid, enabling you to manage your expenses effectively. You load the voucher with a specific amount, preventing you from going over your budget. This responsible gambling approach aligns with the chance to save 2% when using the Crypto_Astropay promo code for crypto payments.
4. Widespread Acceptance. Many gambling and betting websites embrace AstroPay as a payment method. Whether your interest lies in sports betting, online casinos, or poker, you're likely to find AstroPay as an available option.
5. Real-Time Deposits. Deposits made through AstroPay Vouchers are typically processed instantly. This means you can fund your account and commence playing without unwarranted delays.
6. Multi-Currency Support. AstroPay Vouchers are accessible in various currencies, allowing you to choose the one that best suits your needs. This flexibility proves particularly advantageous when engaging with international gambling platforms that accept multiple currencies.
7. Simplicity and Convenience. Using an AstroPay Voucher is straightforward and convenient. You purchase the voucher, enter the code on the gambling website, and watch as your funds are seamlessly added to your account, eliminating the need to navigate intricate payment processes.
8. Inclusion for All. Some users may lack access to traditional banking or credit card options. AstroPay Vouchers step in as a cash-based alternative for swiftly making online gambling deposits.
AstroPay is widely accessible, serving numerous countries and merchants, ensuring users across the globe can take advantage of this dependable payment solution.
Opting for AstroPay Vouchers when depositing money on gambling or betting websites provides an enticing proposition due to its amplified security, anonymity, prepaid structure, and extensive acceptance. It paves the way for a seamless, secure, and peace-of-mind gaming experience. However, it's paramount to practice responsible gambling and adhere to your budget, regardless of the payment method you select.
How to Make a Deposit to 1xBet with AstroPay Voucher EUR?
A Guide to Making a Deposit to 1xBet with AstroPay Voucher EUR
If you're eager to fund your 1xBet account using an AstroPay Voucher in EUR, you're in luck. Follow this step-by-step guide to make the process smooth and hassle-free:
First and foremost, you'll need to log in to your 1xBet account using your credentials. If you don't have an account, you'll need to sign up for one.
Once you're logged in, navigate to the "Deposit" section of your 1xBet account. This is where you'll initiate the deposit process.
In the deposit section, you'll find various payment options. Look for "AstroPay" or "AstroPay Voucher" and select it as your preferred payment method.
Specify the amount you want to deposit using your AstroPay Voucher in EUR. Make sure the sum matches the value of your voucher.
You'll be prompted to input your AstroPay Voucher details, which usually include the voucher code. You can find this information in the email or message from the retailer Baxity Store where you purchased the voucher.
Double-check the details you've provided to ensure their accuracy. Once you're satisfied, proceed to confirm the transaction.
Follow any additional steps or instructions to finalize the payment. This may include confirming your identity or verifying the transaction.
Once the payment is successfully processed, the funds from your AstroPay Voucher in EUR will be added to your 1xBet account. You should receive a confirmation of the transaction.
With your 1xBet account now funded using your AstroPay Voucher, you can dive into the exciting world of sports betting, casino games, and other wagering options available on the platform.
By following these steps, you can effortlessly and securely deposit money into 1xBet account using an AstroPay Voucher in EUR, ensuring you're ready to place your bets and enjoy the wide array of entertainment options offered by 1xBet.
How to Make a Deposit to 22Bet with AstroPay Voucher EUR?
When it comes to your betting adventures, having a seamless and secure payment process is crucial. 22Bet, a renowned online sportsbook and casino, understands this and offers a range of payment methods to cater to your needs.
22Bet prides itself on providing an extensive selection of payment methods, making it convenient for players from around the world to deposit and withdraw funds. From traditional options like credit and debit cards to innovative digital solutions, there's something for everyone. This diversity ensures that players can choose the method that suits their preferences and geographical location.
Traditional Payment Options
For those who prefer the tried-and-true, 22Bet accepts payments through major credit and debit cards. This includes Visa and MasterCard, offering a straightforward way to fund your account. Many players find this option particularly convenient, given the widespread use of these cards.
E-Wallets for Speed and Convenience
E-wallets have become increasingly popular due to their speed and convenience. 22Bet recognizes this and allows deposits and withdrawals through well-known e-wallet providers like Skrill and Neteller. With e-wallets (AstroPay e-wallet), you can expect swift transactions, adding to the efficiency of your betting experience.
Crypto Enthusiasts Rejoice
For those who embrace the world of cryptocurrency, 22Bet goes the extra mile by accepting Bitcoin and various other cryptocurrencies. These digital assets provide enhanced privacy and security, making them an attractive option for many players. The use of cryptocurrencies also opens doors to unique promotions and bonuses, adding to the appeal.
In addition to directly depositing Bitcoin and various other cryptocurrencies, you have the option to purchase Binance Gift Cards and Crypto Vouchers from Baxity Store and redeem for crypto. These versatile financial tools offer a gateway to easy and secure transactions with 22Bet.
Local Payment Solutions
To accommodate a global audience, 22Bet integrates various local payment methods. This includes options like AstroPay Vouchers, which is particularly popular in worldwide. Local solutions ensure that players can deposit with ease, even if they don't have access to international payment methods.
Making deposits to 22Bet using AstroPay Voucher EUR is simple process. We can help you get started:
Log in to your 22Bet
Select "Deposit" section of your 22Bet account.
Look for "AstroPay Voucher" and select it as your preferred deposit option.
After choosing AstroPay, you'll be prompted to enter your AstroPay Voucher details – the voucher code, received via email from Baxity Store.
Review the information and confirm the transaction.
Complete the payment.
If you want to learn more about the benefits of using AstroPay, please refer to these articles:
Exclusive Services from Baxity Store: How to Benefit from AstroPay
AstroPay Vouchers Bulk Purchase, Cash-In and Wallet Payments