Trastra Vs SpectroCoin: The Choice of 2021
An argument for fiat currencies as opposed to cryptocurrency is that the latter cannot be used to buy everyday items. What if we told you this was possible through cryptocurrency debit cards? We will break down the two trending cryptocurrency debit cards, the denominations of which are Trastra Vs SpectroCoin. By the end of this article, you will know for sure what's better, Trastra or SpectroCoin.
About Trastra and SpectroCoin
Much like the debit cards we use to buy our daily cup of coffee, Crypto debit cards are available to reduce the limits of using cryptocurrency. Retailers are always reluctant to adapt to new forms of trading, sometimes even if they are perfectly legal and mainstream. This is especially true when we talk about anything related to cryptocurrency, largely due to the volatility and underdeveloped understanding of blockchain. What might be the solution? Crypto debit cards.
Crypto debit cards work in a very similar way to regular debit cards, in the sense that you can walk into a grocery store and swipe to buy your fruit and vegetables. The only difference is that instead of taking the money from your bank account, the process involves processing the amount in Crypto and converting it to fiat currencies before transferring it to the shopkeeper.
What Is Trastra
TRASTRA is a personal blockchain banking app that offers a debit card issued by VISA. It is an ideal solution for converting cryptocurrencies to euros and cashing them out that provides clients with secure and stable services. This can prove very convenient both in business and for gambling. In fact, the currency exchange related to Crypto will not be visible in the user's account, making it a relatively low or tax-free process.
About SpectroСoin
SpectroCoin is a cryptocurrency exchange that serves as an all-in-one solution. It offers a wide range of solutions for working with different cryptocurrencies, and it built its business policy on the philosophy of making finance quicker. The company takes pride in serving the needs of every client, as opposed to asking them to adapt. This is also relevant concerning the number of payout methods available and the support offered in multiple languages.
Trastra Vs. Spectrocoin: Main Features Compared
Now that we know what these companies claim to offer, it's time for us to dive deeper into what each of them has to offer so we can compare them objectively.
| | | |
| --- | --- | --- |
| | Trastra | SpectroCoin |
| Country of Regulation | Main office in the UK, office in Prague | Main office in the UK, offices in Lithuania |
| Year of Foundation | 2017 | 2013 |
| Supported Countries and Languages | Available in 31 countries across the world in 5 languages, with more on the way. | Available in more than 200 countries and regions and supports 12 languages and counting! |
| Currencies | Bitcoin, Bitcoin Cash, Ethereum, Litecoin, Ripple, USD Coin and Euros. | Bitcoin, Ethereum, Ripple, Bankera, Dash, Stellar, Litecoin, Zcash, Nem, Tether, True USD, USD Coin, Paco's Standard, US Dollars, Euros, and Pounds Sterling. |
| IBAN Account | Yes | Yes |
| Deposit Methods | Bank cards and accounts. Deposits are made in supported cryptocurrencies and can be done either through the website or the mobile app. | Debit and credit cards, Neteller, Skrill, VPAY, Payeer, Perfect Money and SEPA. Deposits are made in supported cryptocurrencies and can be done either through the website or the mobile app. Additional charges depend on the bank or service provider. |
| Withdrawal Methods | Trastra exchanges the currencies into fiat first – Euros – and then transfers from one wallet to another. It is also possible to withdraw cash at ATMs and make payments in either Euros or Crypto. | You can withdraw money from your wallet directly to your bank. |
| Verification Process | Thanks to its Know Your Customer policy, Trastra requires verification which may come in two forms. The initial verification takes 15 minutes, while the recurrent verification takes two days. | You do need to verify your information with Spectrocoin, and this includes your email, address, and other details. In this sense, it is very much like a traditional bank account. |
| Money Transfers via Card | Available | Available |
| Security Services | The card is protected by a VISA identity check, with options to allow two-factor authentication, anti-fraud protection, and device authorization. | Thanks to the use of private keys and seed keys, the device is very secure. Be sure to keep a copy of your keys on you, but if you lose them, you can always contact support and get another one after identifying yourself. |
| Anonymity | Complete anonymity is offered, which is an absolute blessing for anyone carrying out transactions in cryptocurrencies. | Limited anonymity offered, so keep that in mind if you want to make transactions you'd rather keep private. |
| Storage Type | Ewallet and Mobile App | Ewallet and mobile wallet |
| Customer support | Email, messengers, and live chat | E-mail, friendly live chat |
| Cashback Option | Periodic cashback promotions | No |
Cards Comparison
Cryptocurrency debit cards offer more than customer support and anonymity. The security provided by the blockchain also needs to be physically flexible. We will look at how the cards of the two blockchain experts differ and which one best suits our needs.
| | | |
| --- | --- | --- |
| | Trastra | SpectroCoin |
| Card image | | |
| Card Type | Debit Card | Debit Card |
| Currency | Euro | Euro |
| Card Provider | VISA | VISA |
| Card Loading | This is a simple process. Trastra cards can be loaded by users instantly via the Trasta app or using the IBAN transfer. The funds are loaded immediately and converted into the crypto currency of choice or at will at a given moment. | The card can be loaded instantly by converting Crypto. |
| Card Security | The card's security is three-fold; the seller, buyer and the card issuers are all involved. With the addition of Anti Fraud Protection and Anti-Skimming Technology, users get a personal PIN that needs to go through a 2-Factor Authentication. Users can also block the card at any time. | Security is lacking because it neither allows two-factor authentication or multi-signing. |
| Countries | Trastra is available in the EEA countries and soon will be available in more regions. | SpectroCoin debit card is available in the EEA countries and soon will be available in more regions. |
| Virtual Card | No | Yes |
Trastra Vs SpectroCoin – Applicable Fees And Limits
Now that the cards have been compared, here come the crucial bits. Will you lose money trying to make money? Will you be charged an insane amount in conversion fees, and will you have to pay a fee to use your own money? Which one is most feasible out of Trastra and SpectroCoin?
| | | |
| --- | --- | --- |
| | Trastra | SpectroCoin |
| Deposit Fees | Free of Cost! | 0-5.5% depending on the deposit method. |
| Withdrawal Fees | Depends on the conditions set by the provider and the priority of the customer. | 0-5.5% depending on the withdrawal method. |
| Fees for Transfers Between Accounts | Charges €0.20 to transfer between Trastra Cards. | Maker fees are 0.05%, while taker fees are 0.1% across all platforms except Bankera. |
| Currency Conversion Fees | The conversion to Euro is performed free of charge. | Dependent on the country and currency, will be set by VISA Europe. |
| Fee for Ordering Card | You can order a card for €9, but Baxity customers can get a fee refund! | You can order a card at zero cost and standard shipping prices don't apply either! |
| Card Monthly Management | It costs €1.25 per month to manage the account. | A monthly cost of €1.15 is required to manage the account. |
| ATM Withdrawal Fees | Depending on the ATM provider, it costs €2.25, plus an additional 3% if the transactions are made outside the EEA or Europe. | €1 + 1% for customers from the UK, €1 + 0.5% for Europeans and €1 + 1.5% for international customers. |
| ATM Withdrawal Limits | Customers have a €300 withdrawal limit per day | Customers have a €300 withdrawal limit per day |
Trastra and SpectroCoin Alternatives
Between Trastra and SpectroCoin, you can get everything you need and more with one card. However, alternatives include:
Coinbase: For those seeking an available minimum trade — $2.BlockCard: For those seeking a Low-Fee card.
Wirex: For the ones looking for Cardholder perks.
BlockFi: Has the best Cashback options so far.
BitPay: This is for US Residents who want it all.
Crypto.com: For those who want a wider variety of cryptocurrency support.
Nuri: Is the best no-fee card available today.
Binance: Another option for those looking for cashback options.
Baxity Special Offer
Now that we know and have confirmed the ins and outs of these crypto exchange-related transactions services, it is safe to say their application is promising. The ability to transfer between fiat currency and cryptocurrency is becoming increasingly popular and is the need of the hour. The growing demand needs a supplier or someone who provides an incentive.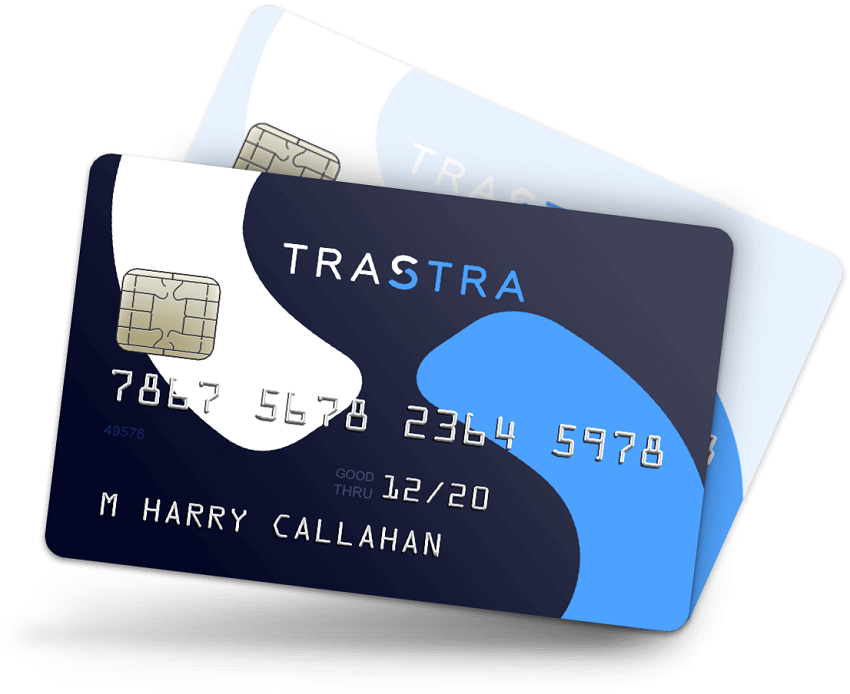 We, at Baxity, have made our pick and would like you to join us on our bandwagon. We offer you an opportunity to get your hands on a few Trastra bonuses that aren't available to everyone. If you order a card using our link, you can save €9 and get a refund for your Trastra card.
So What's Better, Trastra Or SpectroCoin? Our Final Verdict
Trastra Debit Cards are by far the easiest to obtain and are less hassle in terms of management. Not only are they affordable, but they also do not charge users for accessing their own money. Although they are both designed to work online and offline, the registration process is much easier, and the inbuilt tools offered by Trastra are more catered towards the needs of today's clients.
Frequently Asked Questions
Who Offers The Best Cards, Trastra or SpectroCoin?
We think both cards have their unique selling points, and what works for you might not work for another. However, the cards of SpectroCoin are free, and if you are a Baxity customer, you have lower transaction fees. Both cards have the same withdrawal limits, but when it comes to flexibility of accessibility, our inclination clearly lies with Trastra.
Why Should I Choose Trastra Over SpectroCoin in 2021?
The one big reason we root for Trastra is thanks to the security and anonymity it offers to its customers. Having a three-fold security system in place might sound tedious, but it is best to be as safe as possible when Crypto is involved.
Anonymity is one attractive factor for cryptocurrency. The entire purpose of going through the trouble of using blockchain methods for transactions is that they cannot be traced. SpectroCoin offers limited anonymity to its customers, and that is why you should choose Trastra over SpectroCoin. All amenities aside, if your transactions aren't safe and opaque, why bother with Crypto?
What Is The Best Payment Solution, Trastra or SpectroCoin?
Due to the anonymity on offer and the security options available, we would have to choose Trastra as our primary recommendation. It is a growing service and is likely to become the best of its kind.