What is EA Play?
Curious about EA Play? It's the ultimate haven for gamers who have a passion for EA games. With EA Play, you're treated to an enhanced experience of your cherished Electronic Arts titles. Delve into more rewards, exclusive trials, and discounts that come your way, all available for just $4.99 per month or a yearly subscription! Here's what's in store for you:
Unlock unique challenges and earn rewards, access content reserved solely for members, get early glimpses through trials of upcoming releases, and enjoy a library stocked with premier titles.
Dive into a selection of new-release games for up to 10 hours even before their official launch.
Broaden your horizons with unlimited entry to a compilation of Electronic Arts' beloved series and standout titles.
Why to Choose EA Play Gift or Game Cards?
Choosing EA Play gift cards or game cards can be beneficial for several reasons:
Gifts for Gamers: EA Play gift cards make great gifts for gamers in your life. Instead of having to guess which games they might enjoy, you're giving them the flexibility to choose the games they want to play.
Convenient Subscription Renewal: If you're already a subscriber to EA Play, using gaming cards to add funds to your account can make subscription renewal easier. You won't have to enter your credit card information every time your subscription is up for renewal.
Budget Control: Gaming cards allow you to set a specific budget for your gaming expenses. You can load a certain amount onto your account and avoid overspending on games or in-game purchases.
Privacy and Security: If you're concerned about sharing your credit card information online, using gaming cards can provide an extra layer of privacy and security. You can avoid sharing sensitive financial information.
No Expiry Date: Most gaming cards, including EA Play gift cards, typically don't have an expiry date. This means you can purchase them in advance and use them whenever you're ready. may become subject to statutory unclaimed property laws.
Flexible Redemption: Gaming cards are usually redeemable on various platforms, such as consoles or PC, making it easy to use the funds across different devices.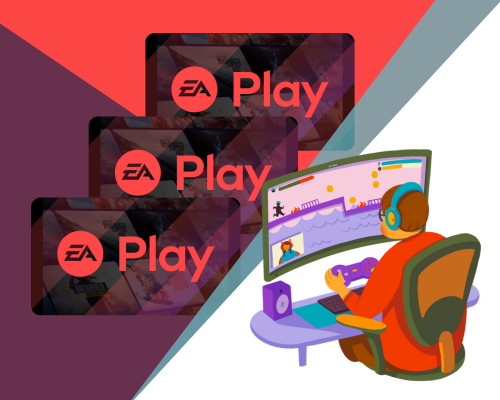 Keep in mind that the availability of features and benefits may vary depending on the specific gaming card or gift card you choose, as well as any updates or changes that have occurred. Always check the terms and conditions associated with the specific card you're interested in to ensure it aligns with your preferences and needs.
Where to Buy EA Play Gift Cards?
Baxity Store is a reliable reseller that offers a range of gift cards, including gaming-related ones like EA Play. Resellers like Baxity Store typically acquire gift cards from authorized distributors or sources and then make them available for purchase through their platform. The Store offers convenience, a variety of payment methods including cryptocurrency, and sometimes even special deals or discounts for wholesale buyers.
When considering buying EA Play gift cards or any other products from resellers, it's important to exercise caution and ensure that you're dealing with a reputable and legitimate reseller. Here are some tips to keep in mind:
Research: Look for reviews or customer feedback about the reseller to gauge their reputation and reliability.
Legitimacy: Make sure the reseller is authorized to sell the gift cards they offer. Reputable resellers will source their cards from legitimate distributors.
Secure Payment: Ensure that the payment methods offered by the reseller are secure and trustworthy.
Transparency: The reseller's website should provide clear information about the products they offer, including terms of purchase, delivery methods, and any applicable fees.
Contact Information: Legitimate resellers will have accessible customer support or contact information in case you have questions or encounter any issues.
How to Buy EA Play Game Cards?
We offer you a general guide on how to purchase prepaid and gift cards from Baxity Store:
Visit Baxity Store and browse available gift, prepaid or game cards.
Choose EA Play gaming credits card, look for different denominations that fit your preferences.
Select the value that suits your budget or gaming needs.
Add the selected card to your cart, review your order, and proceed to checkout.
During the checkout process, you might need to choose from available payment methods and provide your payment details for online purchases. Once the payment is confirmed, you'll receive the EA Play game card code through email or on the store's website.
How to Redeem EA Play Gift Cards?
To redeem EA Play gift card, follow these steps:
Purchase an EA Play gift card from a reputable reseller Baxity Store.
Navigate to your EA Account and Billing preferences ea.com/redeem.
If you're not already logged in, sign in to your EA account. If you don't have an EA account, you'll need to create one.
Select "Payment Methods ".
Beside EA Wallet, tap on "Add More ".
Enter the unique code of your EA Play gift card into the provided field. Double-check that you've entered the code correctly to avoid any errors.
Review and agree to the Terms and Conditions.
After entering the code, follow the prompts to submit the redemption. Click "Submit".
Once the code is successfully redeemed, you'll typically receive a confirmation message. Additionally, the value of the gift card will be added to your EA Wallet's balance.
You can usually check your updated balance to see the added funds from the gift card. If you encounter any issues during the redemption process, you can refer to the platform's official support resources for assistance.
What Kind of Benefits Does EA Play Offer?
EA Play provides subscribers with various benefits related to EA's video game offerings. These benefits typically include:
Access to a Collection of Games: Subscribers can play a selection of EA's games as part of their subscription, usually including both older titles and some newer releases. These games are available to play as long as the subscription is active.
Early Access Trials: Subscribers often get early access to upcoming EA games for a limited time before the games are officially released. This allows subscribers to try out new titles and experience gameplay ahead of the general public.
Discounts on Purchases: Subscribers usually receive discounts on purchases of EA games and in-game content. This can be especially beneficial for players who enjoy EA titles and want to buy them outright or obtain in-game items.
In-Game Rewards: Some EA Play subscriptions include in-game rewards, such as exclusive items, content, or currency for EA games.
Access to Play on Different Platforms: EA Play can be available on various platforms, including consoles like Xbox and PlayStation, as well as on PC through platforms like Origin and, more recently, Steam.