A Jeton Wallet is an electronic payment system that allows you to easily pay for purchases and services online, as well as to safely receive and transfer money around the world. It can be used from any device and anywhere.
What Is Jeton Wallet
Through the Jeton international payment system the users can carry out financial transactions worldwide. It holds more than 50 types of currencies and more than 70 payment options.
Benefits Of The Jeton Card/Jeton Voucher
A Jeton Card is a digital voucher also called Jeton Voucher or JetonCash. Buy it on Baxity Store and use as a payment method on various internet platforms.
What are the benefits of Jeton Card:
can be redeemed from thousand of online merchants;
the payments proceed without credit checks or bank account information;
easy to apply for;
secure and fast;
available in multiple digital currencies;
no Jeton Wallet fees for creating an account.
Why To buy A Jeton Card on Baxity Store
Buying Jeton Card on Baxity Store means:
to purchase the card without boring identity verification in just a few clicks;
to receive a card code instantly by e-mail;
to monitor your order on private account dashboard;
to avoid hidden fees;
to get qualified customer support.
How To Create A Jeton Wallet Account
The registration of a Jeton Wallet account is not that hard and available to all users – all you need is the Internet access and any device. If you plan to register via phone, the mobile application can be downloaded from AppStore or Google Play.
Follow the step-by-step instructions below to register a Jeton account.
1. To get started, go to the Jeton official website and click on the "Sign up" button in the upper right corner.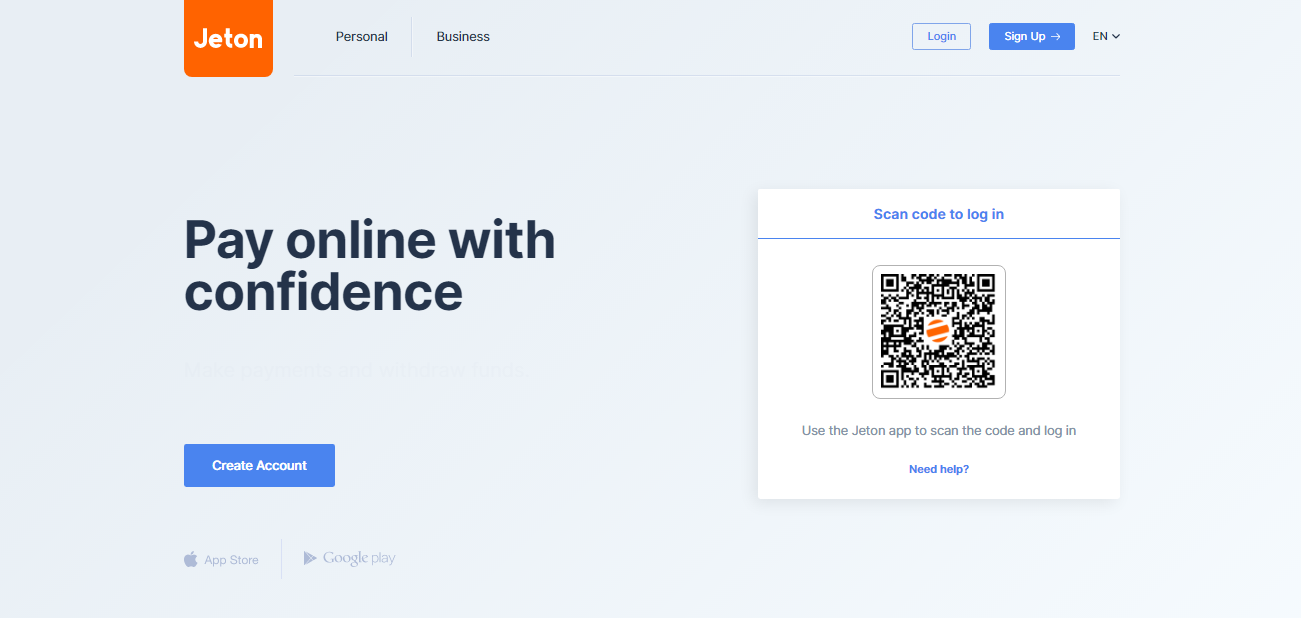 2. Fill in the account sign up form – select the country code and write down your phone number. Then insert a valid email address, set up a password, enter your first and last name, your date of birth. Click "Sign up".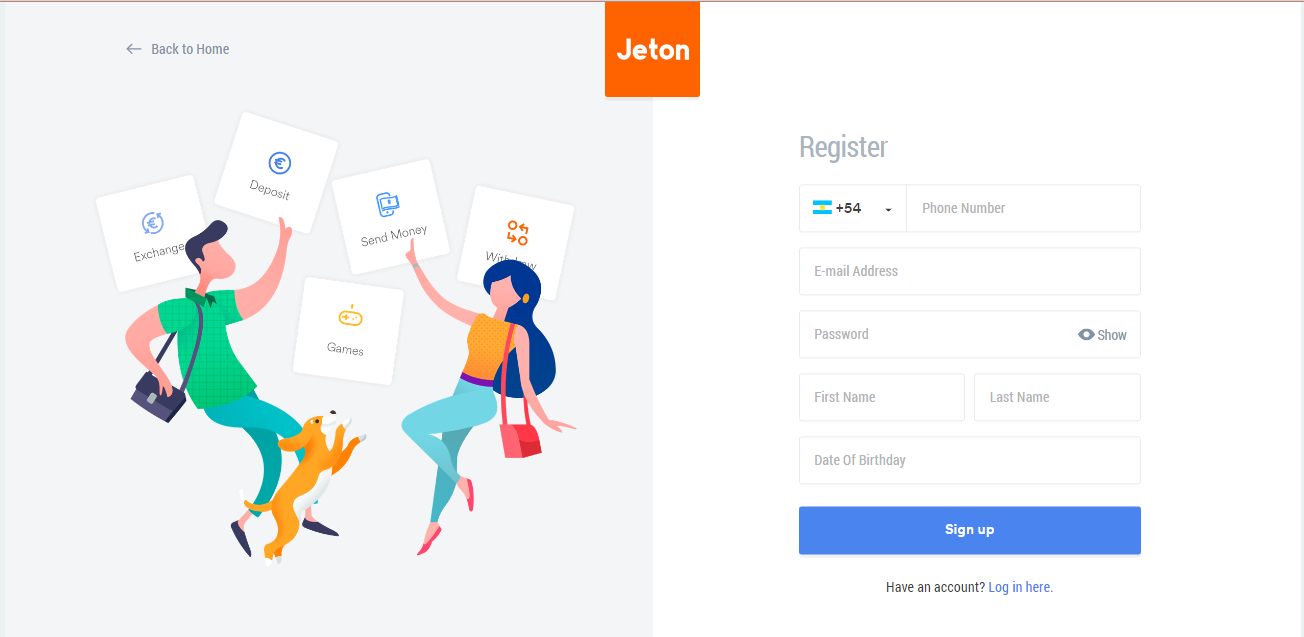 *Be sure to provide up-to-date and accurate personal data in order to go through account verification without any problems.
3. The next step includes entering a confirmation code sent via SMS notification to your phone number. It must be entered in the appropriate window on the website or in the mobile application.
We emphasize that in the future the system will ask for a code on your phone every time when you log into your account. The user will not be able to access his Jeton account without a code.
4. At the next stage, when you have already entered the code from your phone, you need to specify your address data – country, registration address, city, postal code. In the checkbox indicate that you have read the Terms & Conditions and Privacy Policy, then click "Go to Wallet".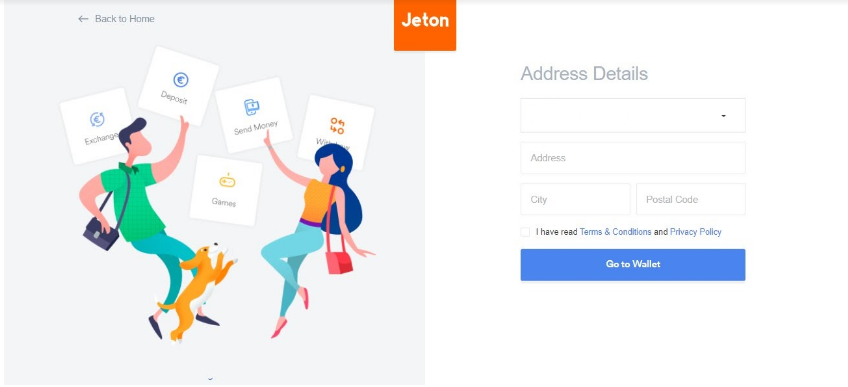 Verification Process
After registering the Jeton e-wallet account you need to go through the account verification process for processing any transaction.
The account verification process is a mandatory step in a financial institution and is known as Know your customer (KYC). This is a kind of tool for anti-money laundering, which also reduces the potential risks for the financial companies themselves. The regulator establishes the penalties and cancelation of license for non-compliance with those obligations to collect and store customers data.
The identification of the wallet user is carried out in two stages – ID verification and proof of address.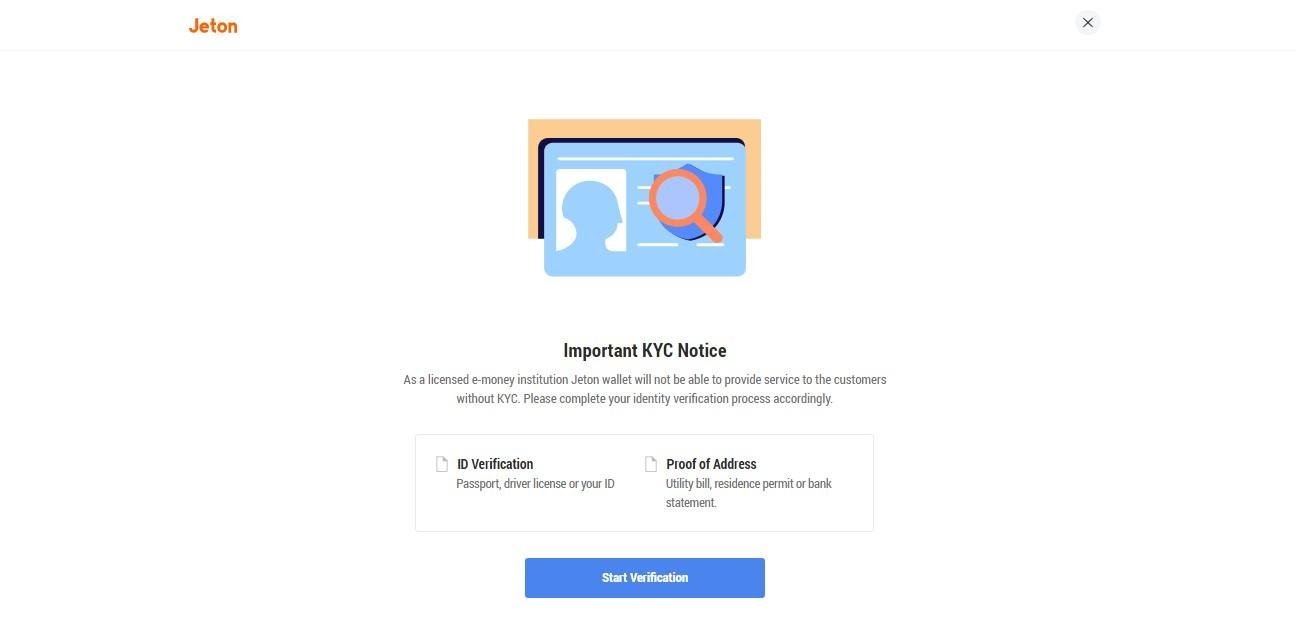 Required documents for the Jeton account verification: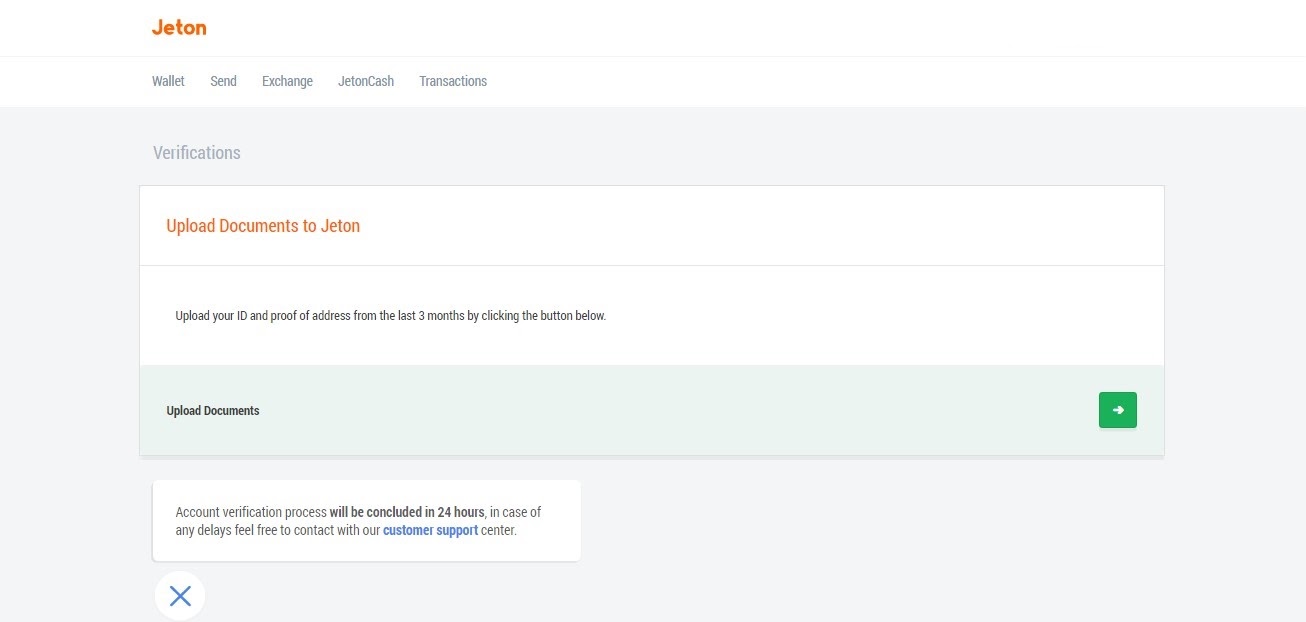 1. At the first stage the identity of the account holder is verified with a passport, driving license or ID card.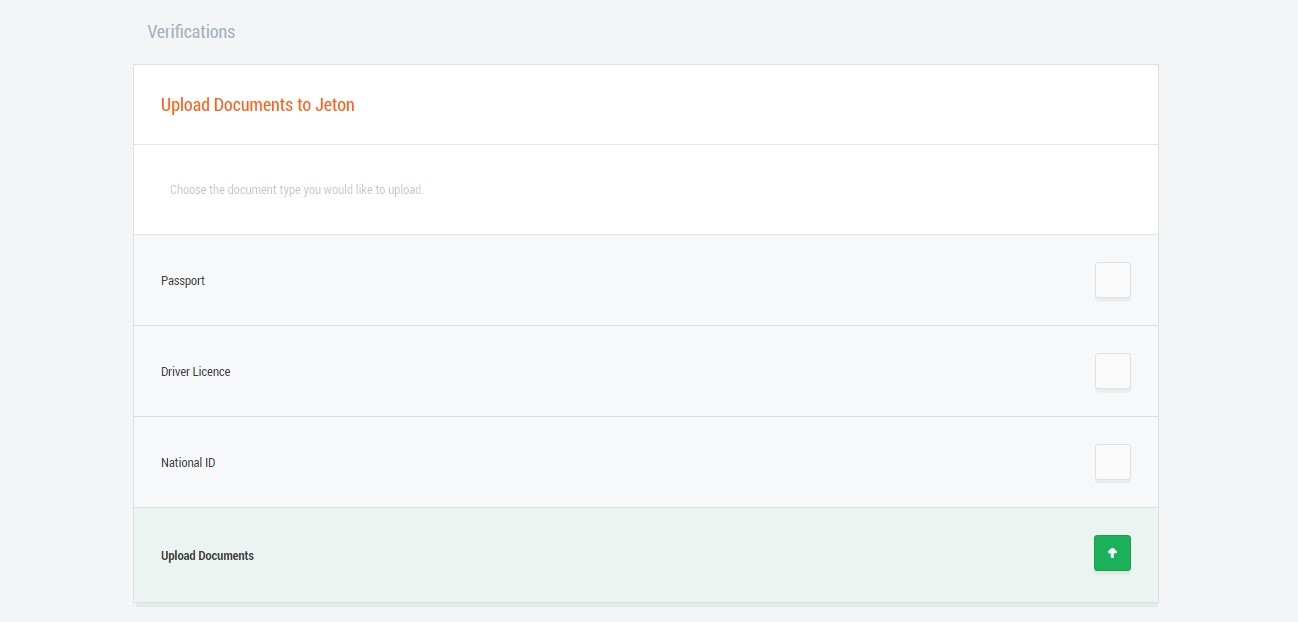 2. At the second stage – the proof of address. Upload a statement not older than 3 months from water, gas or internet bill, residency permit or bank statement.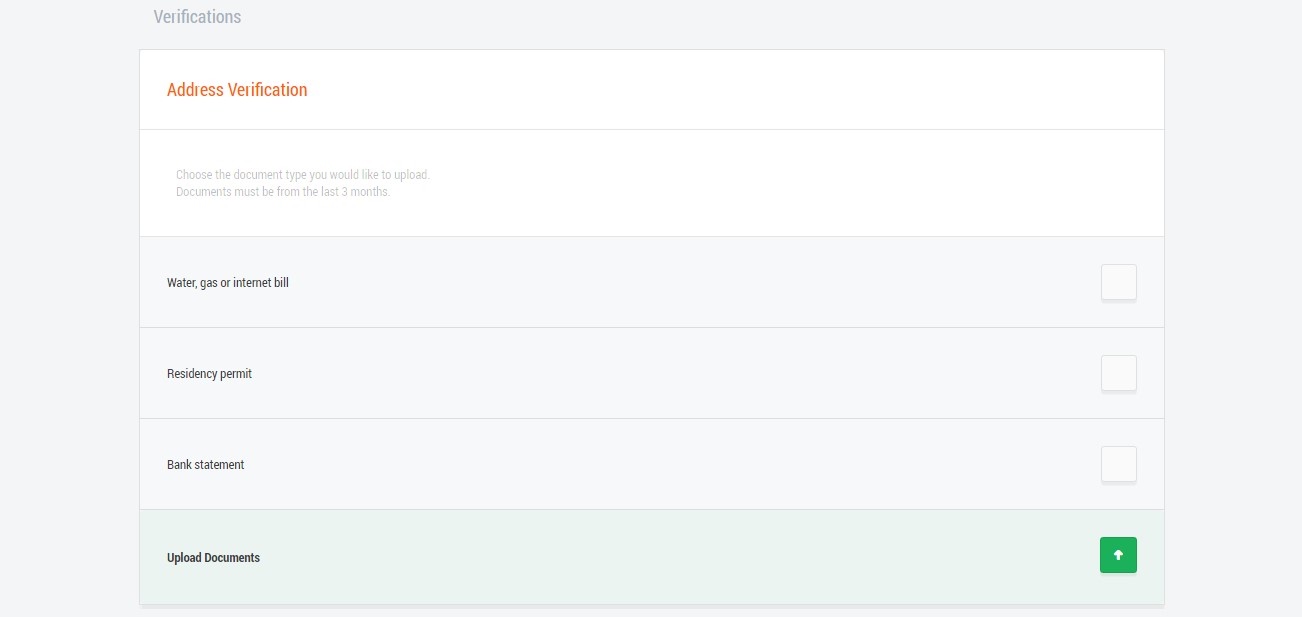 Account verification process will be concluded in 24 hours.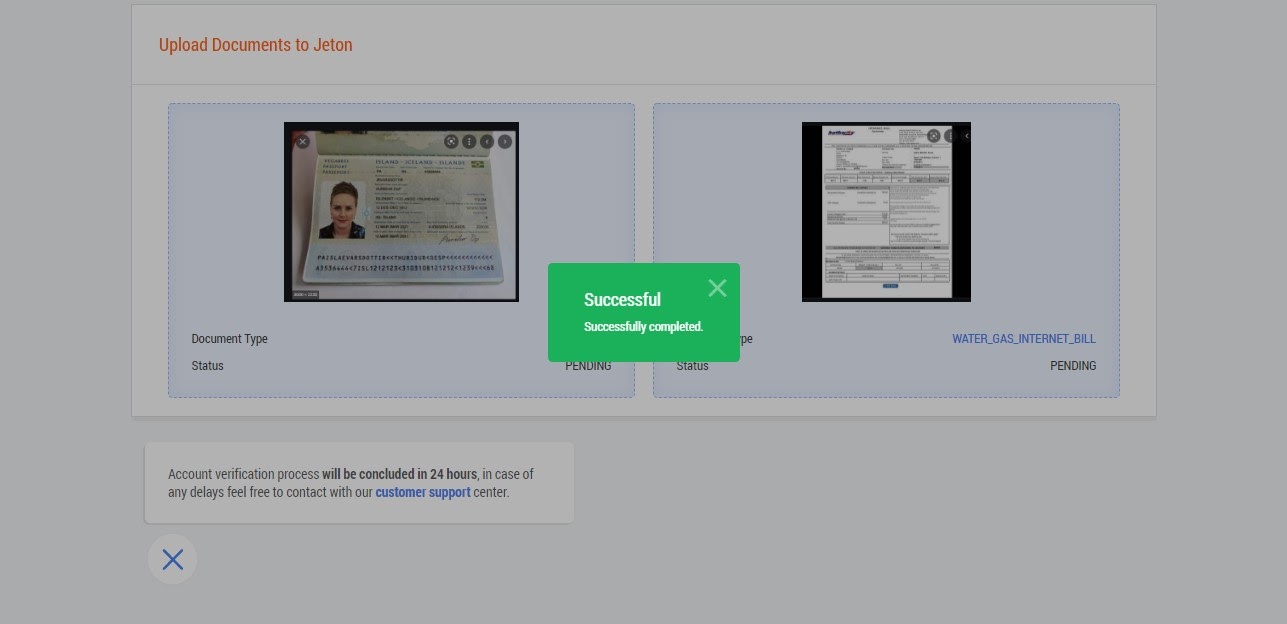 How To Top Up The Wallet
How to make Jeton Wallet deposits? It is one of the main questions that worries users of the electronic payment system. For these purposes, you can use the most convenient method described below:
Instant Bank Transfer
Note that this deposit option is not available in some countries. Log in to your account, click on the deposit section and find the instant banking option. If it is available, enter the deposit amount. After instant banking redirection you should select your bank from the list. Еnter your internet banking details and deposit amount. These kinds of transactions are approved instantly and without delay.
Debit/credit Card
Account deposits by credit or debit card are available worldwide*. However, it is important to know that:
only Visa and Mastercard are accepted;
the currency conversion fee is charged;
the Jeton account holder must be the cardholder.
To make a deposit with the card go to the deposit section, choose the necessary card, enter the card security code, then click "Next".
You can also replenish the Jeton account with a Trastra Visa card.
*А deposit with your credit/debit card is currently unavailable.
Prepaid Jeton Card
You can top up your balance using a prepaid Jeton Card or JetonCash. It is a digital voucher which can be used globally on multiple online merchants or outlets.
To replenish your wallet through a Jeton Card firstly you need to buy it. Select the site from the web selling e-gift cards, prepaid payment cards, game cards and subscriptions online. Choose a Jeton Card and make an order through your favorite payment method.
1. To fund your account with Jeton Card go to the deposit section, then choose "Jeton Card" as a deposit method.
2. Enter the deposit amount and press "Continue".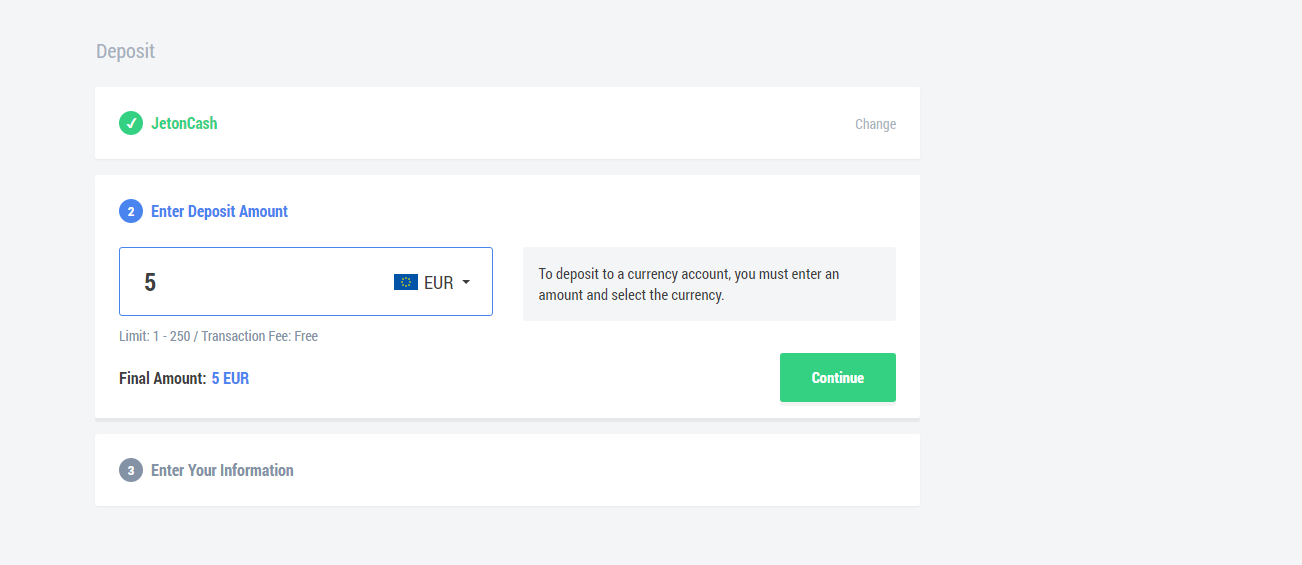 3. At the next window type in your voucher number, security code and expiration date. Click "Complete".
4. After the successful transaction your request will be approved.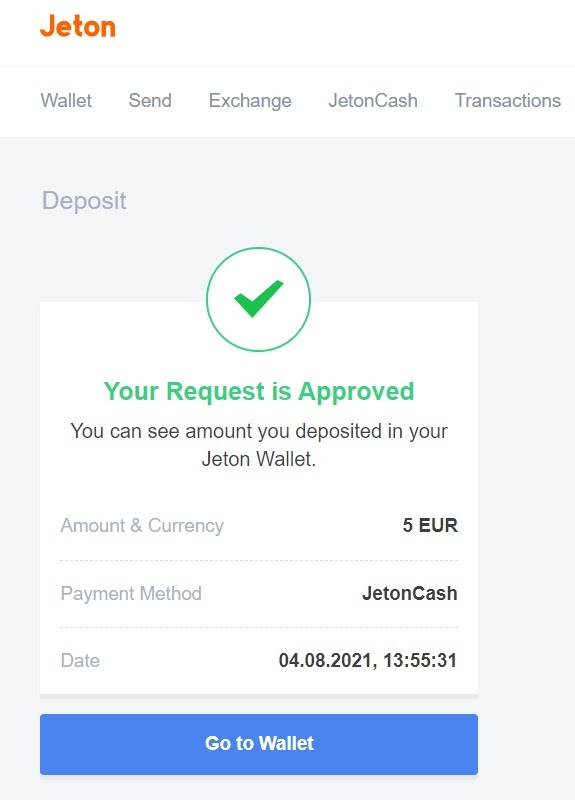 5. You can see the amount you deposited in your Jeton account in the Wallet section.
Jeton Wallet Money Transfer And How To Use It
If you have successfully passed your account verification, you will have access to all benefits of your Jeton Wallet. Note, that the option of transferring and withdrawing money is available only for verified users.
The money transfer is done as follows:
1. In your Jeton Wallet account select the "Send" option.
2. Enter an amount, user information (e-mail, phone or user ID ) and message (the last one is optional).
How does the recipient know that he has received a transfer to his Jeton account? When the transfer process is completed he receives an SMS notification or email. To accept the transaction from anyone, you need to log into your wallet account, select the appropriate transaction and click on the "Accept" button.
The system also offers the feature of accepting the payments automatically. Settings for incoming transfers can be changed in your personal account.
How To Withdraw Money
You can withdraw money from Jeton Wallet in three ways:
1. Buying a Jeton Voucher – you can create Jeton Voucher or JetonCash directly in the system and then pay for purchases or services online.
2. Making a manual bank transfer – the transaction will be approved within 12-24 hours.
3. Withdrawing to your cryptocurrency wallet.
Please, note that it is impossible to get cash from a Jeton Card or to send money, for example, to a PayPal account.
To Jeton Voucher
JetonCash is a Digital Voucher and to withdraw money you need to create a new card or Jeton Voucher from the withdrawal section of your account.
1. After logging into your account, click on the Withdraw button and select the withdrawal method "Buy JetonCash", then "Continue".
2. Enter the amount to withdraw, select the account you want to withdraw from, then click "Continue".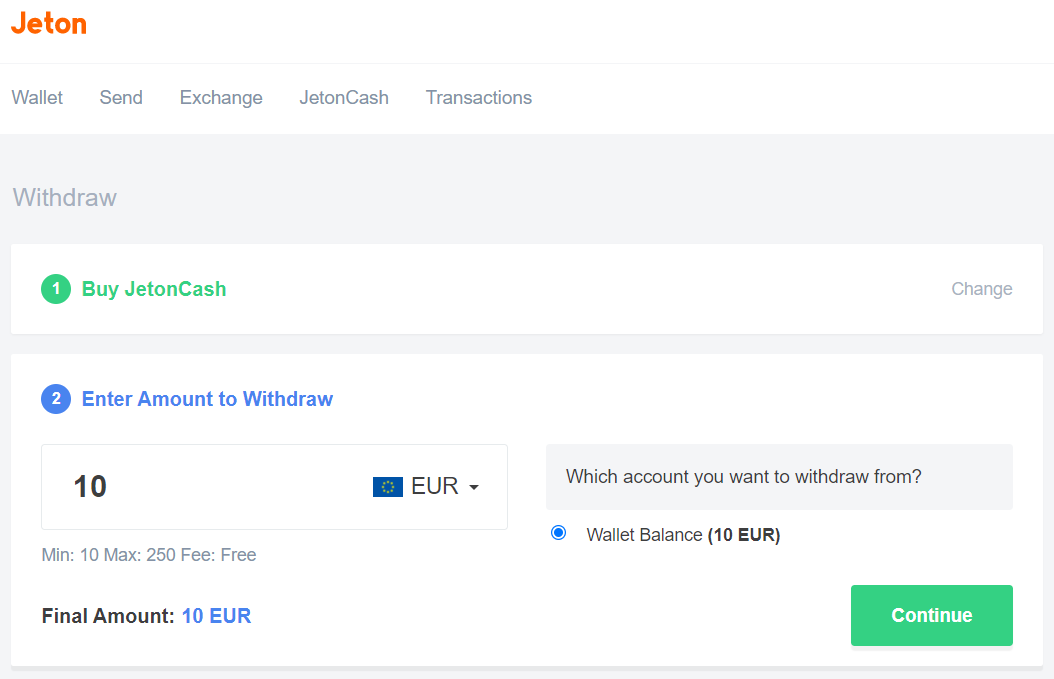 3. On the next step a Jeton Card with the entered amount will be created. Click "Confirm".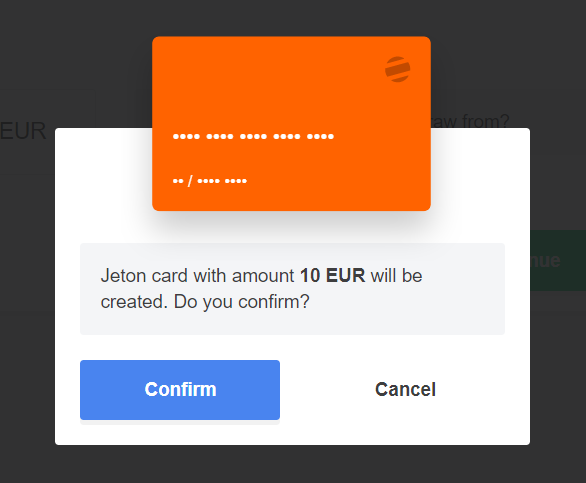 4. At this step your card is being prepared and when it is usable you will receive an email notification.
5. All your Jeton cards active or pending you can see in the JetonCash section.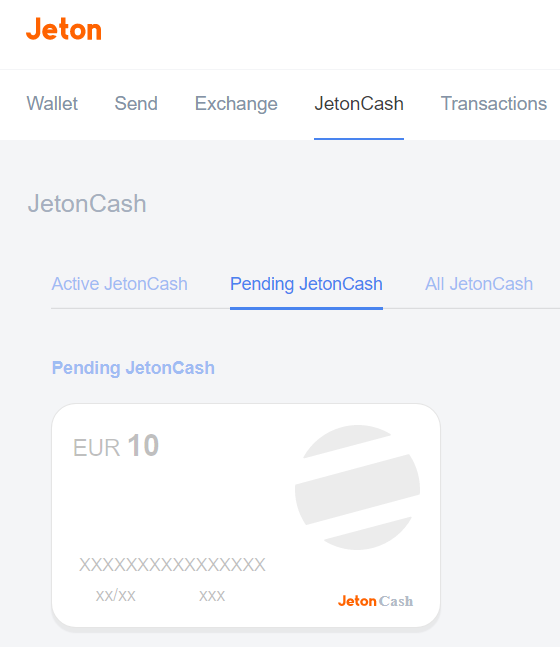 6. Find the last created and active Jeton Card in the JetonCash tab.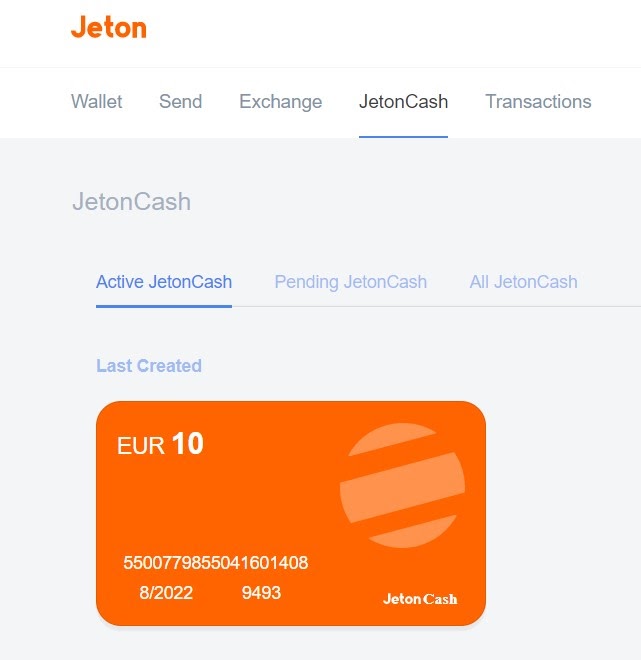 When you create a JetonCash, you need to have a minimum 10 euro in your account balance. It is impossible to add a new card to your account if your wallet has a zero balance.
Note, that Jeton Voucher is no different from JetonCash. Thus, you can use it:
as a payment option for online services and purchases worldwide,
on all websites with the JetonCash logo,
for deposits to the account.
To Debit/Credit Card (Manual Bank Transfer)
You can withdraw money from Jeton Wallet to your bank account too if this option is available in your country. This method of withdrawing money must be made only to your own bank account.
1. Go to the "Withdraw" tab in your account.
2. Choose the withdraw method – Manual Bank Transfer and press "Continue".
3. Enter the transaction amount to withdraw (Min: 50, Max: 15 000, Fee: Free), press "Continue".
4. Select the bank account added previously to the "Cards&Accounts" section and click "Confirm".
The payment will proceed within 12-24 hrs.
Withdrawing to a cryptocurrency wallet
1. Go to the "Withdraw" tab in your account.
2. Select the withdrawal method "Crypto Withdraw" and click "Continue".
3. Select the cryptocurrency you want to withdraw and enter the cryptocurrency wallet address. Click "Continue".
4. Enter amount to withdraw: min – 300, max – 15 000, fee – 1%
Payment processing will take 1-6 hours.
Platform Fees And Charges
Deposit
| | | |
| --- | --- | --- |
| Deposit options | Fees | Min/Max limit (EUR) |
| Local payment options | 0- 2%* | 10-10000 |
| Bank transfer | 0% | 20-15000 |
| Instant bank transfer | 0% | 10-10000 |
| Cryptocurrency | 0% | 50-250000 |
| Credit/Debit card | 0% | 10-10000 |
| JetonCash | 0% | 1-250 |
*Jeton Wallet Fees depend on your region
Withdraw
| | | |
| --- | --- | --- |
| Withdraw options | Fees | Min/Max limit (EUR) |
| Bank transfer | 0% | 50-15000 |
| Crypto | 1% | 300-15000 |
| JetonCash | 0% | 10-250 |
Mobile App Overview
The Jeton mobile application has the same features as in the desktop version. You can send, accept, deposit/withdraw funds and pay for purchases in the same way. The Jeton Wallet App is available for downloading both on AppStore and on Google Play. It is a convenient and secure way to make transfers and control finances at any time and anywhere in the world.
Jeton Wallet Reviews
In order to use any online money transfer platform or payment system, first of all, you need to make sure that it is a reliable service. You can find the reviews about Jeton payment systems on trustpilot.com website. In general, the average rating of this payment service on trustpilot is 2.5 stars. According to Jeton's reviews, customers appreciate the level of the technical support, but they find the account verification process complicated and time-consuming.
Alternative Payment Methods
Jeton is not the only way to pay online. You may also be interested in other e-wallets that are quite popular among users. Pay attention to the payment systems below:
They are full-fledged platforms for instant and secure transfers with many benefits. You can also read the article about the features of four e-Vouchers, namely ecoVoucher, JetonCash Voucher, AstroPay Voucher, and Neosurf Voucher.
Summary
As you can see from this review, the reliable electronic wallet Jeton is designed for fast international payments on the Internet. The wallet registration and most of the account transactions are completely free. The main advantage of the payment system is the ability to pay with many types of currencies in 180 countries and easily buy goods worldwide, as well as replenish the accounts on cryptocurrency exchanges and bookmakers.
FAQ
Is Jeton Wallet Legit?
This is an electronic payment system for fast and profitable money transfers around the world, as well as a convenient solution for merchants, shoppers, retailers and resellers.
The Policies of the Jeton company aims at preventing its services being used for illicit activities. The business is conducted in conformity with the regulatory requirements and laws in all countries in which the Jeton payment system is available.
How Does Jeton Wallet Work?
It is the best solution for exchanging, sending and receiving money wherever you are.
Through your Jeton account you can:
transfer money from your Jeton account to any website account accepting Jeton payments;
payout money from the website account to your Jeton account;
withdraw money from the wallet through the method convenient for your country;
send money from your account to another Jeton user;
deposit on your Jeton account;
exchange money to a different currency.
How Do I Withdraw Money From My Jeton Wallet?
To withdraw funds from the wallet you can choose one of two options:
create a Jeton Voucher in your account and use it to pay on sites;
transfer money to your bank card (you must be the cardholder).
How Do You Use Jeton Cash?
The JetonCash or Jeton Voucher can be used on various online platforms without sharing your personal or credit card information. The Jeton Card is completely safe, anonymous and has no limit. As long as you have an amount on your wallet balance, you can use it multiple times and freely.