In a world that thrives on digital transactions, finding a secure and convenient way to manage your spending is paramount. Enter Mastercard Prepaid Cards, the epitome of financial ease, now at your fingertips through Baxity Store!
Ever wished for a card that gives you control over your spending, sans the worries of overspending? Mastercard Prepaid Cards are here to grant your wishes. These cards are preloaded with a specific amount of money, a feature designed to help you stay within your financial limits while still enjoying the privileges of a Mastercard.
What is Virtual Prepaid Mastercard?
A Virtual Prepaid Mastercard is a type of prepaid card that operates on the Mastercard network and is issued in a digital or virtual format. It is designed for online transactions and can be used for purchases over the internet, where credit or debit cards are accepted. Explore a wide range of Prepaid Cards on Baxity Store following this link.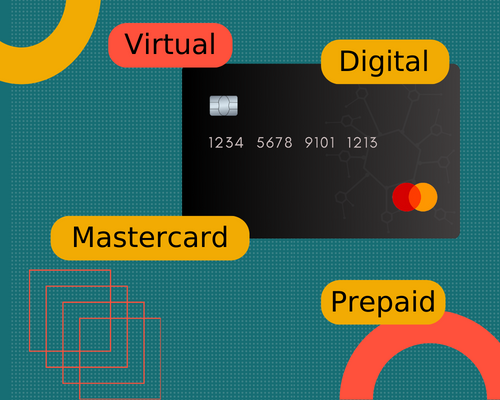 Why Choose Virtual Prepaid Mastercard?
Here are some key features, advantages and aspects of a Virtual Prepaid Mastercard:
Digital Format: Unlike traditional prepaid cards, a virtual prepaid Mastercard exists only in a digital form. It consists of card details such as the card number, expiration date, and security code (CVV/CVC), which are provided electronically.
No Physical Card: As the name suggests, there's no physical card associated with a virtual prepaid Mastercard. The cardholder receives the card details digitally and can use them for online transactions.
Prepaid Funds: Like other prepaid cards, a virtual prepaid Mastercard is funded in advance by the cardholder. Users can load a specific amount of money onto the card, and they can only spend up to that limit.
Security: Virtual prepaid Mastercards typically have security measures in place to protect against unauthorized use. The cardholder may need to authenticate transactions with additional security steps, such as providing a one-time password (OTP) sent to their registered mobile number.
Limited Use: These cards are primarily intended for online purchases. They may not be suitable for in-person transactions or at ATMs since they lack a physical card for swiping or inserting into a card reader.
Convenience: Virtual prepaid Mastercards offer the convenience of making online purchases without using a traditional credit or debit card. They are especially useful for individuals who may not have access to a physical credit or debit card or prefer not to use their primary cards for online transactions.
Anonymity and Privacy: Virtual prepaid cards can provide a degree of anonymity and privacy, as they are not directly linked to the cardholder's personal bank account or financial details.
Where to Buy Virtual Prepaid Mastercard?
We offer you a general guide on how to purchase prepaid and gift cards from Baxity Store. It can be applicable for Mastercard too.
Visit Baxity Store and browse available Prepaid Cards.
Choose Virtual Prepaid Mastercard, look for different denominations that fit your preferences.
Select the value that suits your budget.
Add the selected Virtual Mastercard to your cart, review your order, and proceed to checkout.
During the checkout process, you might need to choose from available payment methods (credit card, wire transfers, cryptocurrency, AstroPay) and provide your payment details for online purchases.
Once the payment is confirmed, you'll receive the Virtual Prepaid Mastercard card code through email or on the store's website.
How to Redeem Virtual Prepaid Mastercard?
Purchased a Mastercard on Baxity Store and wondering how to redeem it? Here's a quick guide:
 Visit myprepaidcenter.com/redeem as mentioned in your purchase email.
 Create a new account or log in to your existing one.
Select "Redeem code" and enter the code from your Baxity Store email.
On the redemption page, provide the required information to validate and redeem your card, including your current billing address, name, email address, and phone number. Accept the Cardholder Agreement after double-checking the accuracy of the provided information.
Once you've successfully submitted your information, you'll be redirected to a new page displaying essential card details, including the 16-digit card number, expiration date, security information, where the card can be used, available balance, recent transactions, Fees & Cardholder Agreement, FAQs, and a Set/Reset PIN option.
Note!
◼ Avoid purchasing the card from Baxity Store while using a VPN.
◼ You are prohibited from using the card for gambling or any illegal activities.
◼ Upon receiving your Mastercard activation code through email, it is vital to understand that this code is uniquely linked to your account and cannot be used by any other individual. This activation code validates the card's activation process and reserves it exclusively for your use. Consequently, in case of a refund request, the typical refund procedure involving the activation code is rendered impractical due to the card's unique association.
◼ Please be aware that some merchants may decline payments made with the card. We assume no responsibility for such occurrences. It is your responsibility to review each merchant's restrictions before making a purchase from our store.
◼ Your card will become unusable after it reaches its expiration date.
◼ Should you use your card in a currency different from the one it is denominated in, a currency conversion fee of 2% of the transaction amount will be applied. During weekends and holidays, the conversion fee may deviate significantly from the standard rates.
◼ When making international purchases, take note of the International/Foreign Transaction Fee, which can amount to up to 2% of the purchase total. Ensure that your card balance will cover this fee, or your transaction may be declined.
Benefits of purchasing Virtual Mastercard from Baxity Store
Here are the benefits of purchasing a Virtual Mastercard from Baxity Store:
Convenient Mobile Payment Integration: You can easily link your Virtual Mastercard to popular digital wallets like Google Pay or Apple Pay via a dedicated app, and it only takes two simple steps. This makes it extremely convenient for making mobile payments and enhances your shopping experience.
Enhanced Security for Online Shopping: When you use your Virtual Mastercard for online shopping, you can enjoy an added layer of security. By keeping your physical card details separate and using the virtual card, you can protect your private and financial information more effectively, reducing the risk of unauthorized access or fraud.
Crypto Payment Options: Baxity Store allows you to purchase the Virtual Mastercard using cryptocurrency, eliminating the need for a traditional bank account. This flexibility opens up the possibility of acquiring a Mastercard for individuals who prefer to use cryptocurrencies for their financial transactions. Convert your crypto to fiat!
Redeem for Goods and Services: You can use your Virtual Mastercard to redeem and pay for goods and services at participating merchants. This means you have a versatile payment method that can be used for a wide range of products and services, making it a valuable addition to your payment options.
In summary, purchasing a Virtual Mastercard from Baxity Store provides you with the convenience of mobile payment integration, added security for online shopping, the option to buy the card with cryptocurrency, and the flexibility to use it at a variety of participating merchants, making it a practical and secure choice for your financial transactions.